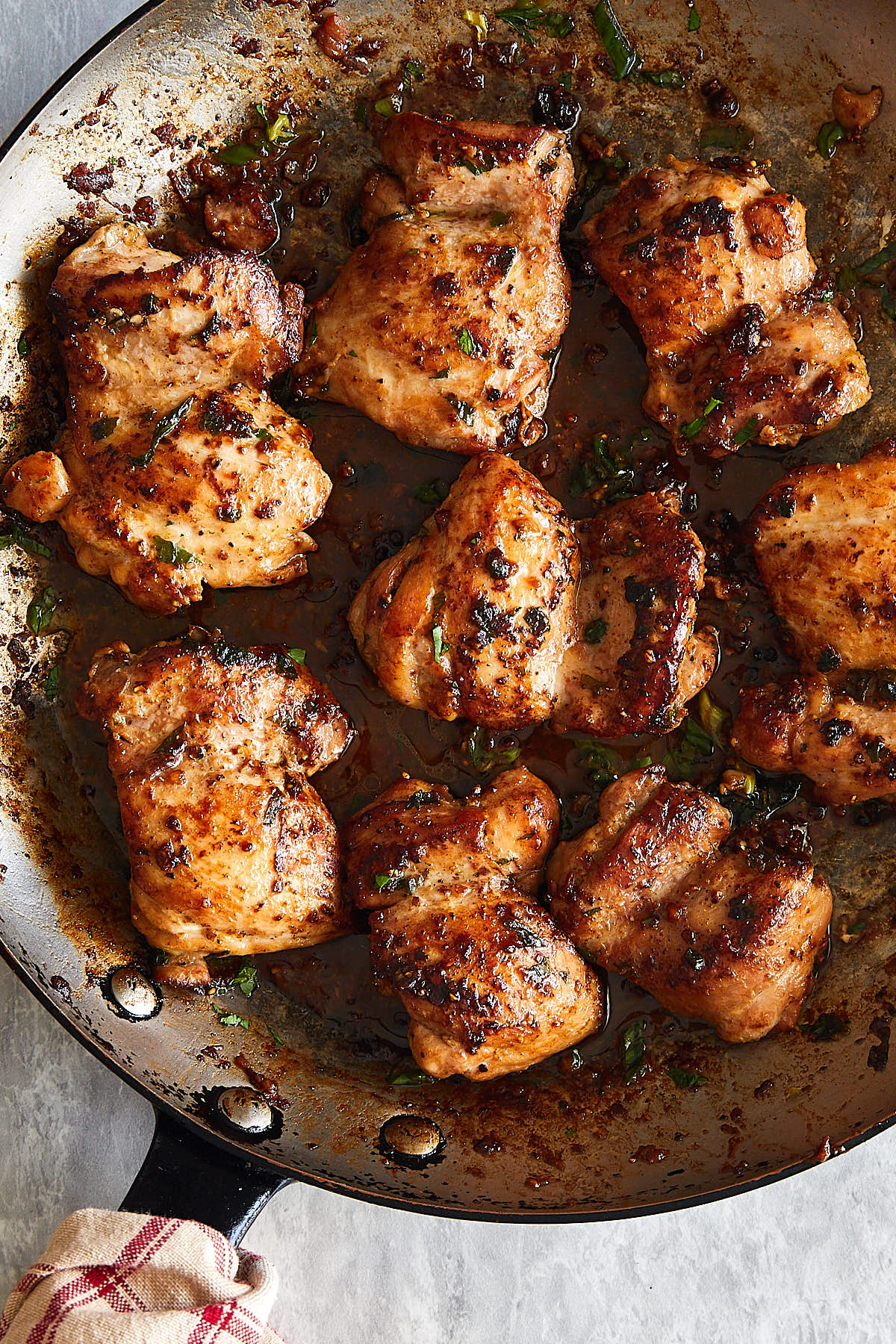 These boneless chicken thighs are crazy popular in our family, especially with the kids. It's one of my wife's signature chicken recipes. She came up with it a long time ago, and has since perfected it. So, my wife will be the chef today and I will be the photographer. The recipe is simple and very quick to execute, yet it makes a surprisingly flavorful and delicious dish.
As these boneless chicken thighs are being cooked, the smell of sesame oil and garlic makes you so hungry that you just can't wait till they are ready. Thankfully, it they take just minutes to cook.  The thighs come out tender and succulent, and go well with a variety of side dishes and salads. We've also used leftovers to make quesadillas and panini with great results. We've always made these garlic sesame chicken thighs on the stove, but I keep wondering how they would turn out on a grill. I might try that. There isn't any sugar in the marinade so they should take open fire really well.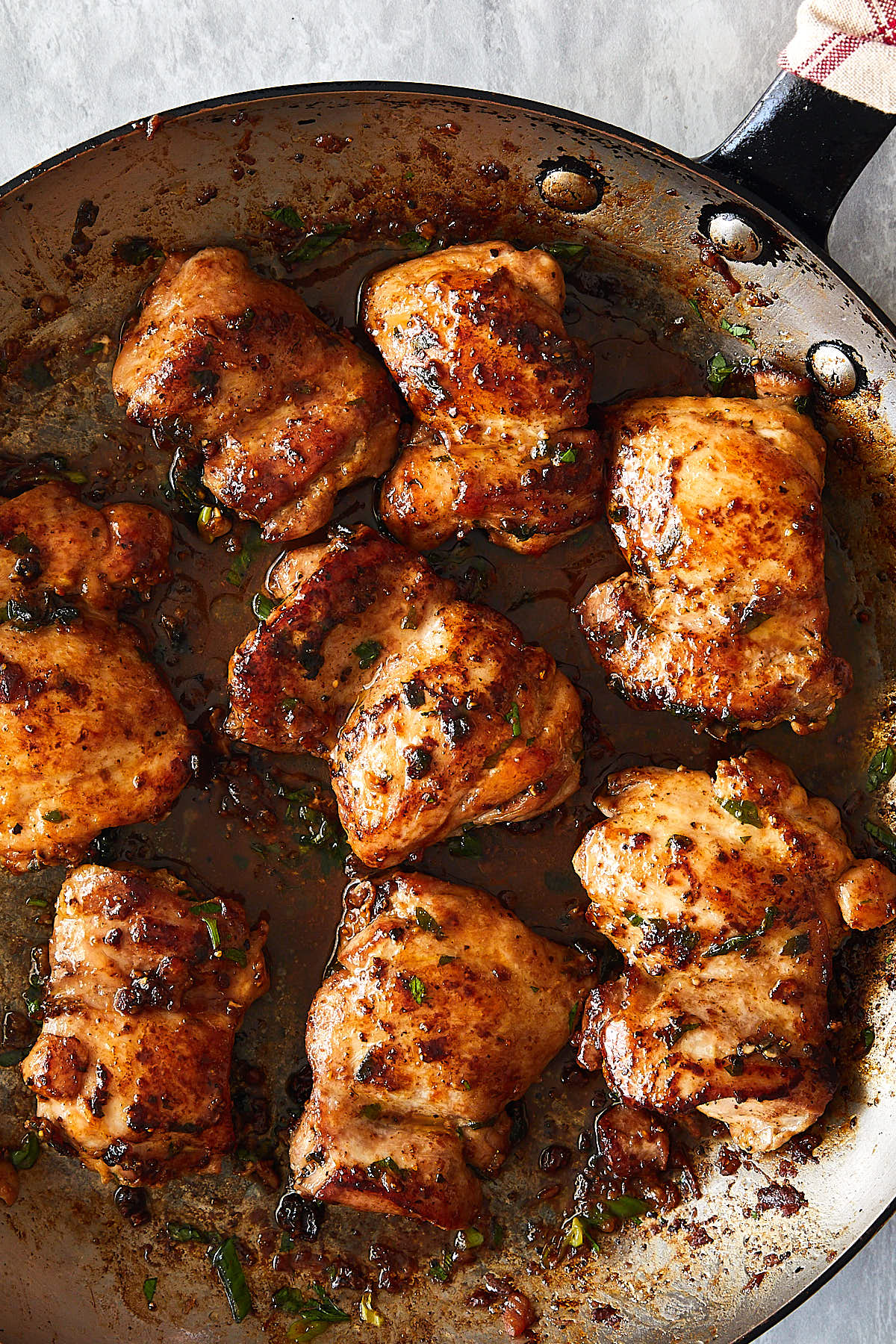 Tips for making the best boneless chicken thighs
The cooking process only takes about 9-10 minutes. You should be able to fit about 8 or even 10 chicken thighs on a large (12 inch) skillet. The seasonings in this boneless chicken thigh recipe are simple yet very flavorful, and make for an amazing thicken thigh marinade. If you have the time to marinate – do it! It's generally advisable that chicken thighs are marinated in a fridge for at least 30 minutes – this will let them get properly infused with salt and flavors.
Thirty minutes is enough, but if you must keep them in the fridge longer, that will not be a problem at all. Actually, I find that the longer I marinate, within the reason of course, the better. Sometimes, when we are in a rush, we skip marination altogether – these chicken thighs still taste great, though, perhaps, come out just a tad less flavorful.

Cook to internal temperature of 165 F. While I generally like cooking chicken thighs to 185F, like my Roasted Honey Mustard Chicken Thighs or Killer Marinated Chicken Thighs, skinless and boneless chicken thighs don't have the skin, and the skin fat protection and tend to dry out by the time the temperature gets that high. So, we always cook skinless thighs to 165F.
Looking for more great skinless, boneless chicken thigh recipes? Check these out: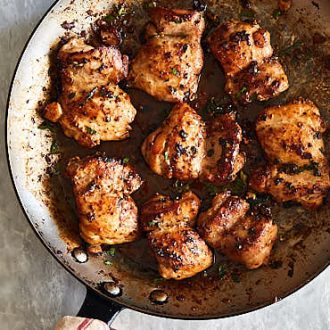 Boneless Chicken Thigh Recipe (Family Favorite)
Print
Pin
Rate
Ingredients
8

chicken thighs

(boneless and skinless)

1

Tbsp

low sodium soy sauce

1

Tbsp

sesame oil

4

cloves

garlic

(pressed, or 1 Tbsp garlic powder)

1

tsp

salt

1

tsp

freshly ground black pepper

(plus more to taste)

1/4

cup

green onions

(cut into thin rounds, plus more for garnish)

1/4

cup

Italian parsley

(finely chopped, plus more for garnish)
Instructions
Trim fat from chicken thighs. Place the thighs and the rest of the ingredients in a large bowl and mix thoroughly, making sure that chicken thighs are covered with oil and spices really well.

Cover the bowl with a plastic wrap and refrigerate for at least 30 minutes. If you are in a rush, you may skip this step, but the chicken will be more flavorful if you let it marinate in oil and spices.

Preheat a large skillet with a tablespoon of butter over medium-high heat. We find that a non-stick skillet works better if you are after a nice brown color but a cast iron or copper pan will work as well.

Place the chicken thighs on the skillet, one at a time, making sure they are not folded and ensuring that they lay flat on the skillet. Sear chicken thighs for 1 minute or so per side, until nicely browned.

Reduce heat to medium and continue cooking for another 4 minutes, flipping chicken thighs twice during the process.

Reduce heat to medium-low, cover the skillet with a lid and continue cooking for another 3-4 minutes, until fully done (internal temperature 165 F).

Serve with your favorite side dish. Sprinkle with chopped green onions and Italian parsley (optional).
Nutrition
Calories:
155
kcal
|
Carbohydrates:
1
g
|
Protein:
22
g
|
Fat:
6
g
|
Saturated Fat:
1
g
|
Cholesterol:
107
mg
|
Sodium:
459
mg
|
Potassium:
301
mg
|
Fiber:
0
g
|
Sugar:
0
g
|
Vitamin A:
215
IU
|
Vitamin C:
3.5
mg
|
Calcium:
18
mg
|
Iron:
1.2
mg

This recipe was updated on May 7, 2018