Rich, creamy chicken with tender vegetables, served with golden brown, buttery-soft, exceptionally flaky, slightly crunchy on the outside, and ridiculously delicious biscuits. If you like my chicken pot pie, you will love my chicken and biscuits. It's every bit as good, and even better. I'll take these biscuits over the pie crust at any time. Seriously, this chicken will knock your socks off with its flavors and contrasting creamy and crunchy textures.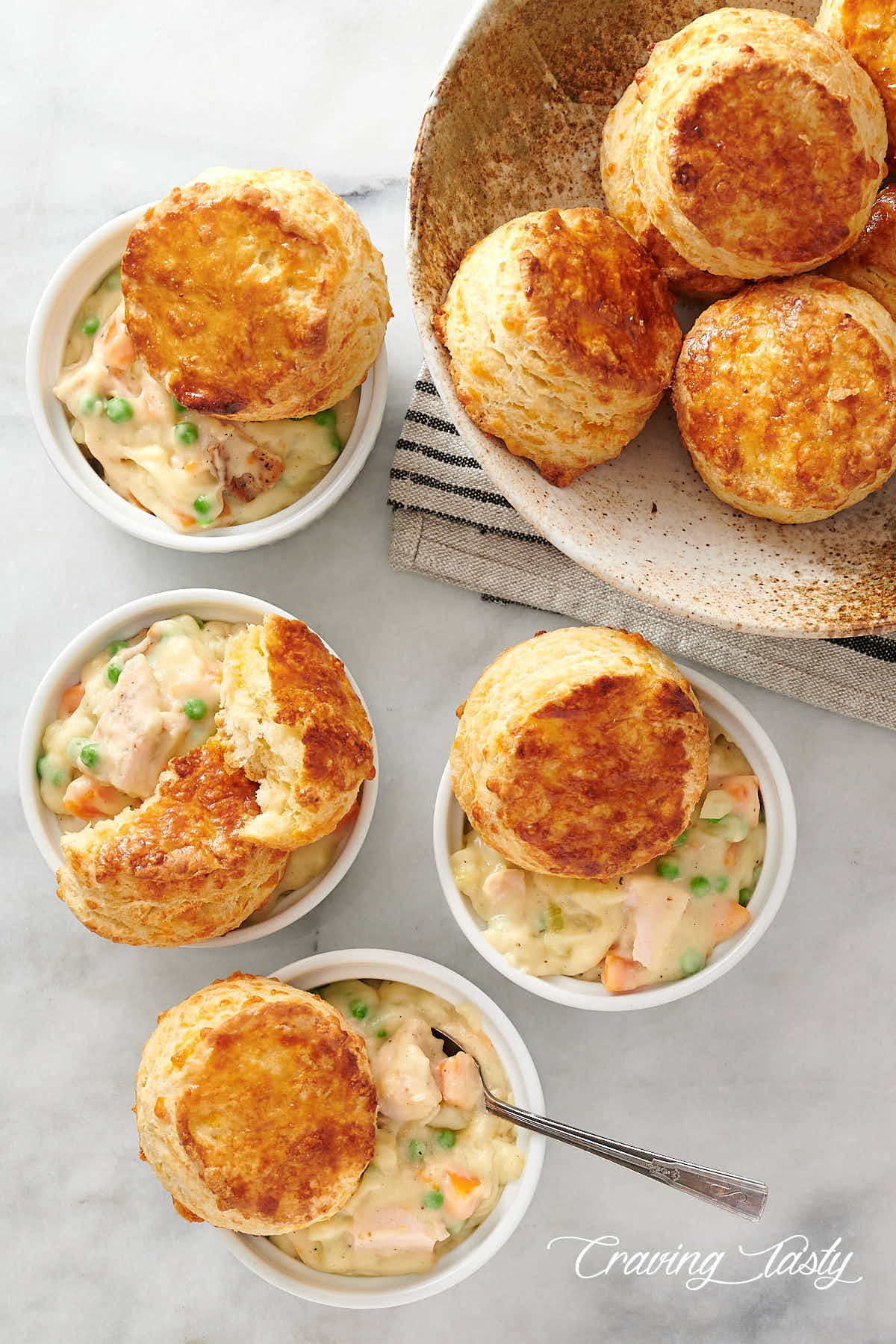 Unlike in most chicken and biscuits recipes, I bake the biscuits separately. Doesn't it make sense to bake them separately? It makes perfect sense to me. First, you get both biscuit tops and bottoms crispy, not just the tops. The more crispy surface, the better, no? Secondly, when baked without chicken in the oven, which introduces a lot of moisture, biscuits will brown much better.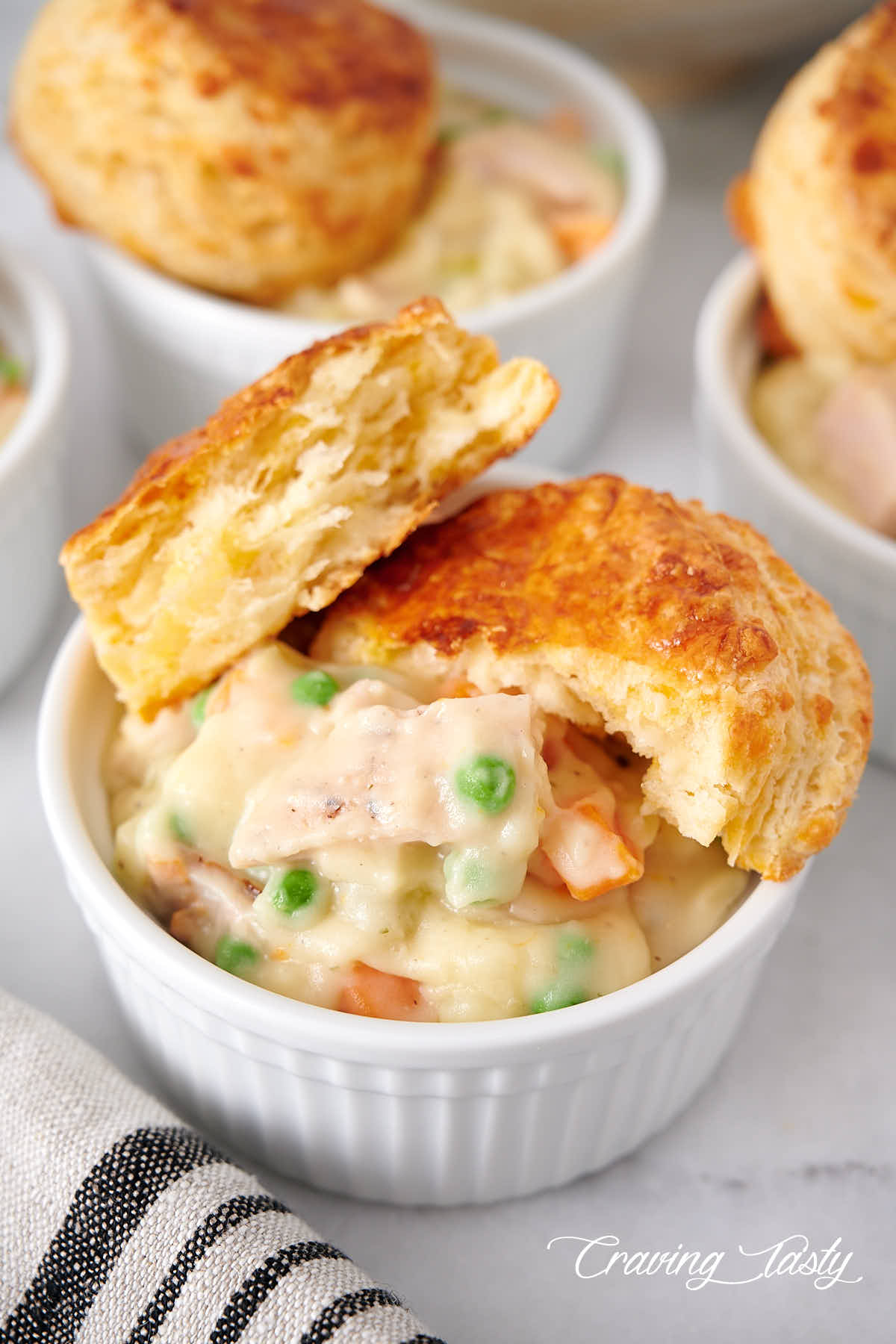 I keep talking a lot about the biscuits here, but that's because they are as much of a star in this recipe as the creamy chicken. Don't try to substitute them for store-bought ones, it has to be these very special homemade biscuits.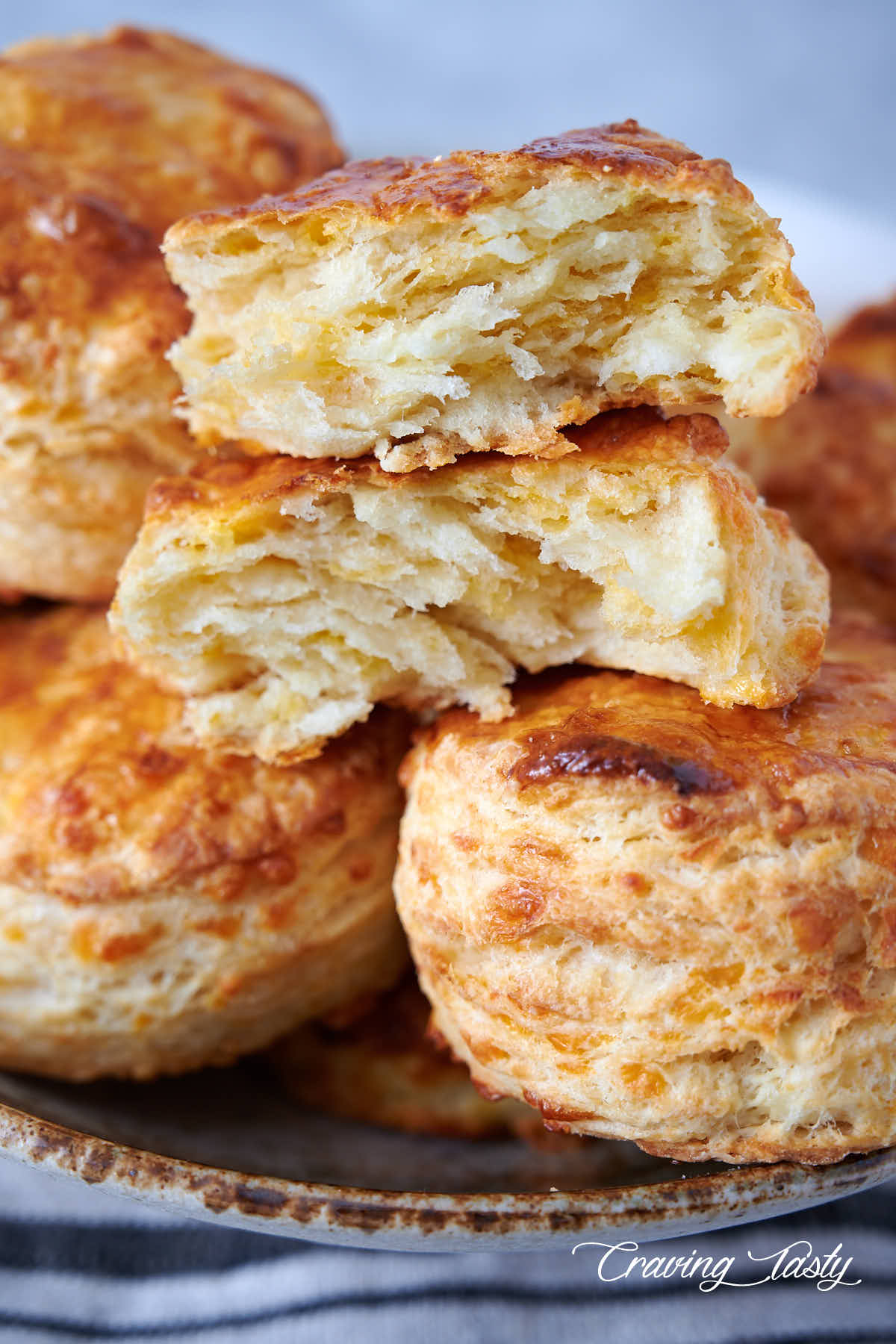 They are a delight to eat on their own, but when you pair them with my pot pie chicken, you get the ultimate, heavenly soul food.
You may also want to try making these quick sourdough biscuits, those are very tasty as well.
The chicken
I like using chicken breast in this recipe. For some reason, other chicken parts don't seem to work as well. But it's a matter of preference, so use whatever chicken you like. Left-over chicken works best as you don't need to cook it. So, if you have a left-over rotisserie chicken or some baked chicken breast, use that.
In case you don't have any left-overs, here are some of my favorite chicken breast recipes that I have or would use in this recipe:
Other chicken recipes that will work well in this dish: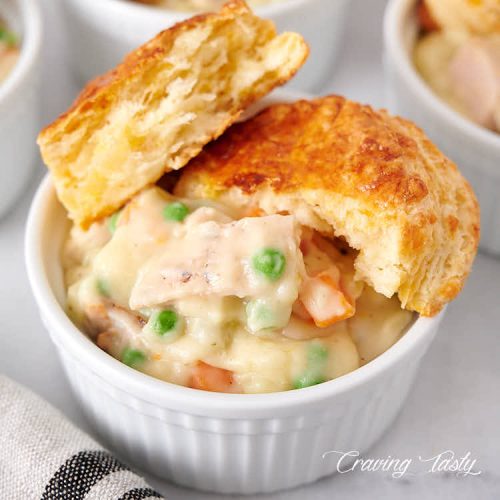 Ingredients
6

Tbsp

unsalted butter

softened

1/4

cup

all-purpose flour

1

Tbsp

cornstarch

1/2

cup

milk

Small onion finely chopped

Medium carrot peeled and diced

1

celery stalk diced

1 1/4

cup

condensed chicken broth

or 1 1/4 cup water plus 2 chicken bouillon cubes

1/2

medium-size russet potato

peeled and diced

2

chicken breasts

cooked and diced

1/2

cup

frozen peas

Salt to taste

Freshly ground black pepper to taste

4

homemade biscuits

plus more
Instructions
To prepare the chicken, combine 4 tablespoons of the butter with the flour in a small bowl. Set aside.

Dissolve the cornstarch in the milk in a separate bowl and set aside.

Add two tablespoons of butter to a large saucepan, add the onion, carrot, and celery and saute over medium-high heat for about 5 minutes.

Pour in 1 cup of broth, reserving 1/4 cup for later, and bring to a boil. Cover and simmer for about 10 minutes or until the vegetables are just tender.

Add the potatoes, bring to a boil, cover and continue simmering for about 12 minutes, or until the potatoes are fully cooked.

Add the butter and flour mix and bring to a gentle boil, constantly stirring.

Pour in the milk and cornstarch mixture and bring to a boil. Add salt and pepper to taste. Stir in the chicken and peas. Add a more broth, one tablespoon at a time, if the mixture is too thick for your taste.

Ladle the chicken mixture into 4 small bowls or ramekins, a cup or slightly larger. Place a warm biscuit on top and serve.
Nutrition
Calories:
568
kcal
|
Carbohydrates:
46
g
|
Protein:
22
g
|
Fat:
33
g
|
Saturated Fat:
20
g
|
Cholesterol:
120
mg
|
Sodium:
675
mg
|
Potassium:
734
mg
|
Fiber:
2
g
|
Sugar:
6
g
|
Vitamin A:
1134
IU
|
Vitamin C:
15
mg
|
Calcium:
231
mg
|
Iron:
3
mg