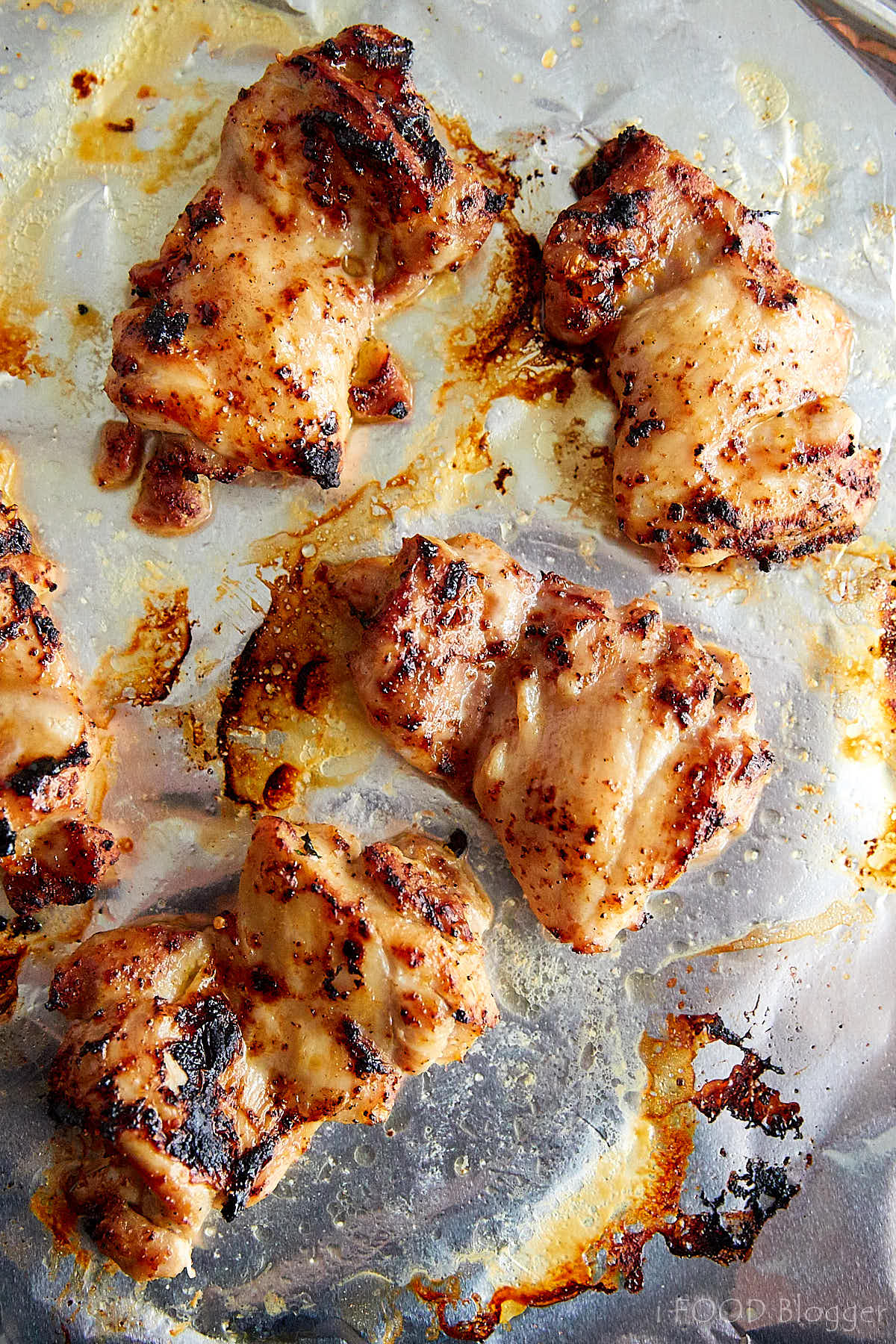 Boneless and skinless chicken thighs are best when cooked quickly over high heat. That's the reason why broiled chicken thighs are such a treat. It's really is a shame that they are so underrated. Beautifully caramelized, with bits of charred meat, they taste almost like grilled chicken thighs. And they are incredibly juicy inside, which is the direct result of quick high heat cooking.
Benefits of broiling chicken thighs
But the benefits of broiling don't stop with great, grilled-like taste. Another one is time saving. All it takes to broil chicken thighs is 7 minutes.  Yes, a great meal in under 10 minutes is hard to beat. You can even skip preheating the broiler.
After having done some experimenting, I found that the best way to broil chicken thighs is on the top rack, about 3-4 inches from the heating element. This close proximity to the heating element gives the best grill-like heat which results in the best caramelization. The thighs will be ready to eat in about 5 minutes. But don't pull them out just yet, give them a couple more minutes under the broiler. You will be rewarded with a better crispiness, even some charring that many of us like. I also find that chicken thighs taste better when cooked a little higher than the 165F internal temperature.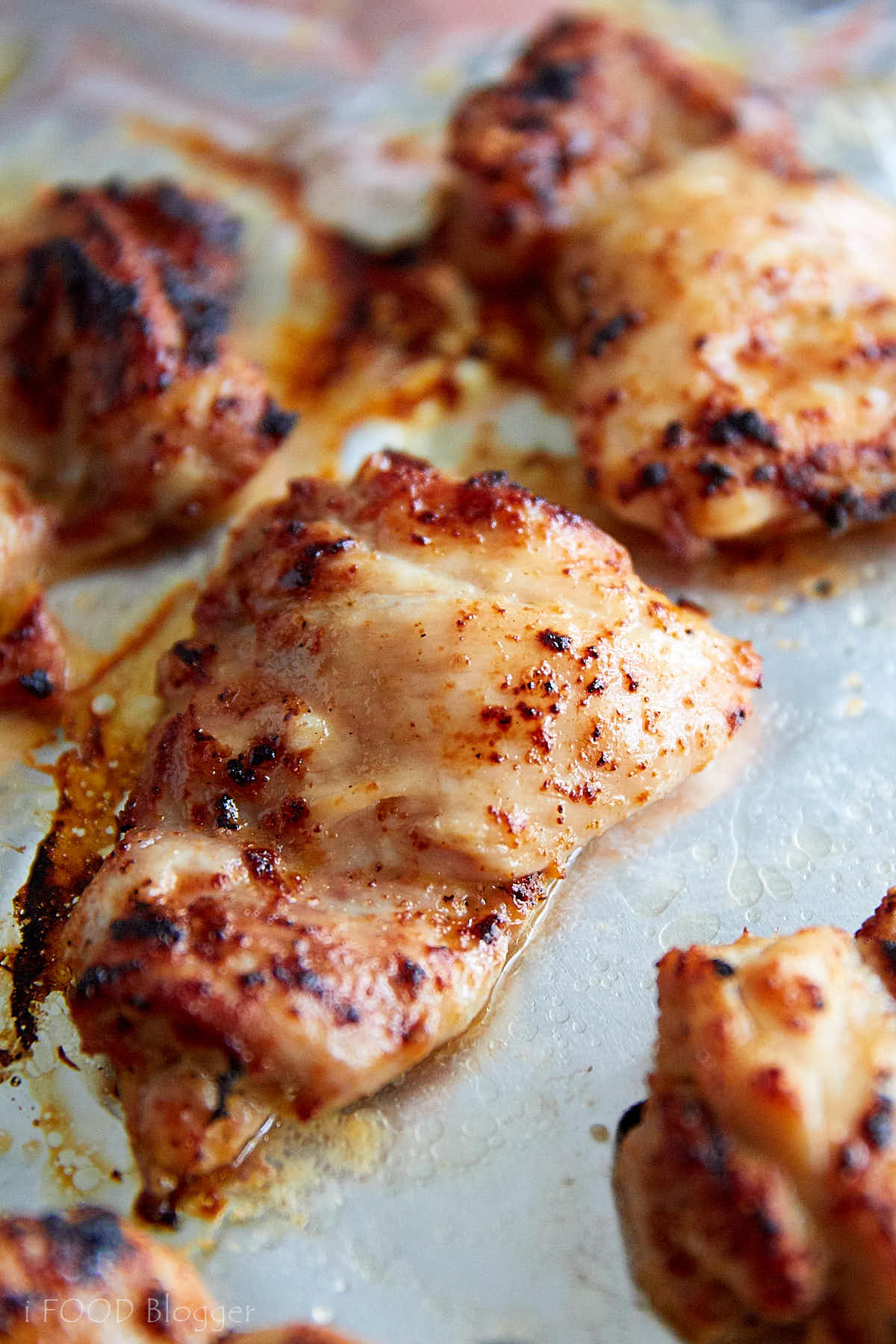 Do you need to flip chicken thighs when broiling them?
Another great thing about broiling chicken thighs is that you don't need to flip them. You can, of course. I used to do it, but then changed my broiling method to no flipping. I realized that it's better to have one really browned and caramelized side than two inadequately browned ones.  You may be tempted to get a nice, rich caramelization on both sides, but you will be risking drying the meat out. Trust me and broil the thighs for 7 minutes on one side, without flipping, and you will have the most delicious broiled chicken thighs you've ever tasted.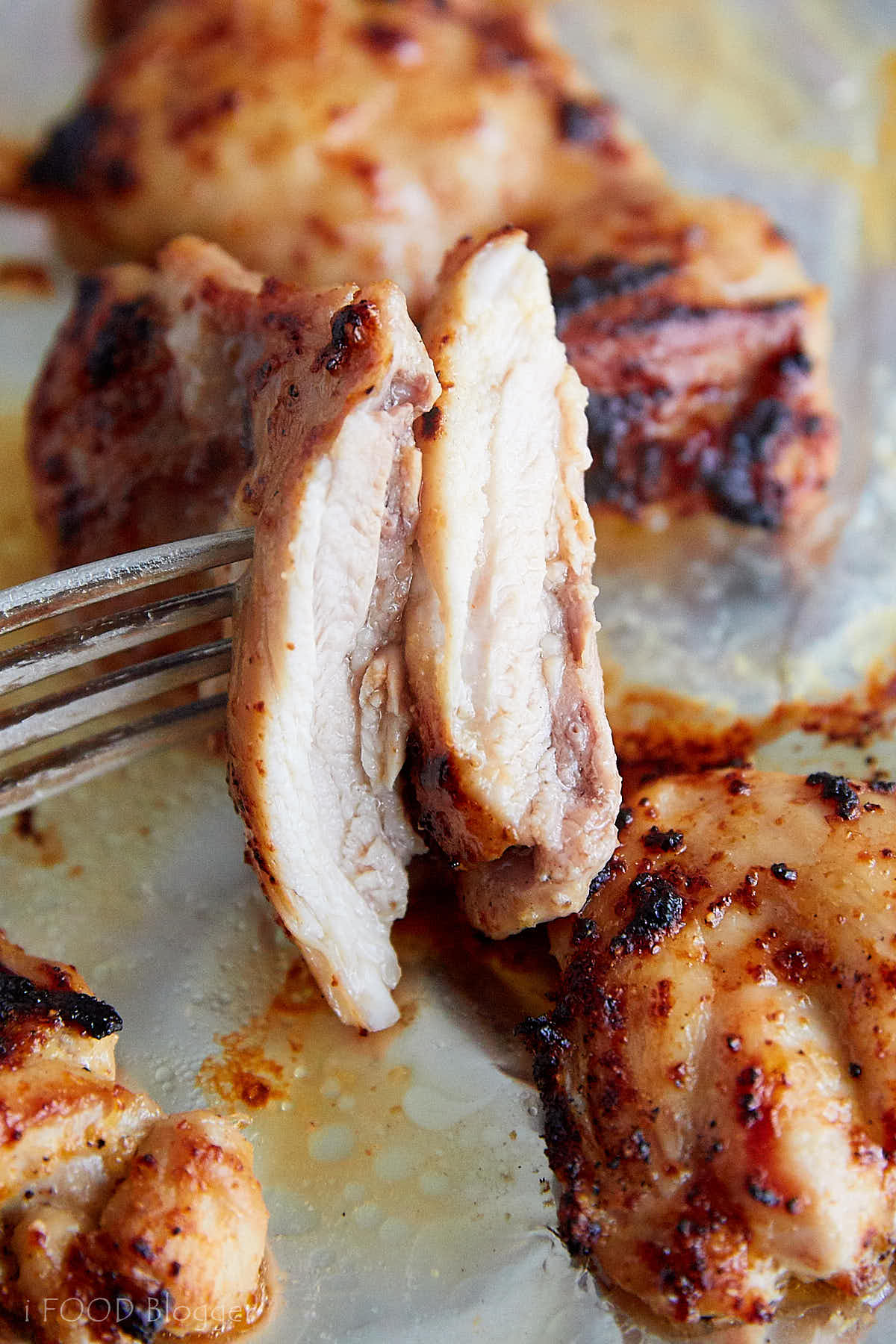 Oh, and did I mention juicy?
Looking for more great skinless, boneless chicken thigh recipes? Check these out: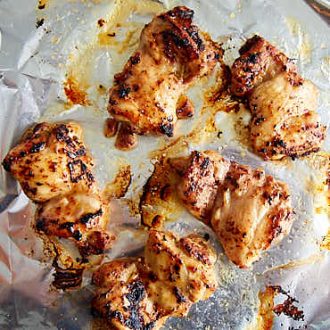 Ingredients
6

boneless skinless chicken thighs

1

Tbsp

olive oil

1

tsp

granulated garlic

(or powdered garlic)

1

tsp

granulated onion

(or powdered onion)

1

tsp

sea salt

(or to taste)

1/2

tsp

black pepper

(or to taste)

cayenne pepper

(optional, to taste)
Instructions
Position the top rack about 3 - 4 inches from the heating element. Set the oven to high broil and let it preheat.

Line a baking tray with foil.

Place chicken thighs in a large bowl. Add the oil, and the seasoning and mix well. Transfer the thighs to the baking tray and spread around, such that all thighs will be directly under the heating element.

Broil the thighs for about 7, until nicely browned and the internal temperature reads 165F plus.

Tip: the broiling time may vary depending on the oven and the power of the heating element, proximity to the heating element, etc. Pay close attention to the chicken at all times as it will only need minutes to cook.
Nutrition
Calories:
158
kcal
|
Carbohydrates:
0
g
|
Protein:
21
g
|
Fat:
6
g
|
Saturated Fat:
1
g
|
Cholesterol:
107
mg
|
Sodium:
488
mg
|
Potassium:
282
mg
|
Fiber:
0
g
|
Sugar:
0
g
|
Vitamin A:
25
IU
|
Calcium:
10
mg
|
Iron:
0.9
mg
Looking for more great broiling recipes? Check these out: