The best deep-fried chicken wings, period. Flavored inside out, with a tasty crunchy crust and succulent meat inside. Deliciousness at its best!
Crunchy deep-fried chicken wings, with tender and juicy meat inside, is my guilty pleasure. I don't make them often, but when I do, I want them to be nothing short of perfect. As they say, if you are going to do something wrong (or bad), do it right.
Challenges with deep-frying
The biggest challenges with deep-frying are the mess it leaves behind, the smell in the kitchen, and the difficulty maintaining oil temperature. I solved the first two of these problems by taking this type of cooking outside. There is no more stinky oil smell, and no more mess to clean up.
The simple solution that makes deep-frying a breeze
The temperature maintenance problem is easily solved by using a large cast iron pot with a propane burner. With this setup, I can heat the oil quickly, within minutes. I can also make it recover from a temperature drop after adding food very quickly.
A better option, I find, is to preheat oil about to about 20 - 25 degrees higher, than add the wings. I observed about a 20-degree temperature drop upon adding 2 pounds of wings to 3 quarts of hot oil.  I tend to prefer this approach.
The ideal internal temperature of the wings
Temperature control is only one of the factors contributing to how good your wings will be. The internal temperature of the wings is crucial. Cook them too long and they will dry out inside. Many wing joints, including the well-known ones, serve them like that. It seems to be hardly an issue for many as the wings will be doused in enough sauce to make that a non-problem.
But it is. A well-cooked fried wing should be tender and juicy, with a crunchy exterior, and taste great without any sauce. It makes a huge difference, with or without a sauce on top. I cook my wings to about 185F - 190F, checking the temperature with an instant-read thermometer after about 4 minutes of cooking. At 185F the wings are perfectly juicy, yet fall-off-the-bone tender. Cooking this way, I've never had a dry fried wing. Ever. It takes about 4-5 minutes to reach doneness. Larger wings may take a minute or so longer.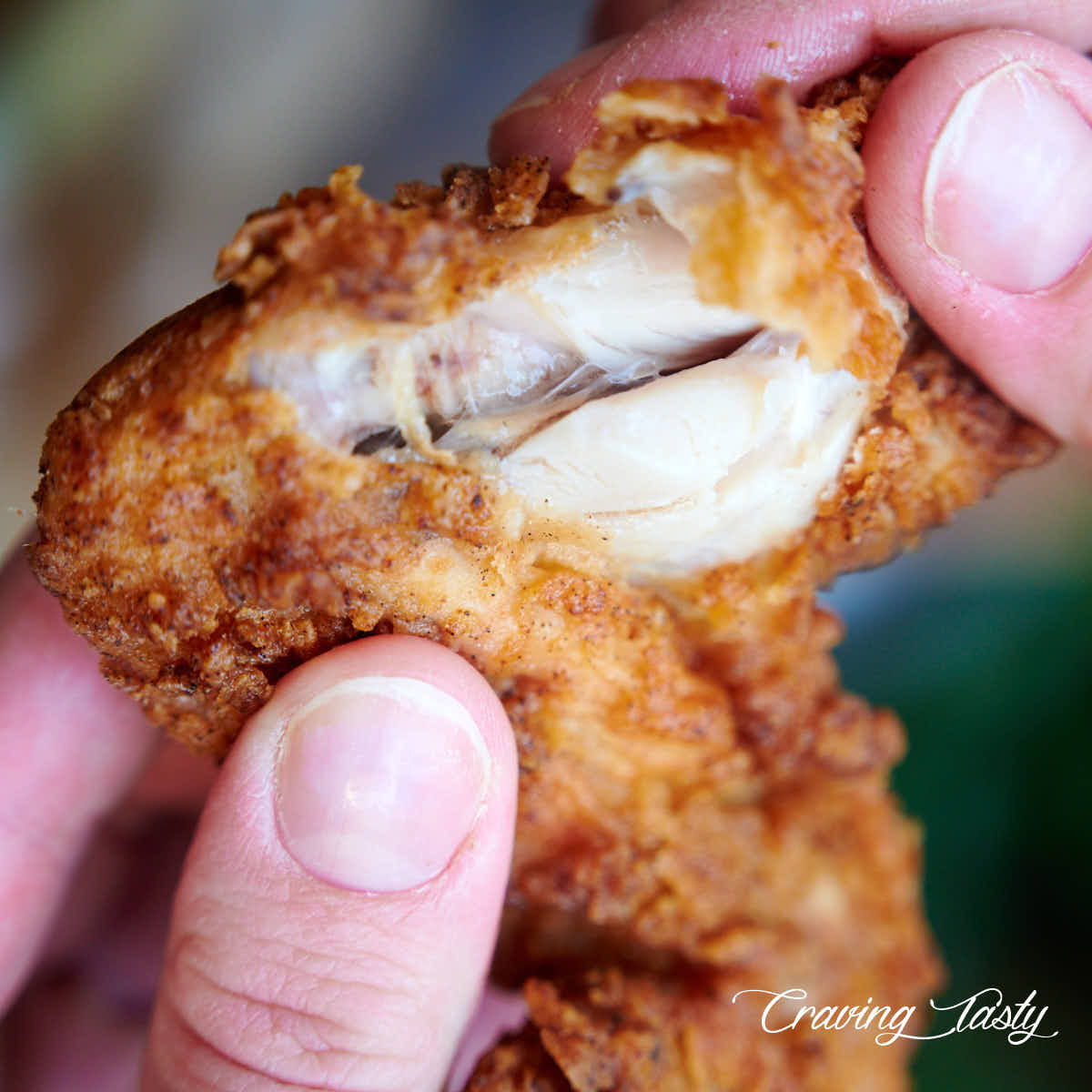 Chicken wing seasoning
Finally, it's how you season the wings. I like to put three layers of seasonings on my fried wings. I start off by seasoning the wings themselves, then cover in spicy egg wash, and dredge in seasoned flour. This makes every bite flavorful and tasty on its own, without any sauce. I thought about
brining
these wings for even more flavor, like I always do when making
smoked chicken wings
, but it's not necessary for this recipe.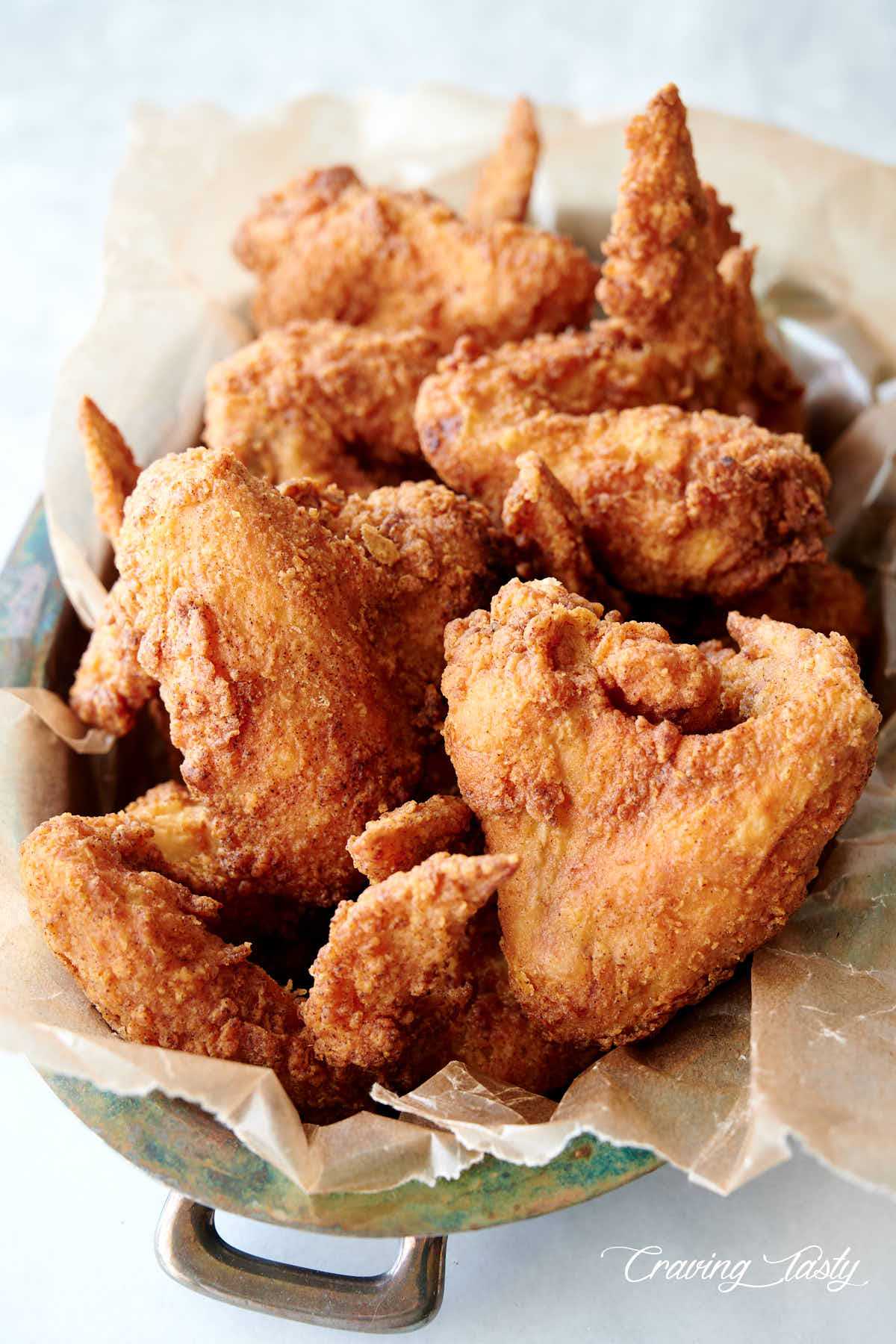 That said, these wings will be even better tossed with some hot sauce. My favorite sauce is the Duff's Hot Sauce, with a little bit of melted butter. About 1 tablespoon of melted butter to 1/3 cup of Duff's wing sauce, with no added salt. That's enough for 2 pounds of wings. It's what I also use on my favorite extra crispy baked chicken wings.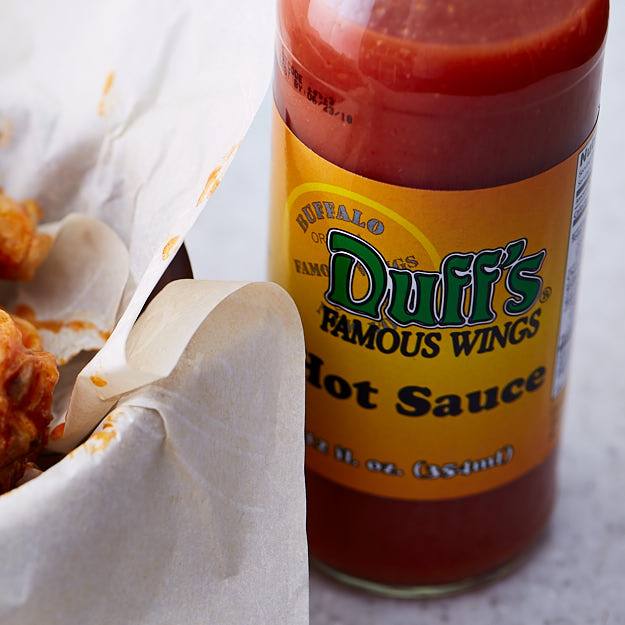 Another way I like to serve these wings is to toss them with just a touch, about 2-3 tablespoons, of plain Duff's hot sauce - less fatty this way, just a touch spicy, and so good!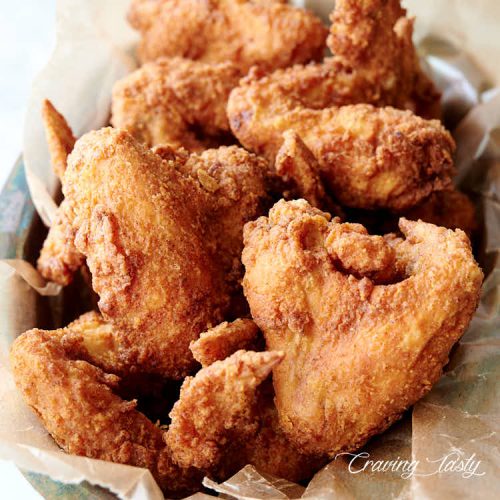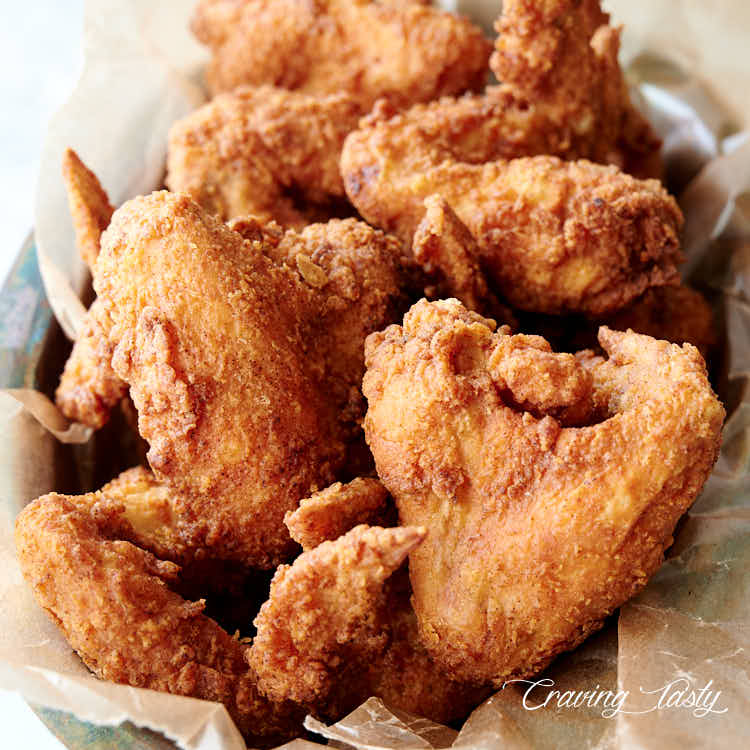 Ingredients
2

lbs

chicken wings

3

quarts

peanut oil

for frying; or any other oil with high smoking point

1

egg

1

Tbsp

water

1/4

cup

hot sauce

Duff's hot sauce, Frank's, etc.
Chicken wing seasoning:
1

tsp

kosher salt

1

tsp

garlic powder

1

tsp

onion powder

1/4

tsp

black pepper

a pinch cayenne pepper
For dredging:
1

cup

all-purpose flour

1

tsp

baking powder

1

tsp

garlic powder

1/2

tsp

kosher salt

1/4

tsp

black pepper
Instructions
Combine the chicken wing seasoning ingredients in small bowl. Season the wings all over, ensuring even coverage. Pat down to make the seasonings stick. Set aside.

In a large bowl, combine the egg with the hot sauce and water. Whisk lightly and set aside.

In a separate large bowl, combine the flour with the baking powder, salt and pepper. Mix the ingredient together and set aside.

Heat 3 quarts of peanut oil in a large cast iron pot (the oil should be no higher than the middle of the pot) over a gas burner to 375F.

Drop the seasoned wings into the bowl with the egg mixture, toss with your hands, ensuring even coverage.

Pick up the wings using both hands, a few at a time, shaking off excess egg mixture, and drop in the flour bowl. Once all of the wings are in the flour bowl, toss them with flour, shake off excess and drop in the preheated oil.

The temperature will drop to about 350F, perfect for deep frying. Adjust the burner as needed to keep the oil at 350F.

Fry the wings for about 4 minutes or until the internal temperature of the wings reaches about 185F - 190F.

Remove wings from the oil and place on a platter lined with paper towels to drain off the excess oil. Serve immediately with your favorite wing dip or tossed in a sauce.
Nutrition
Calories:
415
kcal
|
Carbohydrates:
26
g
|
Protein:
27
g
|
Fat:
22
g
|
Saturated Fat:
6
g
|
Cholesterol:
135
mg
|
Sodium:
1376
mg
|
Potassium:
371
mg
|
Fiber:
1
g
|
Sugar:
1
g
|
Vitamin A:
264
IU
|
Vitamin C:
12
mg
|
Calcium:
69
mg
|
Iron:
3
mg