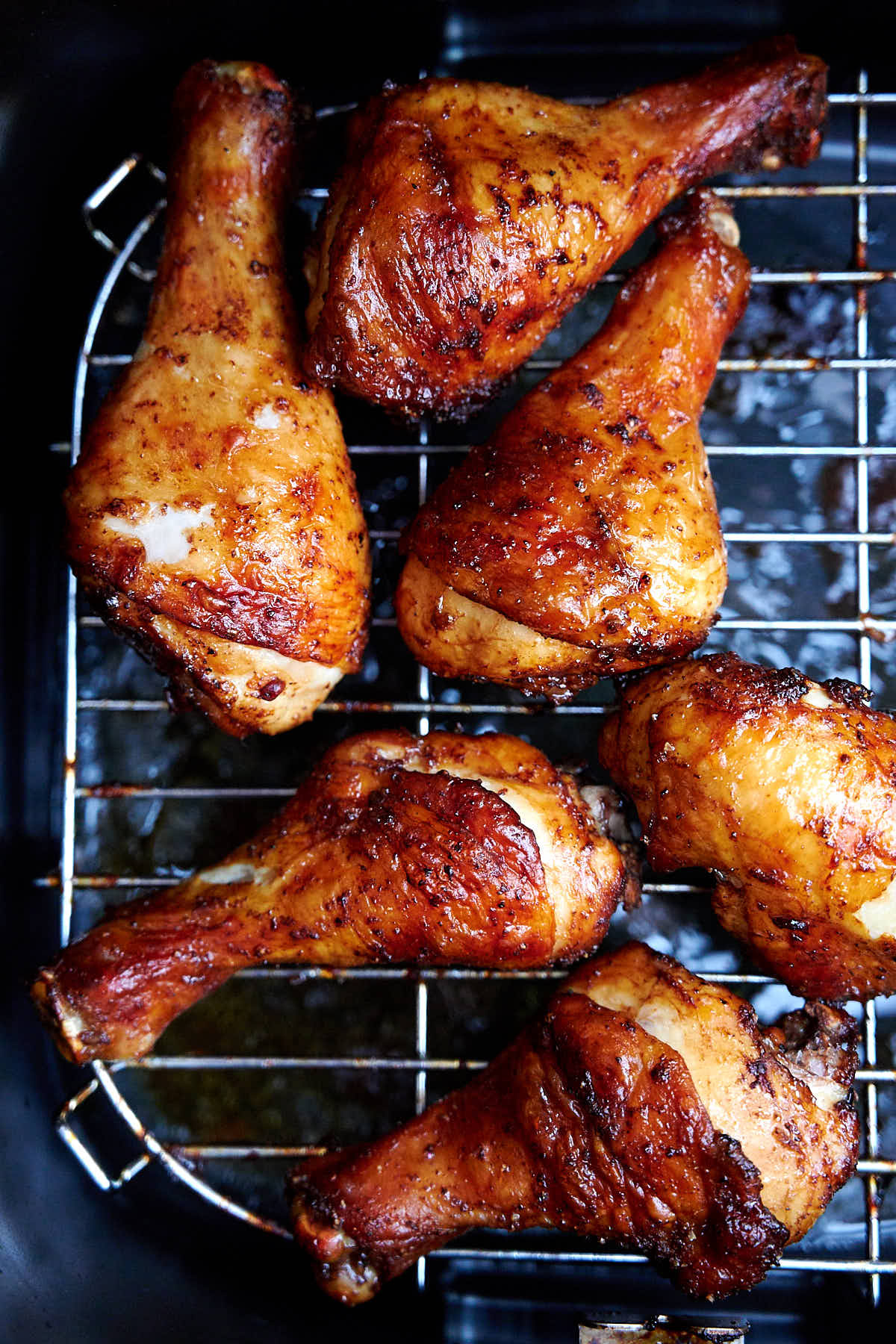 If you like dark chicken meat, you absolutely must try these air fryer chicken legs.  I love chicken legs and have tried dozens of really good recipes over time. I must say, these chicken legs are way at the top of the list, along with my favorite grilled chicken legs and the crispy oven roasted chicken legs. They are crispy on the outside and so moist on the inside that as you bite into them you get an explosion of tasty juicy goodness in your mouth.
If you don't have an air fryer, do yourself a favor, go buy one now. Ever since I got one last fall I've been using it almost on a daily basis. It makes cooking easier and the food healthier. But above all, air fried food in most cases tastes so much better compared to baking or broiling, or even frying.
How many chicken legs can I cook in an air fryer?
This is a very important question to ask because with air fryers size matters a lot. Take a look at the picture above and you will see that six drumsticks take up just a touch more than half the space of my 6.8 quart air fryer. Meat shrinks during cooking so raw drumsticks will take up a little more space. That said, you can comfortably fry 8-10 drumsticks in a 6.8 quart air fryer. You can go up to 12 but I would not recommend it as that will prevent proper air circulation and hence browning. You need to leave some gap between the drumsticks. If you plan on using a 3.6 quart air fryer, you will be able to fit in 4-5 chicken drumsticks.
If you are using full chicken legs, i.e. drumsticks with thighs attached, plan on comfortably fitting 5-6 legs in a large air fryer and 2-3 in a small one.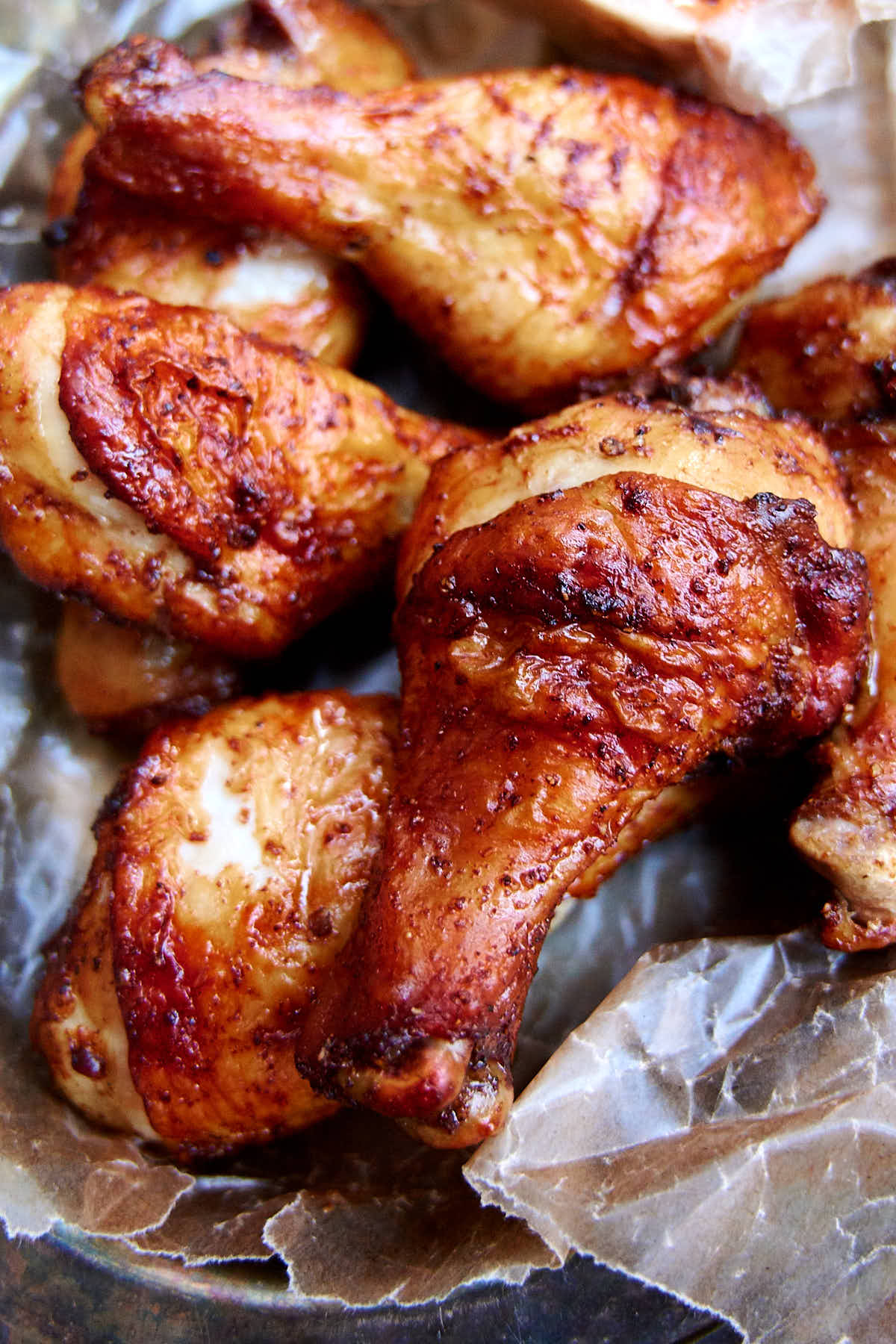 At what temperature to air fry chicken legs?
Ask a different person and you will mostly likely get a different answer to this question. Personally, I like cooking at higher temperatures as, based on my experiments, they result in:
better browning
crispier skin
faster cooking
incredibly juicy meat
Air frying at high temperatures produces results similar to those of grilling. I find that frying at lower temperatures, which results in longer cooks, only dries out the meat and makes the skin rubbery. Hence, I recommend cooking your chicken legs at 400F - 410F, which would be the highest temperature setting on your air fryer.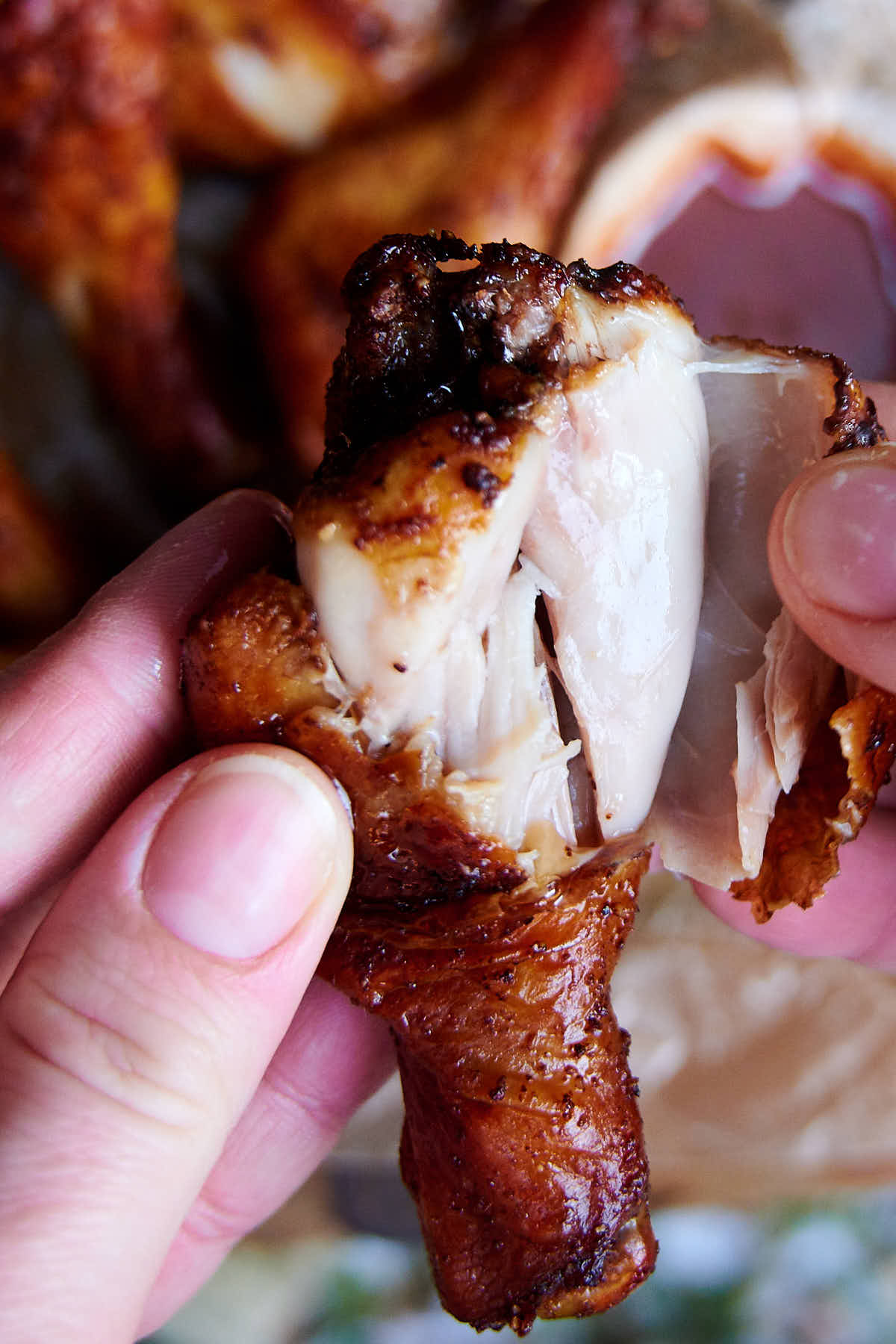 How long to cook chicken legs in an air fryer?
In my air fryer, it's about 30 minutes at 400F, and about 25 minutes at 410F. For more even browning, I flip the legs twice during cooking. You can think of is as a 15-10-5 method, where the chicken is flipped after 15 minutes, then after 10 minutes of cooking, and then cooked for additional 5 minutes.
Keep in mind that different air fryers cook differently. I've had two individuals report overcooking when following my other air fryer recipes. That is something that can't be avoided. Some air fryers cook at higher temperatures than they report, while other air fryers may have their racks positioned closer to their heating elements. This will affect cooking. When you try this, or any other recipe, keep a close eye on the food the first time around and adjust timings and/or temperature as needed. Based on my experience with other air fryer recipes, only a small percentage of people will need to do that, but it's a good practice to monitor the cooking process the first time you are making a new recipe.
With what to serve your air fryer chicken legs?
These air fried chicken legs are good on their own and don't really need any sauce on them. That said, you can totally toss them with one tablespoon of Buffalo wing sauce per pound of chicken legs. Add more sauce if you like them hotter. Or try my favorite way of tossing the legs with a 50/50 mix of hot sauce and BBQ sauce.
As far as side dishes go, I love my drumsticks with garlic mashed potatoes. They complement each other very well. For a healthier meal, try this delicious tomato and cucumber salad. And don't forget the try these crunchy air fryer French fries as an accompaniment, the two also go so well together.
Looking for more tasty air fryer recipes? Make sure to check these out:
Equipment used and shown on the pictures above:  Chefman 6.8 Quart Air Fryer.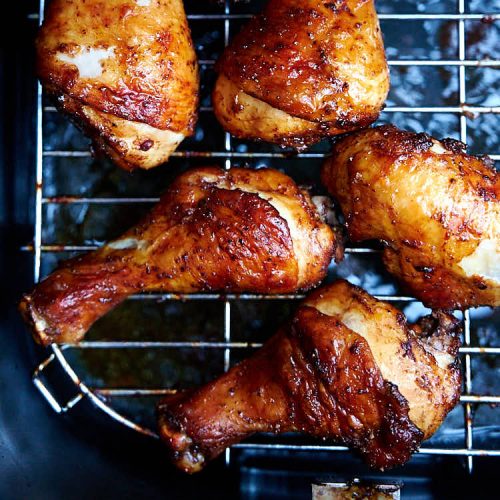 Ingredients
8

chicken drumsticks

(or 4 chicken legs (drumstick plus thigh))

1/2

tsp

kosher salt

(plus more to taste)

2

Tbsp

olive oil

1

Tbsp

sesame oil

4

Tbsp

low sodium soy sauce

1

Tbsp

Worcestershire sauce

2

Tbsp

lime juice

(or lemon juice)

2

Tbsp

honey

1

Tbsp

garlic powder

1

Tbsp

onion powder

1/4

tsp

cayenne pepper
Instructions
In a large bowl, mix all of the ingredients except chicken, until well blended. Add the chicken legs.

Mix and massage the drumsticks by hand for about 2-3 minutes, or until all the liquids almost completely absorbed by the meat. Make sure that the chicken is evenly covered by the seasoning sauce. Massaging the chicken will allow the sauce to get quickly absorbed by the meat, flavorizing it inside out.

Place the chicken legs on the air fryer rack, leaving some space in between. Depending on the size of your air fryer, you may need to do the frying in two batches.

Fry at 400F for 15 min. Flip and fry for 10 min more, again at 400F. Flip again and fry for 5 minutes more. If the legs look quite well-browned, you may not need to do the final 5 minutes of frying.

Note: you do not need to preheat the air fryer. Also, it's a good idea to keep an eye on the chicken during the process. Some air fryers cook hotter so your timings may vary. Keep a close eye on the chicken the first time you are making this recipe and adjust the timings as needed, or consider dropping the temperature if the chicken is browning too quickly before getting fully cooked inside.

Remove the drumsticks from the air fryer and transfer them to a serving platter. Serve hot, with your favorite side dish or a salad.
Nutrition
Calories:
393
kcal
|
Carbohydrates:
14
g
|
Protein:
28
g
|
Fat:
24
g
|
Saturated Fat:
5
g
|
Cholesterol:
139
mg
|
Sodium:
1026
mg
|
Potassium:
446
mg
|
Fiber:
0
g
|
Sugar:
9
g
|
Vitamin A:
115
IU
|
Vitamin C:
3.2
mg
|
Calcium:
29
mg
|
Iron:
1.7
mg