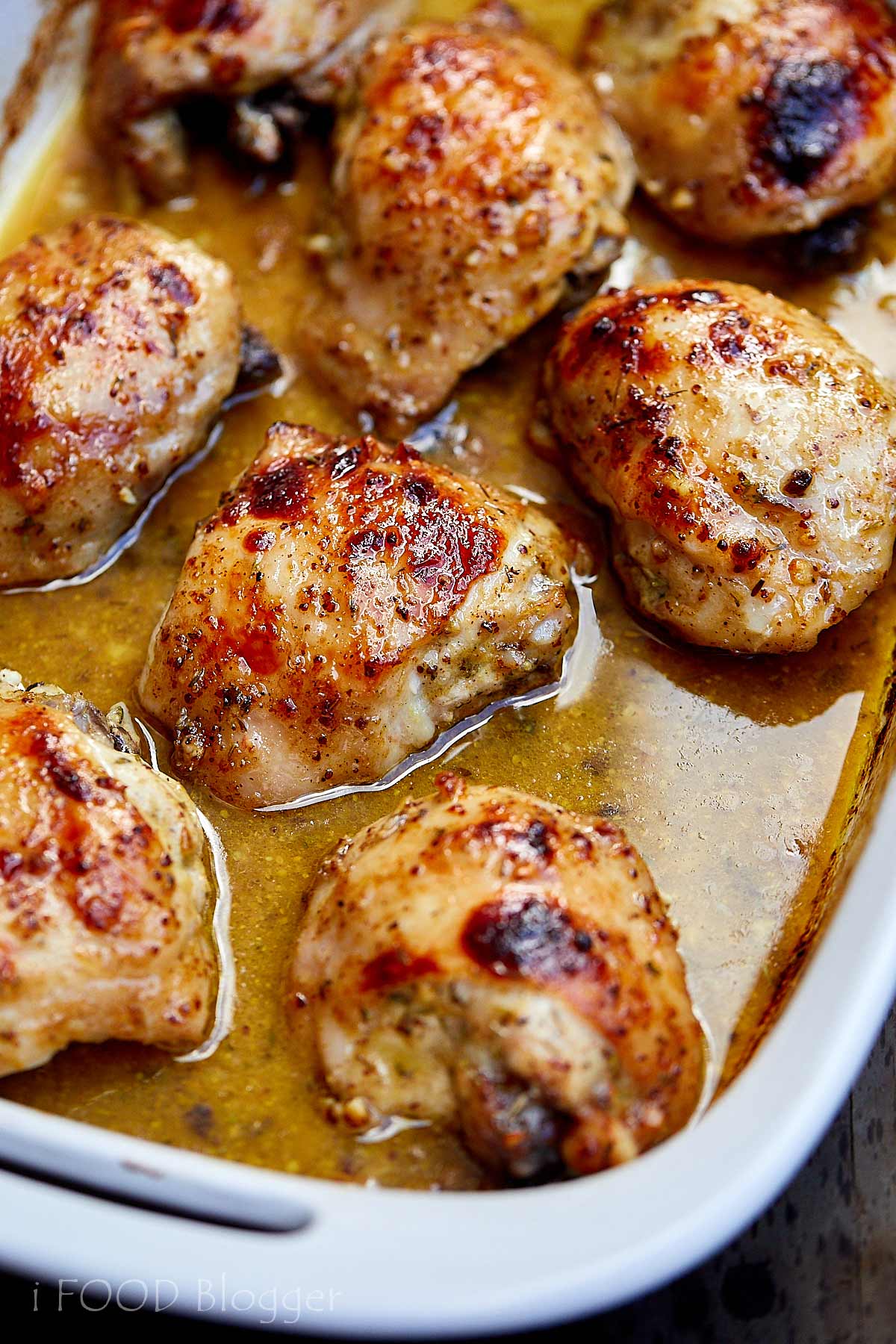 There are many chicken thigh recipes out there but none are like this honey mustard chicken thigh recipe. There is a perfect balance between the tartness of red wine vinegar and the sweetness of honey. The spicy brown mustard, instead of the usual Dijon or yellow mustard, adds a nice hint of spiciness without introducing a strong mustard flavor. Fresh garlic, once cooked, adds rich deep savory flavor to the dish.
I've made this dish by smothering chicken thighs with honey mustard sauce and baking immediately, and I've also let the chicken marinate in the honey mustard sauce overnight. Both dishes hit you with a big flavor, but the marinated one is just more tender and more flavorful inside out. If you can, definitely marinate your chicken thighs.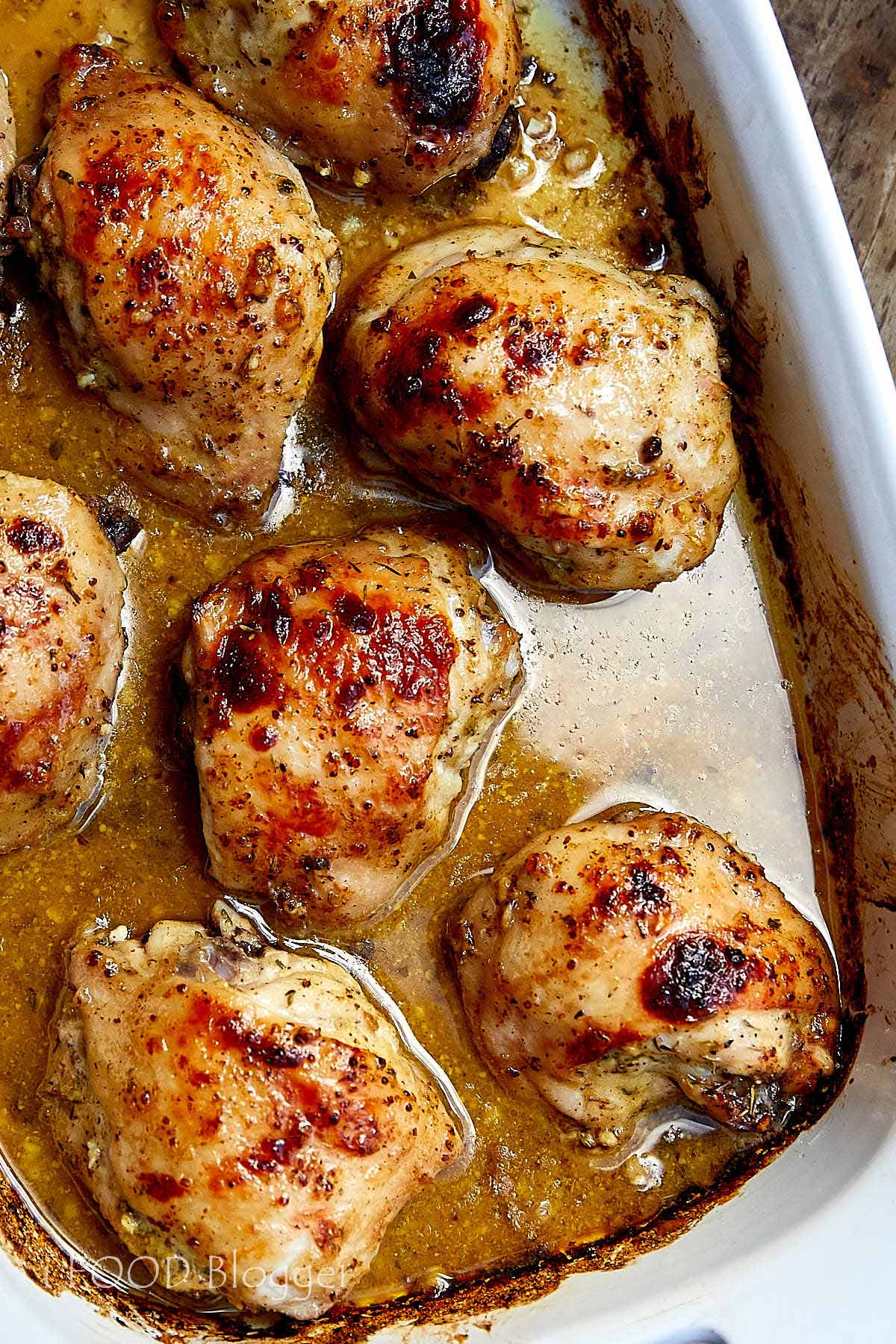 Can I substitute chicken thighs in this recipe?
Chicken thighs and legs are perfect for this recipe – dark meat handles heat much better and is practically impossible to mess up. Dark meat is also juicier and more flavorful. I recommend roasting chicken legs and thighs to 185F internal temperature for that desirable fall-off-the-bone texture and ultimate tenderness.
That said, chicken breasts are incredibly good in this recipe as well. One thing to remember is to cook them at a lower temperature and pull them out as soon as the internal temperature reaches 160F. If you do that, you will get tender and juicy meat, that, coupled with the delicious honey mustard sauce, is like heaven in your mouth.
Skin-on vs. skinless thighs
A common dilemma is whether to use skin-on, bone-in or skinless, boneless chicken in this recipe. I've tried both and both worked really well. However, if you have no preference, go with bone-in, skin-on chicken thighs. Skin adds extra flavor to chicken, while both skin and bones protect chicken meat from drying out and help keeping it moist during cooking.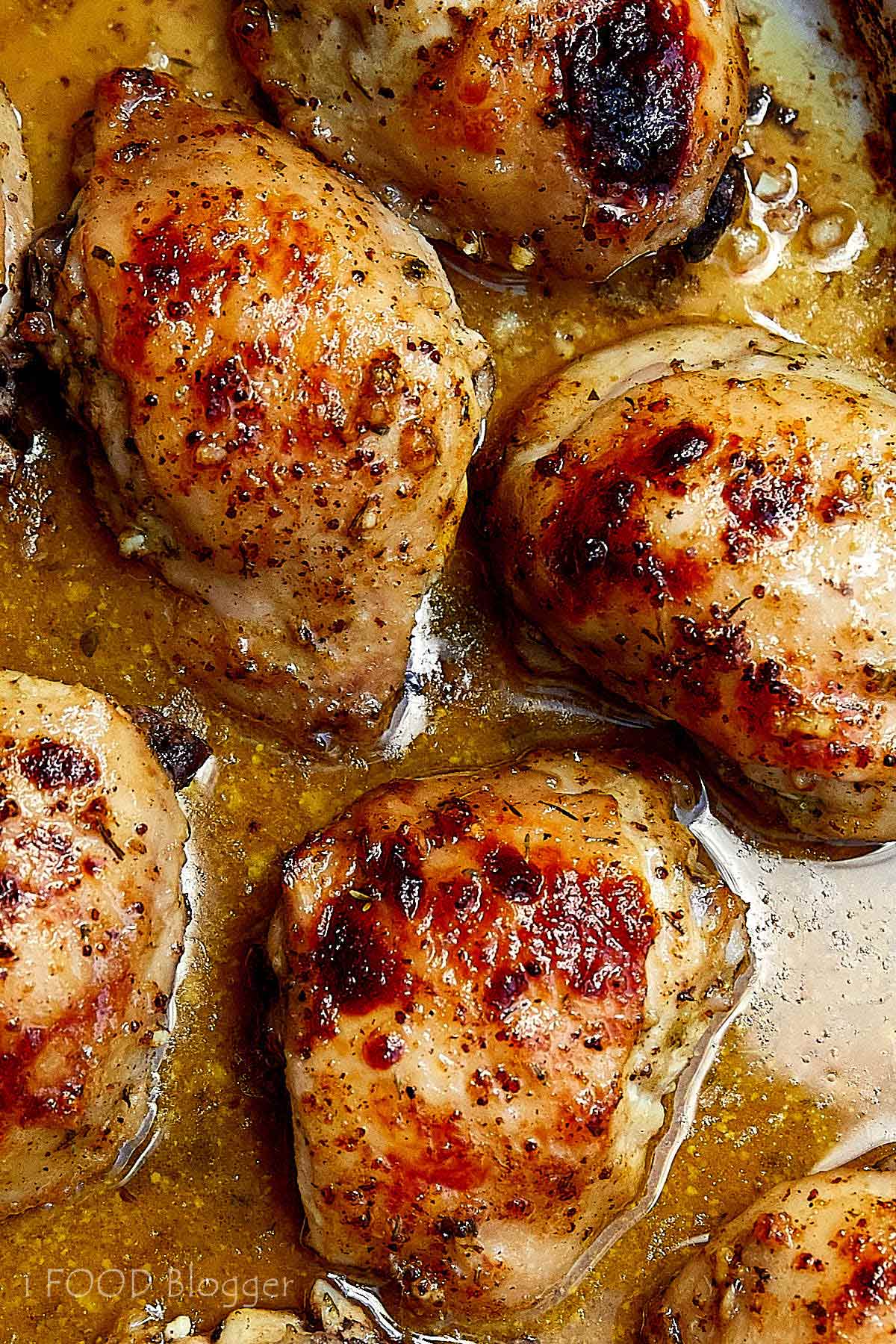 Looking for more great chicken thigh recipes? Check these out: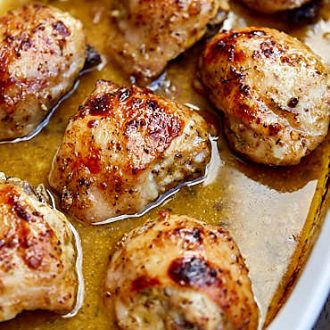 Ingredients
8

skin-on, bone-in chicken thighs (see notes)

1

tsp

kosher salt

1/2

tsp

black pepper
For the sauce:
5

Tbsp

spicy brown mustard

5

Tbsp

honey

6

Tbsp

red wine vinegar

6

Tbsp

olive oil

2

garlic cloves

(pressed)
Instructions
Add the mustard, honey, red wine vinegar, olive oil and pressed garlic to a small bowl. Whisk until all the ingredients are well combined. Set aside.

Rub chicken thighs with salt and pepper and place into a large bowl. Pour the sauce all of the chicken and toss to ensure even coverage. Bake immediately or refrigerate for at least a few hours or overnight and up to 24 hours for best results.

Transfer the chicken and all of the sauce into a baking dish, placing the chicken pieces skin side up.

Bake uncovered at 450F for 30 minutes, or until the internal temperature reaches 185F.

To make sure the chicken tops are nicely browned and do not dry out, baste the chicken thighs in the juices and marinade about 15-20 minutes into baking. For better browning, turn on the broiler on high for 2-3 minutes just before the chicken is done cooking.

Remove the chicken from the oven and transfer to a serving platter. Let rest for 5 minutes and serve with pan juices poured over the chicken (and the side dish if desired).
Notes
1 - for chicken drumsticks, the same amounts of ingredients and cooking instructions apply.
2 - if using whole chicken legs, substitute chicken thighs for 3-4 chicken legs and follow the same instructions.
3 - if using skin-on, bone-in chicken breasts, substitute chicken thighs for 3-4 chicken breasts.  Bake at 375F for 35-40 minutes or until the chicken breasts have reached 160F internal temperature. Remove from the baking dish and let rest 5 minutes prior to serving.
4 - if using skinless chicken thighs, follow the same instructions but reduce baking time to about 20-25 minutes, depending on the size of the thighs.
5 - if using skinless, boneless chicken breasts, use 4 chicken breasts and bake at 325F-350F for about 45-60 minutes, or until the internal temperature reaches 160F, basting chicken breasts with pan sauce once or twice during baking.
Nutrition
Calories:
382
kcal
|
Carbohydrates:
9
g
|
Protein:
18
g
|
Fat:
29
g
|
Saturated Fat:
6
g
|
Cholesterol:
110
mg
|
Sodium:
485
mg
|
Potassium:
250
mg
|
Fiber:
0
g
|
Sugar:
8
g
|
Vitamin A:
95
IU
|
Vitamin C:
0.4
mg
|
Calcium:
16
mg
|
Iron:
1
mg
This post was updated on September 26 2018