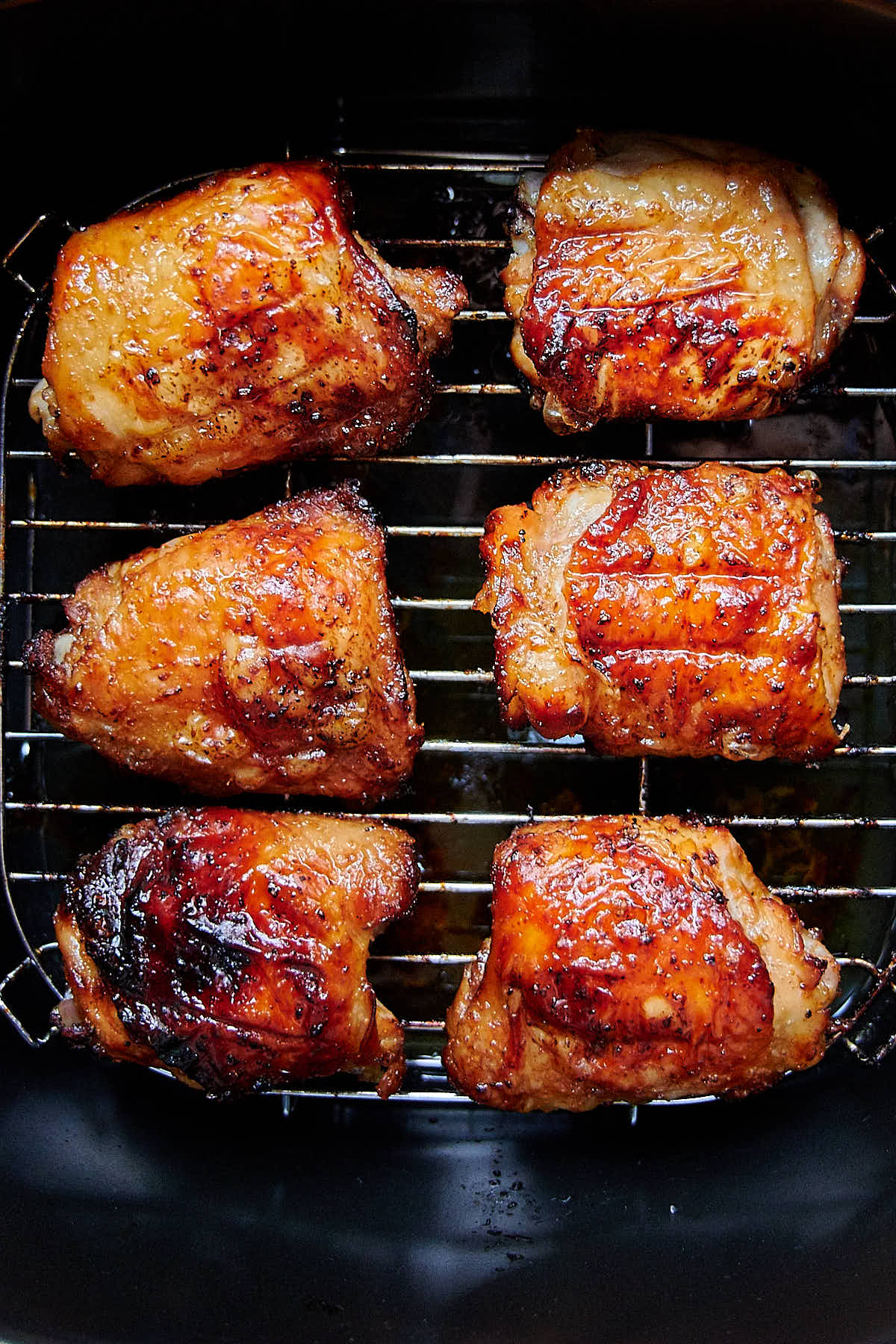 These air fryer chicken thighs are easily the best chicken thighs I've ever made or tried. The flavoring sauce on them is pure delight. It's slightly sweet and tangy, with a little bit of savory coming from soy and Worcestershire sauces and garlic. The maple syrup in the sauce, combined with high heat air frying, makes the skin beautifully caramelized and very tasty. Even addictive. Trust me, you will be running for seconds.
The flavoring sauce
I used a modified version of my insanely popular killer chicken thigh marinade to flavorize these thighs. My intent was to make a very quick recipe, one that does not require hours of marination. The amount of sauce was also a consideration. A lot of sauce would make little sense for an air fryer cooking. Hence, I reduced its amount to just enough to glaze the thighs and to get absorbed by the meat. I also substituted fresh garlic by garlic powder as bits of fresh garlic tend to char quickly when cooked on convection.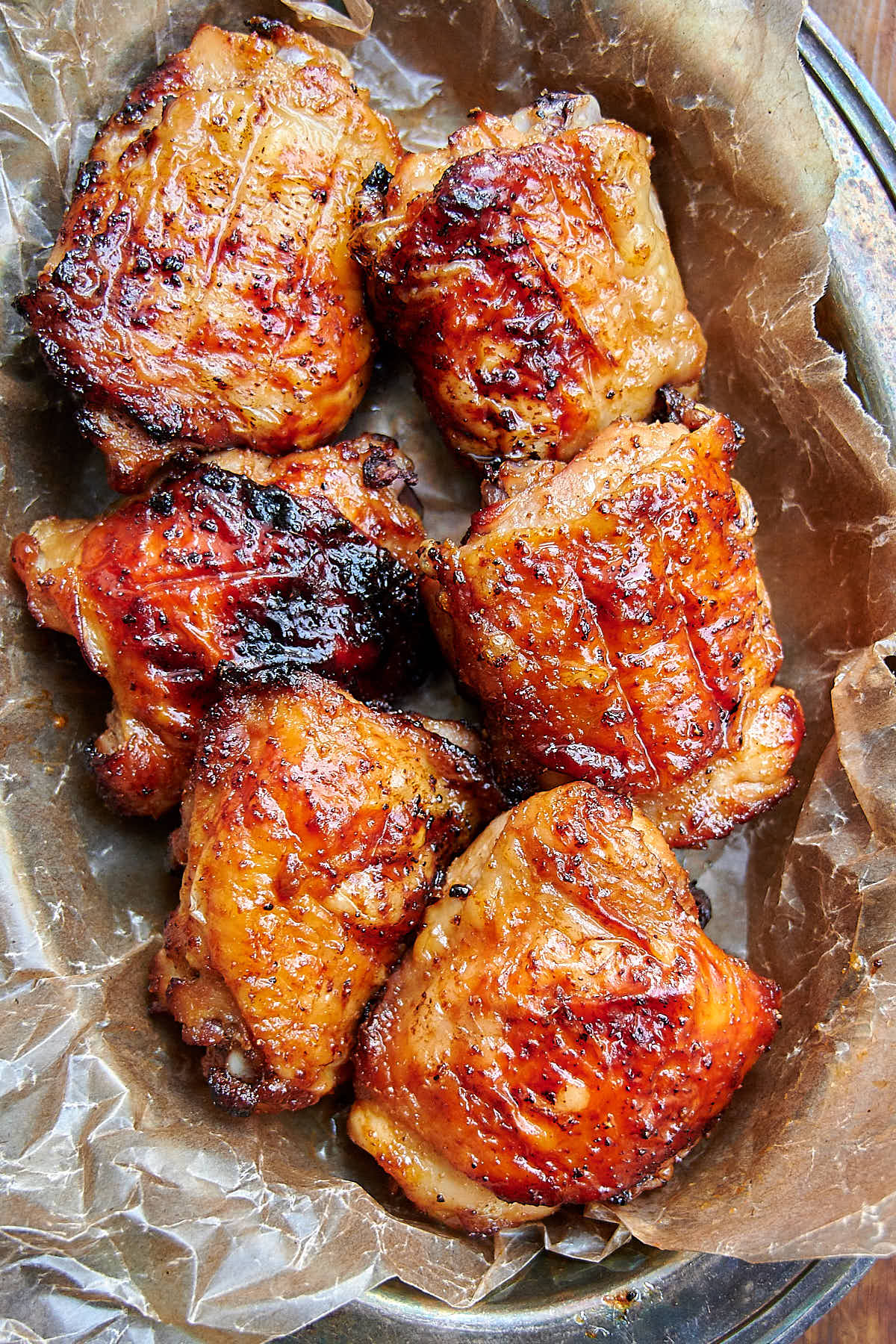 Flavorizing the meat inside out
How do you flavorize the meat inside out without long hours of marination? Commercial producers use tumblers. In a small kitchen we will use our hands to achieve the same results. Place the thighs in a bowl, add the rest of the ingredients and start mixing and massaging those thighs until all liquids have been absorbed. Depending on how quickly you operate, it will take anywhere between 2 and 4 minutes. Pretty awesome, ha?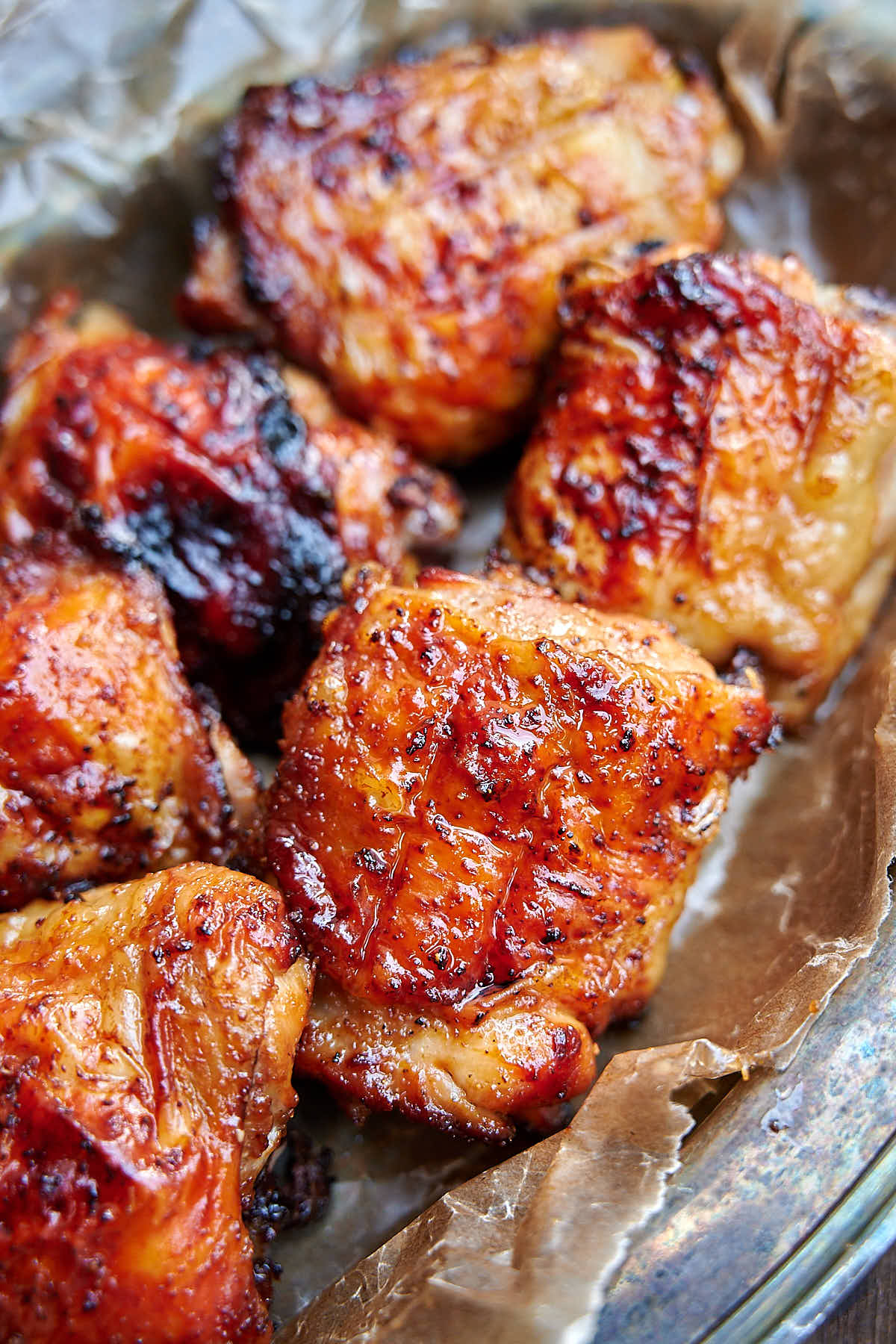 Frying
Now, lay the thighs skin side up on the air fryer rack and cook at 400F for 15 minutes. No preheating is needed. You will see quite a bit of browning and caramelization going on. Stop the air fryer, flip the thighs and continue cooking for another 10 minutes at 400F. This will brown the bottoms and add just a touch more of browning on the tops.
You may wonder if 25 minutes isn't a bit too much for cooking thighs. I like my thighs well-browned and cooked well inside. If the thighs are cooked to the minimum recommended temperature of 165F, to me they taste under-cooked. I like cooking them to about 185F - 190F internal temperature. That's when they become fall-off-the-bone tender and are still quite juicy, and the skins become super tasty. Just like on the picture below. So delicious!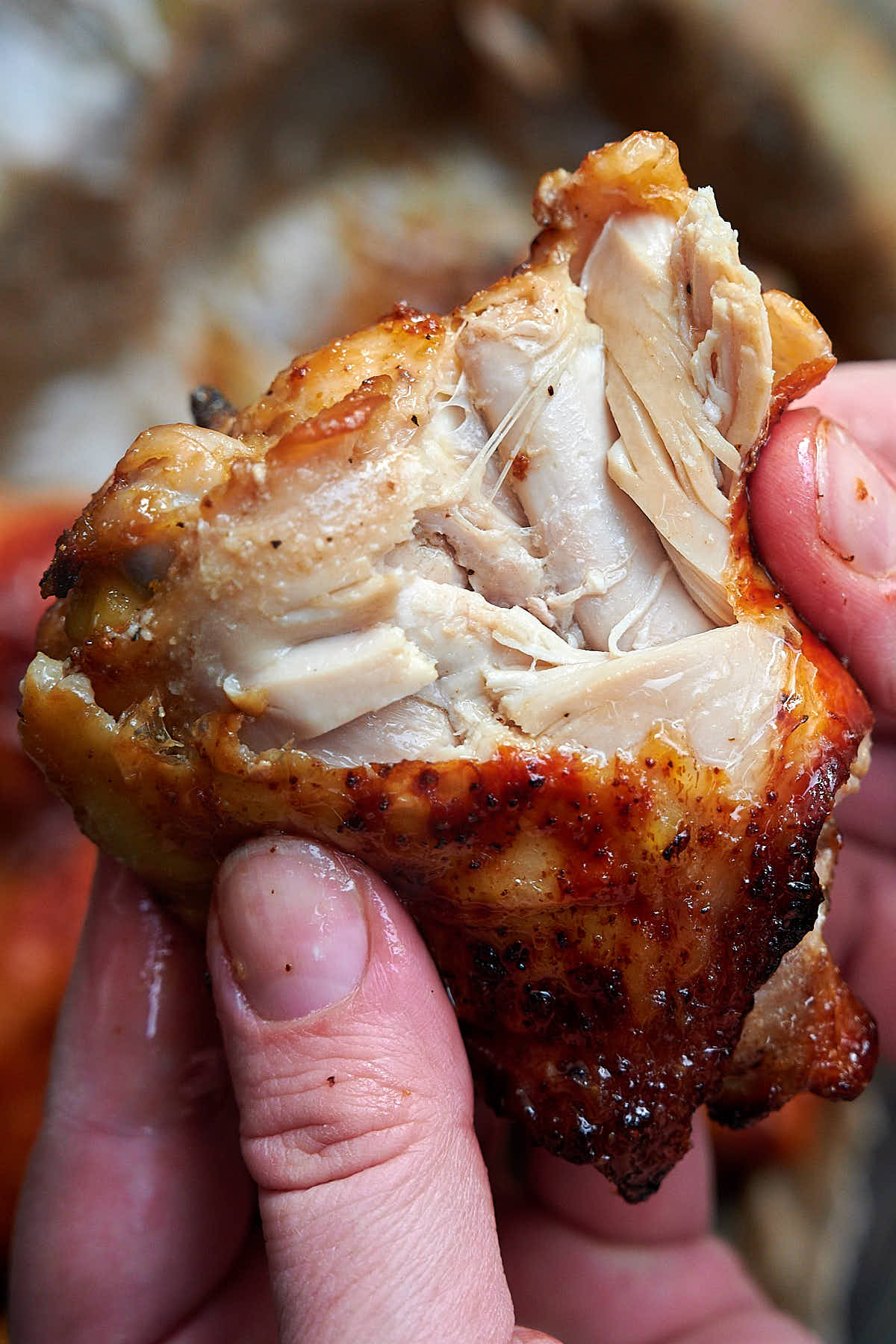 Looking for more tasty air fryer recipes? Make sure to check these out:
Equipment used and shown on the pictures above:  Chefman 6.8 Quart Air Fryer.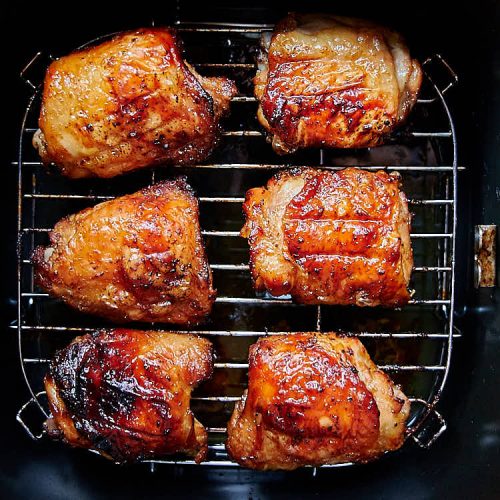 Ingredients
6

chicken thighs

(bone-in or boneless, skin-on)

1/2

tsp

kosher salt

(plus more to taste)

2

Tbsp

olive oil

1

Tbsp

sesame oil

4

Tbsp

low sodium soy sauce

1

Tbsp

Worcestershire sauce

2

Tbsp

lime juice

(or lemon juice)

3

Tbsp

maple syrup

(or honey)

1

Tbsp

garlic powder

1

Tbsp

onion powder
Instructions
Drop chicken thighs together with the rest of the ingredients into a medium mixing bowl.

Mix and massage the thighs by hand for about 3 minutes to get the meat to absorb as much of the liquid as possible. Make sure that the thighs are evenly covered by the seasoning sauce.

Place the thighs on the air fryer rack, leaving some space in between. Depending on the size of your air fryer, you may need to do the frying in two batches.

Fry at 400F for 10 min skin side up. Check the browning. If well-browned, flip and fry for 10 min more, again at 400F. If not, let them brown for another 5 minutes, then flip. Different air fryers cook differently. Cook until internal temperature reaches at least 165F. I prefer 185F. You do not need to preheat the air fryer. 

Once the thighs are done, flip them over and transfer to a serving platter. Serve hot, with your favorite side dish or a salad.
Nutrition
Calories:
347
kcal
|
Carbohydrates:
9
g
|
Protein:
19
g
|
Fat:
25
g
|
Saturated Fat:
6
g
|
Cholesterol:
110
mg
|
Sodium:
666
mg
|
Potassium:
320
mg
|
Fiber:
0
g
|
Sugar:
5
g
|
Vitamin A:
90
IU
|
Vitamin C:
2.1
mg
|
Calcium:
26
mg
|
Iron:
1.3
mg