Baked chicken drumsticks that are so good that you will forget any other drumstick recipe! Beautifully browned, richly flavored, juicy and fall-off-the-bone tender. These baked drumsticks are a hit every time. Delicious and so addictive!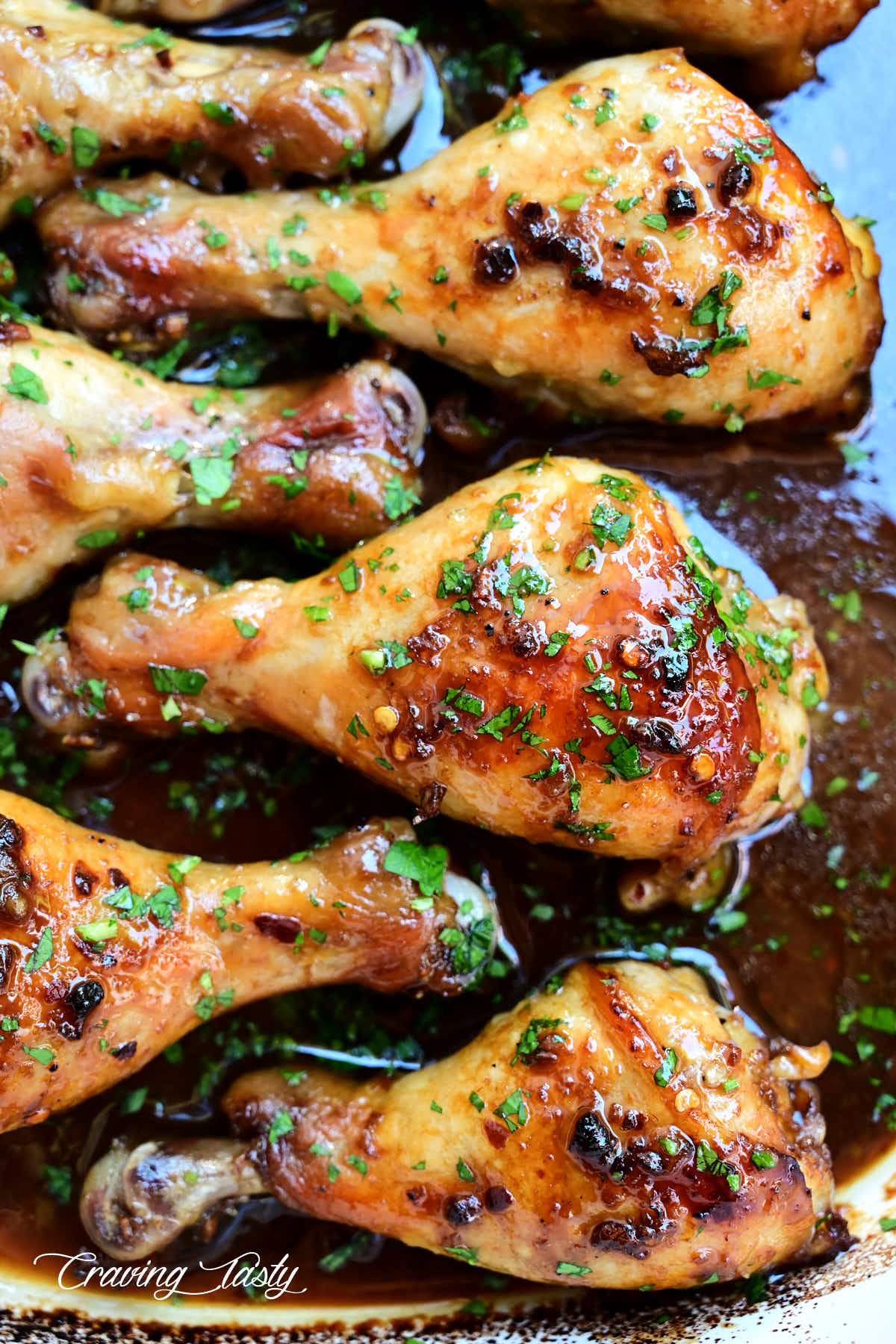 The secret to great tasting baked chicken drumsticks
The secret to making these drumsticks is the sweet and savory marinade that is so tasty that you can just drink it on its own. If you want your chicken legs or drumsticks to be flavorful and juicy inside, you have to marinate them. This is what separates a great chicken drumstick from an OK one.
Once you've prepared the marinade and marinated your drumsticks, you bake them until they are cooked through and have nice crispy tops. That's all there is to it. It sounds simple, and it really is, but the drumsticks come out nothing short of exceptional. They are a huge hit every time I make them.
The marinade
A great tasting marinade makes a great tasting drumstick. If you've tried my chicken thigh marinade, you know how amazing it is. It's perfect for both chicken thighs and drumsticks. I've used it for years and always get a ton of compliments for it. For my chicken drumsticks, I slightly tweaked the original recipe to give it slightly more zest and more punch. The results were just what I had been looking for.
How long do you need to marinate chicken drumsticks?
For best results, I recommend marinating chicken legs and drumsticks overnight and up to 24 hours.  A marinade needs time to work its way into the meat and flavorize it. I've seen many recipes suggesting 15 to 30 minutes marination and that's just not enough. Chicken drumsticks will need at least several hours of marination to get the seasonings inside the meat.
I found that I get best results when I marinate drumsticks overnight and even up to 24 hours. This works very well with my schedule - I prepare the chicken in the evening, marinate it until the next evening, then bake it. This makes things super easy.
What if I don't have the time to marinate drumsticks?
I am glad you asked. There is a way! I too often don't have the time and want to make something real quick without advanced planning.  After some experimenting I found a perfect way to beat the need to marinate and get all that flavor inside the meat. What I do is put the chicken in a Ziploc bag, add the marinade, close the bag and massage the chicken for 5 minutes. What this does is it expedites the process of marination where the sauce gets sucked in through the capillaries in the meat.
How long to bake chicken drumsticks and at what temperature?
Baking time and temperature are inversely related. The higher the temperature the lower the baking time will be. I've experimented with both higher and lower baking temperatures, and found that 375F gives me the best results in terms of browning and meat juiciness and tenderness. I don't have to resort to broiling to get proper browning. At 375F, it takes about 45-50 minutes for the chicken to get a nice browning going and the internal temperature to reach 185F.
I recommend using a BBQ thermometer like ThermoPro TP07 or it's more advanced sibling ThermoPro TP08 to get an alert when your chicken is ready. I've been using a BBQ thermometer in the kitchen for years now and love how it makes cooking so much easier and more predictable.
I like my skin-on dark meat chicken parts cooked to about 185F-190F. Cooked to 165F, they taste under-cooked to me. The texture is still tough. This is especially true for drumsticks. When you cook them to 185F, the meat becomes fall-off-the-bone tender while still being juicy.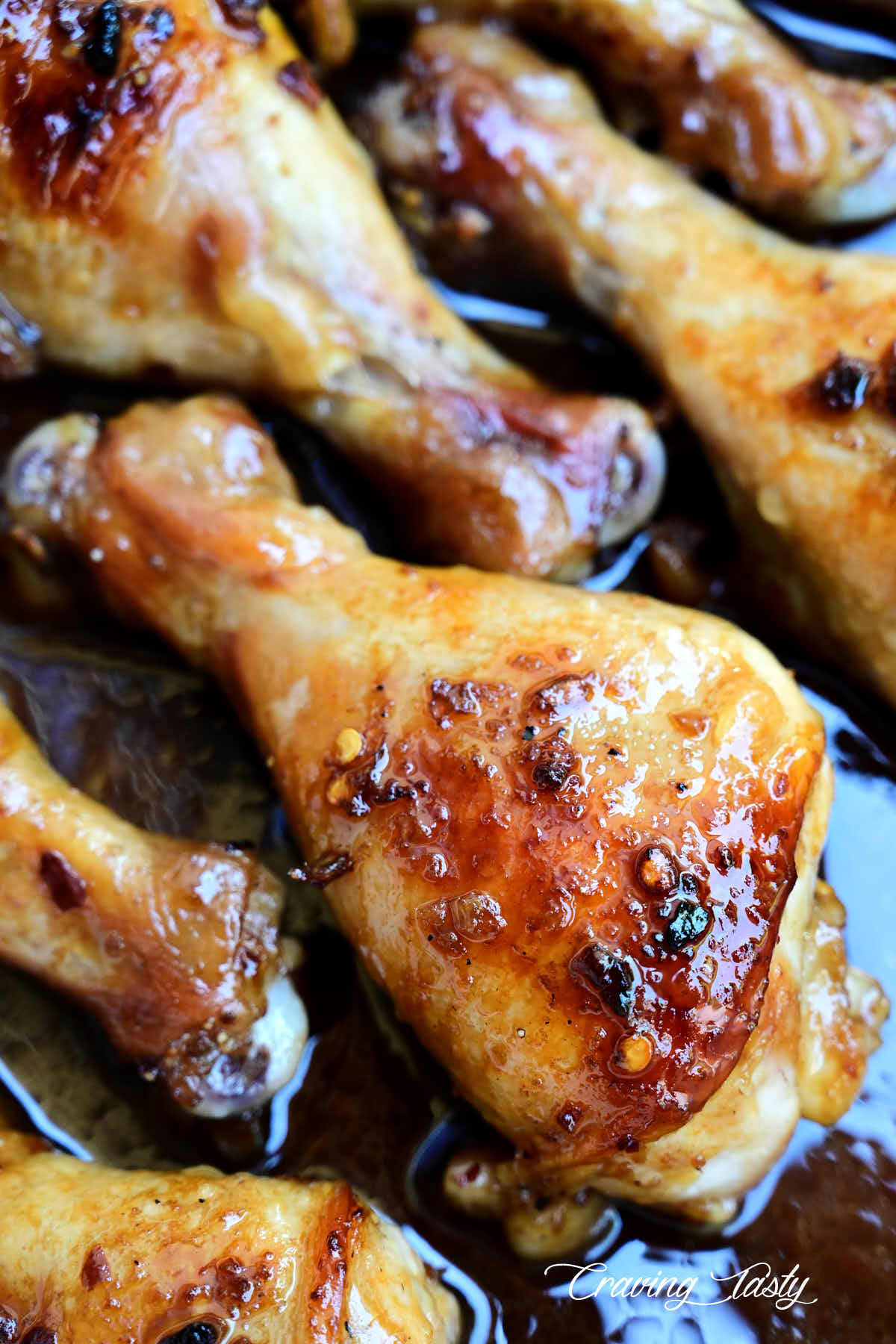 Can you use chicken legs in place of drumsticks in this recipe?
Yes, you can use chicken legs and drumsticks interchangeably in this recipe. There are no adjustments (temperature or otherwise) necessary as long as the weight of the chicken remains the same.
Can you use regular soy sauce?
Yes, you can use regular soy sauce. If you do, you will need to reduce the amount of soy sauce to about three tablespoons and adjust for salt. The reason I like using low sodium soy sauce is because I can get the flavor profile I am looking for without over-salting the dish and then adjust the salt level to taste.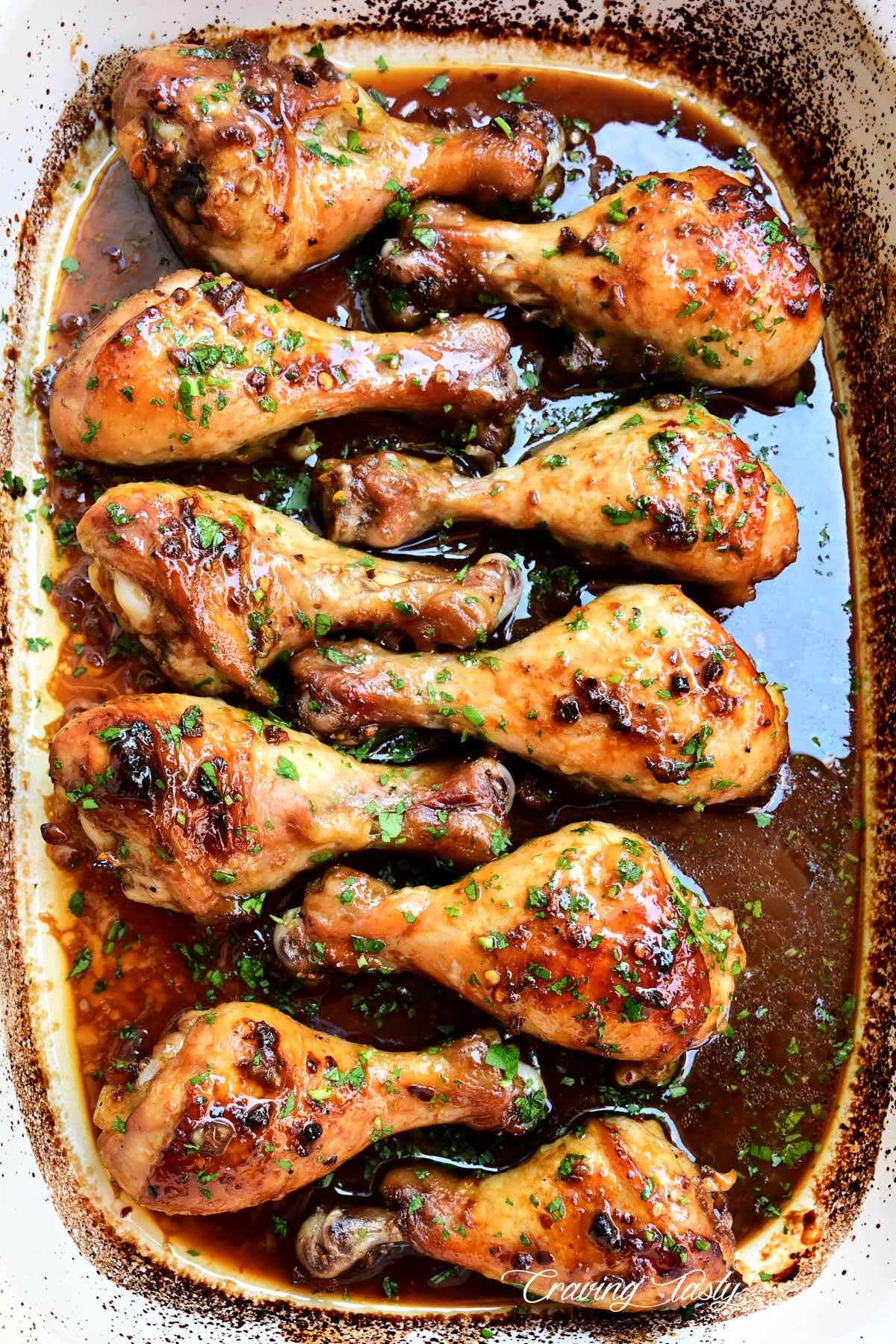 Can you freeze marinated drumsticks?
You can absolutely freeze marinated drumsticks and defrost them in the refrigerator. It usually takes about a day to defrost chicken drumsticks in the fridge. The marinade in this recipe is freezer-friendly.
For best results, freeze the meat and the marinade separately. If not, the texture of the chicken may be affected. When the ice crystals form in the meat, they burst cells, which then lose juice when the meat is defrosted. The result is often mushier, less juicy meat.
With what to serve baked chicken drumsticks?
This is an excellent question that I hear a lot. Personally, I love to serve these drumsticks with mashed potatoes. Boil some potatoes, drain off the liquid, add a little bit of butter, cream, salt and pepper, mash then add some chopped chives or scallions on top. It's quick and delicious. Or you can go with whole young or Fingerling potatoes. Toss them in a little bit of butter and/or sour cream, salt, pepper, caramelized onions and chopped greens. Wild, brown or white rice work very well too. If you like buckwheat or quinoa, they are great accompaniments too. You can also try them with rice or roasted vegetables.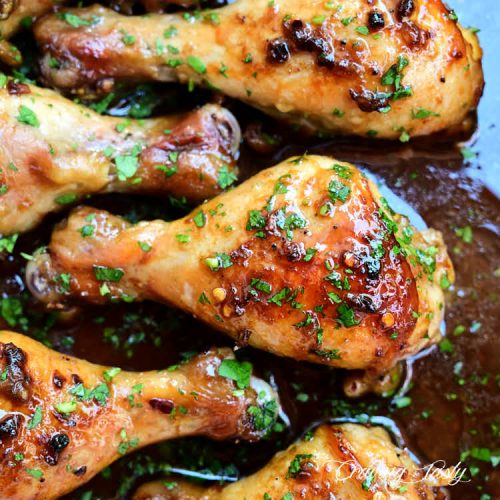 Ingredients
12

chicken drumsticks

(or 6 chicken legs; about 4 lbs)
For the marinade
2

Tbsp

olive oil

1

Tbsp

sesame oil

1/4

cup

low sodium soy sauce

2

Tbsp

Worcestershire sauce

2

Tbsp

lemon juice

(or lime juice)

5

Tbsp

honey

(or maple syrup)

6

cloves

garlic

(minced)

1

inch

ginger root

(peeled and grated, or use 1/4 tsp powdered ginger)

½

tsp

black pepper

(freshly ground)

1

tsp

kosher salt

(plus more to taste)

1/2

tsp

red pepper flakes
Instructions
In a medium bowl, combine all of the ingredients for the marinade and mix with a fork. Set aside.

Place the chicken in a Ziploc bag. Add the marinade. Expel as much air from the bag as possible and close. Marinate overnight and up to 24 hours, or at least several hours.

If baking drumsticks immediately, massage them in the bag with the marinade for about 5 minutes. This will be sufficient to get a good amount of marinade and flavor inside the meat.

Preheat oven to 375 degrees F.

Transfer the drumsticks and all of the marinade into a baking dish.

Bake uncovered at 375 degrees F for 45-50 minutes, until the internal temperature reaches 185°F and the drumsticks are nicely browned on top.

Carefully remove from the oven and serve hot, with pan juices and your favorite side dish (e.g. mashed potatoes, rice, etc.)
Nutrition
Calories:
187
kcal
|
Carbohydrates:
9
g
|
Protein:
14
g
|
Fat:
11
g
|
Saturated Fat:
2
g
|
Cholesterol:
70
mg
|
Sodium:
479
mg
|
Potassium:
212
mg
|
Fiber:
1
g
|
Sugar:
8
g
|
Vitamin A:
60
IU
|
Vitamin C:
2
mg
|
Calcium:
14
mg
|
Iron:
1
mg