Turkey meatballs don't get the credit that they deserve. Just because they are made from extra lean meat doesn't mean they have to be dry. In fact, it's hard to believe that these meatballs are made from ground lean turkey meat. I would pick them over many other types of meatballs. No wonder that this recipe has been our family favorite for a long time.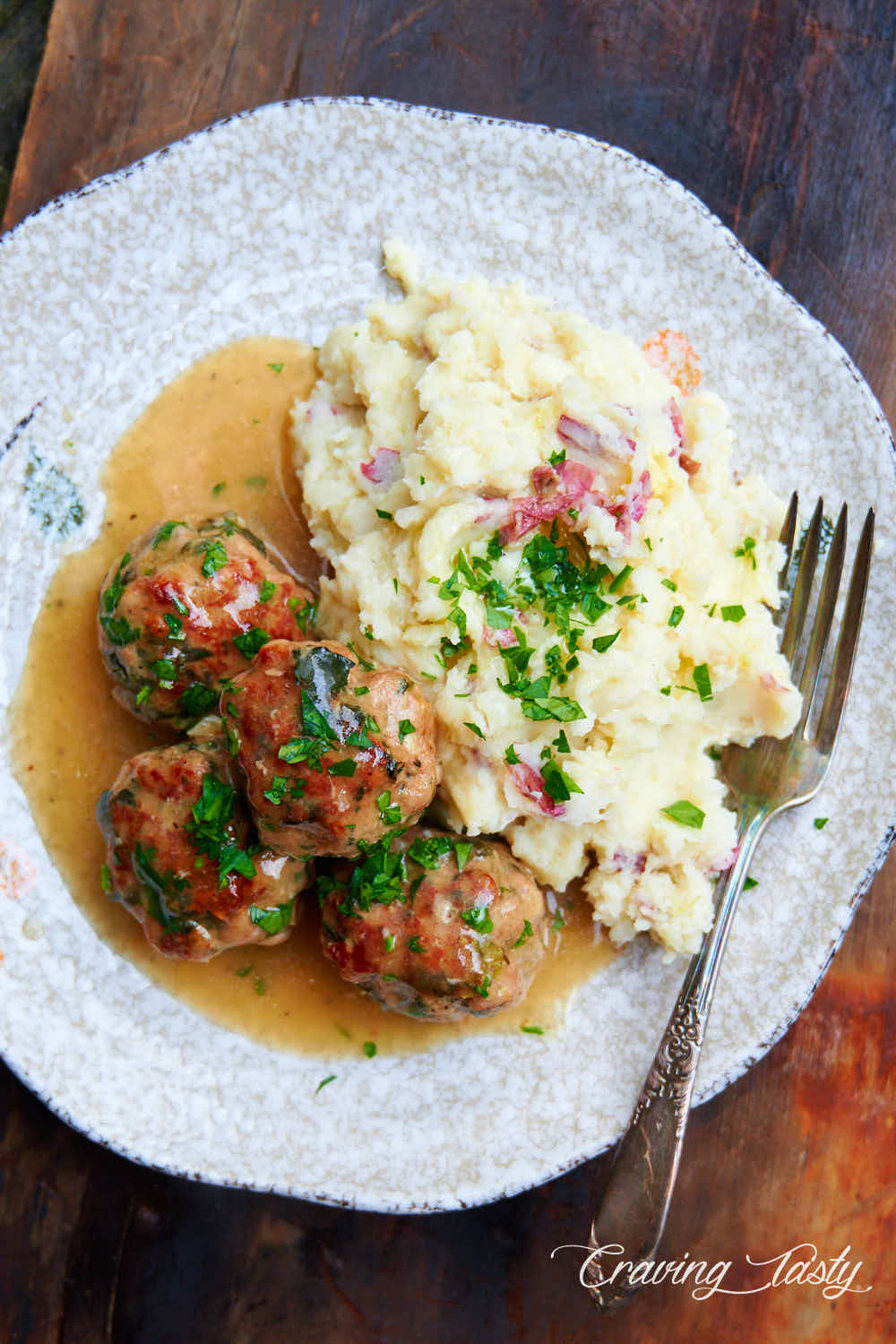 I find that the best way to get the most tender, flavorful, and juicy meatballs is to quickly sear them and then cook over low heat covered until done. I use the same method to make my famous beer brats, extra tender chicken wings, and other dishes. It only takes less than 30 minutes to cook these meatballs to an internal temperature of 160F. Don't worry; the temperature will rise after you take them off the heat, reaching 165F in a few minutes.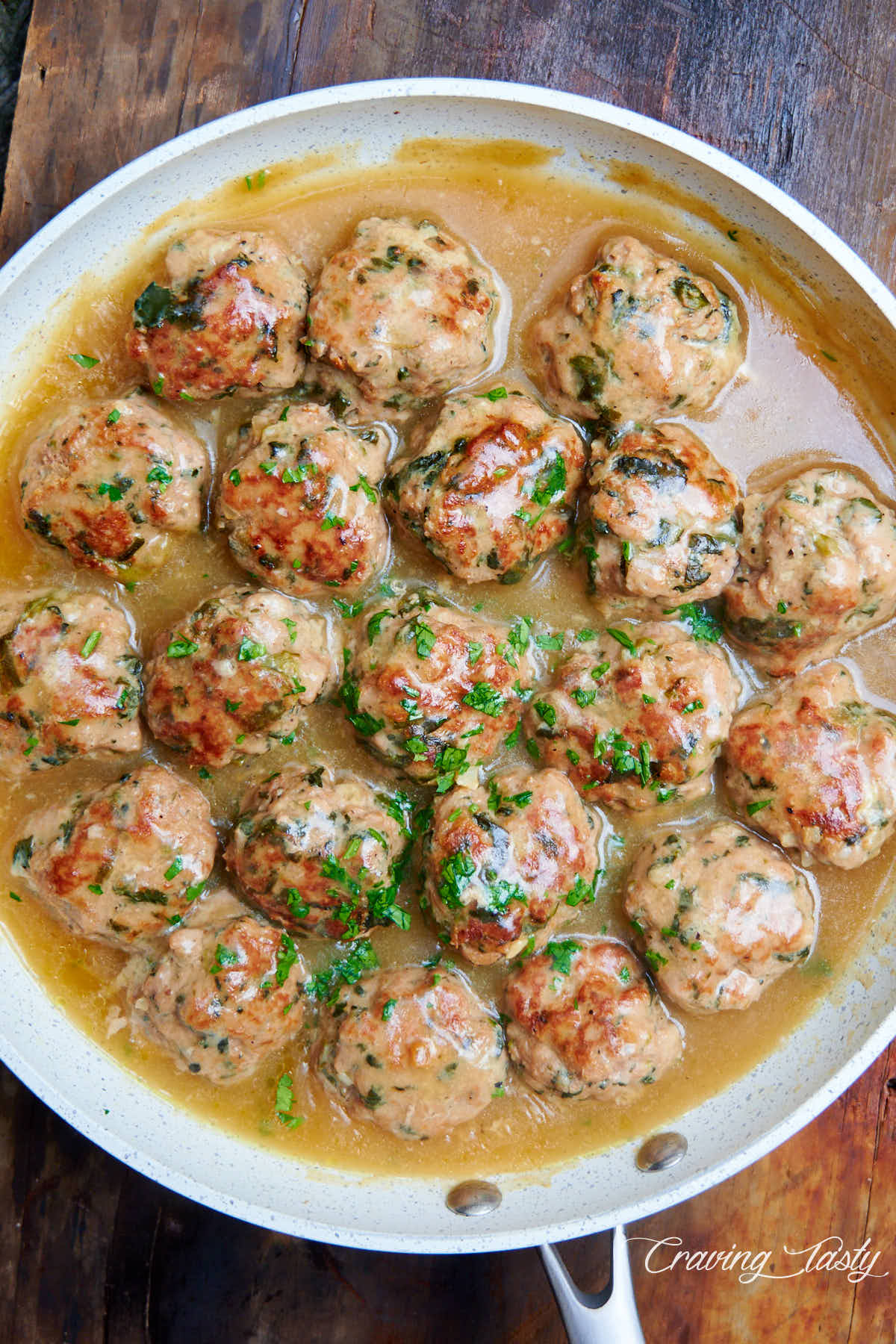 I add chicken broth, bread crumbs, and minced onion to the mix to keep turkey meatballs moist. Instead of onion, you can also try leeks. I like using both interchangeably.
To boost the flavor, I sautee the onion and the garlic. Sauteeing softens them up, removes harshness, and adds flavor. Even more flavor comes from the freshly grated Parmesan cheese and Worcestershire sauce. Worcestershire is a must; it adds a beautiful, savory zing.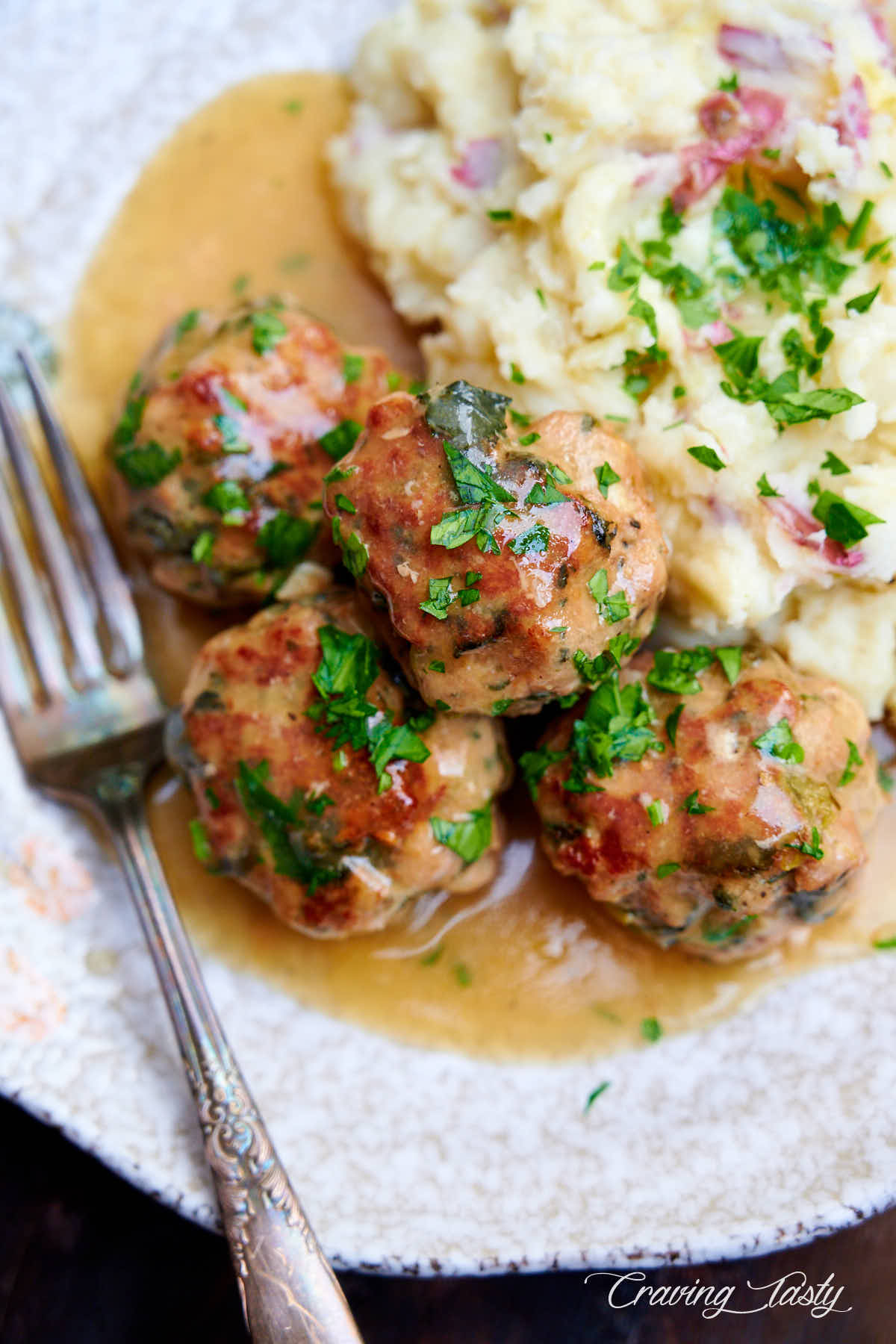 I could say that these meatballs are so moist and tender that they don't need any sauce. But I won't. I like my turkey meatballs with a little bit of gravy, the recipe for which I provided below. Gravy and garlic mashed potatoes. It is a comforting dinner for a cold winter night. Or make turkey meatball sandwiches with sourdough bread or brioche buns.
If you are looking for a lighter and healthier version, serve them with roasted vegetables, or a zesty tomato and cucumber salad.
These meatballs are delicious, both freshly made and reheated the next day. I like having leftovers for lunch. I recommend reheating them the same way they were cooked - in a pan over medium-low heat until the internal temperature reaches 160F.
If you'd like to freeze these meatballs, place them in a vacuum sealer bag, with the sauce, and freeze for a couple of hours, unsealed. Once the meatballs are firm, seal them in a vacuum sealer and freeze them for up to 3 months.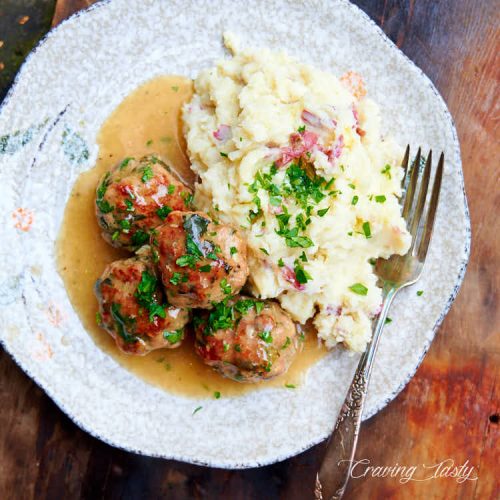 Ingredients
Meatball ingredients
2

lbs

ground turkey

2

Tbsp

olive oil

1

cup

onion

minced

2

cloves

garlic

minced

1/4

cup

chicken broth

1

Tbsp

Worcestershire sauce

1/2

cup

fresh parsley

minced; plus more for garnish

1/4

cup

green onion

thinly sliced

1

egg

beaten

1/2

cup

bread crumbs

seasoned

1/2

cup

Parmesan cheese

grated

1

tsp

kosher salt

plus more to taste

1/4

tsp

black pepper
For cooking the meatballs
1

Tbsp

butter

unsalted

1

Tbsp

olive oil
Gravy ingredients
2

cups

chicken broth

1 1/2

Tbsp

Worcestershire sauce

1/2

cup

water

cold

2

Tbsp

cornstarch
Instructions
Preparing the meatballs
Drizzle two tablespoons of olive oil into a large skillet over medium heat. Add the onion and the garlic. Saute for 5-6 minutes, until tender but not brown. Add the chicken broth and the Worcestershire sauce, and cook for another 2 minutes. Remove from heat and let cool.

In a large bowl, gently mix the ground turkey with the rest of the meatball ingredients, including the sauteed onions and garlic. Do not overmix. Shape into 20 balls of equal size, about 1.5 inches in diameter.
Preparing the gravy
To make the gravy, bring 2 cups of chicken broth to a boil in a saucepan. Add the cornstarch dissolved in cold water, followed by the Worcestershire sauce. Cook for a minute or so, until thickened. Set aside.
Cooking the meatballs
In a large non-stick skillet, heat one tablespoon of olive oil and one tablespoon of butter over medium-high heat. Add the meatballs and cook, undisturbed, for 2 minutes or until browned. Flip and cook for another 2 minutes.

Pour the gravy over the browned meatballs, lower the heat to low, cover and cook for about 15-20 minutes, or until the meatballs reach 165F internal temperature.
Serving
Serve hot, over mashed potatoes, drizzled with the gravy from the pan, and garnished with minced parsley.
Nutrition
Calories:
102
kcal
|
Carbohydrates:
4
g
|
Protein:
13
g
|
Fat:
4
g
|
Saturated Fat:
1
g
|
Cholesterol:
36
mg
|
Sodium:
327
mg
|
Potassium:
206
mg
|
Fiber:
1
g
|
Sugar:
1
g
|
Vitamin A:
199
IU
|
Vitamin C:
5
mg
|
Calcium:
46
mg
|
Iron:
1
mg