This oven roasted turkey breast is so crispy-skinned, so tender, and super moist on the inside that it usually gets devoured within 15 minutes in our family. Depending on the breast size, of course. It's also very flavorful throughout, thanks to the brine it spends a few hours in. There is nothing worse than biting into tasteless, dry flesh. Well, that's not the case here. Not by a long shot. This recipe is also very easy to make and practically impossible to mess up. If you want to impress your friends and family this Thanksgiving, this turkey breast recipe will fit the bill.
The best way to cook a turkey breast
I love turkey breasts and cook them at least once a month. I stock up when they are on sale, and my freezer always has a few on standby. I like them roasted, marinated, smoked, grilled, and cranberry-glazed, to name a few. These are undoubtedly all great ways to cook a turkey breast. However, there is nothing like a tender, juicy, flavorful turkey breast under a crispy, ridiculously tasty, deep golden brown skin. Three easy steps to achieve this goodness:
Brining
Pan-searing
Finishing by roasting in the oven
Every time I make it, I get a ton of compliments. I am unsurprised as this recipe is an adaptation of my top-rated Crispy Oven Roasted Chicken Breast recipe.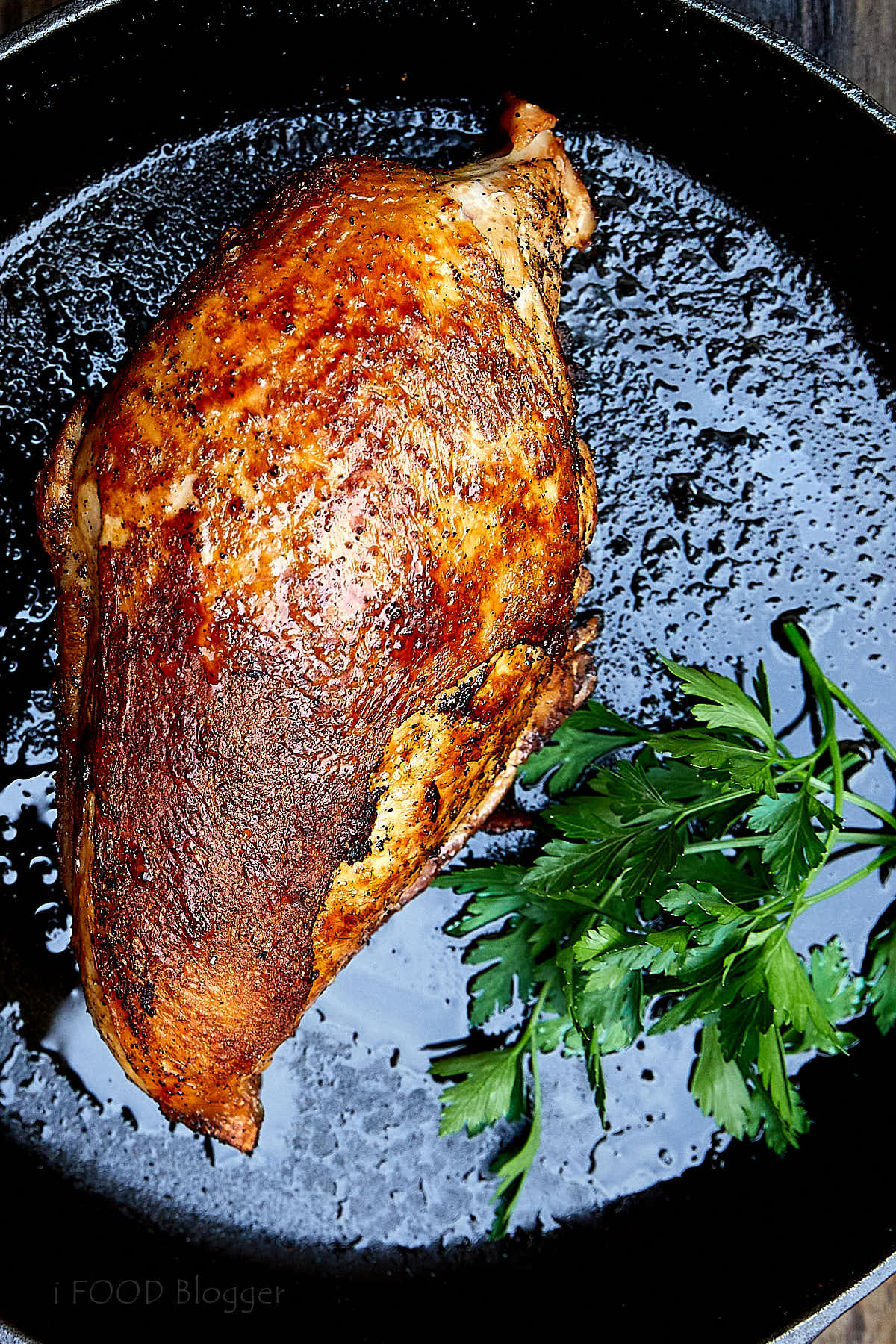 Brining and seasoning
Brining a turkey breast is a must. If you haven't done it before, brining may sound a little intimidating, but it's very easy. Just don't overdo it, or else the breast will be a little too salty. I use a flavored brine; this makes the meat all the way inside the breast perfectly salted and seasoned. Brining also adds a ton of delicious moisture to the super lean turkey breast meat. Just look at the picture below. Do you see how juicy the meat is? Yum! That's the magic of brining. It will also save the breast if you happen to overcook it a little.
I use surface seasonings sparsely in this recipe. You don't need too much to get a very flavorful final product. I don't add dry herbs as they tend to burn during high-heat pan frying and ruin the flavor and the appearance.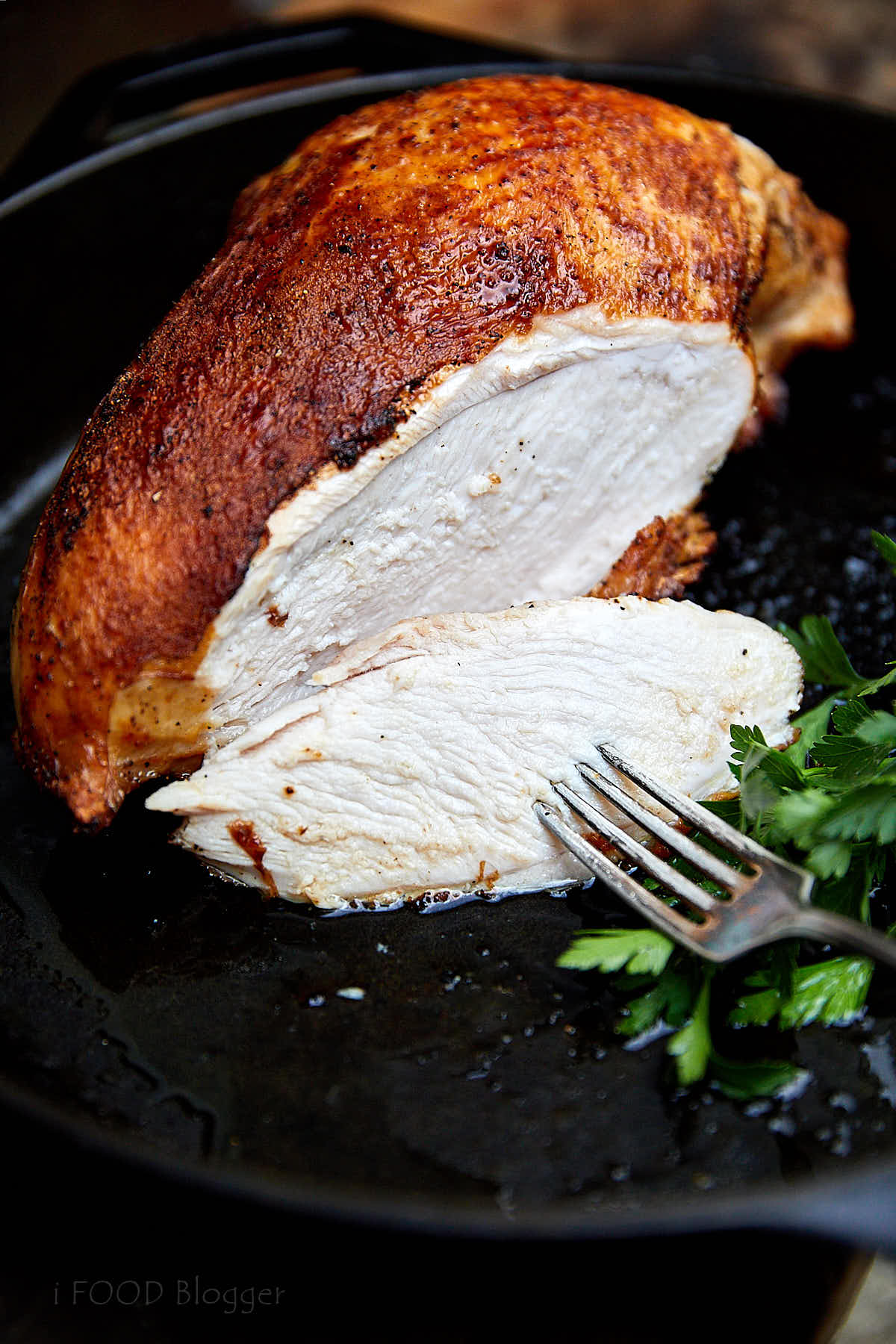 Roasting
Searing and roasting in the same skillet makes it a much easier task and results in less cleaning afterward. Just make sure that you are using an oven-safe skillet. If you don't have one, roast on a baking sheet lined with foil. You can also fit the baking sheet with a cooling rack to let the oil and skin fat drip down.
Turkey breast cooking time
In my experience, 2-3 lb half-breasts need about 40 minutes at 400F to reach 160F internal temperature. Add about 15 minutes of roasting time for every extra pound of weight. Remember that these cooking times are just an approximation and should be used only as a guide. For best results, nothing beats a BBQ thermometer. That's right, a BBQ thermometer. You see, instant-read and regular meat thermometers have a huge drawback - they don't alert you when the turkey is done. As such, you will likely miss the ideal temperature of 160F. Don't worry; the meat will continue to cook after you take it out of the oven, so there is no need to wait until 165F.
A BBQ thermometer, on the other hand, will monitor the temperature throughout the entire cook and will alert you when the turkey breast is cooked. Do yourself a favor and get one of these very popular and very good ThermoPro TP07  single probe or the ThermoPro TP08 dual probe thermometers. No need to run back and forth with an instant-read thermometer to catch the right temperature and let the heat out every time you check. There is overcooked or burned meat with a BBQ thermometer.
Looking for more great turkey breast recipes? Check these out: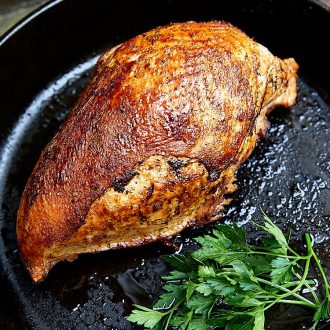 Ingredients
1

bone-in turkey breast

1/2

cup

cooking oil

2

tsp

olive oil

1/2

tsp

kosher salt

1/2

tsp

black pepper

1/2

tsp

granulated garlic

1/2

tsp

granulated onion

1

tsp

dark chili powder
For the turkey brine:
1/2

gallon

ice cold water

1/4

cup

kosher salt

1/4

cup

granulated sugar

1

carrot

(cut in half, then into 2 inch pieces)

3

cloves

garlic

(cut in halves)

1

Tbsp

black peppercorns

1

yellow onion

(cut into quarters)

1/4

bunch

fresh parsley

(optional)

A few bay leaves
Instructions
To prepare turkey brine, bring 2 cups of water to a boil in a medium pot. Add the salt and sugar and stir to dissolve. Remove the pot from heat, add the rest of the ingredients, stir, and let cool to room temperature. 

If pressed for time, let the vegetables and spices steep for 10 minutes, then cool down with ice. Remember to account for the extra ice.

Combine with the rest of the water and set aside.

Put the turkey breast in the brine, and refrigerate for two hours for a small breast, 3 hours for a medium and 4 hours for a large turkey breast. Make sure that the breast is fully covered in brine. You can use a bowl or a Ziploc bag.

Dry the breast with a paper towel and rub with olive oil. Season with salt and spices on all sides and gently pat to make the seasonings stick.

Heat 1/2 cup of cooking oil (you can use olive oil or any other oil you prefer) in a large skillet over medium-high heat. Place the turkey breast skin side down on the skillet and cook for 2 minutes. Flip and continue cooking for another 2 minutes. Remove from the skillet and set aside.

Carefully pour out or wipe off with paper towels all the oil from the pan. Put the breast back in the skillet, bone side down.

Now put the skillet with the turkey breast in the oven and roast at 400F for about 45 - 75 minutes, depending on the breast size, or until the internal temperature of the meat reaches 160F.

Let rest for 5 minutes and serve.
Nutrition
Calories:
160
kcal
|
Carbohydrates:
9
g
|
Protein:
21
g
|
Fat:
4
g
|
Saturated Fat:
0
g
|
Cholesterol:
52
mg
|
Sodium:
3890
mg
|
Potassium:
311
mg
|
Fiber:
0
g
|
Sugar:
7
g
|
Vitamin A:
1450
IU
|
Vitamin C:
4.2
mg
|
Calcium:
32
mg
|
Iron:
0.8
mg