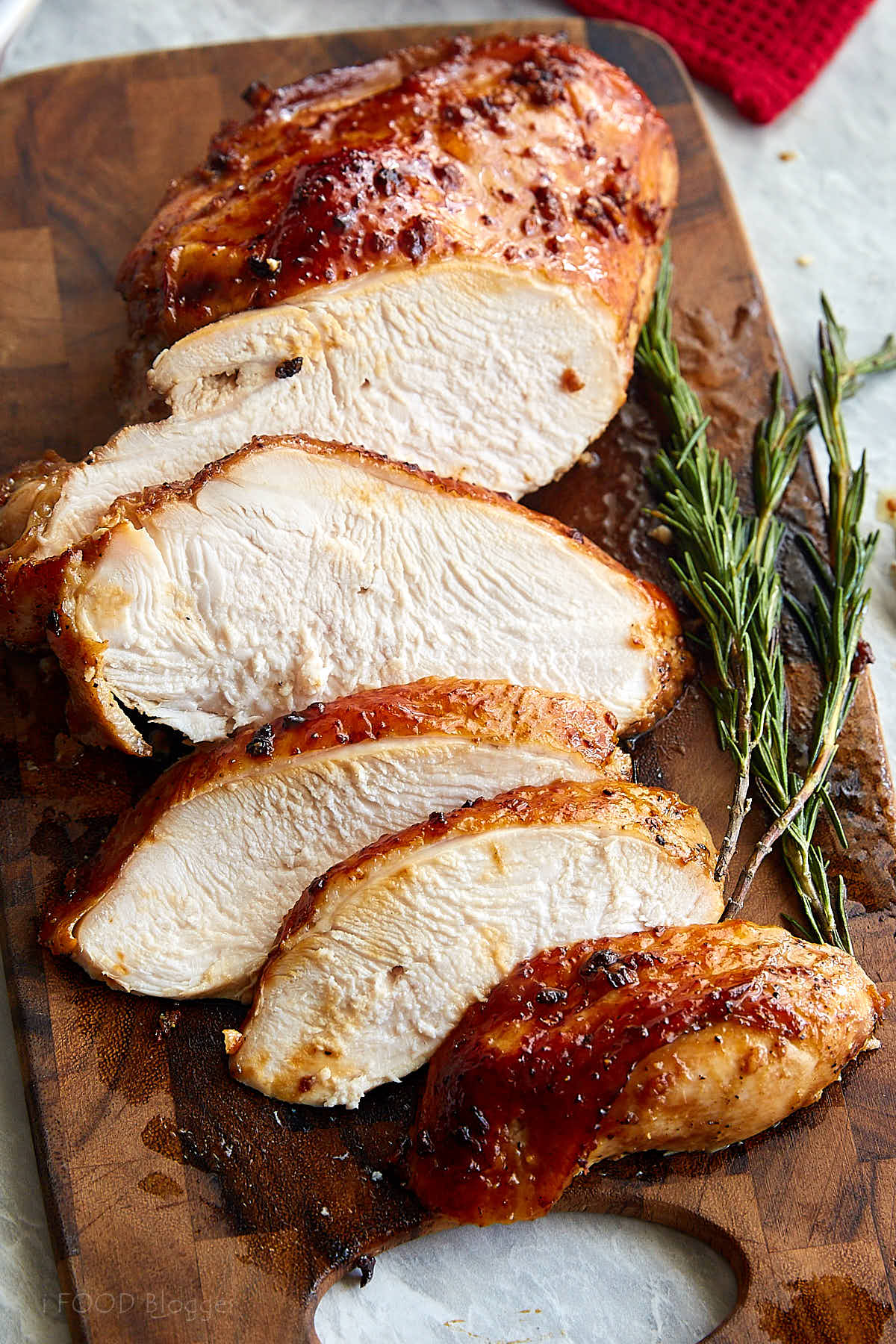 I am completely in love with this roasted turkey breast recipe and I have no doubt that you will be too after you try it out.  It's not your typical turkey breast . It's roasted in a delicious marinade that adds great depth of flavor. If you are looking for an alternative to roasting a whole turkey for Thanksgiving, this recipe is a great option.
Turkey breast is easy to over-roast and make taste dry and chalky. To mitigate that, I used a similar technique to the one I used for making the slow baked chicken breast. The idea there is to roast the breast at a lower temperature with a small amount of liquid in the pan. Only instead of using chicken broth and butter I utilized my insanely popular killer chicken thigh marinade with a few tweaks, and it worked like a charm.
It's recommended to marinate meat overnight or even for 24 hours for better flavor penetration. However, with this recipe you can go straight to roasting. I've tried both ways and both times turkey breast was very juicy, moist and ridiculously flavorful. Besides, those mouth watering pan juices will add a ton more flavor.
Looking for more great turkey breast recipes? Check these out: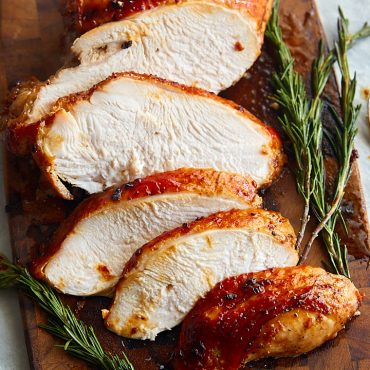 Ingredients
1

turkey breast

(bone-in or boneless, skin-on, about 2 - 2 1/2 lbs)

3

rosemary twigs for garnish
For the marinade:
1/4

cup

olive oil

2

Tbsp

sesame oil

1/2

cup

low sodium soy sauce

2

Tbsp

Worcestershire sauce

Juice from 1 lemon

1/2

cup

honey or maple syrup

8

cloves

of garlic

minced

3

rosemary twigs

whole

1

tsp

freshly ground black pepper

4

tsp

kosher salt

plus more to taste
Instructions
Prepare the marinade by mixing all of the ingredients together in a large bowl or a plastic Ziplock bag. Add the turkey breast and make sure that every part is covered with the marinade. If using a Ziplock bag, expel as much air as possible before sealing it. Marinate in a fridge for 12-24 hours. If marinating is not an option, roast the breast immediately and serve with those delicious pan juices - it will still be awesome.

Preheat oven to 325F.

Place the turkey breast into a deep baking dish and pour in the marinade. It's best to use a baking dish that is not too big otherwise too much liquid will evaporate. Bake uncovered on middle rack for about 1 to 1 1/2 hours, depending on size, until the internal temperature of the meat in the thickest part reaches 160F - the temperature will rise to 165F during resting (see Notes). Baste the top and the sides of the breast with pan juices about every 20 minutes - this will prevent the top from drying out and will help with browning.

If toward the end of baking the skin did not brown enough, turn on the broiler on high for 2-3 minutes. Do this before the internal temperature reaches 160F. I normally do it at about 150F internal. Monitor broiling process very closely as the skin can go from a nice deep-golden brown to charred pretty quickly.

Remove the turkey breast from the oven and let it rest for 5 minutes before carving and serving. I find that it's best to transfer the breast to a serving platter immediately upon removing from the oven. If left to rest in the hot baking dish, the internal temperature will rise too much and meat will lose more moisture.

Carve the meat, place on a serving platter and garnish with fresh rosemary twigs. Serve with the pan juices (don't forget to discard the cooked rosemary twigs), they are out-of-this-world delicious.
Notes
I used to cook my chicken and turkey breasts to 165F and was quite happy with the results. After reading ThermoWorks' blog post on correct chicken cooking temperature (see link below) and doing some additional research, I changed my approach. I now cook lean breast meat to 155F and love the much improved results. 155F is the temperature at which I get the exact texture that I enjoy. You may choose to go a little lower or higher depending on preference, and that's absolutely fine. Note that if a turkey breast is pulled out of the oven at 155F the internal temperature will continue rising to about 165F.
Nutrition
Calories:
356
kcal
|
Carbohydrates:
26
g
|
Protein:
29
g
|
Fat:
15
g
|
Saturated Fat:
2
g
|
Cholesterol:
70
mg
|
Sodium:
2583
mg
|
Potassium:
412
mg
|
Fiber:
0
g
|
Sugar:
24
g
|
Vitamin A:
25
IU
|
Vitamin C:
1.3
mg
|
Calcium:
32
mg
|
Iron:
1.6
mg
Links:
Thermal Tips: Simple Roasted Chicken—Cooking Chicken to the Correct Temperature