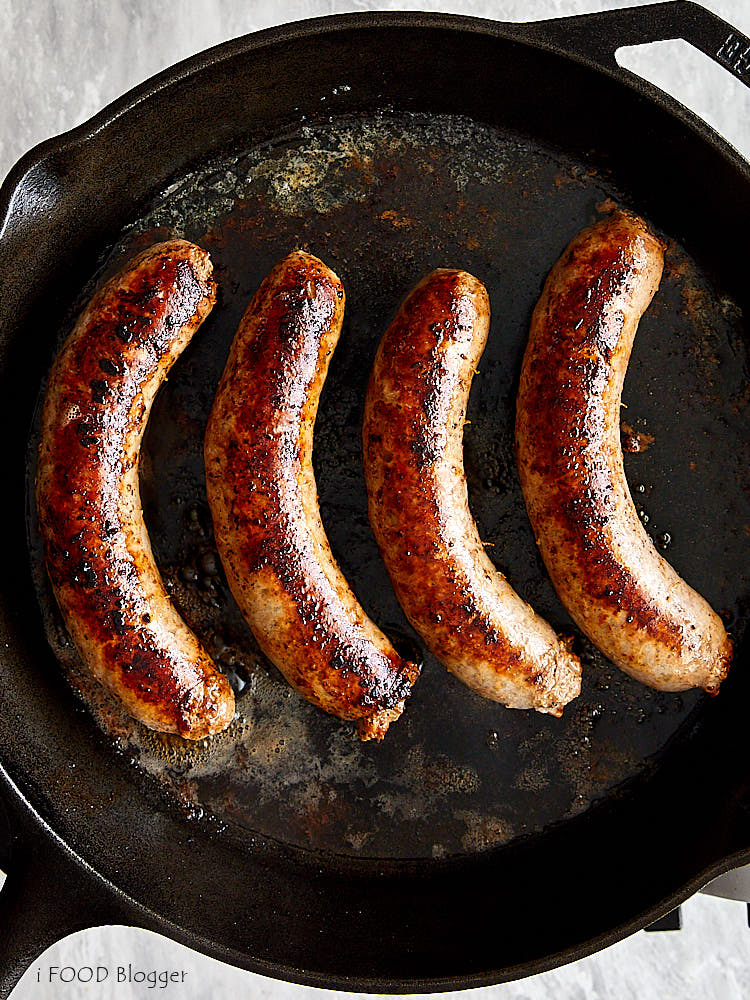 As I was writing about grilling bratwurst, I couldn't help but think about the best way to cook brats when you don't have a grill or have the ability to smoke your sausage. How do you cook brats without a grill and still get exceptional results?  For me the answer is quite simple: you pan fry them. Hence this new post on how to cook brats on the stove.
Don't get me wrong, oven roasting works on bratwurst as well, but there is no way to get the same flavors, the same browning and caramelization in the oven. Baking takes a bit longer as well, tends to dry out the sausages more, and it takes time to pre-heat the oven.
How to cook bratwurst?
Just like a great tasting steak, bratwurst needs to be seared first over fairly high heat, then cooked to doneness. Searing adds an immense depth of flavor to any sausage, like the homemade bockwurst or Italian sausage. I even like my favorite jalapeno cheddar sausage cooked this way when I don't have the time for smoking. This step must not be skipped. Once the sausage is well-browned and aromatic, cook it on a lower heat until done. It's that simple!
Step 1 – melt some butter
Butter makes food flavorful. Brats are no exception. You can use olive oil, vegetable or corn oil, but none of them will come even close to the flavor that real butter provides. This is one of the secrets to the best-tasting bratwurst.
Preheat a cast iron pan over medium high heat. Add a couple of tablespoons of butter. Let it melt and start to turn light brown. If you are using an IR thermometer, the temperature should be about 325-350F.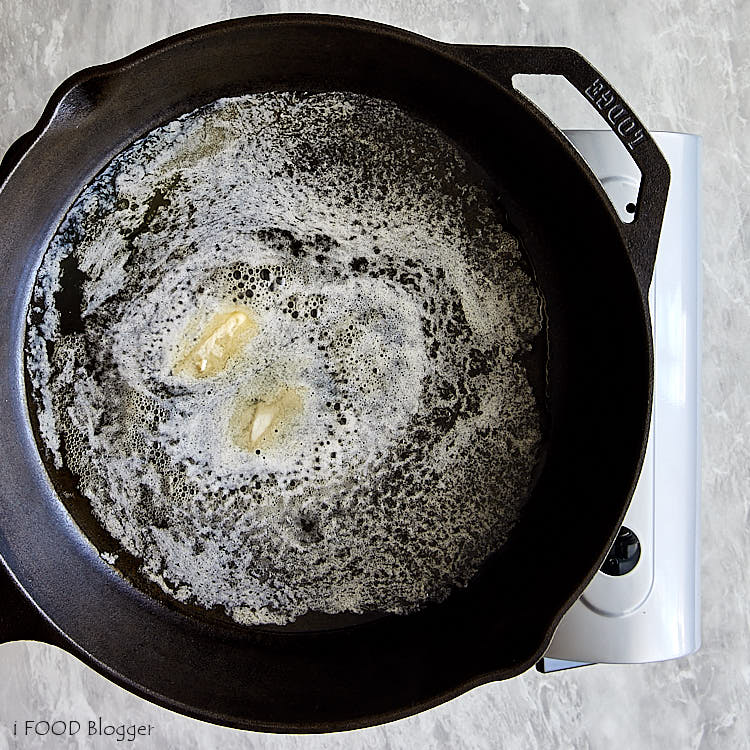 Step 2 – pan sear your brats
Like any raw meat and sausage, bratwurst will greatly benefit from searing. It will get a nice color and mouth-watering flavor. Sear your brats about 3 minutes per side, until deep golden brown color. If you did not overheat your cast iron pan the brats will not burst and will be perfectly fine.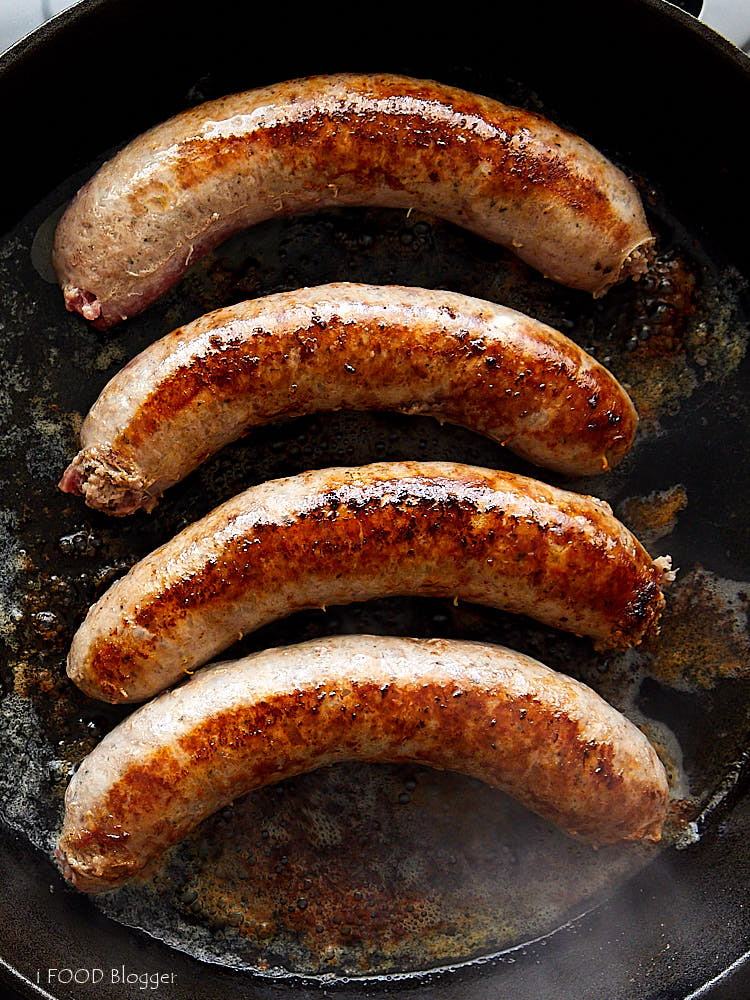 Step 3 – cover and continue cooking until done
When searing on the second side is done, flip the brats one more time, turn the heat down to medium-low. Cover the pan with a lid and continue cooking for 5 minutes. Flip the brats one more time, cover and cook for another 2-3 minutes until the internal temperature reaches 160F.
Covering the brats after searing is very important. The hot steam inside the pan will keep the brats moist. That same hot steam will promote faster cooking. In an open pan the top of the sausage will lose heat, and the overall cooking time will be longer before the sausage reached 160F internal temperature. This is the same approach that I have been successfully using to fry chicken wings.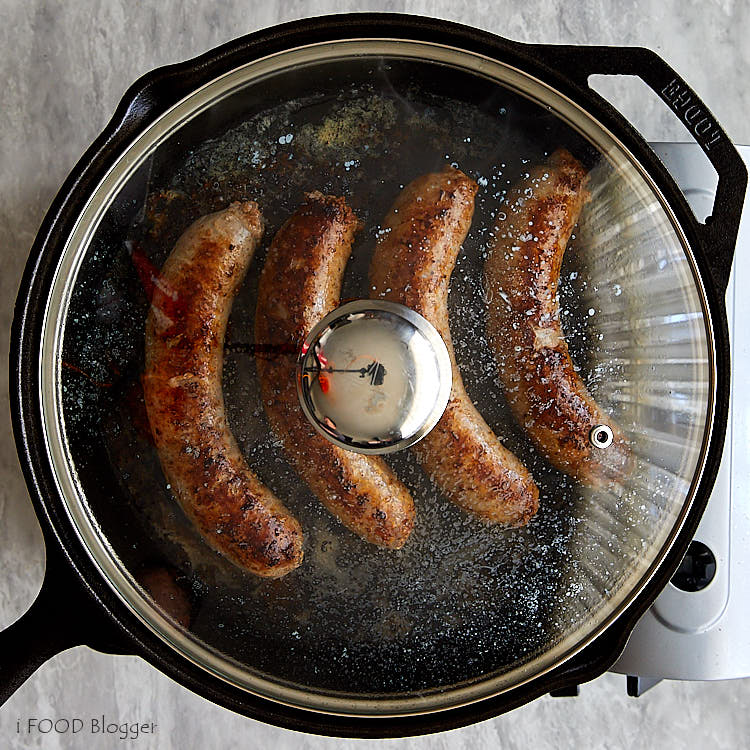 This is it folks, brats perfectly cooked on the stove in about 10-12 minutes.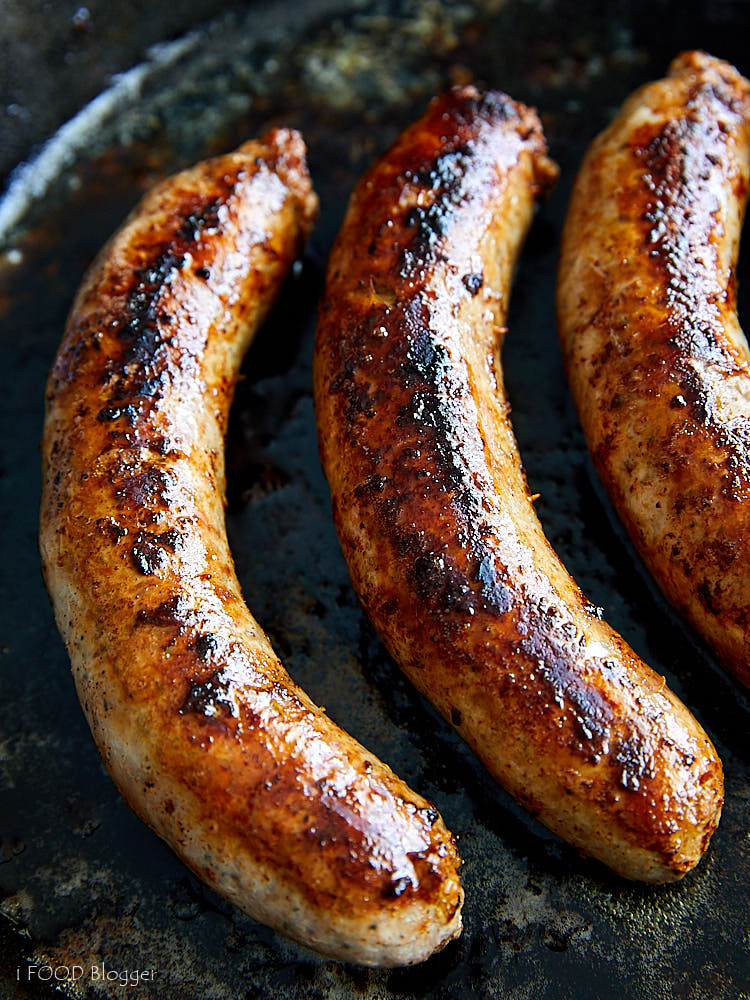 You can let the brats rest for 5 minutes so the meat can reabsorb some of the lost liquid; otherwise all those juices will gush right out when you slice the sausage. I never wait. These brats are super juicy, no matter when you cut or bite into them.
A more sophisticated way to cook bratwurst
If you are craving that malty, onion-y flavor, add one sliced onion and one cup of your favorite dark, malty beer right after you are done searing your brats.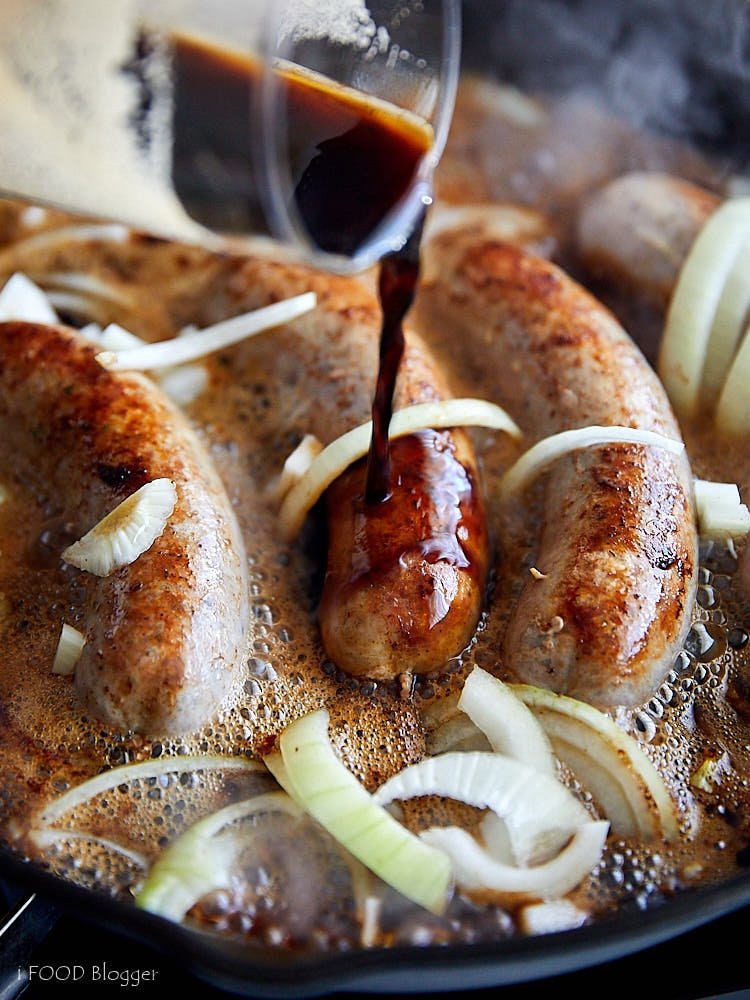 The beer will need to come to boiling temperature, so the cooking time will be a bit longer if you do it this way. You may or may not cover the pan when using beer and onions. I don't as I like the beer to reduce and use it as a dipping sauce.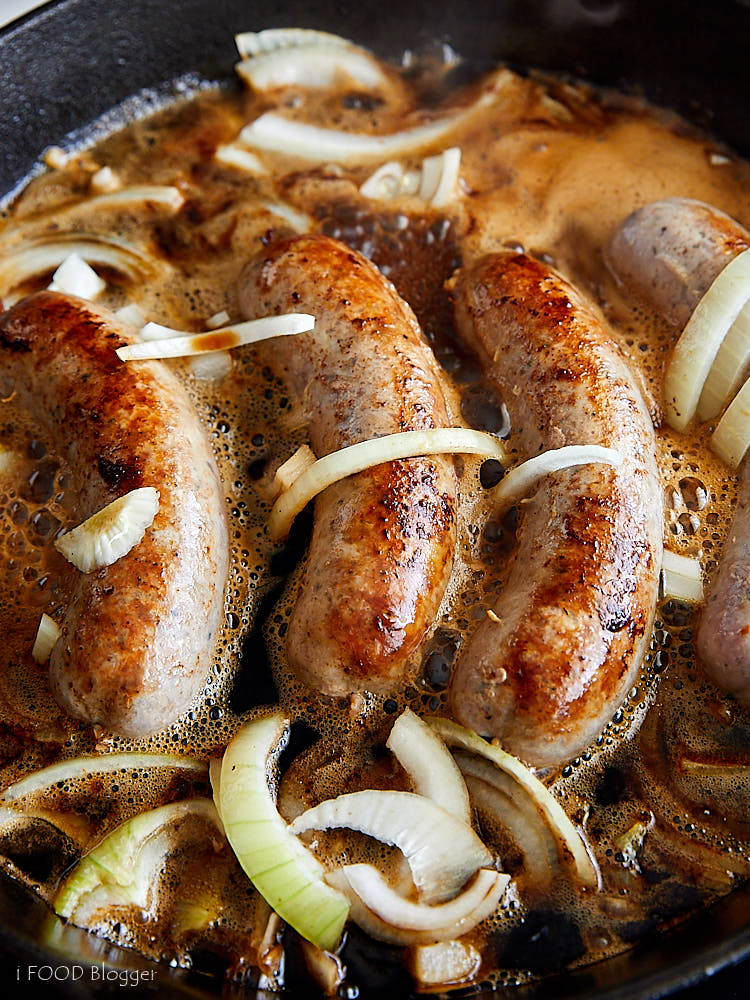 An here they are, fully cooked, in all their glory.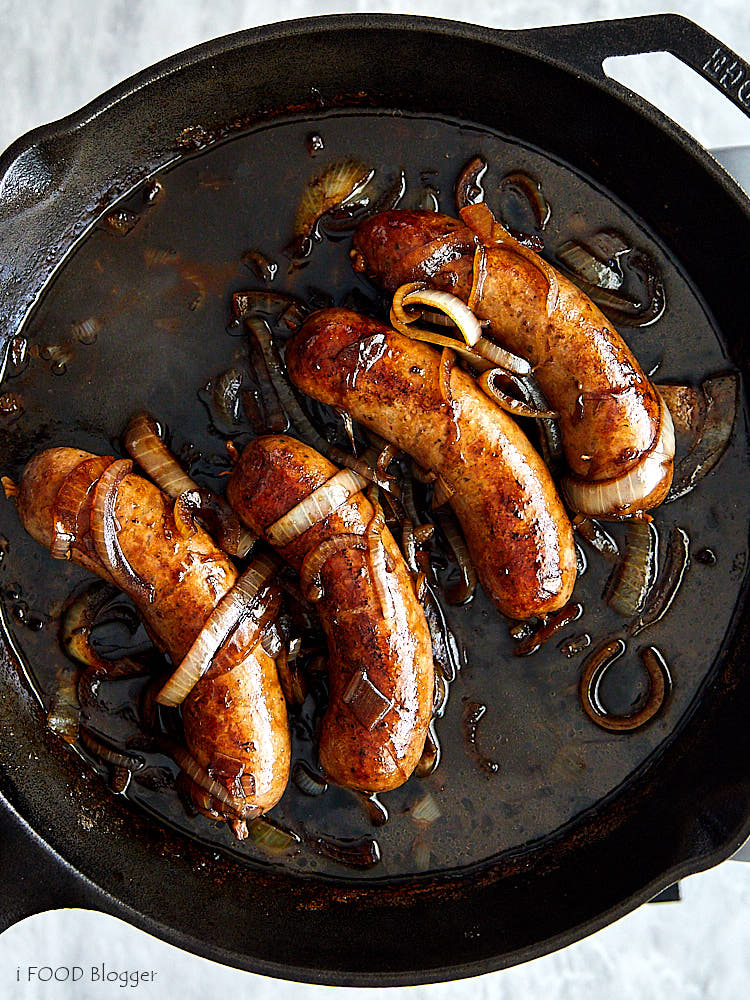 Brats dipped in this malty goodness, topped with caramelized onions, are friggin' delicious!
I can't easily tell which brats I enjoy more, the grilled ones or these ones cooked on the stove, especially the ones with Belgian ale and chopped onions. Both are exceptionally good, very juicy and very flavorful. Neither is better than the other. Just a little bit different.
Interested in making your own bratwurst? Check this out: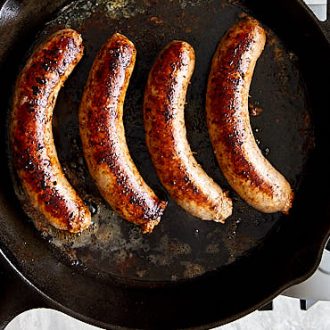 Ingredients
4

bratwurst sausages

2

Tbsp

unsalted butter

(or use olive oil, vegetable or corn oil)

1

sweet onion

(cut in halves or quarters and sliced)

1

cup

Belgian ale

(or any dark, malty beer of your choice)
Instructions
Preheat a cast iron pan over a medium-high heat. Add the butter and let it melt and start to turn light brown. The temperature should be about 325-350F at this point.

Sear bratwurst for about 3 minutes per side, until it achieves deep golden brown color.

Add the onions and the beer, turn the heat to high and bring to a boil.

Once the liquid is boiling, reduce heat and continue cooking, flipping the sausages and stirring the onions, until the internal temperature of the sausages reaches 160F. Cook uncovered to let the liquid reduce and intensify its flavor.

Remove bratwurst from heat and serve hot, on a bun, or with you favorite side dish.
Notes
For a non-alcoholic version of this recipe, substitute beer for beef or chicken broth.
Nutrition
Calories:
322
kcal
|
Carbohydrates:
10
g
|
Protein:
10
g
|
Fat:
25
g
|
Saturated Fat:
10
g
|
Cholesterol:
64
mg
|
Sodium:
568
mg
|
Potassium:
344
mg
|
Fiber:
0
g
|
Sugar:
4
g
|
Vitamin A:
175
IU
|
Vitamin C:
4
mg
|
Calcium:
35
mg
|
Iron:
0.6
mg