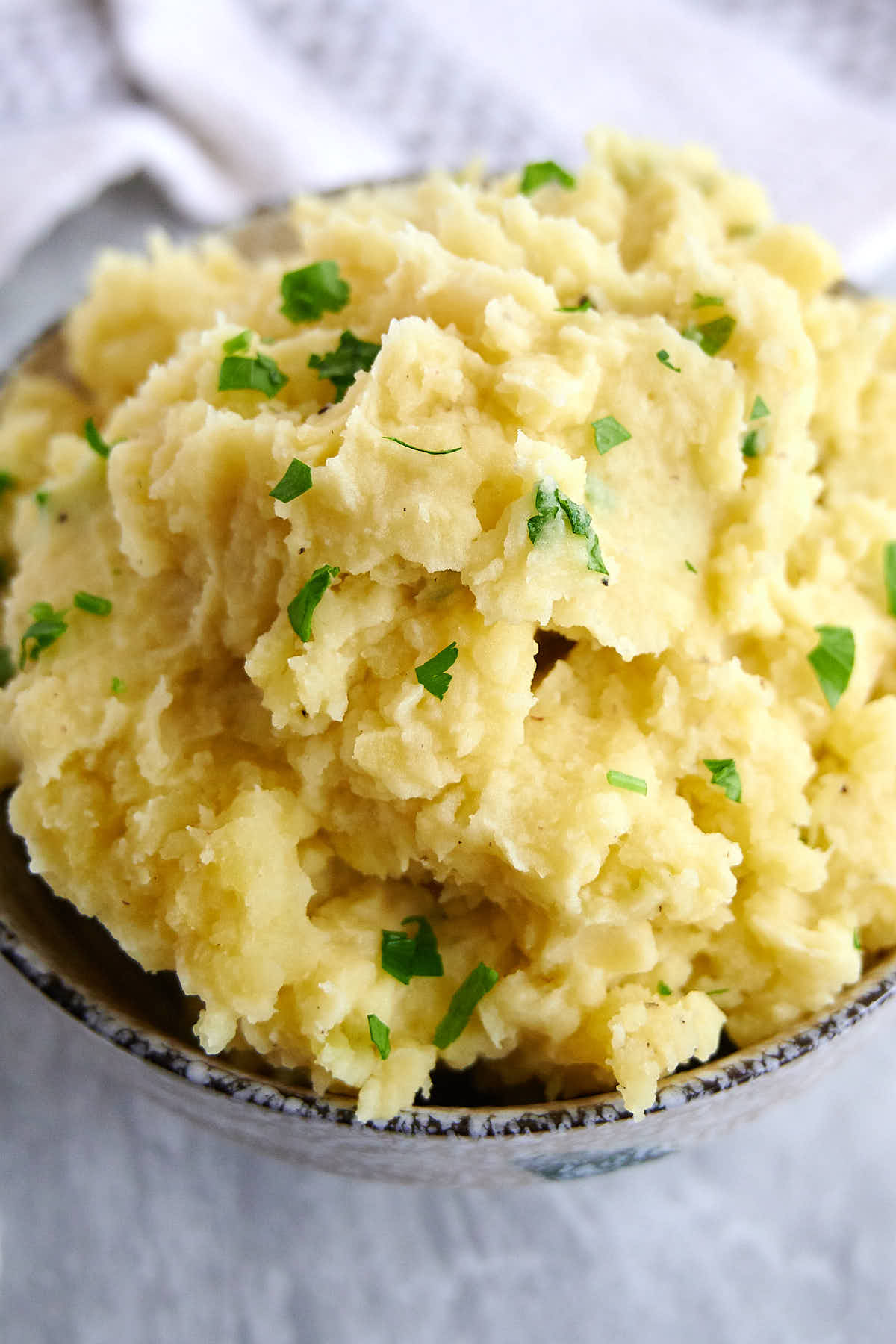 Mashed potatoes are often an afterthought, a source of carbs, a simple and quick side dish. But they don't have to be. These garlic mashed potatoes pack so much flavor and taste that you can eat them on their own and not miss anything else. They are just as tasty reheated the next day. Leftovers can be shaped as little pancakes and fried up on a pan – delish! I could eat a dozen of those at one sitting.
How to make garlic mashed potatoes?
My method of making garlic mashed potatoes is based on an old family recipe that seems to create the tastiest mashed potatoes you can imagine. It starts with selecting the right potatoes. Yukon Gold are the creamiest and will give the best results in the end.
The potatoes are then boiled in chicken stock or broth, not plain water. The stock flavorized the potatoes inside out. Every last particle tastes great. Not a single bland bit.
Garlic is boiled together with the potatoes, until both are soft and can be mashed easily with a fork. We use a full head of garlic. No, it's not too much at all. Boiling garlic will eliminate its strong smell and sharp taste. All that will be left is the mellow, delicious garlic flavor.  To make the mashed potatoes even creamier and tastier, a combination of butter, cream, salt, pepper and fresh herbs is added.
How long to boil potatoes for mashed potatoes?
Boiling time really depends on the size of the potatoes and the altitude of your home. Cut into 2-inch pieces, potatoes will need about 15-20 minutes of boiling. Larger piece will require a longer boiling time. At higher altitudes water boils at lower temperatures so the boiling time for potatoes will need to be extended. To ensure proper cooking, give the potatoes a quick stir after about 10 minutes of boiling. As well, make sure the pieces are of about the same size. This will ensure uniform cooking. To tell if the potatoes are ready, try splitting one piece in half with the side of a fork. If the fork goes through easily, the potatoes are ready for mashing.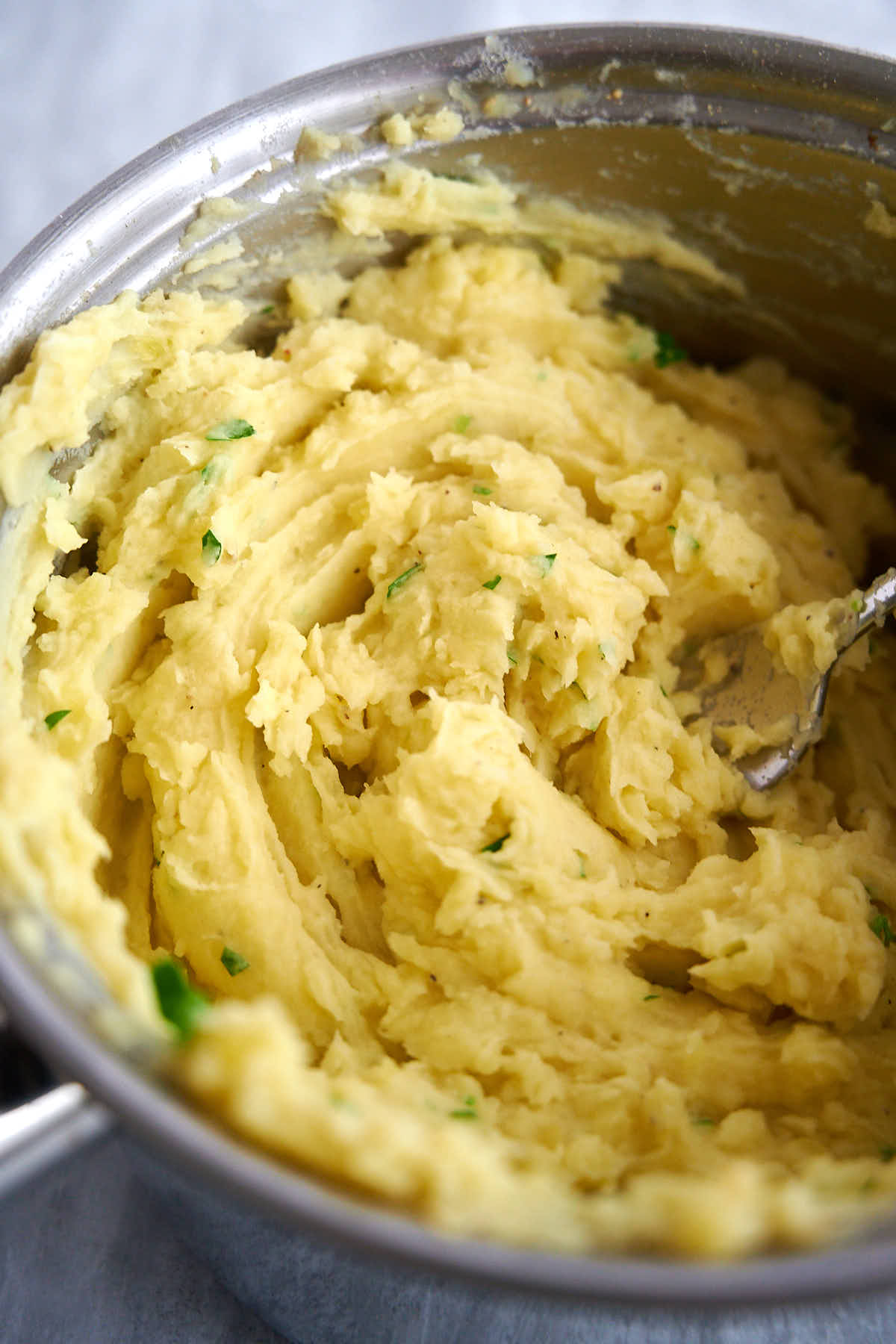 How many potatoes are required for making mashed potatoes?
This is the toughest question for me to answer every time I make mashed potatoes. Unless I specifically want leftovers, I try to make sure that I make just enough. It's not that easy as it seems. Regardless, 2 medium potatoes or 1/2 a pound per person should be plenty. One and a half potatoes, or 6 oz, per person will be enough most of the time.
How to keep mashed potatoes warm?
You can use a food warmer, or your stove has a warming function, if you have that. If not, let's get creative. Keep the potatoes in the oven set to the lowest setting, usually 170F. Make sure to use an oven-safe vessel, like a stainless steel pan, and keep the potatoes covered. Or you place them in your slow cooker and switch it to warming function. I've seen some people using heating pads. Those can work. If all else fails, wrap the potatoes in a pot in a couple of blankets and place in an insulated beverage cooler. That will keep the potatoes warm for a few hours.
How to thicken mashed potatoes?
It happens to the best of us. We added just an ounce too much of liquid. My favorite way to thicken mashed potatoes is to heat them in the pot over medium-low heat until enough liquid evaporates. You can achieve the same by microwaving mashed potatoes in a microwave-safe bowl for 1-2 minutes, stirring then evaluating and repeating again until you get the desired consistency. Finally, a thickening agent may do the trick for you. You can use powdered milk ,instant potato flakes, arrowroot, corn flour, plain flour, tapioca and hard cheese, like Parmesan cheese. Add one tablespoon at a time, stir, evaluate and repeat.
How to reheat mashed potatoes?
Out of many ways of reheating mashed potatoes, from quick and easy to clever to downright silly, my favorite two ways are the oven and the skillet.
My favorite way is using a skillet. It's quick, easy and adds even more flavor to the potatoes. Melt a tablespoon of butter over medium heat, add the potatoes and evenly spread them across the bottom of the pan. Cover and cook for 2-3 minutes. Stir and continue cooking for another 2-3 minutes. Keep doing it until the potatoes are warmed up. This should take no more than 12-15 minutes, if that.
To reheat mashed potatoes in the oven, place the potatoes in a baking dish, throw in the oven and turn the heat to 350F. No, you don't need to wait for the oven to preheat. The potatoes will be warming up together with the oven. It will take about 30-40 minutes for the potatoes to reach the safe temperature of 165F. Give them a few stirs during the process to ensure quicker and more even heating.
What to serve these mashed potatoes with?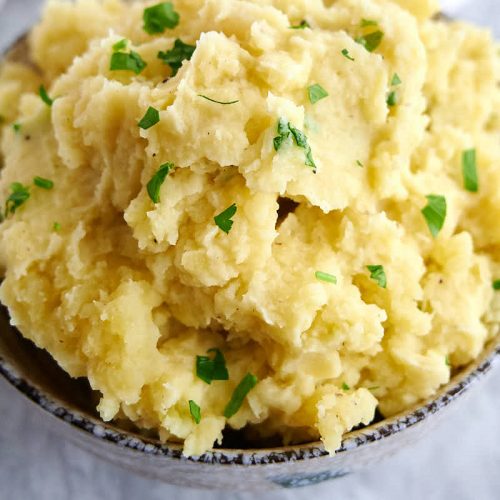 Ingredients
2

lbs

Yukon gold potatoes

(about 8 medium potatoes; peeled and halved)

1

head

garlic

(cloves separated and peeled)

4

cups

chicken stock

(or broth, or water)

6

Tbsp

butter

(softened)

Kosher salt

(to taste)

Black pepper

(to taste)

1/3 cup

heavy cream

2

Tbsp

chopped fresh parsley
Instructions
Drop the potatoes and the garlic cloves in a sauce pan.

Add the chicken or vegetable stock.

Bring to a boil. Reduce heat and simmer for about 15-20 minutes or until the potatoes are soft. Drain the potatoes.

Add the butter and the spices.

With a large fork, smash the potatoes and the garlic. Keep working until the butter, salt, pepper, and cream are blended in.


Give the potatoes a quick stir.

Serve hot with some more chopped parsley sprinkled on top.
Nutrition
Calories:
254
kcal
|
Carbohydrates:
26
g
|
Protein:
8
g
|
Fat:
13
g
|
Saturated Fat:
7
g
|
Cholesterol:
35
mg
|
Sodium:
346
mg
|
Potassium:
818
mg
|
Fiber:
3
g
|
Sugar:
2
g
|
Vitamin A:
460
IU
|
Vitamin C:
20.7
mg
|
Calcium:
64
mg
|
Iron:
5.4
mg