These oven roasted vegetables are super easy to make and they taste amazing! They are always a hit in our home. Each vegetable is perfectly tender and packed with great flavor! Great for Thanksgiving, Christmas and just everyday dinners.

Whenever I don't bring my lunch to work, 8 times out of 10 I would pick up a box of roasted vegetables with a large turkey meatball from the local store's lunch bar. Let me tell you, those roasted vegetables are really good, albeit quite expensive and have a fairly limited variety.
There you can find the usual roasted carrots, green beans, red onions, and potatoes. Occasionally they have sweet potatoes, zucchini and asparagus, but that's about it.
Some of my favorite vegetables to roast are eggplant and Brussels sprouts. Roasted root vegetables rock! They taste great and are full of minerals and vitamins. I love the taste of oven-roasted beets, carrots, yams and parsnips. Throw in some bell peppers for good measure and I am in heaven. Wait, I forgot butternut squash. That's it. I absolutely adore roasted butternut squash. Roasted butternut squash is seriously delicious!
This recipe includes a very good sample of my favorite vegetables. Each time I roast veggies I try to vary them and incorporate what I have on hand. But it's always a combination of root vegetables and non-root vegetables. Whenever I make this recipe at home it's always a hit. When I serve these roasted vegetables to guests they always ask me for the recipe. Invariably, it takes them by surprise to learn how simple it is.
My tips for making great roasted vegetables
Variety
No question, the secret to making excellent roasted veggies lies in the variety. A bunch of roasted potatoes, or Brussels sprouts, no matter how well prepared, can never compete with a medley of root and non-root veggies. Here you have softer and crunchier textures, sweet and tart, and a wide range of colors and nutrients, and all the minerals coming especially from root vegetables. And each person can pick whatever veggies they like. Even the pickiest eaters will be happy with these roasted vegetables!

The dressing
Similarly, the dressing makes a huge difference. More often than not I find that store/restaurant roasted veggies are on the sweeter side. To fix that I use a combination of balsamic vinegar and sherry vinegar. I wanted to make the dressing tart enough but without it being overly sweet from using too much balsamic vinegar.
Thick dressing is another little secret I learned about during my experiments. Thick dressing sticks to veggies and each piece coming out of the oven is a tasty, perfectly seasoned little morsel.
Fresh herbs
Fresh aromatic herbs like basil and thyme add a lot of flavor too. As does garlic. I use a lot of it, as it loses its pungency during roasting but the flavor remains.
Size
I like to cut vegetables about the same size so that they cook evenly. Dense vegetables like beetroots need to be cut a bit thinner than the rest to cook through in time. Brussels sprouts are a toss – sometimes I cut them in half, sometimes I roast them whole.

Spacing between vegetables
If you can, I recommend using a very large, 15 x 21-inch baking sheet for roasting your vegetables. This will help avoid crowding and let the liquids evaporate quickly, allowing for proper roast. Otherwise, divide the vegetables and roast them in two batches.
Leaving more space between the vegetables results in better and faster roasting. Here is the sheet of roasted veggies I made that took only 30 minutes to produce beautifully roasted vegetables.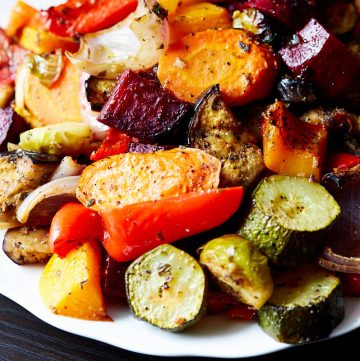 Ingredients
1

small eggplant

quartered and sliced into 1/2-inch pieces

1

large carrot

sliced into 1/2-inch pieces on the diagonal

1

medium red onion

cut into 1/2-inch strips

1/2

red bell pepper

cut into 1/2-inch strips

1/2

green bell pepper

cut into 1/2-inch strips

1/2

yellow bell pepper

cut into 1/2-inch strips

1

large beet root

peeled, quartered and sliced into 1/2-inch pieces

1/2

butternut squash

peeled, quartered and sliced into 1-inch pieces

8

Brussels sprouts

cut in half or whole

1

zucchini

sliced into 1/2-inch rounds
For the dressing:
1/4

cup

extra virgin olive oil

2

Tbsp

white balsamic vinegar

not overly sweet; dark balsamic vinegar will work as well

2

Tbsp

red wine vinegar

or sherry vinegar

2

tsp

Dijon mustard

whole grain or regular

2

tsp

finely chopped fresh thyme

2

Tbsp

finely chopped fresh Italian basil

or parsley, cilantro

5

garlic cloves

pressed

1

tsp

freshly ground black pepper

1

tsp

kosher salt
To sprinkle on top:
1/2

tsp

freshly ground black pepper

optional

1/2

tsp

kosher salt

plus more to taste

more chopped herbs

to taste
Instructions
Preheat oven to 450F.

Line a large, 15x21-inch baking sheet with parchment paper and set aside. If you are using smaller baking sheets you will need to roast the vegetables in two batches or on two baking sheets.

Prepare the dressing by whisking the olive oil, vinegar, Dijon mustard, basil, thyme, garlic, pepper and salt in a small bowl, until well combined.

Place the vegetables in a large bowl, big enough to accommodate all the veggies and still having some head space left to allow tossing. Pour the dressing all over the vegetables and toss well to coat the veggies with an even layer of the dressing.

Transfer the vegetables onto the baking dish and spread evenly. Sprinkle additional salt and pepper on top.

Bake on the second rack from the top for about 35 minutes (slightly firmer) to 45 minutes (slightly softer and creamer, as shown on pictures in the post). Start checking at 30 minutes as different ovens bake differently. Serve the roasted vegetables immediately.
Notes
If you've used this recipe in the past you may have noticed that I slightly modified my original recipe. The new version is the result of a series of micro-adjustments to make this recipe even better and easier to make. I slightly reduced the amount of vegetables to make them fit more comfortably on the 15"x21" baking sheet. I also reduced the amount of olive oil and increased the vinegar. This resulted in slightly less oily vegetables with a brighter taste. If you prefer the original recipe, double the olive oil and reduce sherry vinegar by half. I also doubled the amount of chopped basil but that should be a welcome change regardless.
Nutrition
Calories:
171
kcal
|
Carbohydrates:
21
g
|
Protein:
3
g
|
Fat:
10
g
|
Saturated Fat:
1
g
|
Sodium:
634
mg
|
Potassium:
669
mg
|
Fiber:
5
g
|
Sugar:
8
g
|
Vitamin A:
9035
IU
|
Vitamin C:
84.2
mg
|
Calcium:
64
mg
|
Iron:
1.5
mg
Helpful resources:
6 Common Mistakes to Avoid When Roasting Vegetables