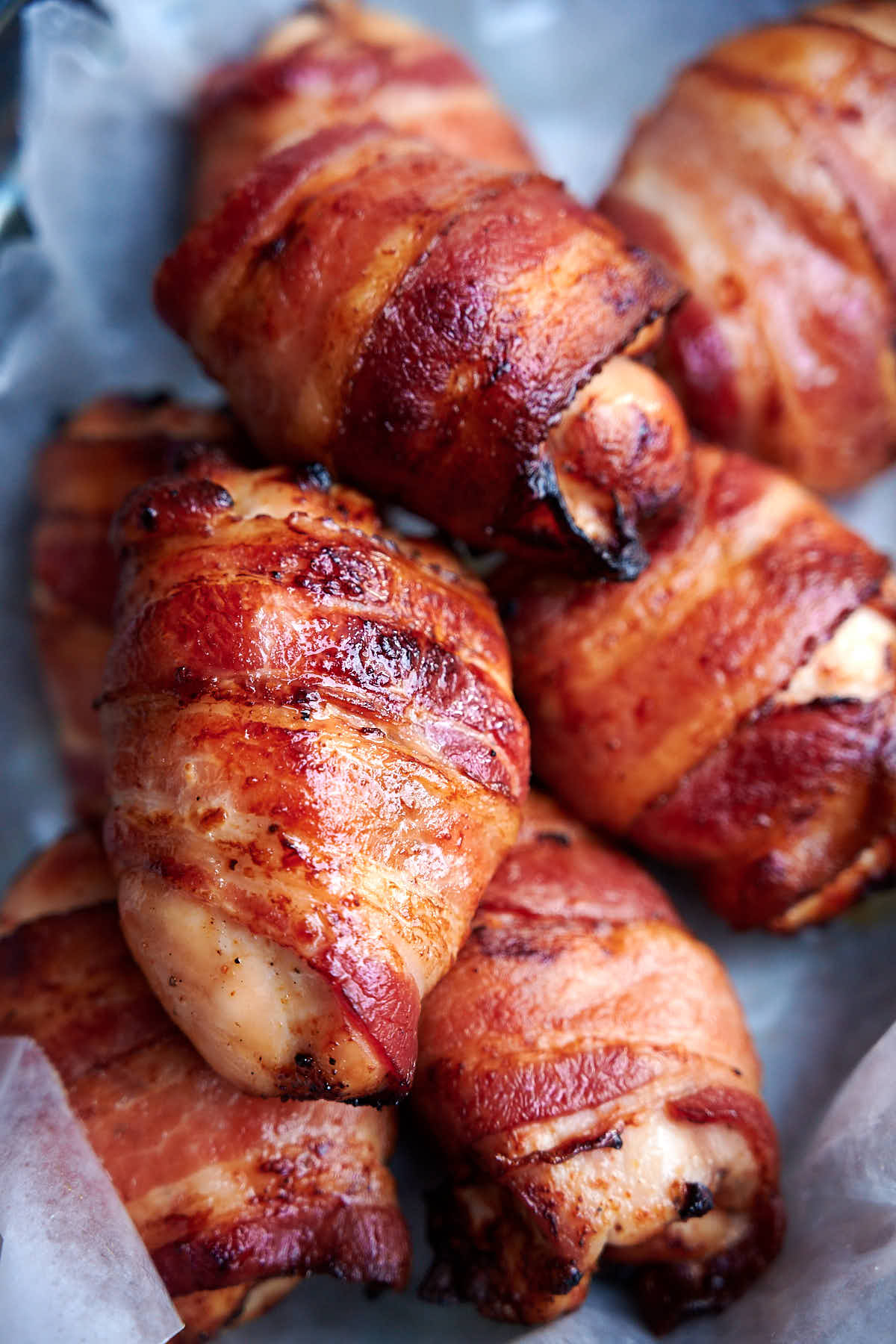 Bacon-wrapped chicken thighs made with boneless, skinless chicken thighs, seasoned with a honey, lime and garlic seasoning mix, then wrapped in bacon and cooked until crispy outside and tender and juicy inside. These chicken thighs are always a hit and are great both for casual dinners and parties or even fancy dinners. They are very easy and quick to make, yet they taste amazingly good.
How to make bacon-wrapped chicken thighs?
The basic process for making bacon-wrapped chicken thighs involves three easy steps:
Season the thighs. The seasoning can be as simple as salt and pepper or as sophisticated as you would like it to be. My favorite seasoning for this recipe is the honey, lime and garlic base with some additional touches like salt, pepper, cayenne pepper, dried onions and herbs.
Wrap in bacon. Once the thighs are seasoned, you roll them up and wrap in one slice of bacon each. Try using homemade bacon, it's easy to make yet way tastier.
Cook. Finally, you cook the thighs using your preferred method.
Best ways to cook bacon-wrapped chicken thighs
The challenge with cooking bacon-wrapped meat is that the bacon when in contact with cold, moist meat doesn't brown easily. Therefore, I find that cooking bacon-wrapped meats at very high temperatures is the best way. When bacon comes in contact with a hot surface, it renders fat and browns even faster. Based on my experiments, here are some great ways to cook bacon wrapped chicken thighs to get excellent and tasty results.
Grilling. Grilling is a great way to cook bacon wrapped chicken. Here you have a hot surface and a high temperature to help render bacon fat quickly and caramelize the surface. By the time the bacon is nice and crispy, the meat inside will be perfectly cooked and moist. Cook the thighs at about 350F-400F over direct heat for about 20-30 minutes, turning frequently until the internal temperature reaches at least 165F. I like mine a little more well-done, to about 175F - 185F.
Air frying. Air frying is another excellent way to cook bacon wrapped chicken thighs. It produces results similar to grilling. You get a grill-like aroma and the bacon will be nicely crisped up by the time the meat is fully cooked. For indoor cooking, this is my preferred cooking method as it's quick, easy and not messy. Air frying will take about 25-30 minutes, with 2 flips during cooking.
Baking. Baking can be a good way to cook bacon wrapped chicken thighs too, if you add a couple of additional steps. Plain baking will result in pale, rubbery bacon by the time the chicken is cooked through. Therefore, you need to find a way to crisp it up. One way is to quickly pan-sear bacon-wrapped thighs before baking, as described in this bacon-wrapped chicken breast recipe. This is my preferred way as it gives the best control over the final temperature and results in an evenly crisped up surface. Alternatively, you can bake the thighs until done, or almost done, then broil them to get some browning going. The browning may not be quite even and you will need to pay close attention as broiling can very quickly take bacon from nicely browned to burnt. Baking will take about 30-35 minutes at 400F including searing or broiling.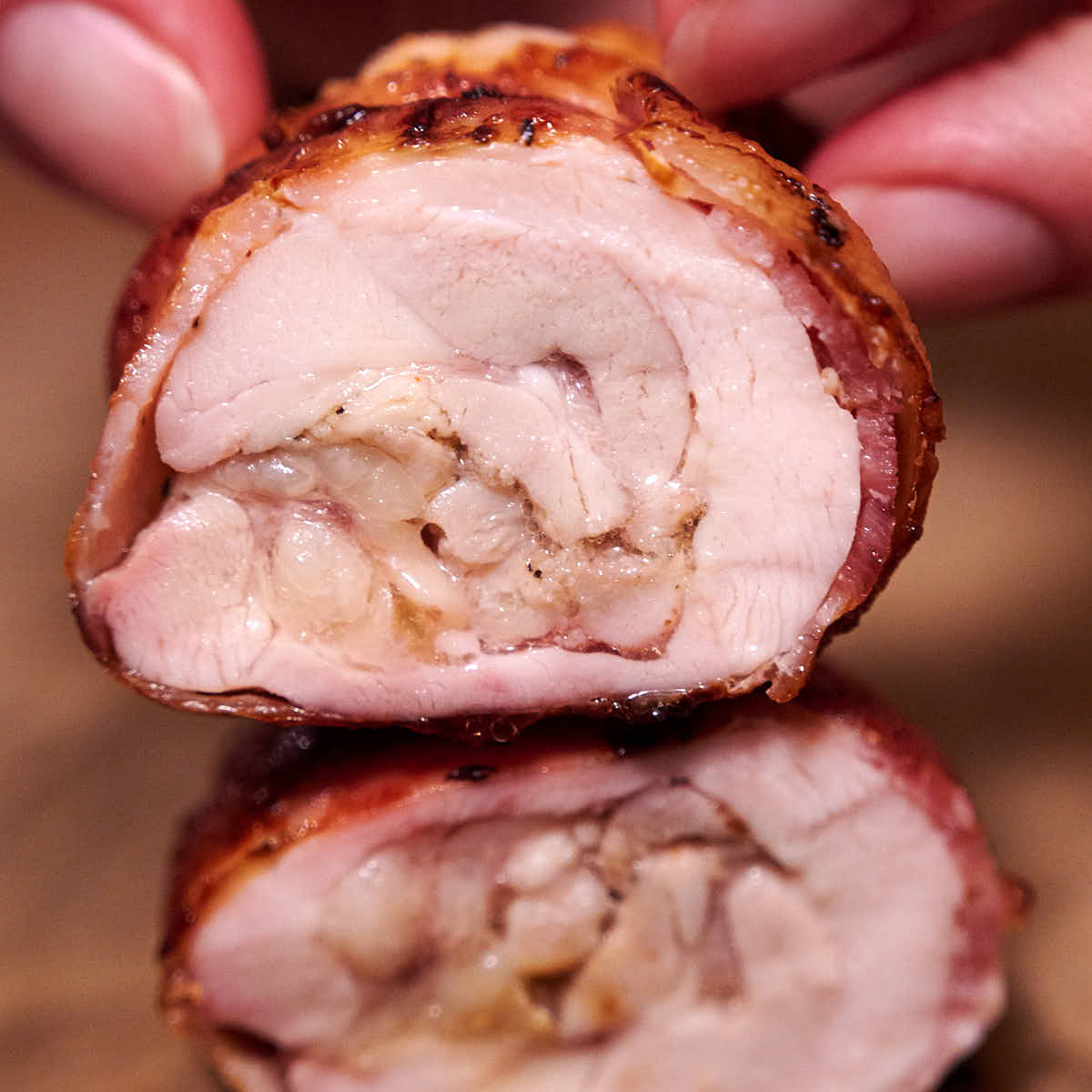 Recommended side dishes for bacon-wrapped chicken thighs
Rice is a very good choice to serve with these chicken thighs, and so are roasted or stir-fried vegetables.  If you are looking for a more comforting side dish, try these garlic mashed potatoes, they are a great match. For a lighter meal, go with this Italian style tomato and cucumber salad.
Looking for more great chicken thigh recipes? Check these out:
Equipment used to cook chicken thighs shown on the pictures above:  Chefman 6.8 Quart Air Fryer.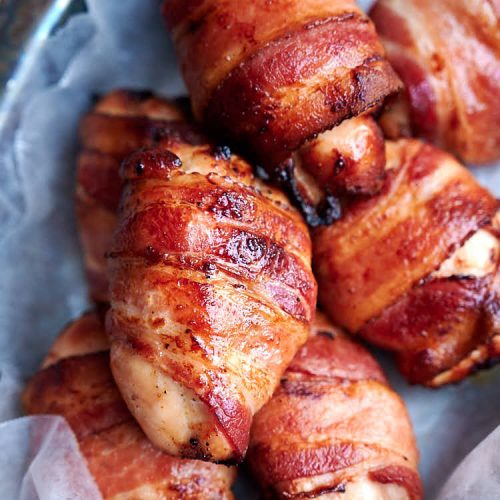 Bacon-Wrapped Chicken Thighs
Bacon-wrapped chicken thighs, seasoned with honey lime garlic mix, then wrapped in bacon and cooked to crispy tops and juicy meat inside.
Print
Pin
Rate
Ingredients
8

boneless, skinless chicken thighs

8

bacon strips

1

tsp

kosher salt

2

tsp

honey

1

tsp

granulated garlic

1

tsp

granulated onion

1/2

tsp

black pepper

2

tsp

lime juice

1/4

tsp

cayenne pepper
Instructions
Add the chicken and the seasonings to a large mixing bowl. Mix and massage the meat until the liquids are absorbed and the chicken is evenly coated with the seasonings.

Roll the thighs along the long side, then wrap each thigh with one strip of bacon. Make sure that both ends of bacon strips end up at the bottom.
Cooking in an air fryer
No preheating is necessary. Place chicken thighs on the rack, top side up, lose bacon strip ends tucked underneath. Fry at 400F for 15 minutes. Flip the thighs, and cook for additional 5 minutes at 400F. Flip and cook for another 5-8 minutes or until the tops are crispy and the chicken has reached at least 165F internal temperature. I like these chicken thighs well-done and cooked to about 185F.

Note: the timings may vary from air fryer to air fryer so start checking early the first time you cook these thighs and adjust as needed.
Cooking on a grill
Preheat the grill to about 350F-400F. Grill over direct heat for about 20-30 minutes, turning frequently, until the internal temperature reaches at least 165F and the bacon is crispy.

Note: keep the lid closed to prevent flare-ups; if bacon is getting too crispy before the thighs are cooked through inside, finish cooking over indirect heat.
Baking in the oven
Preheat oven to 400F. Preheat a large skillet over medium-high heat. Quickly sear the thighs on all sides to crisp up the bacon, about 1 minute per side. Transfer the thighs to a baking pan and bake until the internal temperature reaches at least 165F, about 30-35 minutes. You may want to start checking the temperature at 25 minutes the first time around as timings may vary from oven to oven.

Alternatively, start cooking in the oven, without searing, then use the broiled to crisp up the bacon. For best results, flip the thighs to broil on both sides. Watch the thighs closely as they can go from browned to burn in a matter of seconds.

Transfer to a serving platter and serve hot with you favorite side dish.

Tip: if you are baking or air frying chicken thighs, brush them lightly with the rendered fat, they will look more appetizing that way.
Nutrition
Calories:
468
kcal
|
Carbohydrates:
4
g
|
Protein:
49
g
|
Fat:
26
g
|
Saturated Fat:
8
g
|
Cholesterol:
243
mg
|
Sodium:
1074
mg
|
Potassium:
649
mg
|
Fiber:
0
g
|
Sugar:
2
g
|
Vitamin A:
115
IU
|
Vitamin C:
0.7
mg
|
Calcium:
20
mg
|
Iron:
2
mg