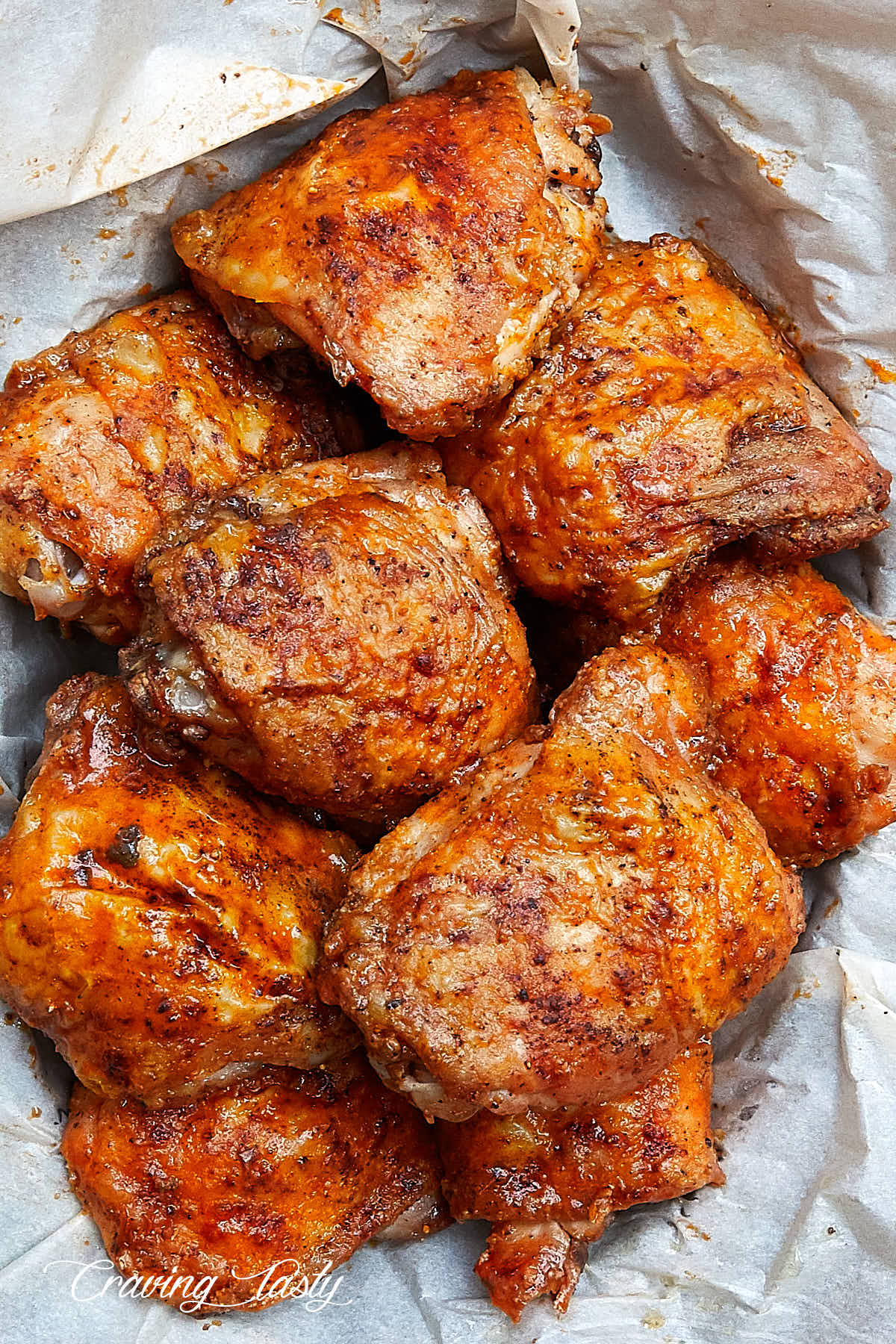 Oven-fried chicken thighs, that taste just like pan-fried or even deep-fried, but without all the greasy mess and a boatload of extra calories and added cholesterol. And there is no breading involved either. Is that even possible? Yes!!! Are you interested? No doubt, you are. Keep reading. I am certain that once you try them you will be making them again and again. I know I am.
After much success with my extra crispy baked chicken wings, I've been experimenting with chicken thighs. I wanted my oven baked chicken thighs, or more precisely, oven-fried chicken thighs, to have the same delicious, extra crispy skin and the tender, super moist interior. Frankly, it did not take much work - I applied the same approach that I used for chicken wings and got the similarly textured, extra crispy chicken thighs that tasted practically like deep-fried. I did make a few tweaks to this recipe based on lessons learned while making extra crispy wings. These tweaks made my chicken thighs even better.
The skin on these chicken thighs is superb - it's thin, crackly and exceptionally crispy. I can't imagine thighs getting much crispier than this, even if you deep-fry them. Seriously, it can't get any better than this.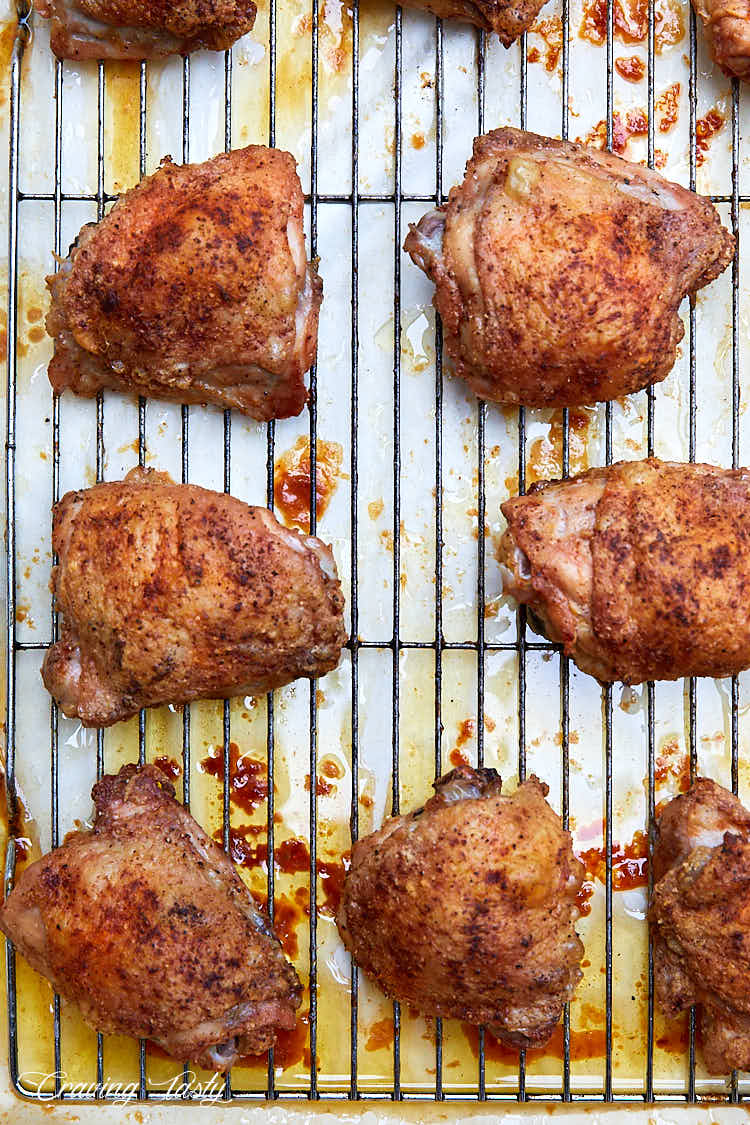 The secret to the crispiest oven-fried chicken thighs
The approach to making these amazing oven-fried chicken thighs is based on the solution prompted by Serious Eat's The Food Lab: In Search of the Best Oven-Fried Buffalo Wings article. A similar approach is used in the Cook's Country Oven-Fried Chicken Wings recipe. As I mentioned in my chicken wing post, these sources suggest using baking powder to get crispy skin along with a lo-o-o-o-ng, well over an hour, bake at two different temperatures. I am not patient enough for that, so I set out to find a quicker solution with similar or better results. And I found it.
My approach is much simpler and much faster. The thighs are done in just 30 minutes. A little longer if you want additional crispiness. The trick is to use baking powder in combination with convection baking and high heat. I am talking about 425F on convection. The 30-minute blast of high heat will make the skin so crispy that it will look and taste like deep-fried or pan-fried. The baking powder draws the moisture out and aids with crisping up skin.
According to Cook's Illustrated, tossing chicken wings or thighs with baking powder and salt helps break down the proteins within the skin, as well as aiding in browning. This also aids in obtaining dry skin that crisps up nicely in the oven. While I can confirm 100% that baking powder does help with getting a dry, crispy skin, I am not totally sure about the salt. My recent experiments proved that putting salt on chicken thighs before baking indeed helps achieve much better browning. However, I think the salt make the skin just a tad less crispy. You can see the results with salt (picture above) vs not salt (second picture below). In the end, once you put hot sauce on either, they will taste identical, and absolutely amazing.
A few words on chicken thigh baking time and internal temperature
To get that amazing crispy exterior you need to bake chicken thighs for about 30-40 minutes, depending on your oven and the level of crispiness you desire. They are done when you get a golden brown, super crispy skin and the internal temperature of around 185F. Yes, it's well above the recommended 165F but trust me, that's what you want with skin-on, bone-in chicken thighs. They taste so much better when cooked to a higher temperature. The meat inside will be very moist and succulent.
Chicken thighs are forgiving and can be cooked to well above 165F and still be very juicy. As a matter of fact, bone-in, skin on thighs taste under-cooked to me when cooked to just 165F. I like them at about 185F or even a little higher as at that temperature the dark chicken meat becomes fall-off-the-bone tender yet still very, very moist.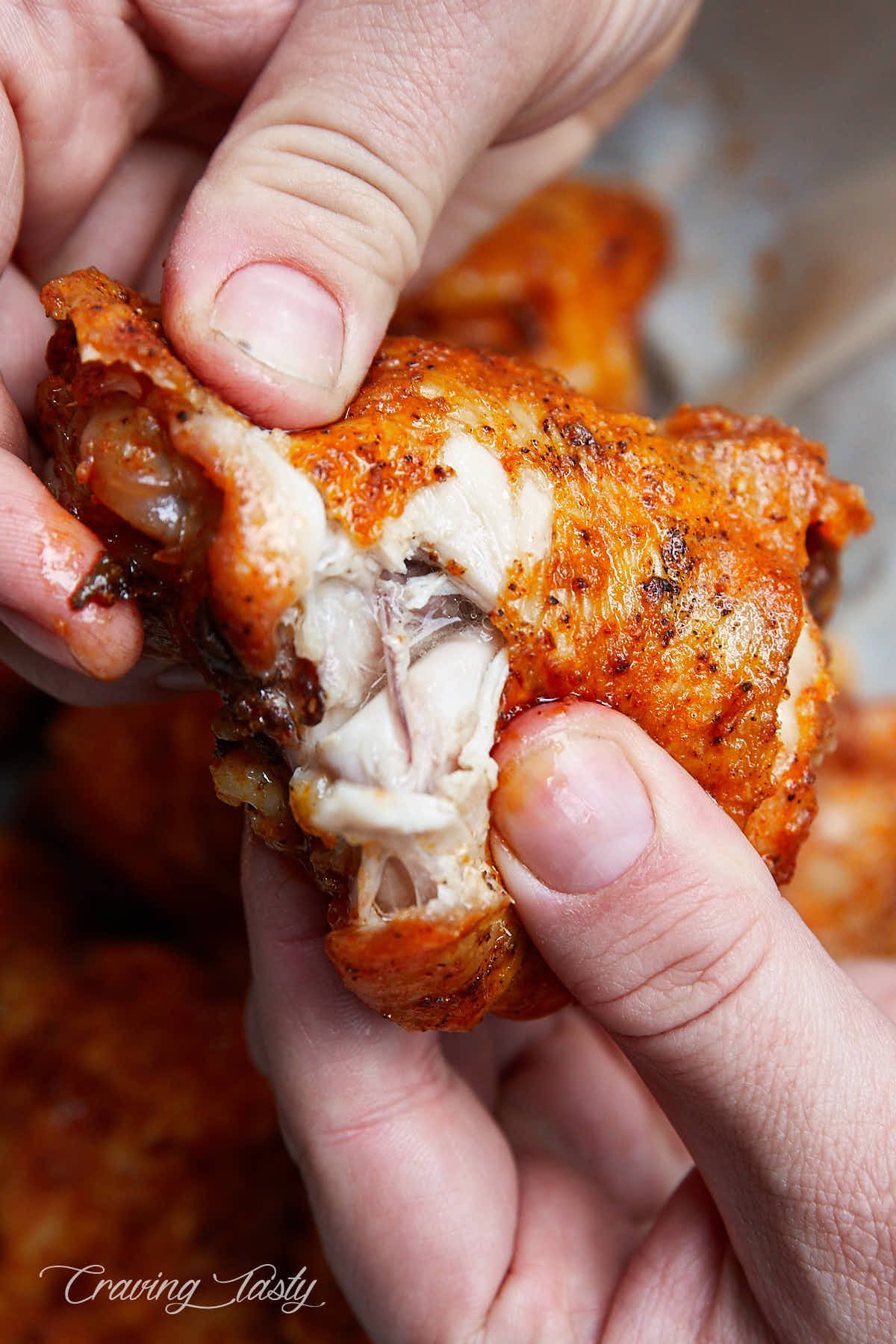 Other benefits of this chicken thigh cooking method
At one time I used chicken thighs that had a thicker skin with a noticeably thicker fat layer underneath. I was afraid that they would not crisp up as well as I wanted them to. To my surprise, most of the fat rendered out during baking, leaving a paper-thin, crispy skin behind. So, no matter what kind of chicken thighs you pick, they will be great for this recipe.
Here is another significant benefit of this baking method. Not only do you get a chicken thigh that tastes like deep-fried but without any oil, but you also get significantly reduced amount of skin fat. This is one of the healthiest ways to cook chicken thighs. There is no oil added whatsoever and most of skin fat is rendered off during cooking. Just make sure to use a cooling rack to keep the grease off.
Personally, I sometimes use a cooling rack and sometimes I don't. Cleaning the rack after cooking is my main reason. It's a pain. If you don't, set the thighs on a paper towel to soak in the grease. Here is how they look when cooked without a rack. Note that this picture is from earlier experiments, where I did not season the thighs with salt, pepper or paprika prior to baking. You can definitely note less browning on them.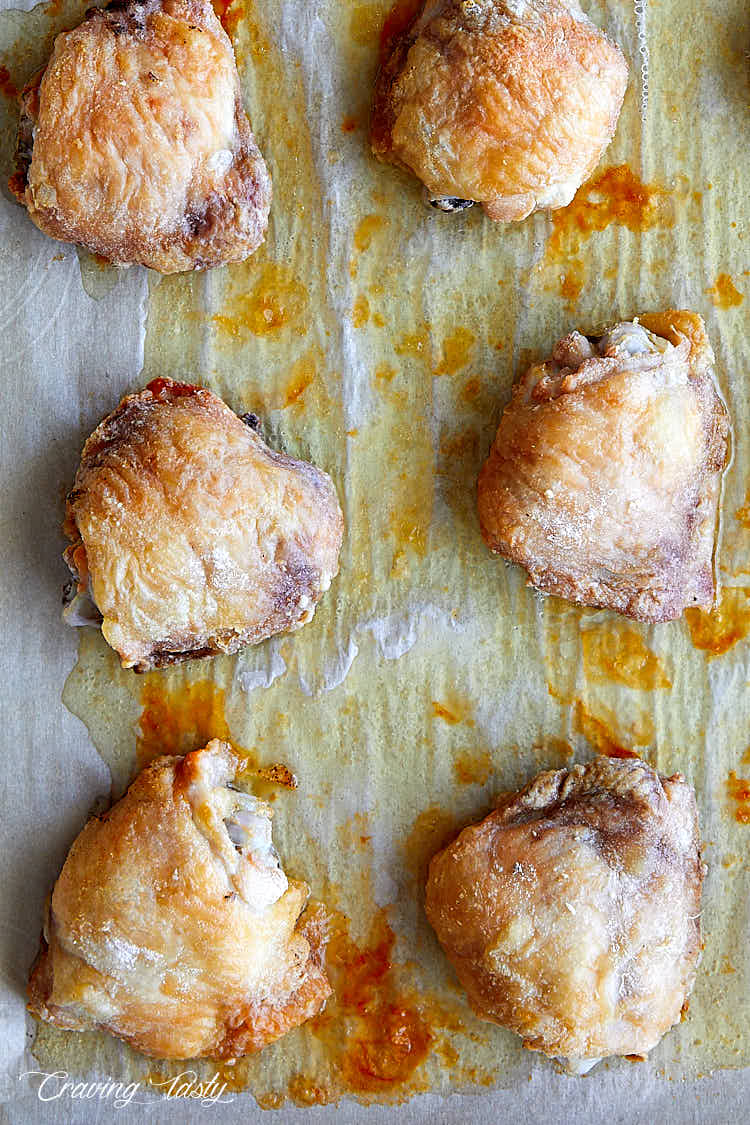 The best way to season these oven-fried chicken thighs
Salt, pepper and paprika are all you need for the initial seasoning. I added some paprika for better color. This is not necessary but I appreciate the difference and like the color. After they are done cooking, I let the thighs rest for 5 minutes. This helps them retain their crispiness better. I then toss them with three tablespoons of Buffalo wing hot sauce. It gives the thighs added flavor, a touch of spiciness and a beautiful color, just like on the photo below.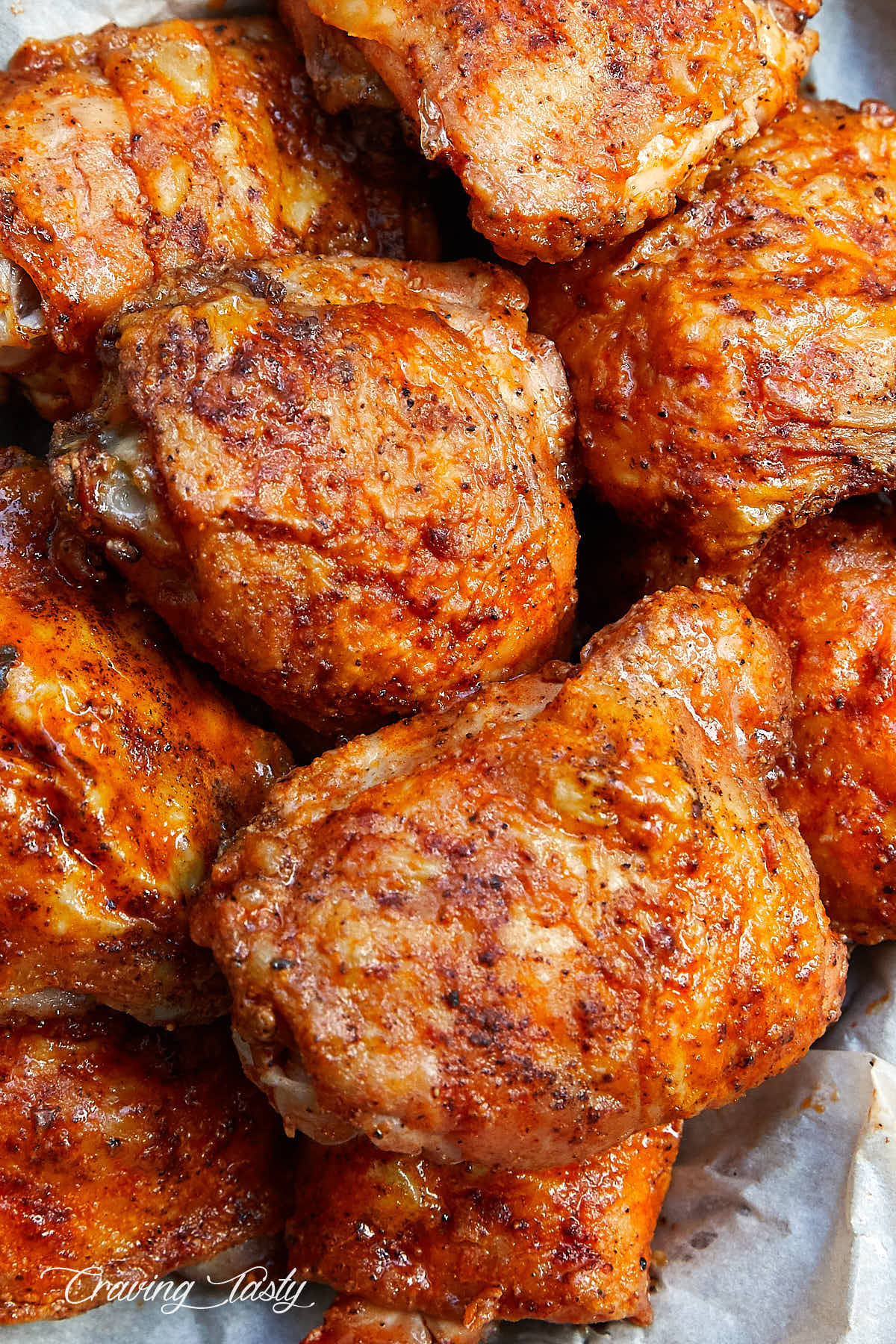 Feel free to increase the amount of hot sauce, or toss the thighs in a 50/50 mix of hot and BBQ sauce. I love this combinations. Or just serve them as is, with your favorite white dipping sauce. One of my favorite fried chicken dipping sauces is this homemade ranch sauce. It goes so well with this chicken.
Looking for more crispy chicken recipes? Check these out: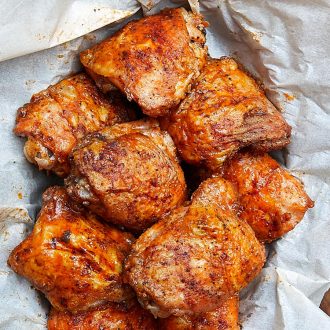 Extra Crispy Oven-Fried Chicken Thighs
Recipe for oven-fried chicken thighs that taste just like pan-fried or even deep-fried, but without all the greasy mess and a boatload of extra calories and added cholesterol.
Print
Pin
Rate
Ingredients
10

bone-in, skin-on chicken thighs

(about 3 lbs, trimmed)

1

Tbsp

BAKING POWDER

(do NOT use baking soda, it's NOT the same)

2

tsp

kosher salt

(plus more to taste)

2

tsp

sweet paprika

1

tsp

black pepper

3

Tbsp

Buffalo wing sauce

(plus more to taste; see notes)
Instructions
Preheat oven to 450F

Dry chicken thighs with paper towels really well. Try getting them as dry as possible. Sprinkle on salt, paprika, pepper and baking powder and gently rub with your hands all over, ensuring even coverage. (See note).

Lay the chicken thighs on the coking rack, leaving a little space between the pieces. You may want to spray the cooling rack with PAM or rub it with some oil to minimize sticking.
Note: you can skip using a cooling rack, but that will result in the bottoms of the chicken thighs becoming a little greasy. In that case, place the thighs on paper towels after baking to remove the grease.

Transfer the thighs to a large baking sheet lined with aluminum foil and/or parchment paper. Either is optional, or course, but makes cleaning much easier.

Place the baking sheet in the oven. Switch the oven to 425F convection. This is very important. You must use convection to get the same crispiness.

Bake for 30 minutes for moderate crispiness and supreme juiciness.

Bake for 35 - 40 minutes for ultimate crispiness and fall-off-the bone tenderness, with perhaps a tiny bit reduced juiciness.

Remove the thighs from the oven and let rest for 5 minutes. This will ensure that the skin on the thighs retains much of its crispiness after tossing in Buffalo wing sauce.

Toss the thighs in Buffalo wing sauce, or any other sauce, or a combination of hot wing and BBQ sauce and serve. Alternatively, serve with a dipping sauce on the side.
Notes
While I instruct tossing the thighs with three tablespoons of Buffalo wing hot sauce, which is my favorite way to season these thighs, you have numerous options here. You can use a mix of hot and BBQ sauce, or just BBQ sauce, or serve a white dipping sauce on the side. I also like serving my homemade ranch sauce with oven-fried wings, thighs and drumsticks.
As I mentioned in the post above, you have the option to apply salt before baking or after baking, when tossing the thighs with a sauce. Applying salt prior to baking definitely helps with browning. Applying salt after baking seems to produce less browning but a touch crispier skin.
Making these chicken thighs without a convection oven
Convection is a requirement in this recipe as you get better results – as in noticeably crispier skin and a shorter cooking time. You can even easily get away without baking them on a wire rack. However, if you don't have a convection oven try the method below originally suggested by America's Test Kitchen. You should get somewhat similar results.
Adjust oven racks to upper-middle and lower-middle positions and preheat oven to 250 degrees.
Arrange chicken thighs in single layer on a wire rack placed over a backing sheet. Bake on lower-middle oven rack for 30 minutes. Move to upper-middle rack, increase oven temperature to 425 degrees F and roast until golden brown and crisp, 40-50 minutes longer, rotating sheet halfway through baking. Remove sheet from oven and let stand for 5 minutes. Transfer thighs to a bowl with a wing sauce of your choice, toss to coat, and serve.
Nutrition
Calories:
250
kcal
|
Carbohydrates:
1
g
|
Protein:
18
g
|
Fat:
18
g
|
Saturated Fat:
5
g
|
Cholesterol:
110
mg
|
Sodium:
691
mg
|
Potassium:
361
mg
|
Fiber:
0
g
|
Sugar:
0
g
|
Vitamin A:
285
IU
|
Calcium:
61
mg
|
Iron:
1
mg