The biggest challenge with oven baked bacon-wrapped chicken breast has always been to crisp up the bacon and make it render as much fat as possible. If you've tried it, you know it's practically impossible. The bacon always comes out kinda soft, kinda fatty and chewy.
But here is a little trick to fix that problem in a matter of two minute: sear your bacon-wrapped breasts before baking.
After some trial and error I ended up using the very same approach I use to make my popular Crispy Oven Roasted Chicken Breast and other recipes. It never fails and always delivers exceptional results.

As is always the case with chicken breasts, cooking to the right temperature is crucial. Bacon will not save the delicate white meat if it's overcooked.
I like to bake my bacon-wrapped chicken breasts to 160F, then let them rest for 5 minutes. During this time the internal temperature will continue to rise and will hit the target temp of 165F. This way I don't overcook the meat, which results in the juiciest chicken breast meat I possibly can get.

The easiest way for me to hit the right temperature is to use a BBQ thermometer with a probe. No need to check numerous times with an instant read thermometer. The alarm will alert you when the chicken is ready. I suggest you give it a try. If you don't already own one, the ThermoPro TP08 is a very good BBQ thermometer to consider.

And don't cut your chicken breasts too soon. Let them rest for 5 minutes and re-absorb some of the lost juices.  But don't wait too long either, the bacon will lose it's crispiness. For best results, use homemade bacon, it's much tastier, yet unbelievably easy to make.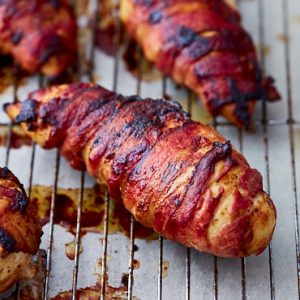 Ingredients
4

large skinless

boneless chicken breasts

8

slices

of bacon

thick or thin, both work fine

1 1/2

tsp

kosher salt

if using low sodium bacon, otherwise 1 tsp of kosher salt, plus more to taste

1/2

tsp

freshly ground black pepper

2

tsp

granulated garlic

1

tsp

granulated onions

3

tsp

honey or corn syrup
Instructions
Pre-heat the oven to 400F.

In a large bowl, rub the chicken breasts evenly with the honey, salt and the spices.

Somewhat tightly wrap two strips of bacon over each chicken breast. You may use wooden sticks to secure the bacon strips.

Preheat a large skillet over medium-high heat. Sear chicken breasts on both sides for about 1 1/2 minutes per side. For crispier bacon (like on the pictures above) you can sear for 2 minutes per side.

Place your bacon-wrapped chicken breasts on a baking tray lined with foil or parchment paper and fitted with a cooling rack. Insert a BBQ thermometer probe if using.

Bake on top rack for about 35 minutes, until the internal temperature of the chicken has reached 160F.

Remove from the oven and let rest for 5 minutes before serving.