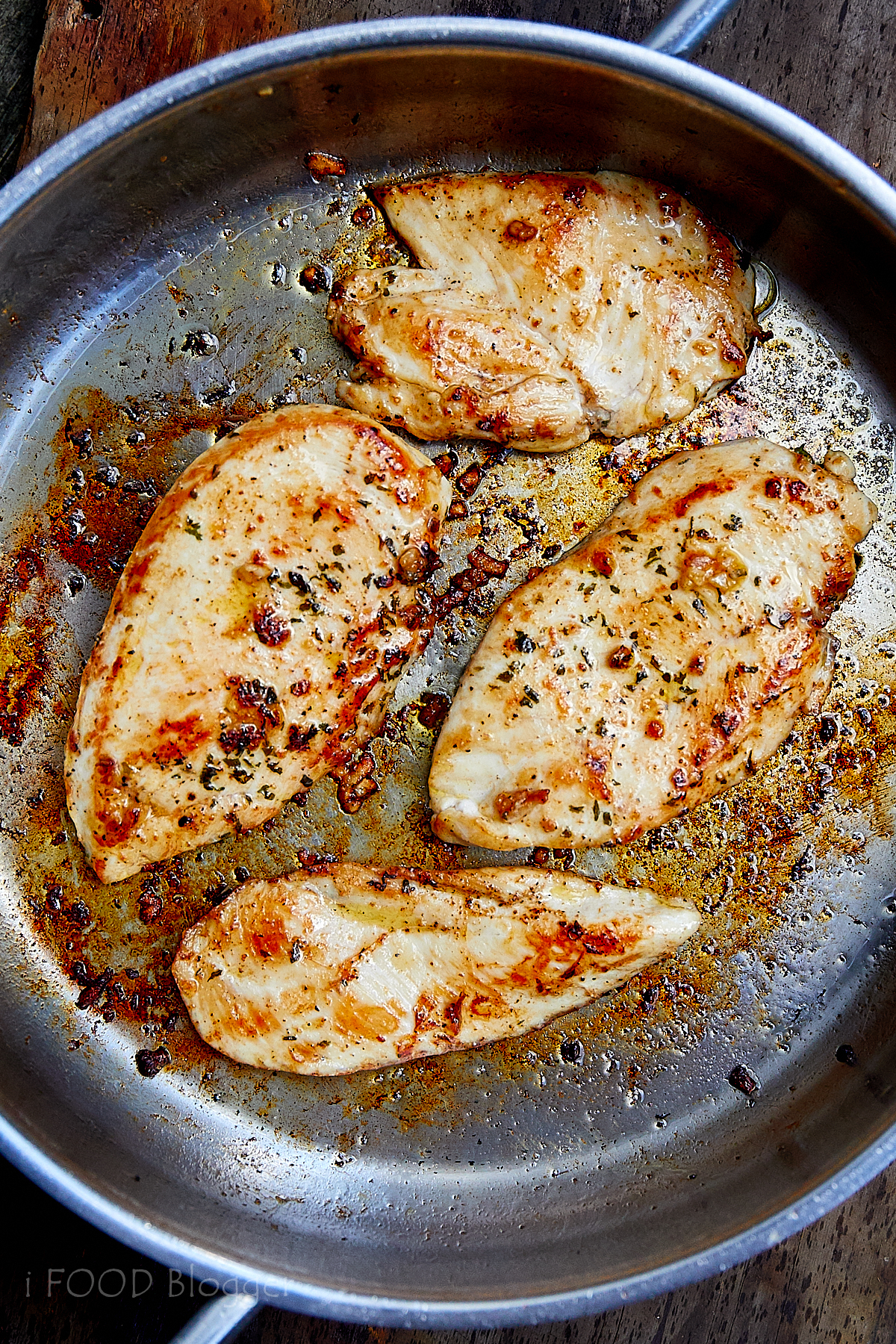 This pan-fried chicken breast recipe is the most used recipe in our family. It's simple, easy and crazy quick to make.  And it's delicious! Really, all you need is 4 minutes of prep time and 6 minutes of cooking time. The recipe is so easy that even a child can successfully make it. In fact, this was the first 'meat' recipe that my daughter mastered when she was just starting to learn to cook.
Getting a pan-fried chicken breast come out tender and succulent has always been a problem for me. If you can do it, please, let me know your secret. In my case, chicken breasts would dry out quite a bit before they cook all the way through. That is because the heat goes in one direction on a frying pan. One side gets super hot while the other is cooling down. Then there is thickness and uneven surface to deal with. All these factors contribute to inefficient heating, uneven cooking and, as a result, drying out.
The secret to a quick and succulent pan-fried chicken breast
After some experimenting and a few tiny light bulbs going on, I found a way. The solution I eventually came up with is ridiculously simple and consists of three parts:
High heat
Thin breasts
Frying covered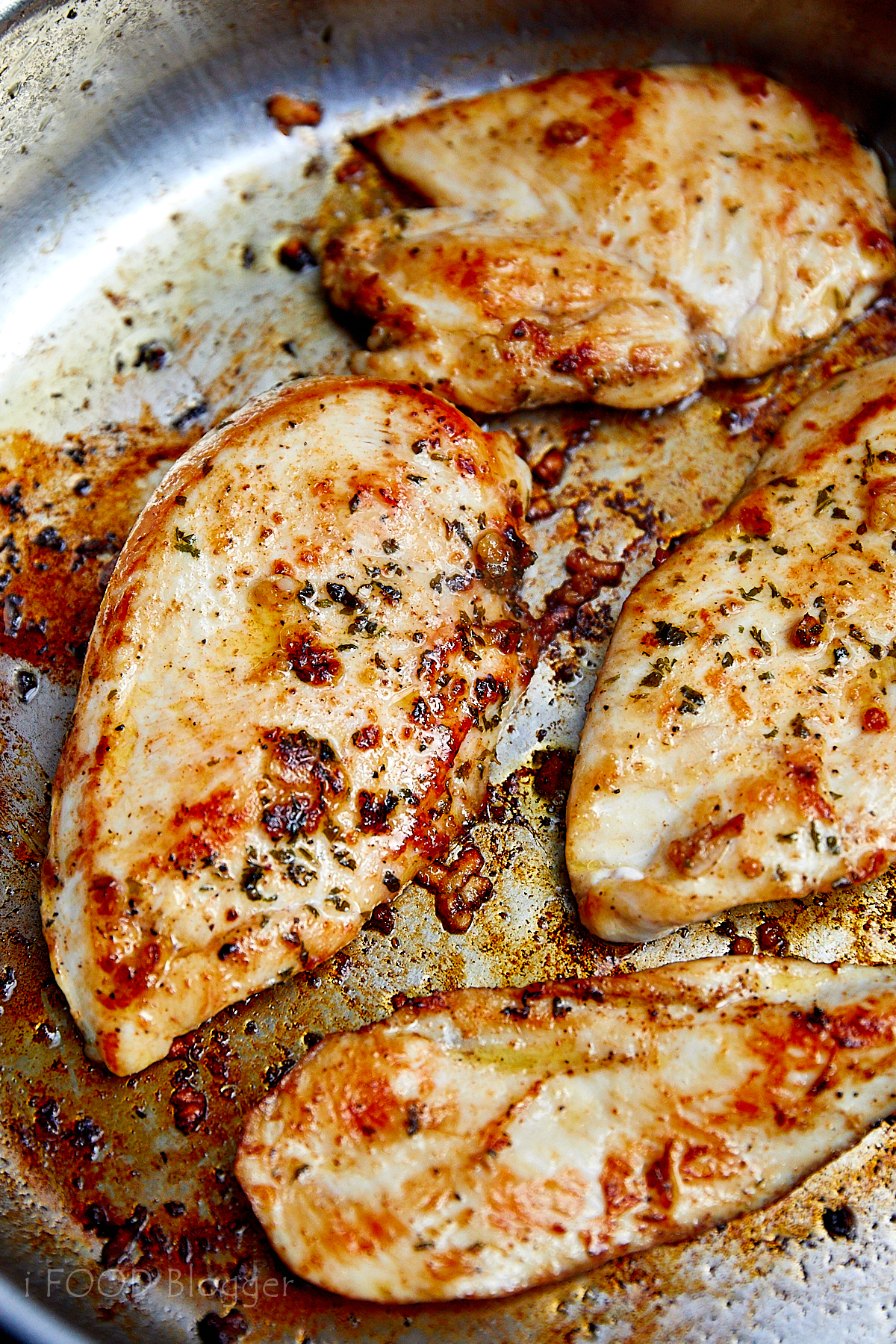 Just like when frying lean pork chops, you want to fry chicken breasts quickly, which means doing it over a fairly high heat. Thick chicken breast won't cook through over high heat before the exterior noticeably dries out. Instead, a chicken breast needs to be sliced in half, even in three pieces, if it's particularly large and thick.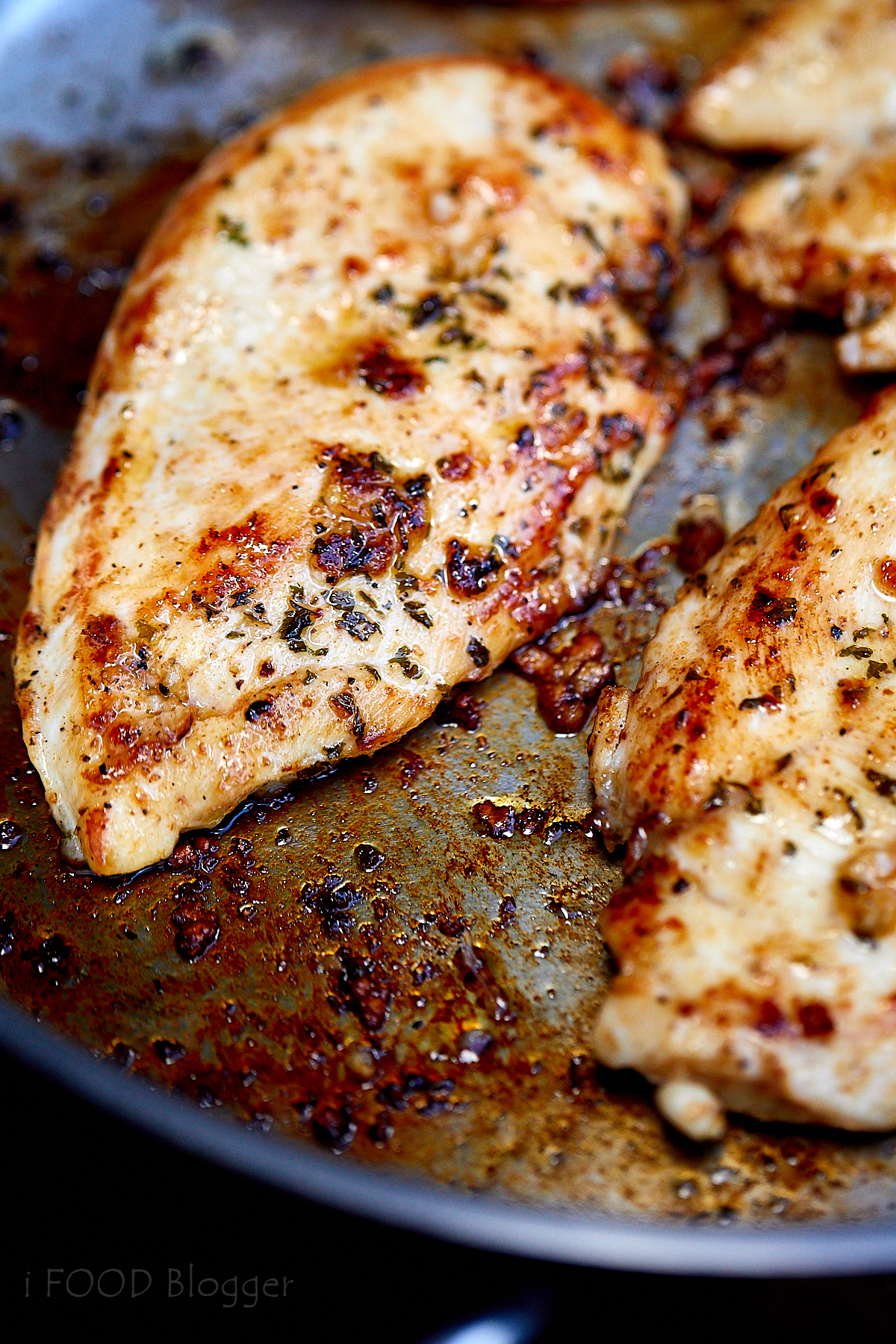 To fix the issue with one-directional heating, I pan-fry my chicken breasts covered. This way steam heats the breast from the top while it's frying, resulting in quick and efficient cooking. Besides, all that moisture from the steam keeps the breast nicely moist and prevents it from drying out. Though, fully covering the pan results in poor browning, so I leave a small crack open just to let some steam out.
Using this method, I don't even use a thermometer. Three minutes per side over medium-high heat and the breast is fully cooked, moist and juicy inside.
Looking for more great pan-fried chicken breast or similar recipes? Check these out: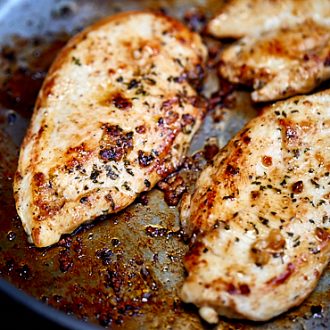 Ingredients
2

chicken breasts

(boneless, skinless)

2

Tbsp

olive oil

(one for rubbing and one for cooking)

1

tsp

kosher salt

1/2

tsp

black pepper

2

cloves

garlic

(pressed)

1

tsp

parsley

(dried)

1/2

tsp

thyme

(dried)

1/4

tsp

cayenne pepper

(plus more to taste)
Instructions
Using a sharp knife, cut the chicken breasts in half lengthwise. You want to end up with 4, equally thin, chicken cutlets. Uniformly thick chicken breast will cook faster and more uniformly.

Rub the chicken breasts with one tablespoon oil, then season with salt, pepper, thyme, garlic, parsley and cayenne pepper.

Tip: the seasoning mix here is fairly basic but gives the chicken good flavor. I vary it depending on what I have, or want to use, and often add fresh herbs. I find basil, oregano and coriander to be great in this recipe. Spice mixes like Italian, herbs de provence are also fabulous. If you like sesame oil, use it instead of olive oil for rubbing, but reduce the amount to about teaspoon, or to taste.

Heat one tablespoon of oil in a non-stick skillet over medium-high heat. Add the chicken breasts and partially cover the pan with a lid, leaving about a 1/2" - 1" crack.

Tip: if using a regular skillet, double the amount of oil. You can also use 50/50 oil and butter for better flavor.

Cook for 3 minutes undisturbed. At this time you will notice that the tops of the breasts have turned white. Flip the breasts, partially cover and cook for another 3 minutes.

Remove from the pan and serve immediately or keep warm until ready to eat.
Nutrition
Calories:
254
kcal
|
Carbohydrates:
0
g
|
Protein:
24
g
|
Fat:
16
g
|
Saturated Fat:
2
g
|
Cholesterol:
72
mg
|
Sodium:
1294
mg
|
Potassium:
418
mg
|
Fiber:
0
g
|
Sugar:
0
g
|
Vitamin A:
130
IU
|
Vitamin C:
1.3
mg
|
Calcium:
6
mg
|
Iron:
0.4
mg