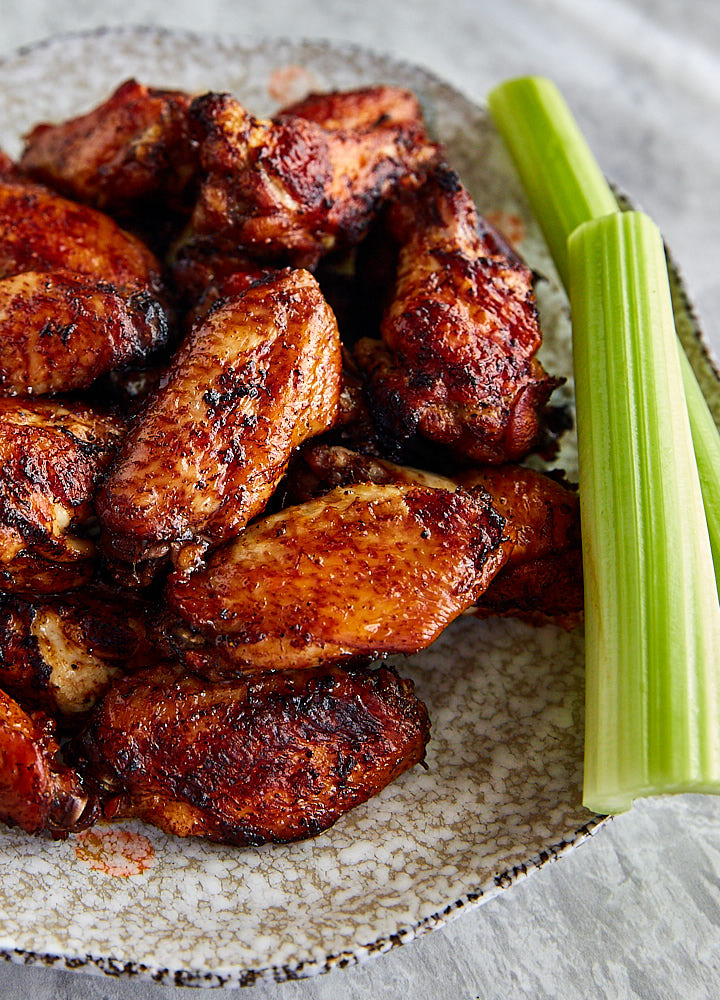 These Lemon Pepper Chicken Wings, lightly pan-seared and with the addition of dark soy sauce and honey will sure become a family favorite! They have a rich, dark color and are insanely flavorful and fall-off-the-bone tender.
A show of hands, who here likes lemon pepper wings? My family loves them. I always make the seasoning from scratch as it's super easy to make and fresh lemon zest, paired with freshly ground black pepper, tastes especially good. The only challenge for me has always been the color of these wings – pale and unexciting.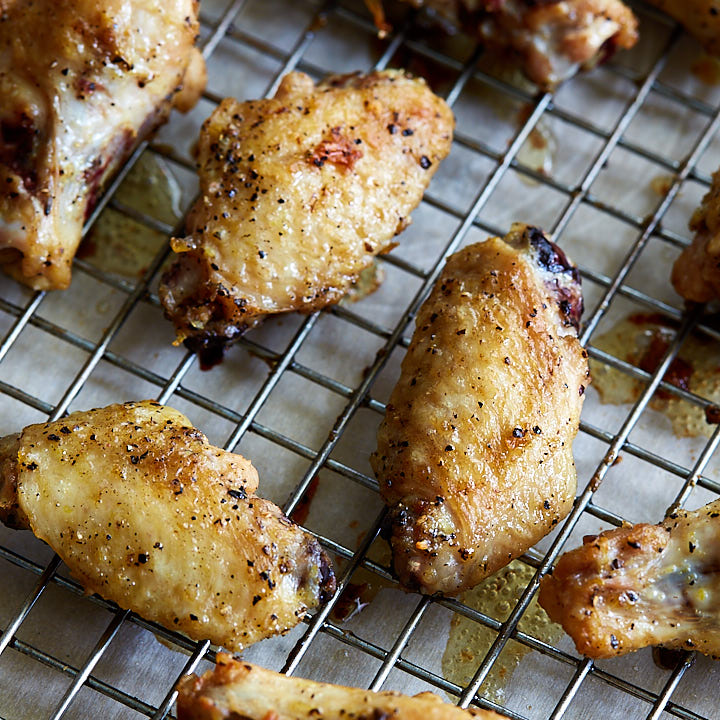 I fixed the problem by adding a tablespoon of dark soy sauce. Now the wings look absolutely terrific having acquired that rich, dark red color. Now, if you like a little sweetness on your wings there is no reason not to add it. I added a couple of teaspoons of honey and the wings just got better. Lemon and honey go so well together.
I like to sear my wings a little before sending them to the oven – this helps them get that wonderfully caramelized skin that everyone loves. I haven't met a single person who wouldn't like the wings done that way – they pack so much flavor when done this way.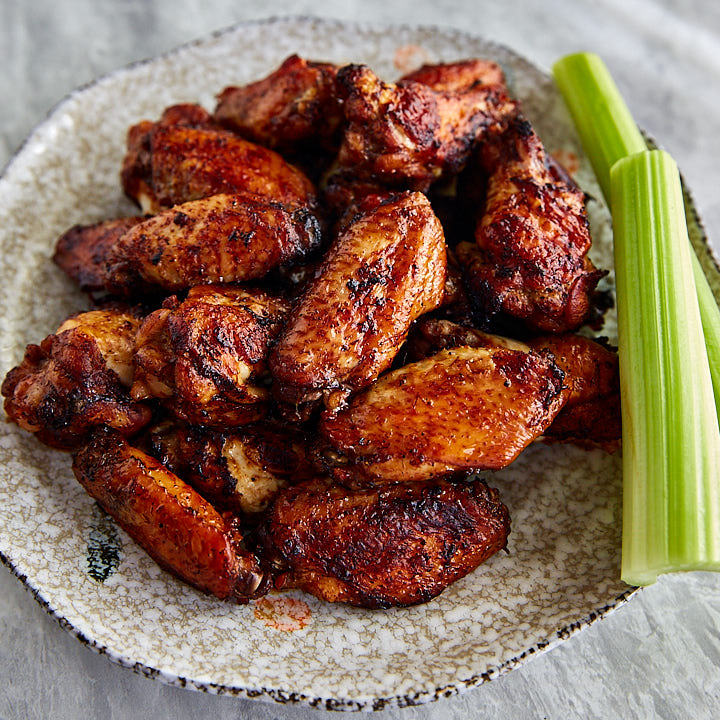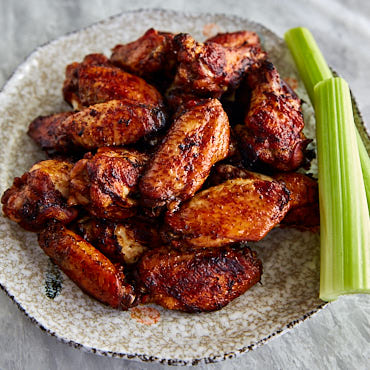 Ingredients
2

lbs

chicken wings

cut into wingettes and drummettes

1

Tbsp

dark soy sauce

2

tsp

honey

2

Tbsp

olive or vegetable oil

For the Lemon Pepper seasoning:

2

heaping tsp of sea or kosher salt

2

Tbsp

freshly grated lemon zest

4

tsp

freshly ground black pepper

or black/red/white pepper medley
Instructions
Preheat oven to 400F - 425F (see notes).

Add the soy sauce and the honey to a large bowl and whisk to combine. Add the chicken wings, then sprinkle the Lemon Pepper seasoning all over the wings. Toss well to ensure the wings are seasoned evenly.

In a large skillet, heat 2 tablespoons of olive or vegetable oil over medium-high heat. Sear the wings for 1 minute on one side, flip and continue searing on the other side for another minute.

Remove from heat and immediately transfer onto a baking sheet fitted with a cooling rack, or simply lined with parchment paper (will come out a little greasier).

Bake the wings for about 20-25 minutes, until nicely browned and cooked through.
Notes
You can adjust the preparation method to your liking, depending on what you are looking for. For crispier skin, you may sear a little longer, until the skin is dark brown and bake at 425F. Longer searing will help the wings render more fat from the skin, allowing it crisp up better during baking. I use this method to make the
Crispy Oven Roasted Chicken Breast
with amazing results. For more tender and less crispy wings pan sear until the skin is golden brown and bake at 400F. When making lemon pepper seasoning I use the following simple method that works really well: - 1 heaping teaspoon of salt (sea, Himalayan or kosher) per pound of wings. This will ensure against over or under-salting.
- For every teaspoon of salt use 1 tablespoons of fresh lemon zest
- For every teaspoon of salt use 2 teaspoons of freshly ground black pepper (or black/red/white pepper medley)
Recipe in pictures
Add the seasonings to the wings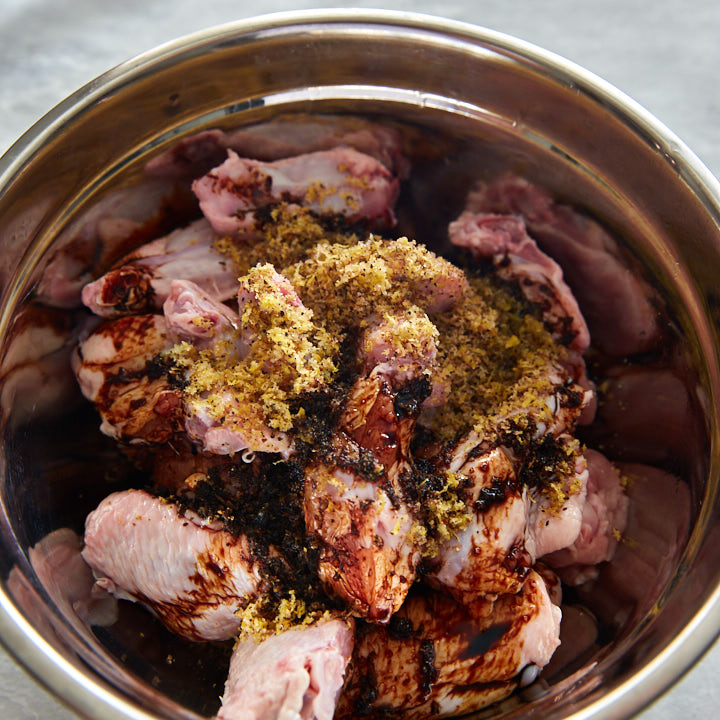 Toss well to ensure uniform coating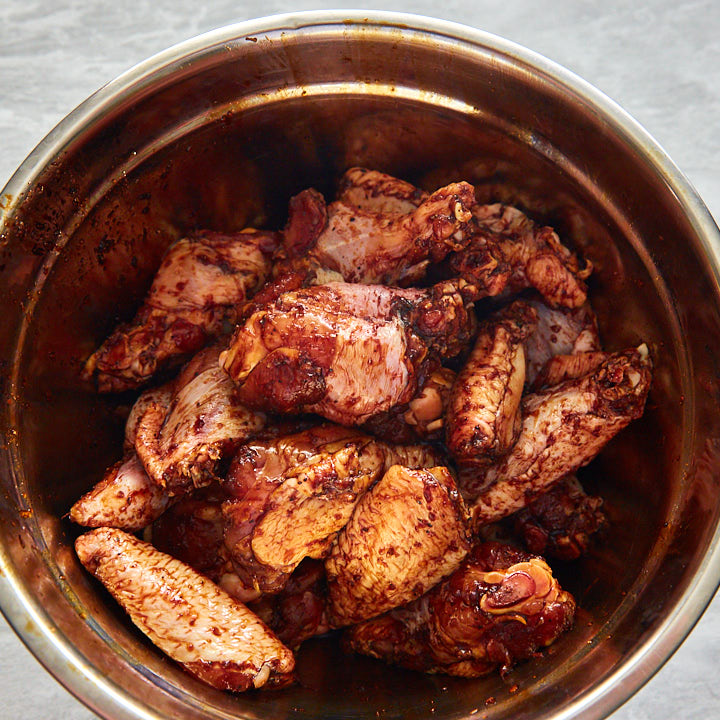 Pan-fry for 1 minute per side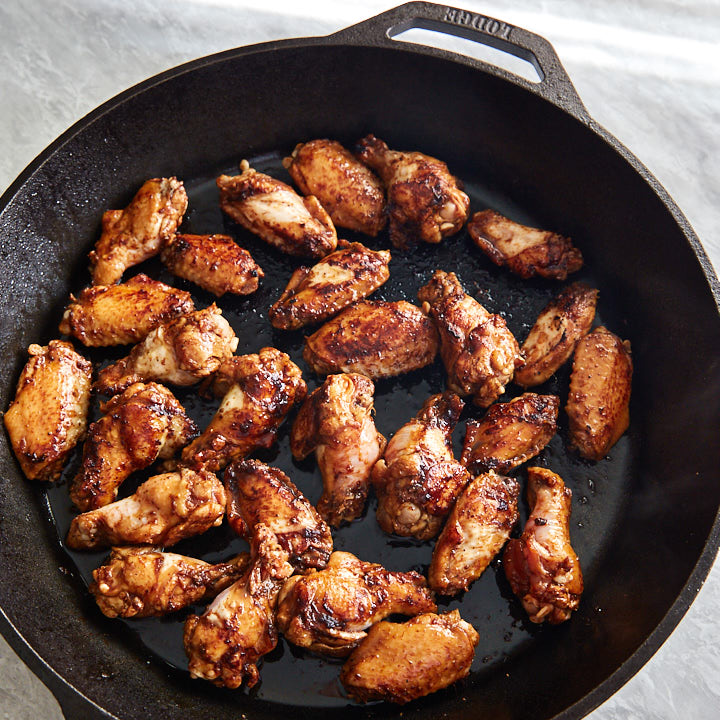 Bake