Chicken wings, coated in melted butter, then seasoned with a homemade lemon pepper seasoning mix, and baked to crispy, golden-brown, succulent perfection. The best lemon pepper chicken wings, period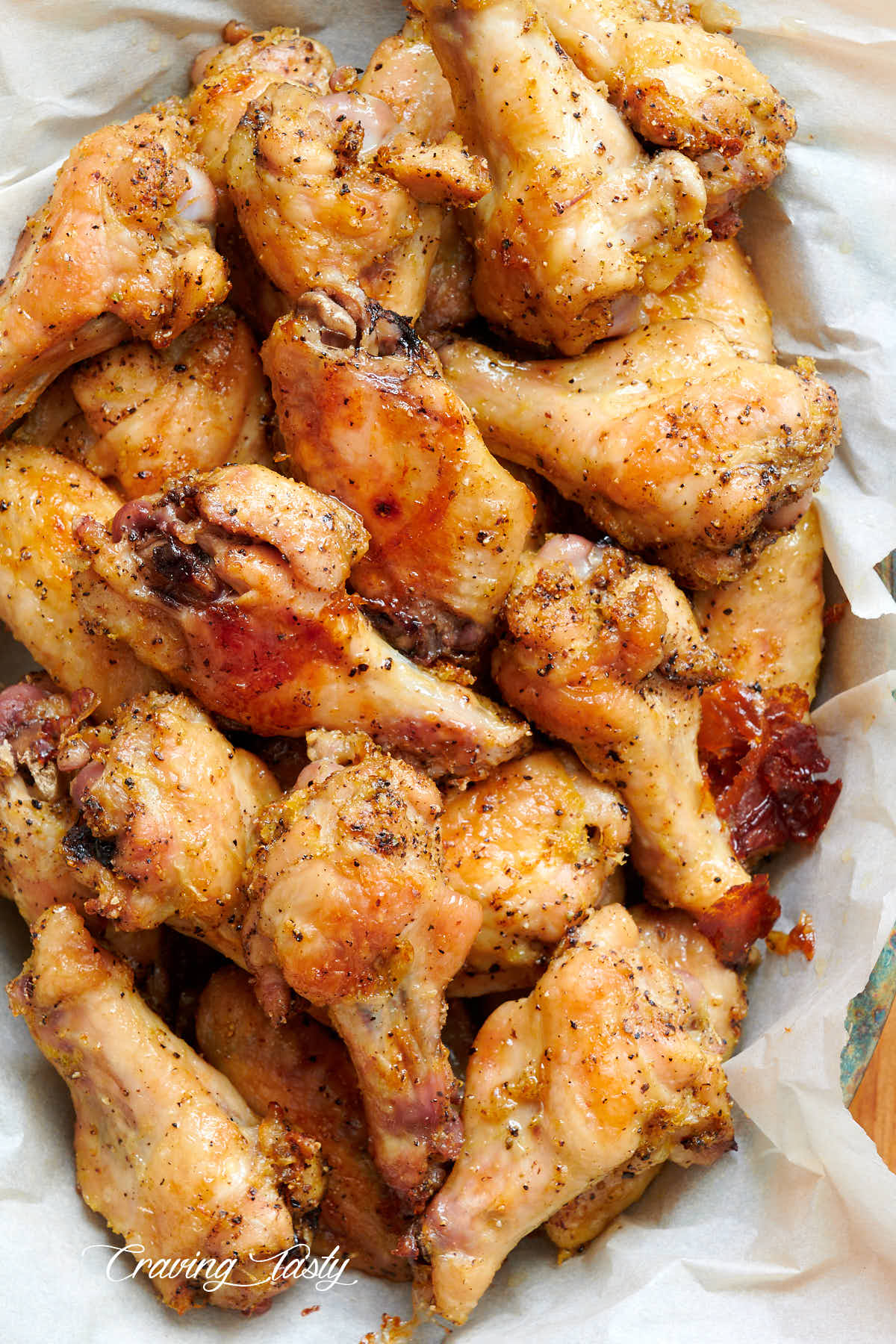 The homemade seasoning mix is what makes these chicken wings so darn good. It's simple, yet very effective. Store-bought lemon pepper mixes are OK, but not great. Compared to freshly grated lemon zest mixed with freshly ground black pepper, they lack flavor and taste stale. Some are too high in sodium.
From-scratch, freshly made food can be time consuming, but this is not the case here, you can whip up this lemon pepper seasoning mix in just minutes and make it taste just right for your taste.
Making the lemon pepper seasoning for the wings
To make the lemon pepper seasoning mix you will need lemon zest, black pepper and salt. That's all you'll need. The proportions are critical here. Some recipes I came across use way too much pepper or salt for my taste, so I created my own.
I find that the easiest and the most effective approach to season  chicken wings is to start with the right amount of salt. Wings are about 50% meat. My ideal ratio is one teaspoon of salt per pound of meat, or two pounds of chicken wings in this case. I then add black pepper and lemon zest to taste.
My preferred ratios are two teaspoons of black pepper and two tablespoons of lemon zest per teaspoon of salt, or per two pounds of chicken wings. This gives me the perfect saltiness, along with the most optimal amount to lemon and pepper notes. This combination will work for most, but feel free to adjust the ratios to your own taste.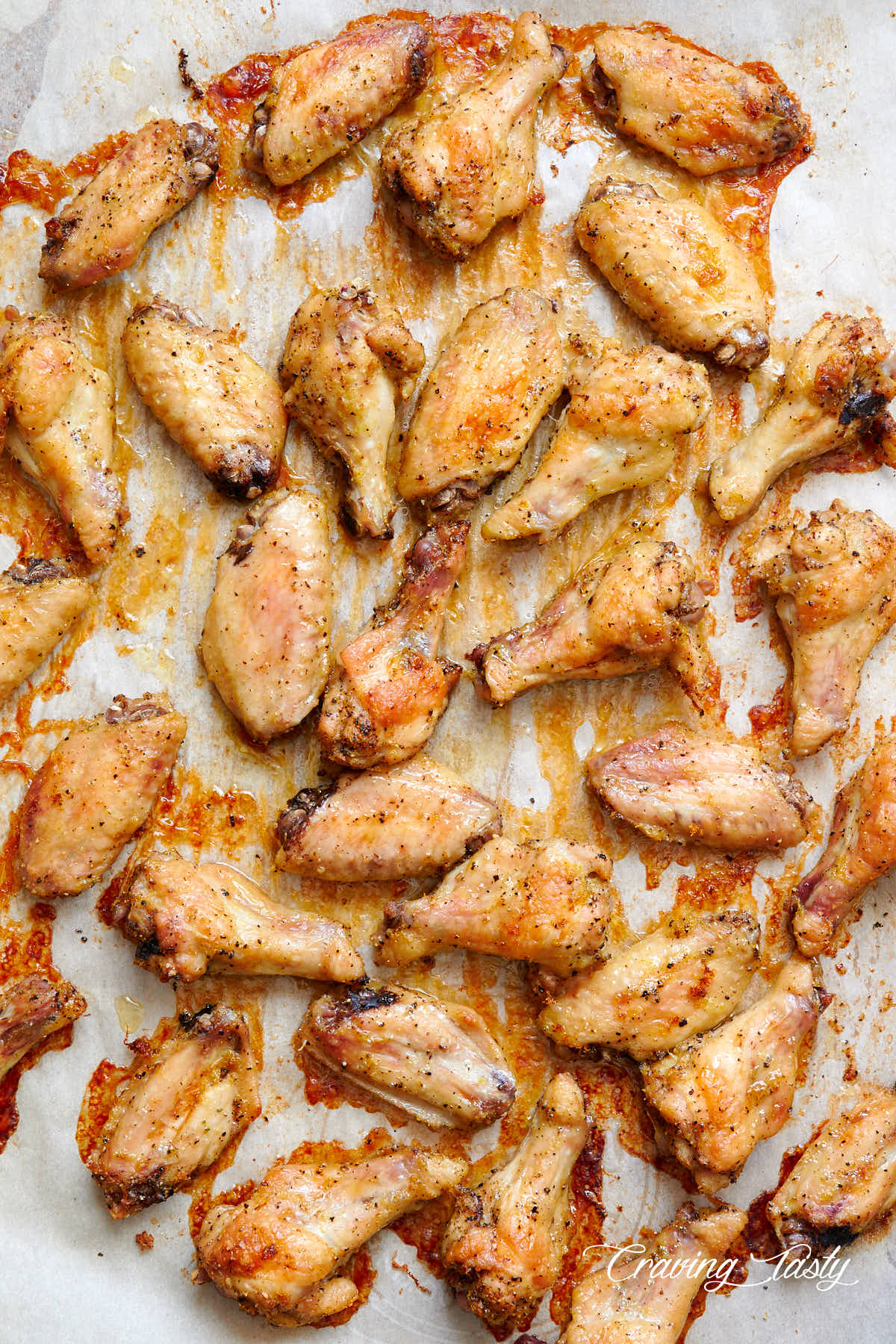 Butter makes chicken wings better
But the homemade lemon pepper seasoning is not the only thing that makes these wings so delicious. It's the butter. Substitute that vegetable or olive oil for a little bit of butter, and your chicken wings brown better, and taste much better. Real butter makes everything taste better, chicken wings, air fried steak, pan-seared fish, fried rice, baked pork chops, filet mignon, roasted turkey breast, and much more.
Baking chicken wings
I bake these chicken wings at 400F for 30 minutes, after which they are fully done and ready to eat, but if you let them bake for another 10-15 minutes at 350F, they will get crispier and more browned. That's how I like mine.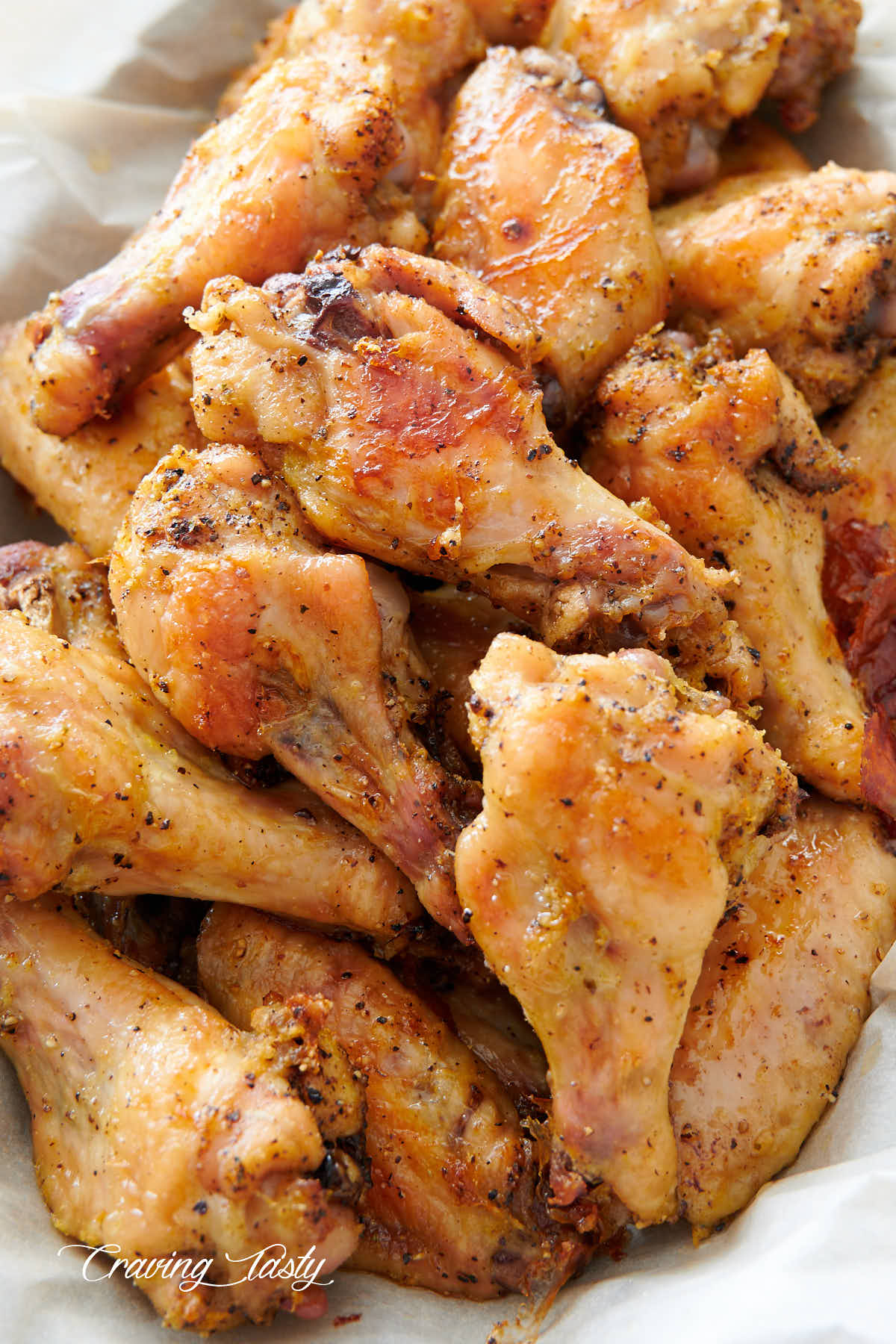 Tips and tricks
Take the wings out of the fridge about 30 minutes prior to seasoning them, about when you start preheating the oven. It's much easier to rubs warmed up wings with butter, otherwise the butter will begin to solidify as you are rubbing it, resulting in an uneven coating.
If the wings don't brown well enough, put them under the broiler for a few minutes. This is better then baking them longer, which will dry them out.
Pick the wings that are bluish in color, they have less fat under skin. These can be baked right on parchment paper, and won't get greasy at the bottom. Thick-skinned, yellow wings are fatty. If you are using fatty wings, bake them on a cooling rack over a baking tray to let grease run off them during baking.
Serving
These wings really good on their own, as they are well-seasoned, and don't really need any sauce on them. That said, you serve them with our favorite homemade buttermilk ranch dressing as a dipping sauce. A 50/50 mix of BBQ sauce and hot sauce is another great option if you crave that Buffalo chicken flavor.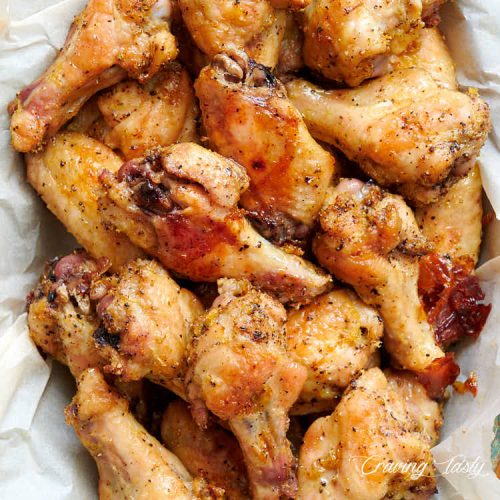 Lemon Pepper Chicken Wings
Chicken wings, rubber with melted butter and seasoned with homemade lemon pepper seasoning mix, then baked to perfection.
Print
Pin
Rate
Ingredients
2

lbs

chicken wings

cut into wingettes and drummettes

3

Tbsp

butter

unsalted, melted

1

tsp

kosher salt

2

Tbsp

lemon zest

freshly grated

2

tsp

black pepper

freshly ground; you also use a pepper medley (pink, green, white, black)
Instructions
Take the wings out of the fridge and let sit at room temperature for 30 minutes, while the oven is preheating.

Dry the wings with paper towels and place in a large bowl. Drizzle with the melted butter. Sprinkle the salt, pepper and the grated lemon zest, and mix well, ensuring even coating.

Transfer the wings to a baking tray lined with parchment paper.

Bake the wings on the second highest rack at 400F, for about 30 minutes, then drop the temperature to 350F and continue baking for another 10-15 minutes, or until the wings have sufficiently browned.

Remove from the oven and serve immediately.
Nutrition
Calories:
351
kcal
|
Carbohydrates:
1
g
|
Protein:
23
g
|
Fat:
28
g
|
Saturated Fat:
11
g
|
Cholesterol:
117
mg
|
Sodium:
746
mg
|
Potassium:
204
mg
|
Fiber:
1
g
|
Sugar:
1
g
|
Vitamin A:
442
IU
|
Vitamin C:
5
mg
|
Calcium:
26
mg
|
Iron:
1
mg