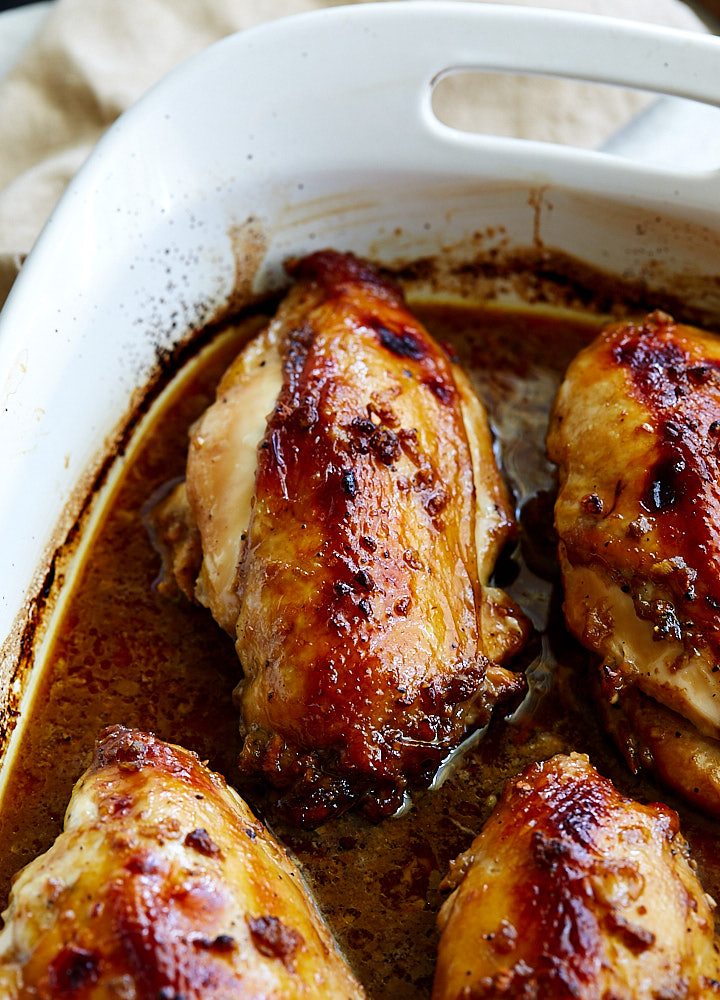 To make Asian chicken marinade I used the all-time-favorite and a crowd-pleaser Chicken Thigh Marinade as the base. Not that it needed any tweaking, but I wanted to take advantage of some of the ingredients that represent the essence of Asian cuisine.
Ginger and garlic are the two ingredients that are integral to Asian cooking. I used garlic quite generously in the chicken thigh marinade, with great results, but did not use ginger. This recipe takes care of that oversight. The unique tang of fresh ginger balances out the pungent flavor of garlic and the result is a more balanced, more complete chicken marinade.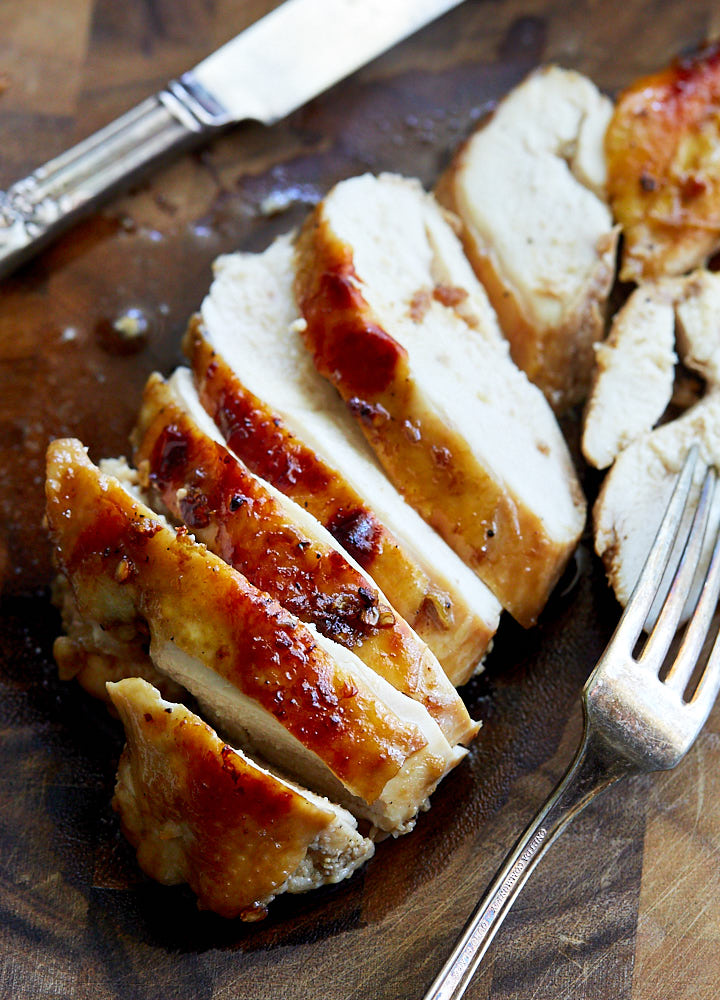 Another Asian cooking ingredient I wanted to take advantage of is dark soy sauce. I've used it successfully to make Thai Red BBQ Pork, Grilled Chicken Wings and Bulgogi-Style Chicken Wings to name a few.
The dark soy sauce is thicker and is often used for braising and slow cooking. Anytime a recipe calls for cooking a dish where the soy sauce is added early in the recipe, be it marinating, rubbing on the meat or cooking in a clay pot, dark soy is used.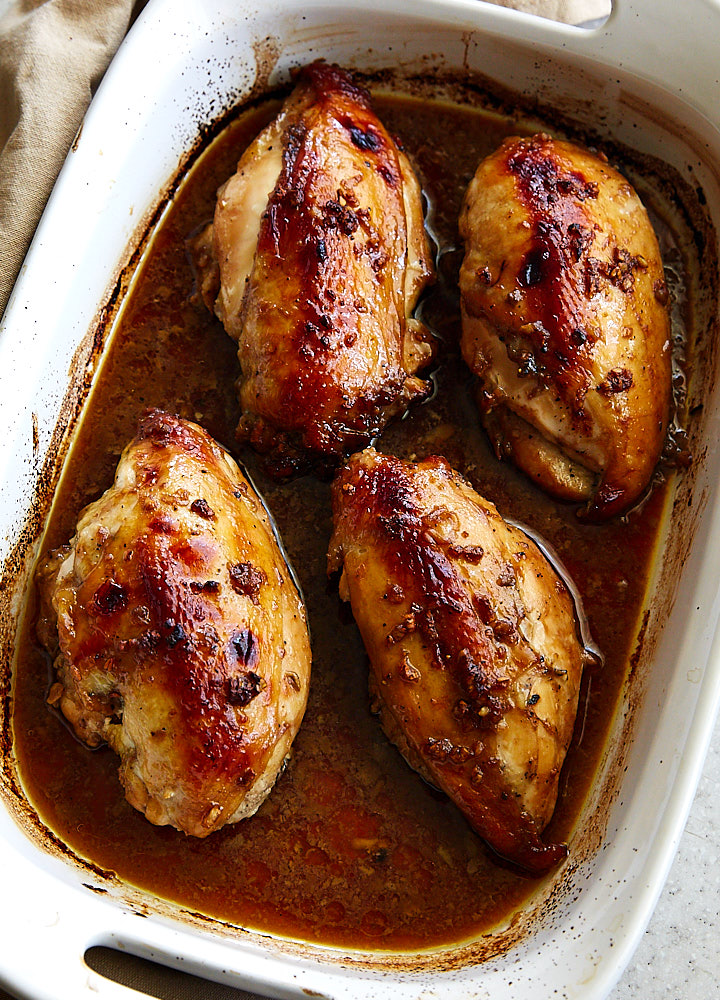 In this recipe I use a combination of dark and low sodium soy sauces. Dark soy sauce lends the food sweetness, beautiful color, and flavor. The low sodium soy sauce provides flavor and saltiness.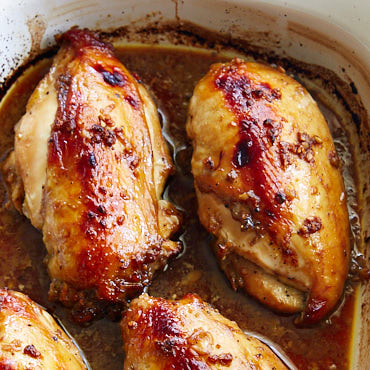 Ingredients
4

skin-on

bone-in or boneless chicken breasts

2

Tbsp

olive oil

1

Tbsp

sesame oil

3

Tbsp

low sodium soy sauce

1

Tbsp

dark soy sauce

1

Tbsp

Worcestershire sauce

2

Tbsp

lemon or lime juice

5

Tbsp

honey

6

cloves

of garlic

minced

1

Tbsp

fresh ginger

finely grated

½

tsp

freshly ground black pepper

2

tsp

kosher salt

plus more to taste

2

Thai chiles

de-seeded and finely chopped (optional)
Instructions
Mix all ingredients for the marinade together in a bowl or a Ziploc bag. Add the chicken breasts and cover with the marinade. Marinate in a fridge for at least 30 minutes and up 24 hours. The longer the better.

Preheat oven to 375F.

Place the chicken breasts together with the marinade in a baking dish. Bake at 375F for about 35 minutes, until the internal temperature reaches 160°F. Baste the chicken with the marinade and the juices a couple of times during the bake to prevent tops from drying out.

If you want the tops nicely crisped up and browned, turn on the broiler on high for a couple of minutes at the end of the bake, just before the chicken breasts hit 160F internal temperature. Make sure to keep a close eye on the chicken during broiling to prevent burning.

Remove the baked chicken breasts from the oven and let rest for 5 minutes before serving.
Nutrition
Calories:
453
kcal
|
Carbohydrates:
29
g
|
Protein:
20
g
|
Fat:
29
g
|
Saturated Fat:
7
g
|
Polyunsaturated Fat:
6
g
|
Monounsaturated Fat:
14
g
|
Trans Fat:
0.1
g
|
Cholesterol:
111
mg
|
Sodium:
1820
mg
|
Potassium:
344
mg
|
Fiber:
0.3
g
|
Sugar:
25
g
|
Vitamin A:
111
IU
|
Vitamin C:
5
mg
|
Calcium:
24
mg
|
Iron:
1
mg