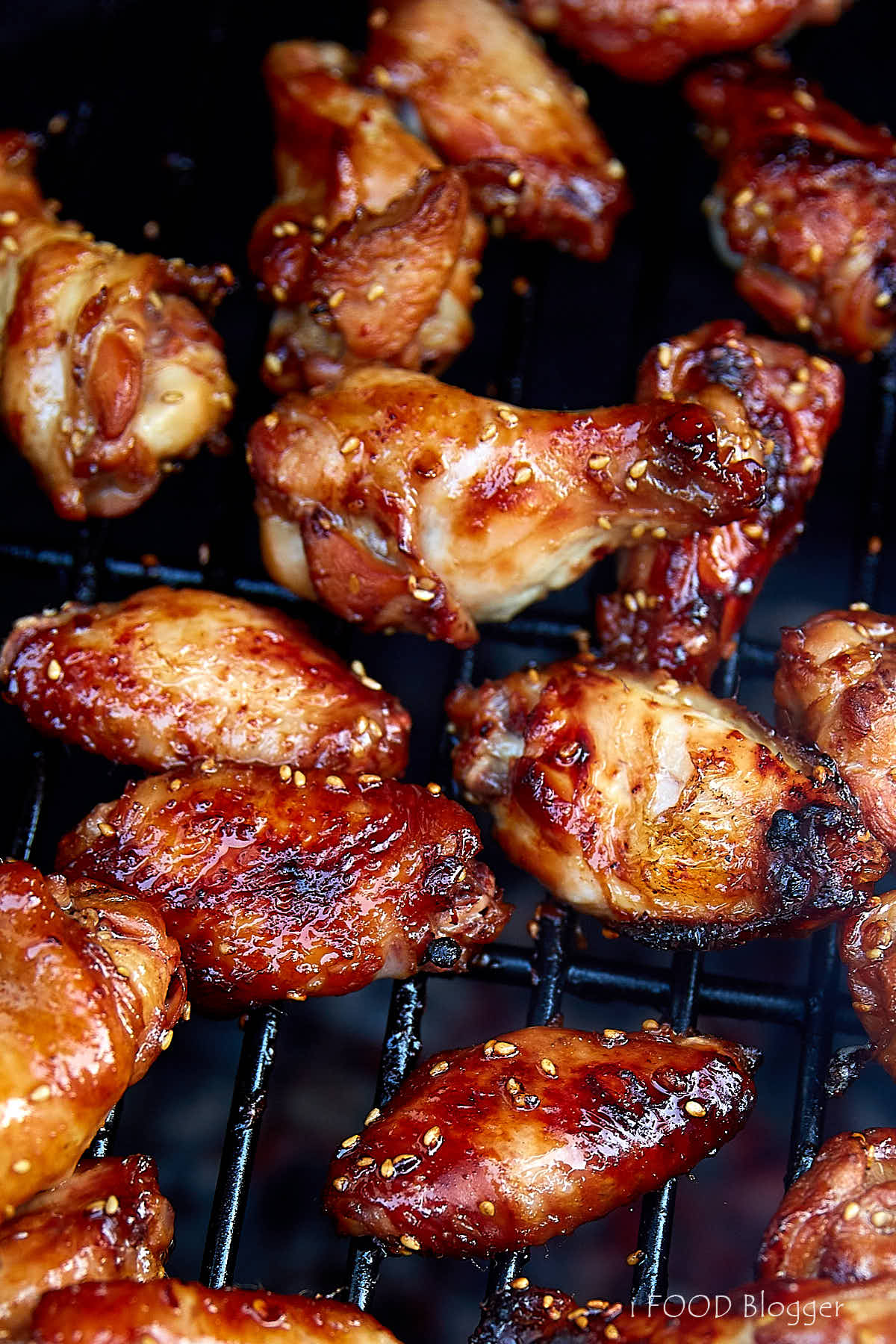 I've had so much positive feedback on these Korean inspired grilled chicken wings that they became a regular member of my grilling repertoire. The wings are first marinated in bulgogi sauce then grilled. Bulgogi, a Korean dish that is literally translated as 'fire meat'.  Most commonly bulgogi is made with beef, and sometimes chicken.  When I first tried this marinade on chicken wings the results exceeded my expectations. I think these wings can easily rival my favorite grilled chicken wings.
These wings remind me of teriyaki chicken wings, but with a less sweet, cleaner and more refined taste. There is a perfect balance of sweet and salty, with a little kick from red pepper flakes. Roasted sesame seeds and the pear add additional layers of flavor and complexity.
Alternative cooking methods
Ideally, you would want to grill these chicken wings. Gas or charcoal will do just fine. I think that little char and caramelization you get from cooking over direct heat make any meat taste awesome. Wings are no exception.
If you don't have access to a grill, one option is to bake your chicken wings, making sure that you get as much flavor from the skin as possible. This, pan-searing chicken wings then baking is the ideal way to cook them.
If you are looking for the quickest cooking time, try broiling the wings. Take care to not burn them as the sauce has sugar in it. You will have to flip them more often to prevent burning.
Lastly, you can also pan-frying the wings, which will give you great flavor and a very tender, fall-off-the-bone meat.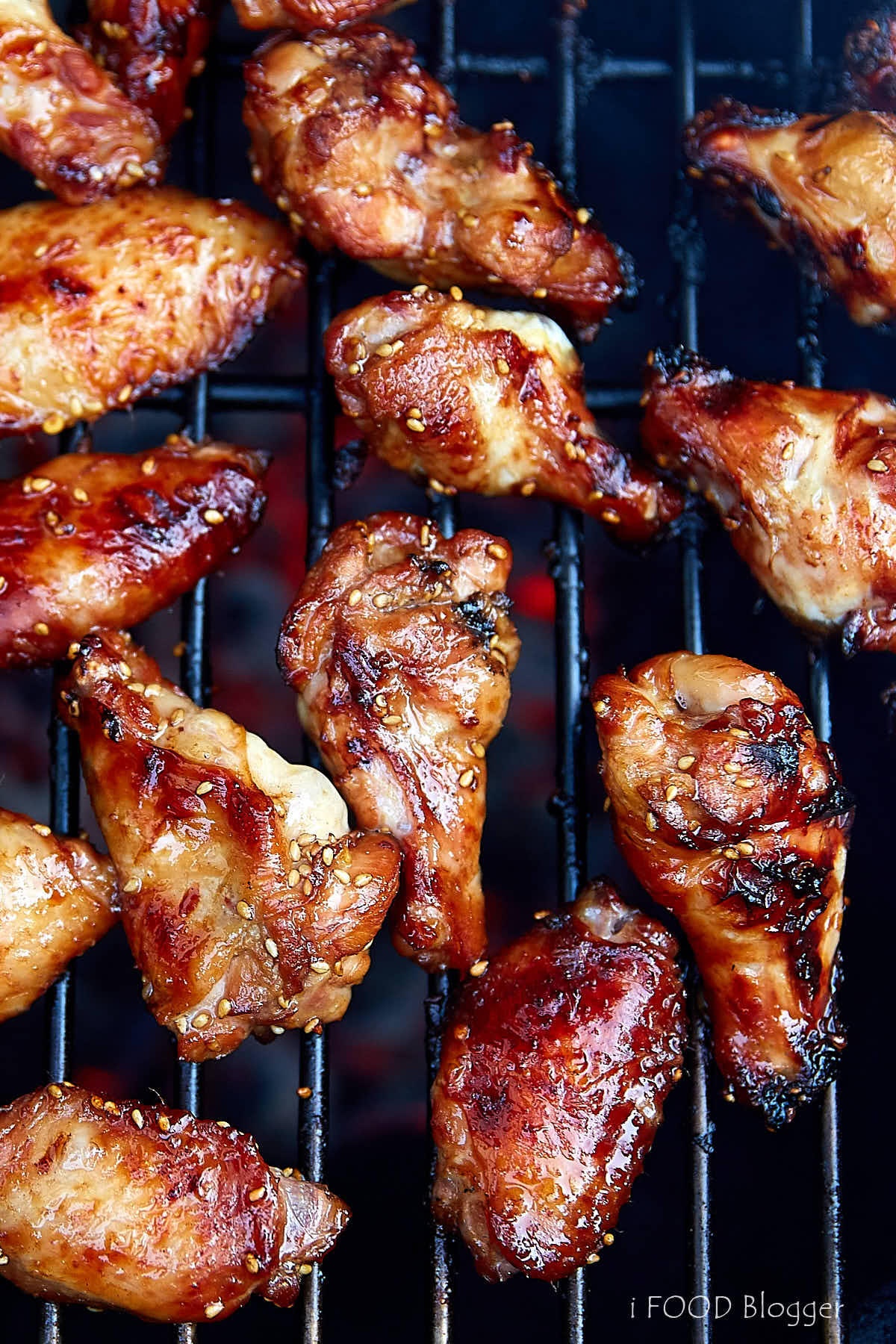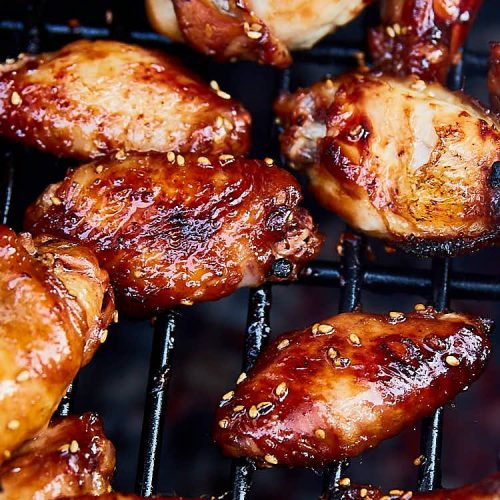 Ingredients
3

lbs

chicken wings

(separated, wing tips discarded)
For the bulgogi marinade:
1/4

cup

sesame seeds

1

cup

soy sauce

(see notes)

1

bunch

scallions

(white and green parts, sliced thinly on the bias)

1/4

cup

sugar

6

cloves

garlic

(crushed)

1/4

cup

sesame oil

1/2

pear

(ripe, grated)

2

Tbsp

honey

1

tsp

red chili flakes
Instructions
If you are starting with raw sesame seeds, you need to first toast them. In a pre-heated skillet over low heat, toast the sesame seeds for about 1-2 minutes, stirring frequently, until you start to smell the aroma of toasted sesame seeds.

To prepare the chicken wing marinade, combine all the ingredients in a medium bowl and whisk until all ingredients are well combined.

Transfer the marinade to a large Ziploc bag. Add the chicken wings, close the bag and massage the wings really well to make sure they are properly covered with the marinade. Expel as much air as you can, close bag and refrigerate for at least 4 hours, preferably overnight and up to 24 hours.

Preheat an outdoor grill to about 350F-400F.

Remove the marinated chicken wings from the marinade and pat dry with a paper towel.Try not to remove all of the sesame seeds, red pepper flakes and sliced scallions. They will add flavor to the wings.

Brush the preheated grill grate with vegetable oil to prevent sticking. Cook the wings on the preheated grill, lid closed, for about 10-15 minutes on each side. You may want to use an instant read thermometer if not sure. The wings are ready when the temperature in the thickest parts registers at least 165F. 180F internal temperature gives the best results if you want fall-off-the-bone tender meat.
Notes
Soy sauce - I find that low sodium soy sauce is not sufficient to give the wings enough saltiness. I recommend using regular soy. For best results, use 1/2 cup dark soy sauce and 1/2 cup light soy sauce if you have them. See my Irresistible Chicken Wings on the Grill post for more details.
Nutrition
Calories:
479
kcal
|
Carbohydrates:
21
g
|
Protein:
28
g
|
Fat:
31
g
|
Saturated Fat:
7
g
|
Cholesterol:
94
mg
|
Sodium:
2257
mg
|
Potassium:
349
mg
|
Fiber:
1
g
|
Sugar:
16
g
|
Vitamin A:
320
IU
|
Vitamin C:
3.2
mg
|
Calcium:
92
mg
|
Iron:
3.2
mg