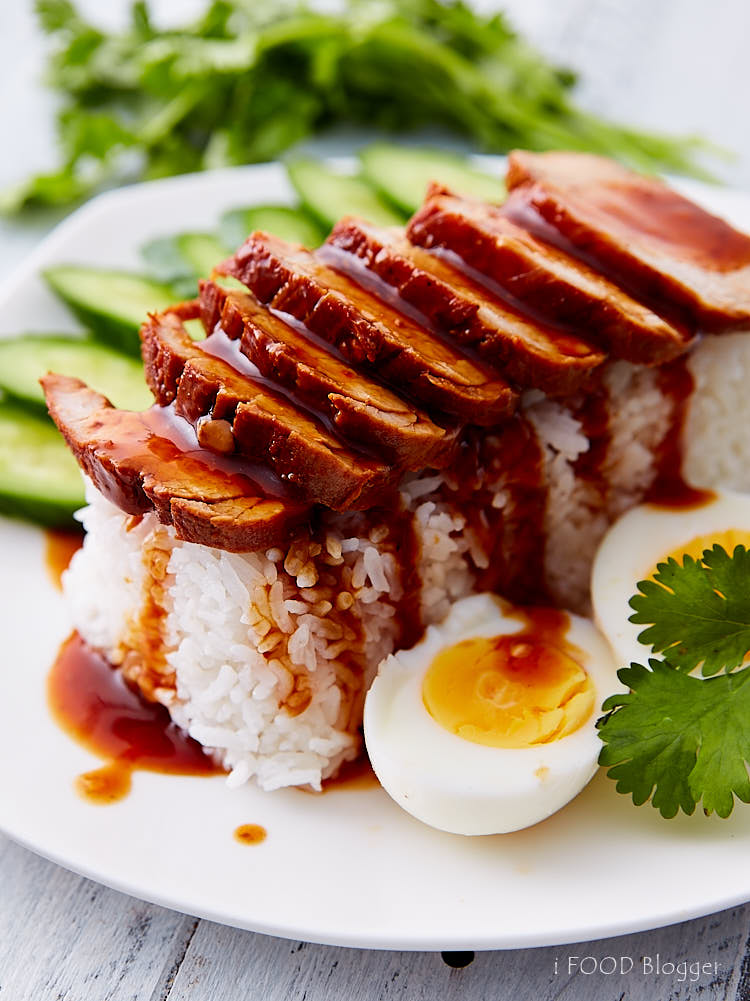 Not too long ago while dining out at a local Thai restaurant I tried a dish called Kao Moo Dang, or simply Thai Pork. I was so impressed with the amazing taste and the presentation of this Thai pork dish that I immediately got hooked. The pork was lean yet very tender. The sauce was savory, with a little bit of sweetness, and wonderfully complemented the pork without overpowering it. Slices of cucumbers and a hard boiled egg completed the dish. Everything worked so well together.
Whenever I try a dish that I love I always try to replicate it at home. This time is no exception. After reading about the dish and playing with a few recipes I think I came up with what I was looking for. It's not the same, but it's very, very close. If you ask me, my version is even better. I love this pork recipe.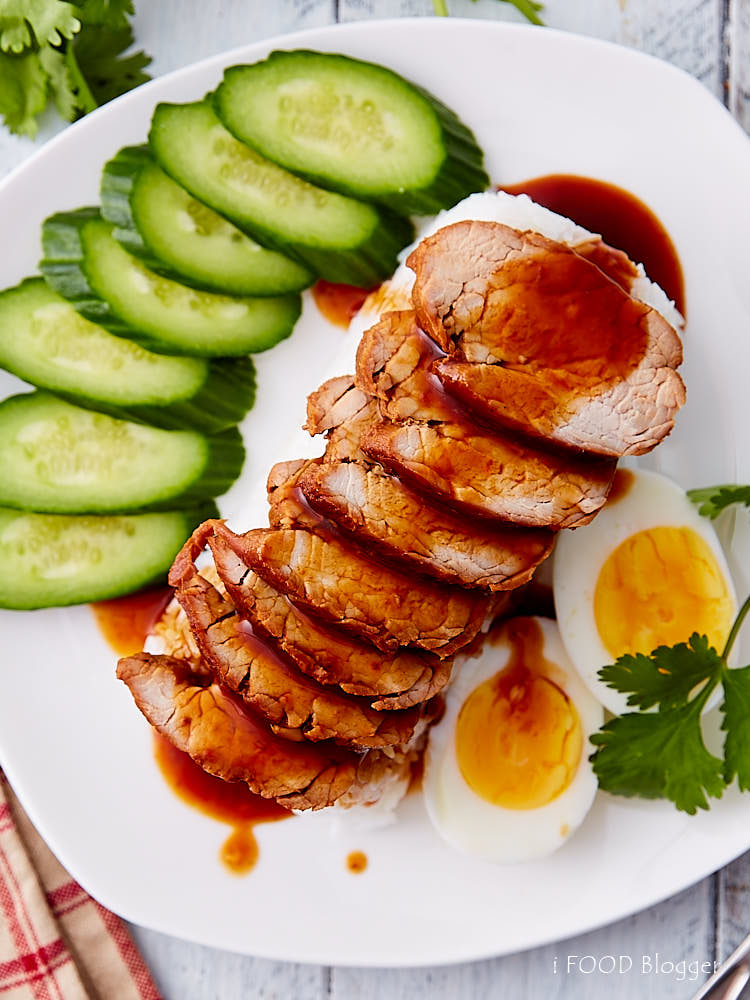 This recipe requires both dark and light soy sauce. In case you haven't used them, soy sauce from your local grocery store is neither. It's somewhere in between. It's not a good choice to use for making Thai pork. For this recipe you need dark and light soy sauce.
Shizuo Tsuji's  in his book Japanese Cooking explains: "Light soy sauce is amber in color, is clearer and thinner... but it is also saltier.... Dark soy sauce has a deeper color and more body. It's less salty and used in relatively greater quantities." The same holds true for the Chinese dark and light soy sauce.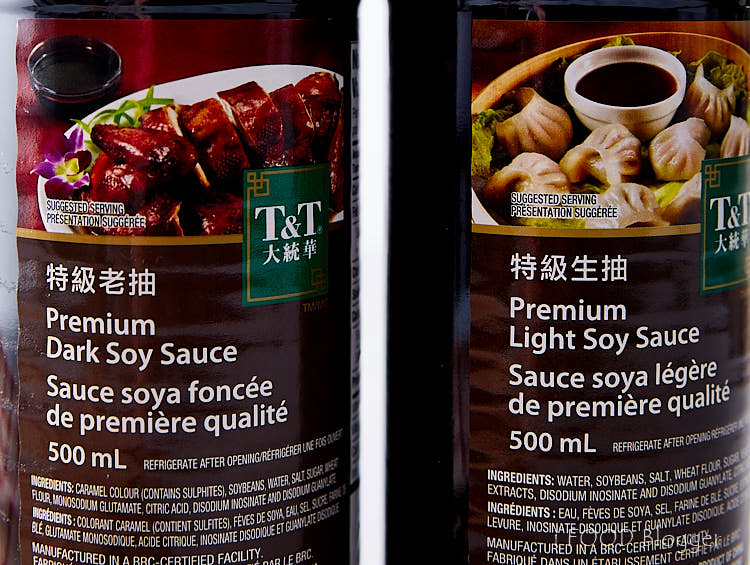 To make Thai pork you can use many different cuts of pork, but my pick is tenderloin. It's lean and therefore healthier than other pork cuts. When properly cooked it's melt-in-your-mouth tender.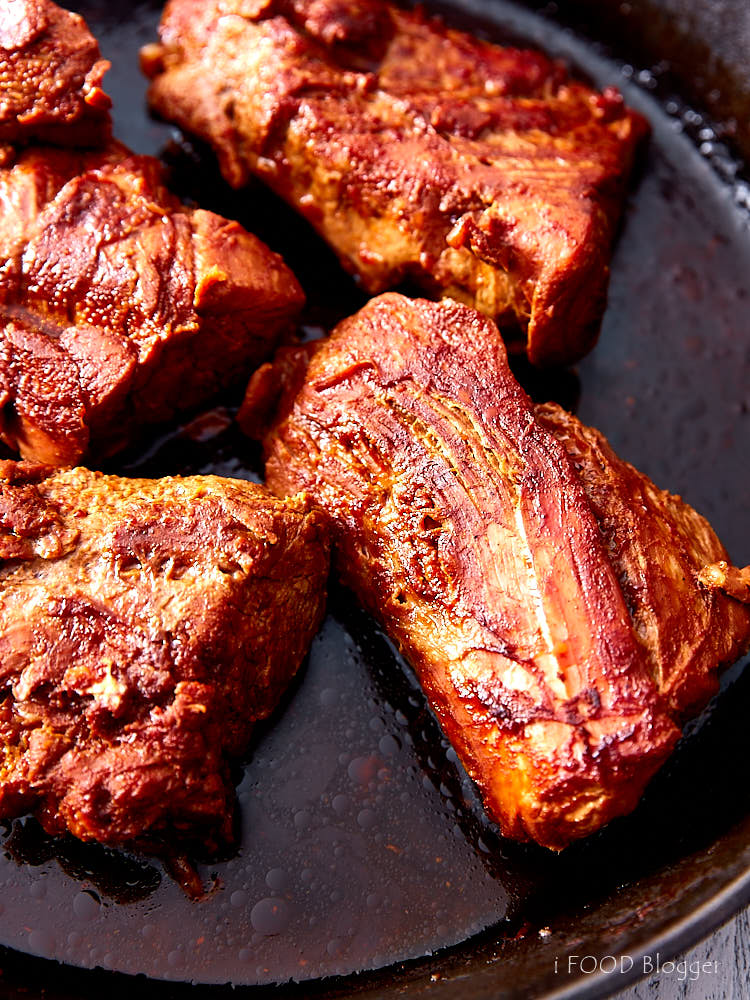 The pork in this recipe can be cooked entirely on a cast iron pan. Still, the meat is so flavorful and so tender that you will hardly miss that smoky BBQ flavor. I could not resist cooking the tenderloin on a charcoal grill and see how it turns out. I did, and it was fabulous. Tender, flavorful and smoky, with caramelized surface. If you can, definitely grill the meat. I've seen Thai Pork also being called Thai BBQ pork. I suppose the difference is in the preparation method, if you grill the meat the dish becomes Thai BBQ pork. I believe in Thai both are called the same name though - Kao Moo Dang.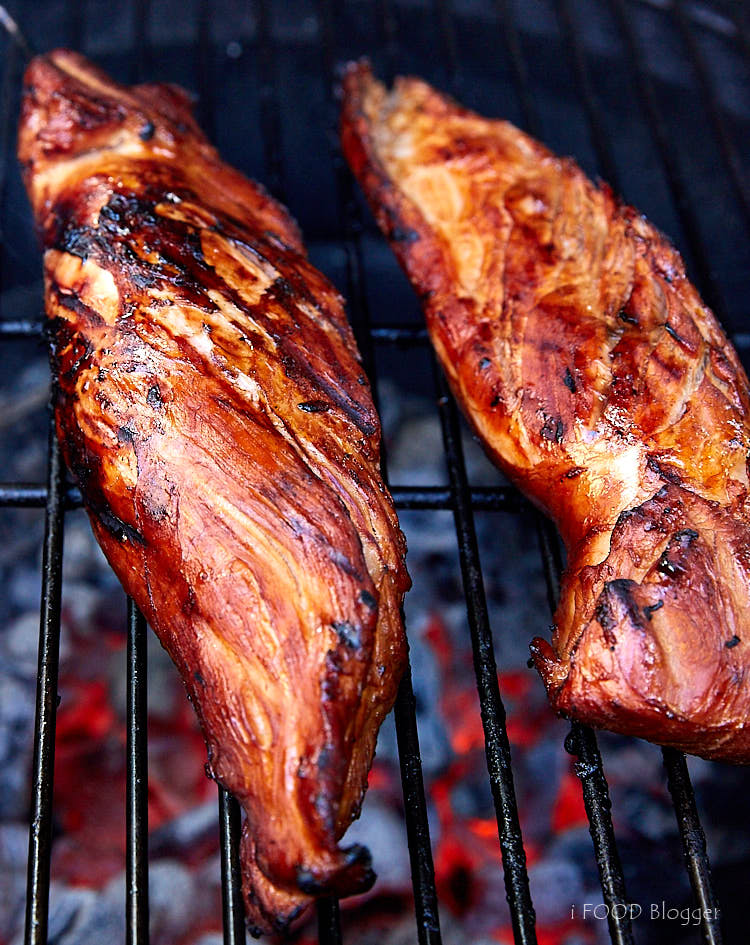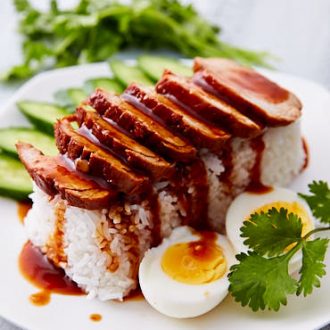 Ingredients
2

pork tenderloins

(about 2 lbs total, cut in half)

6

cups

cooked jasmine rice

(2 cups uncooked)
For the pork marinade
2

Tbsp

Chinese cooking wine / rice wine

2

Tbsp

sesame oil

1

Tbsp

sugar

1/2

Tbsp

kosher salt

1 1/2

Tbsp

dark soy sauce

2

Tbsp

light soy sauce

3

Tbsp

tomato sauce

(or ketchup)
For making the sauce
1

Tbsp

tapioca starch

1

cup

of water
For garnish
2

eggs

(boiled, peeled and cut in half lengthwise)

Coriander leaves

Cucumber and scallions

sliced
Instructions
In a Ziploc bag, combine the Chinese cooking wine, sesame oil, sugar, salt, soy sauce and tomato sauce. Add pork tenderloin and marinate in a fridge for at least two hours and up to 6 hours for best results.

Heat a wok or a cast iron pan over medium heat. Add the pork and the marinade, and cook and bring to gentle boil. Cover and simmer, occasionally stirring, for about 5-7 minute. Flip the meat and continue simmering for another 5-7 minutes, until internal temperature of the meat reaches a minimum safe temperature of 145F. Remove the meat from the pan and set aside.

To make the sauce, dissolve tapioca starch in 1 cup of water and add to the pan with the marinade leftovers after meat simmering. Bring to boil and simmer until the sauce thickens.

To serve, slice the pork about 1/4 inch thick, place on top of rice bed and dress with the sauce. Garnish with slices of cucumber, scallions and fresh coriander leaves.