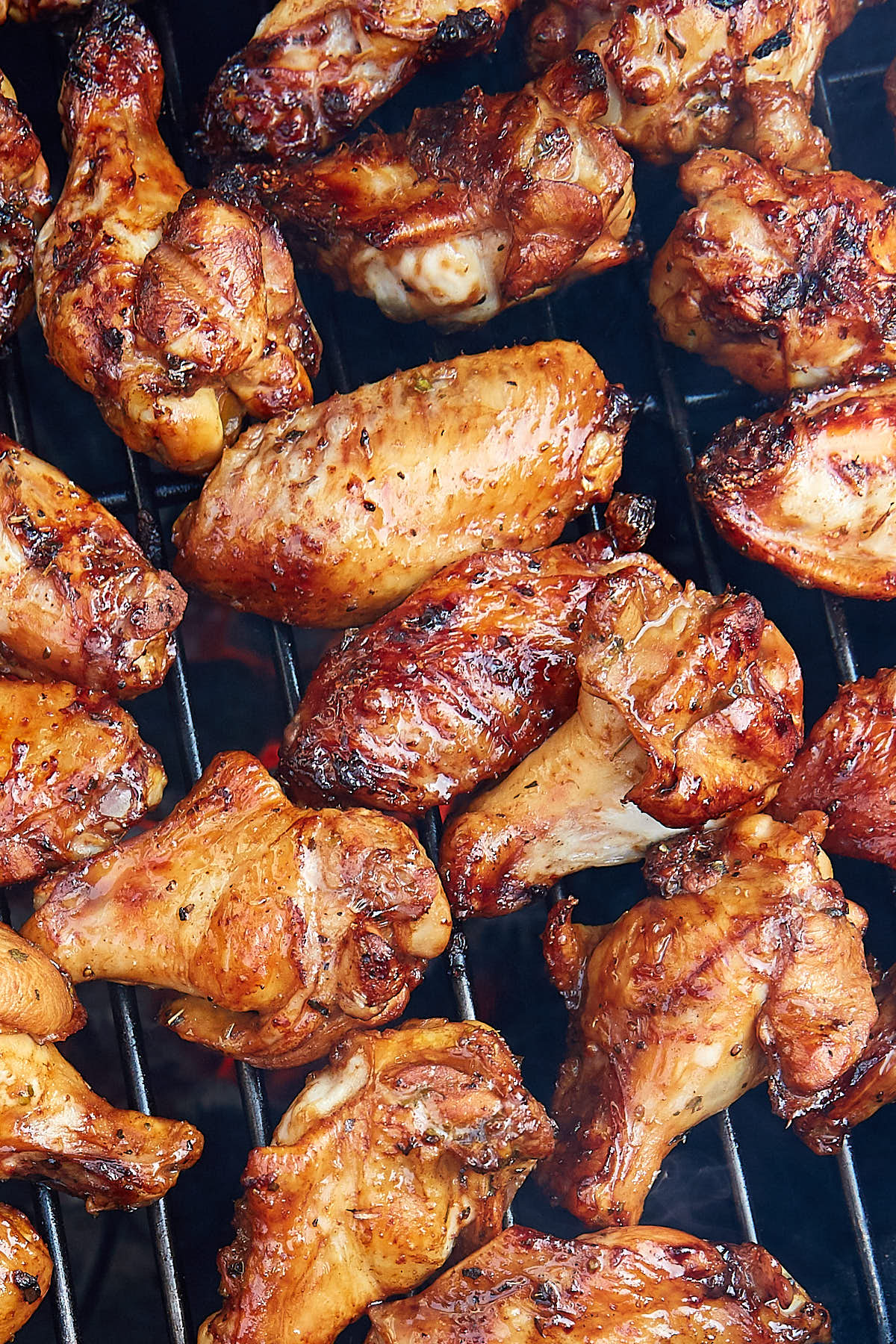 These grilled chicken wings is probably the only food over which we fight in our family. I kid you not. They are irresistible. Any leftovers are closely watched by every family member. They are pre-divided and claimed. An uneven number of leftover wings results in passionate disputes over who gets to get an extra wing. I am telling you, these grilled chicken wings are the best, you won't need another grilled wing recipe.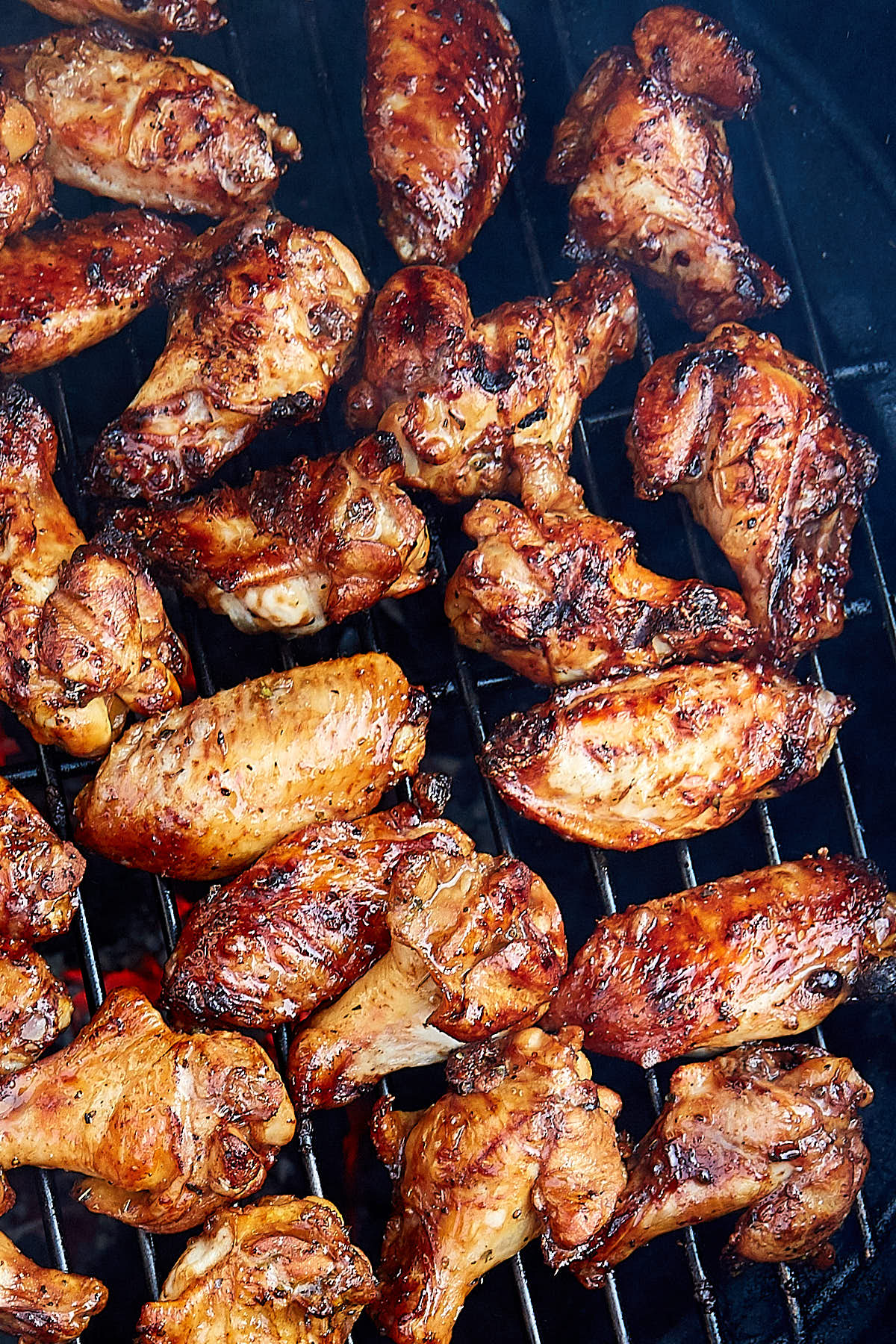 For a long time I've been a fan of smoked wings, but grilled chicken wings make a heck of a competition. Marinated in an excellent marinade and properly grilled, they turn out just as juicy as smoked wings. If you throw in a couple of chunks of cherry wood just before you load chicken wings on the grill you will get some of that smoky flavor too. And the beautiful dark red color. But there is more. Grilled chicken wings come out crispy-skinned, with beautifully caramelized surface. You can't replicate that. This is where grilled wings truly shine.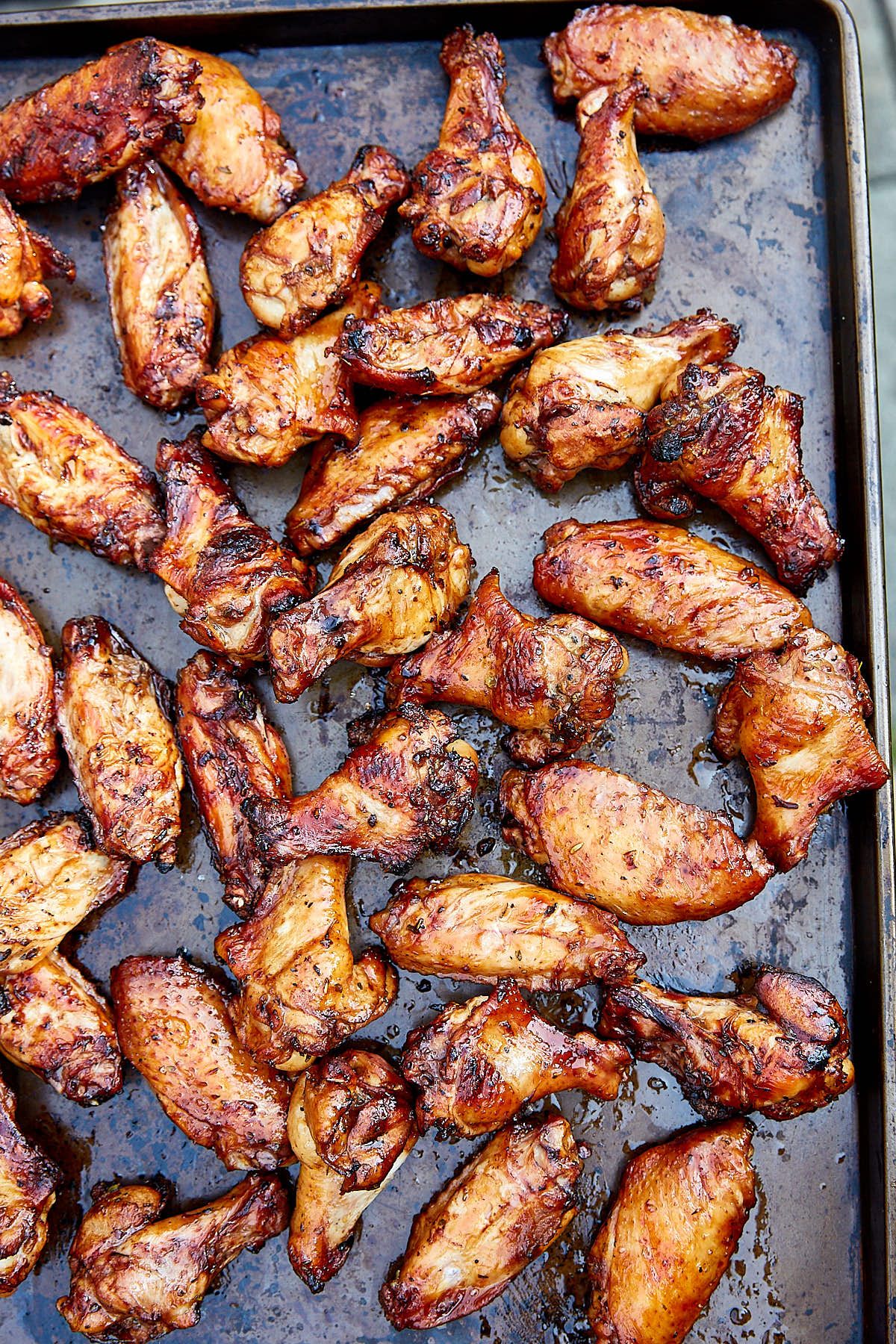 The marinade for grilled wings is important. If it tastes great, the wings will do too. I recently experimented with Bulgogi-Style Chicken Wings and loved the results. A bad marinade will kill the wing taste. Sugary marinade will make it very hard to grill wings without burning them. Keep sugars to a minimum or don't use at all.
My preference is to grill chicken wings on a charcoal grill. It gives me more flavor and a crispier skin. If I want some smoky flavor I will just throw a couple of wood chunks on each side of the fire pit. When grilling on a charcoal grill, make sure there is no flame, only red-hot glowing coals. That's critical to getting beautiful caramelization and crispiness on chicken wings without charring them. That's my subjective opinion. Objectively speaking though, both charcoal and gas grills are capable of producing a very good product.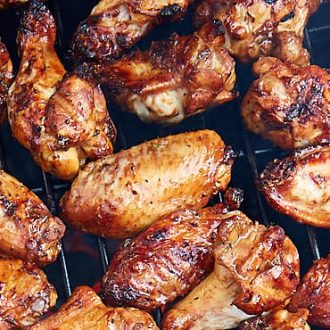 Ingredients
3

lbs

chicken wings

(separated into wingettes and drummettes, tips discarded)
For the marinade:
1/4

cup

light soy sauce

(see notes)

1/3

cup

dark soy sauce

(see notes)

3

Tbsp

vinegar

1/2

cup

olive oil

(or vegetable oil)

2

tsp

each of granulated onions and dried oregano

1

tsp

each of kosher salt, granulated garlic, dried parsley, and black pepper

1/4

tsp

each of dried thyme and dried basil

1/2

tsp

or more for a stronger kick cayenne pepper (optional) (see notes)
Instructions
Combine all ingredients for the marinade in a large Ziploc bag. Close the bag and shake really well.

Add the chicken wings, close the bag and massage the wings really well to ensure good coverage. Expel as much air as you can, close bag and refrigerate for at least 2 hours, preferably overnight and up to 24 hours.

Preheat an outdoor grill to about 350F-400F.

Remove the chicken wings from the marinade and pat dry with a paper towel.

Brush the preheated grill grate with cooking oil to prevent sticking. I give it a quick wipe with a piece of paper towel soaked in vegetable oil. The grill is hot so be very careful and wear a heat resistant glove.

Cook the chicken wings on the preheated grill, lid closed, for about 10-15 minutes on each side, until the meat is nicely browned and the juices run clear (see my notes). You may want to use an instant read thermometer if not sure. The wings are ready when the temperature in the thickest parts registers at least 165F.
Notes
Soy sauce - Not all soy sauces are created equal. Until recently I thought all soy sauces were the same and the only difference was regular sodium vs low sodium varieties. For this recipe I strongly suggest using a combination of dark and light Chinese soy sauces. Dark soy sauce lends the food sweetness, color, and flavor, whereas light soy sauce provides flavor and saltiness. If all you have is dark soy sauce, use that in place of light soy. Regular (neither dark nor light) soy sauce can be used as a substitute but the flavor will be impacted.
Grilling - Some cooks prefer grilling chicken wings turning them frequently, until they are done. My preferred method that works really well for me is as follows:
1. Load the wings on the pre-heated grill and close the lid
2. Grill on one side for 10-15 minutes
3. Open the lid, flips the wings on the other side. If your grill has hot spots, rearrange the wings by moving more browned wings to a less hot area of the grill. Close the lid
4. Continue cooking for another 10-15 minutes
5. Remove from the grill and enjoy
I like grilling chicken wings this way because it requires less tending and the temperature stays stable. Cooking on a charcoal grill this way also lets me avoid flareups and temperature fluctuations.
On my Big Green Egg grill the wings are ready after 20 minutes of grilling, 10 minutes per side. I do, however, like extending the grilling time to about 12-15 minutes per side. This way the wings come out more crispy, and the meat inside becomes more fall-off-the-bone tender. The meat is, perhaps, slightly less juicy, just a bit, but that does not really impact the taste as chicken wings are much more forgiving to overcooking.
Hot sauce - Instead of cayenne pepper, you may want to toss fully cooked chicken wings in this Buffalo wing sauce:
Classic Buffalo Hot Sauce
1/2 cup melted salted butter
2 cloves minced or pressed garlic
1/2 cup Frank's Original Redhot Sauce