Pan-seared halibut, topped with salmon butter and garnished with fried lemon slices and finely chopped fresh parsley. Simple, elegant and delicious, this dish is perfect for just about any occasion.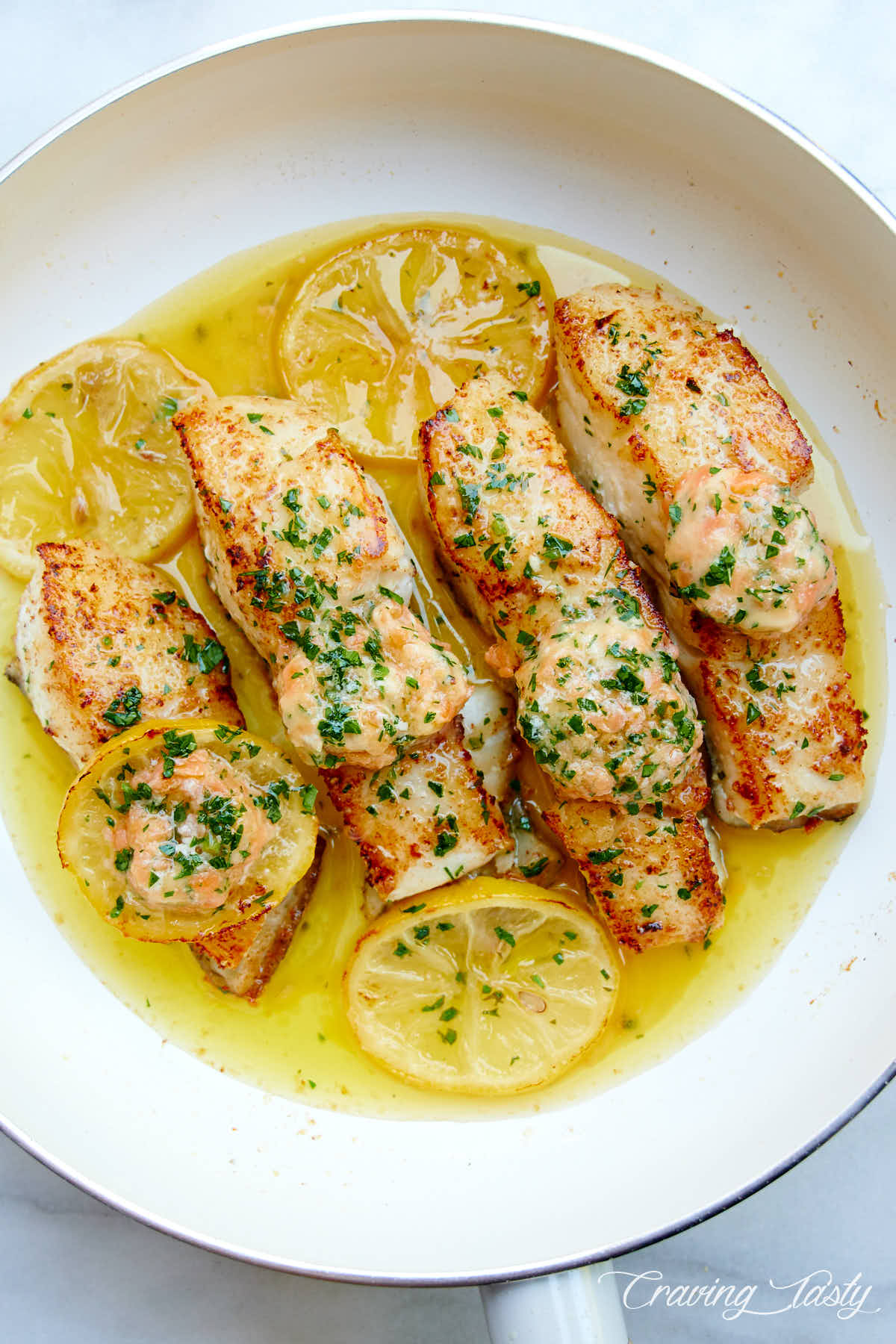 Pan-searing is one of the best ways to cook halibut. I love the contrast of crispy, well-browned surface and the tender, moist and flaky white flesh it creates. Similar to pan-searing chicken breasts, you want cook it quickly over a fairly high heat to get a nice crust before overcooking the fish inside.
Searing halibut
Halibut tastes best when pan-seared with a little bit of butter which adds to taste and flavor. Butter also promotes better browning. As butter burns quickly at higher temperatures, adding a little bit of olive oil will increase the smoking point and prevent burning.
To give the fish even more flavor, add a few slices of lemon to the pan. On top of adding bright, zesty notes to the fish they will also serve as an appealing garnish to the dish.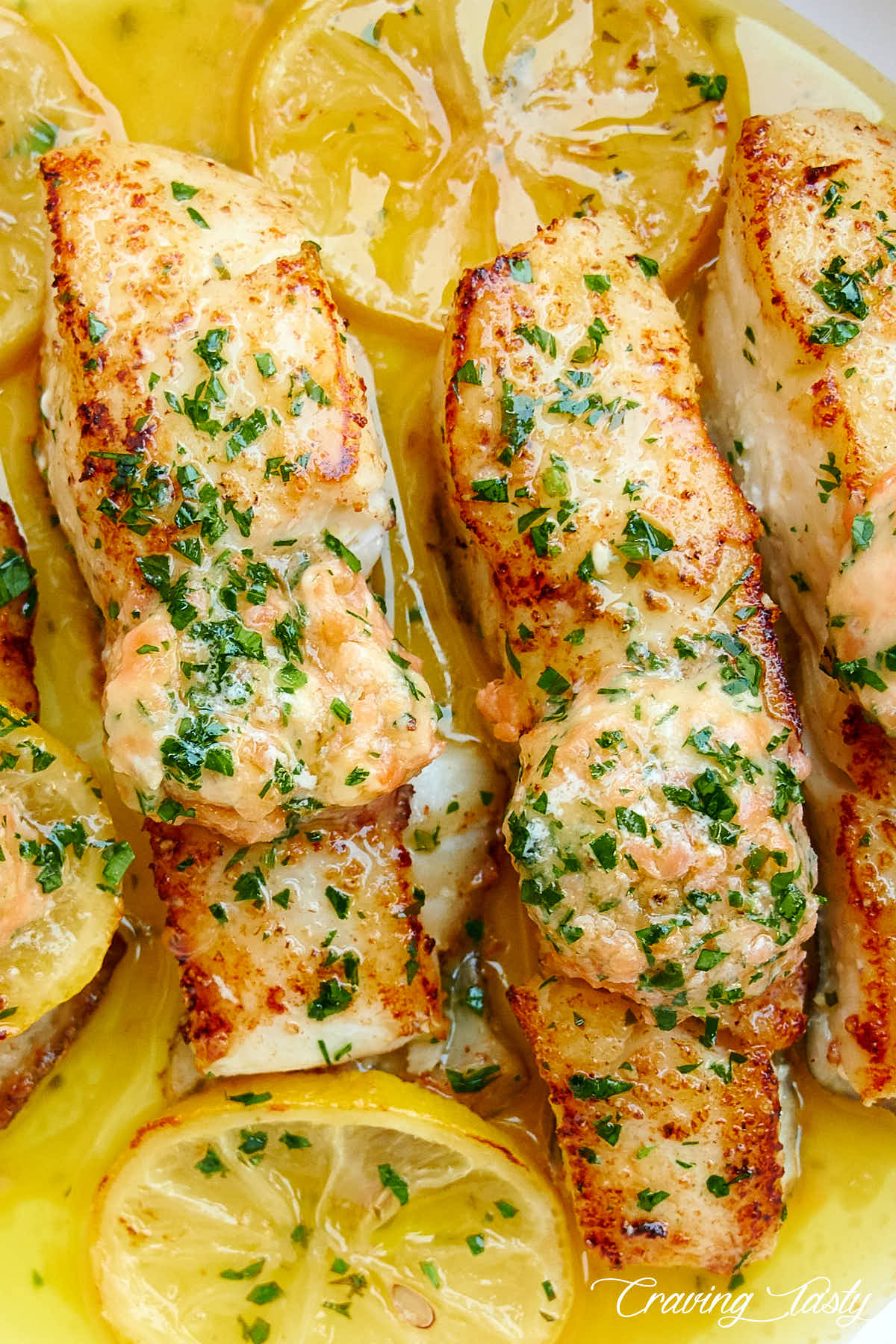 Adding even more flavor
I use salmon butter to add even more flavor to the fish, along with lemon juice and fresh parsley. I've become a big fan of compound butter and often use it on steaks other grilled meats. It adds a lot of flavor and makes lean meat much tastier.
To make the pan-seared halibut, I decided to incorporate finely chopped smoked salmon into butter. Without a doubt, it added a whole new dimension to the flavor profile of the dish. Those tiny savory bits of smoked salmon really jazz up lean halibut.
How to not overcook halibut?
Lean fish is very delicate and is easily overcooked. When fish is cooked, the flesh breaks apart into its natural separations. This is called flaking. This does not mean 'nearly falling apart'. Wayne Gisslen in his Professional Cooking book recommends the following as the guide to making perfectly cooked halibut (and any other lean fish):
The fish is just starting separate into flakes, it does not yet fall apart easily.
The flesh has turned from translucent to opaque.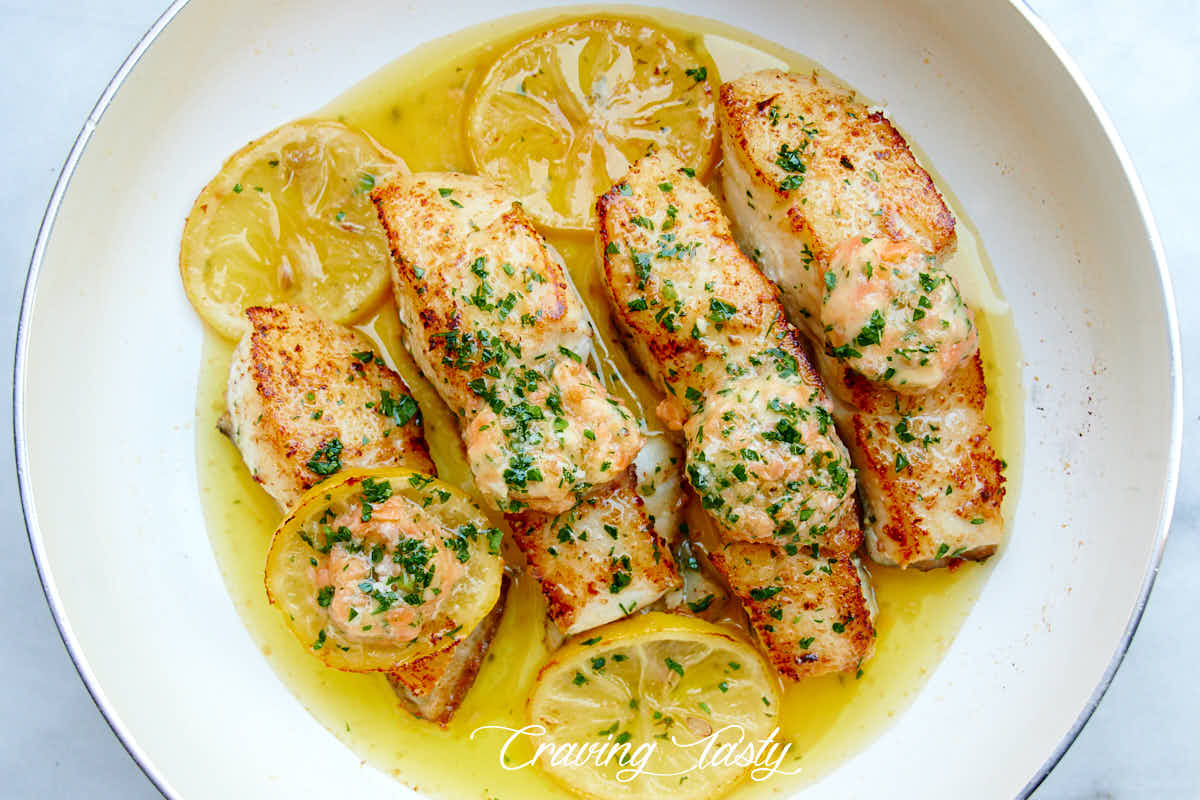 Helpful tips
You can use both skin-on or skinless halibut. If using skin-on fish, make a few shallow crosswise slits on the skin side to prevent or minimize splitting.
If you do get splits, and I get them most of the time,  cover them with salmon butter. You won't even know they were there.
Adding fresh herbs add more flavor and balance to this dish. You can go with parsley or other herbs that you may like, like tarragon, dill or chives.
If you make this recipe, please let me know! Leave a comment, rate it, and don't forget to tag a photo #cravingtasty on Instagram. I'd love to see your creations!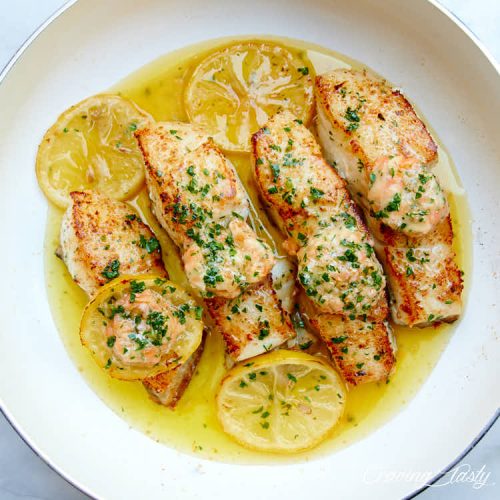 Ingredients
1 1/2

lbs

halibut fillet 

cut in four 6-ounce filets

2

Tbsp

butter

unsalted

1

Tbsp

olive oil

1/2

tsp

kosher salt

plus more to taste

1/4

tsp

black pepper

4

slices

lemon

2

Tbsp

lemon juice

1

Tbsp

finely chopped fresh parsley
For salmon butter
6

Tbsp

butter

unsalted, room temperature

2

oz

smoked salmon

finely chopped

3/4

tsp

lemon juice

3/4

tsp

grated onion
Instructions
To make salmon butter
In a small bowl, cream the butter with a fork until light and fluffy. Add the rest of the ingredients and mix well.

Transfer to a plastic wrap and form a 1 1/2-inch cylinder. Twist the ends of the plastic wrap to form a tight roll. Refrigerate until firm, about 1-2 hours.

When ready to serve, remove from the plastic wrap and cut into 4 equal disks.
To make pan-seared halibut
Pat the halibut fillets dry with paper towels, season with salt and pepper and set aside.

Heat the butter and the olive oil in a large pan over medium-high heat. Once the butter has melted and starts to brown a little, swirl the pan to combine the butter with the olive oil.

Add the halibut fillets, presentation side down, and sear for 3-4 minutes or until the edges of the fish begin to turn opaque and the fish easily releases from the pan.

Using a flat spatula, flip the fillets and add the lemon slices to the pan. Continue cooking for another 4-5 minutes or so, until the fish is just starting to flake and is opaque in the middle.

Transfer the seared halibut to a plate and top with salmon butter. Spoon some hot oil from the pan over salmon butter to let it melt a little. Garnish with pan-fried lemon slices, drizzle with lemon juice, sprinkle with chopped parsley and serve.
Nutrition
Calories:
411
kcal
|
Carbohydrates:
1
g
|
Protein:
35
g
|
Fat:
29
g
|
Saturated Fat:
16
g
|
Cholesterol:
148
mg
|
Sodium:
721
mg
|
Potassium:
774
mg
|
Fiber:
1
g
|
Sugar:
1
g
|
Vitamin A:
905
IU
|
Vitamin C:
8.3
mg
|
Calcium:
17
mg
|
Iron:
0.5
mg