Fried chicken breast that is exceptionally tasty, tender and juicy. The best part is it requires only 6 minutes of frying time.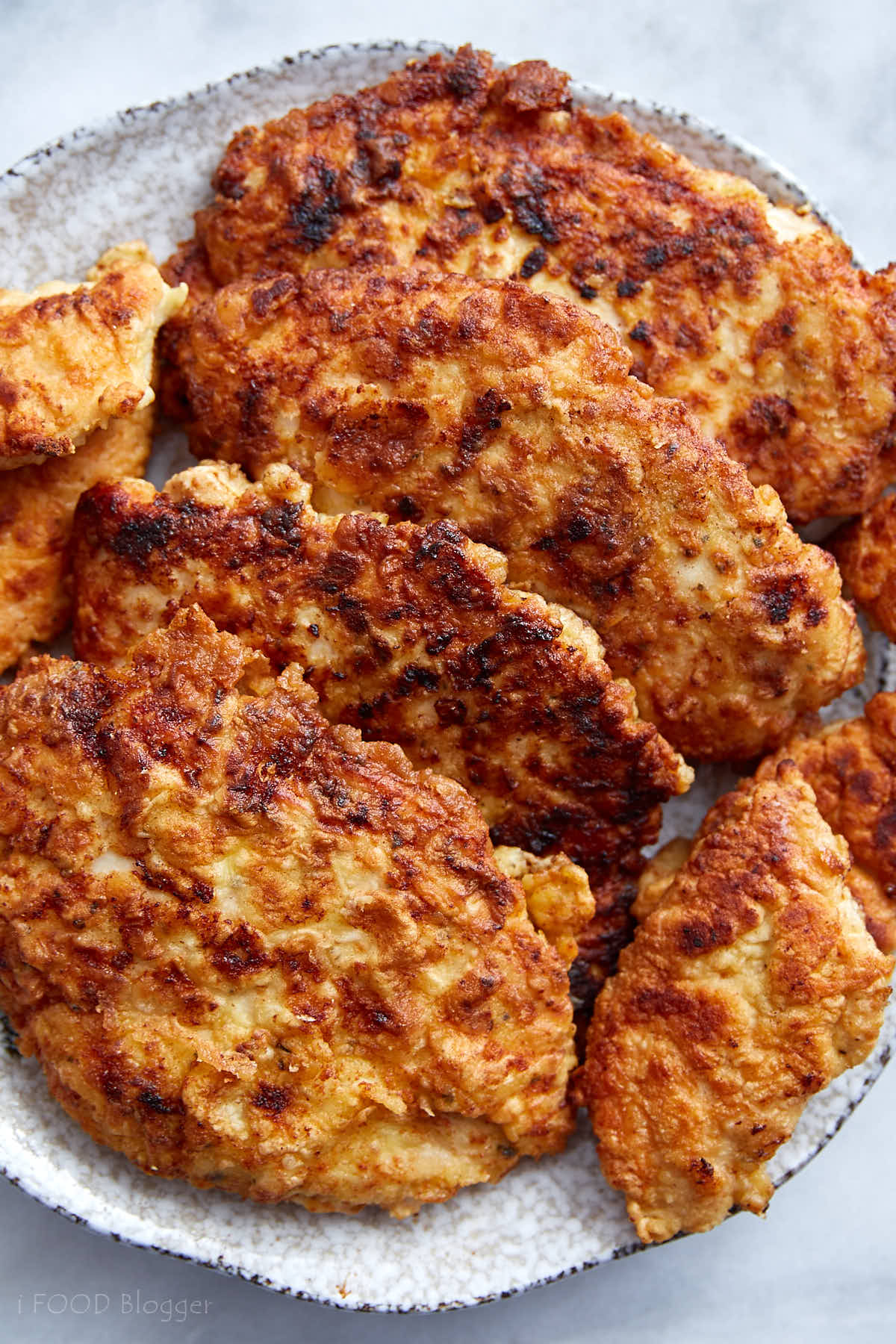 Frying full chicken breasts is usually a problem because lean breasts tend to dry out by the time they cook all the way through. This results in a dry, chalky texture that no one likes. Thankfully, I just discovered a method that allows frying full breasts in a matter of minutes and the meat comes out exceptionally tasty, tender and juicy.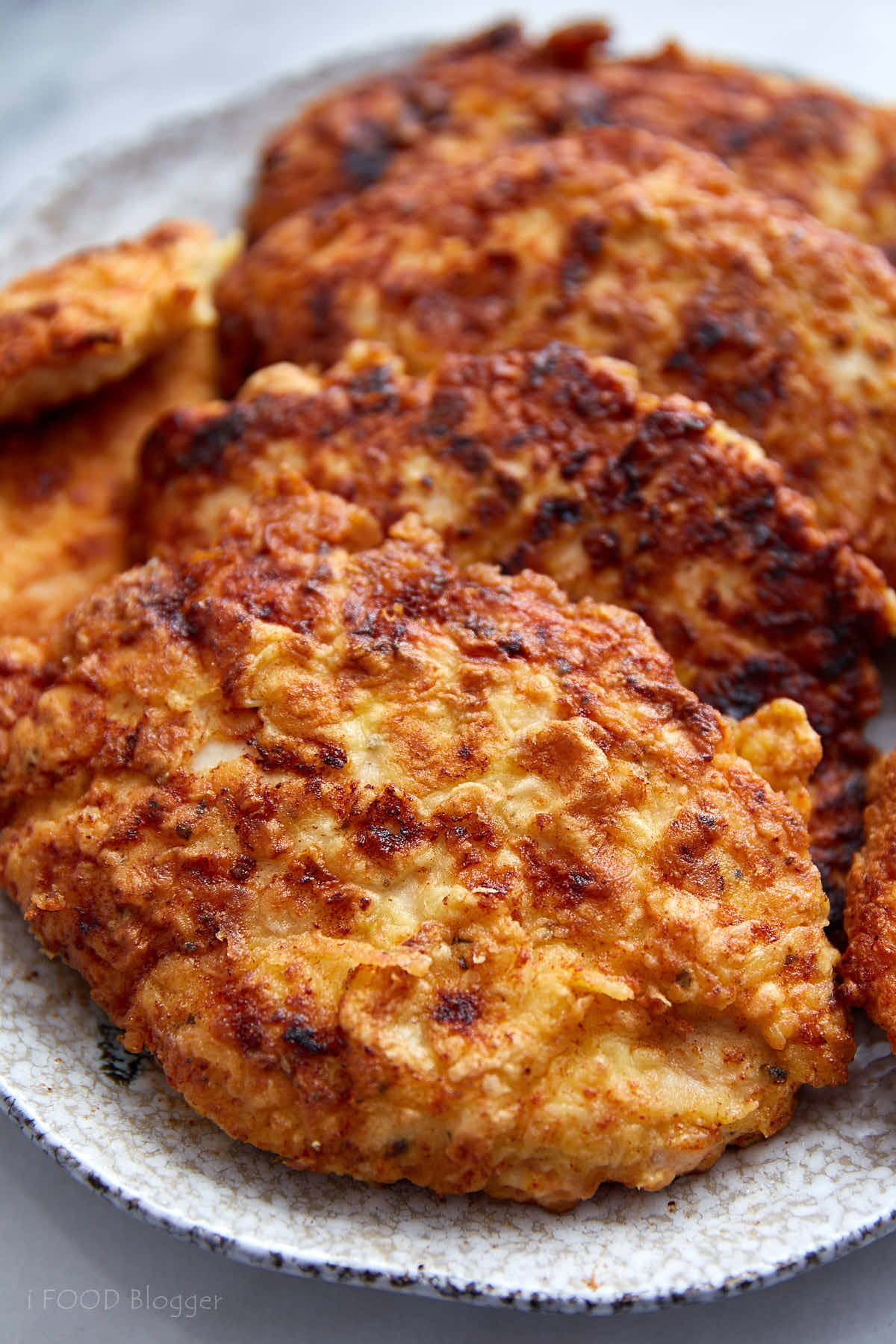 What makes this fried chicken breast so special?
There are three things that work together in this recipe to create an amazingly tender and juicy fried chicken breast. The best part is that you can cook it whole in a matter of minutes.
The breast is scored on one side into small squares which allows easy heat penetration all the way inside the meat. This results in quick and even cooking. I learned this trick from a chef at a Balkan restaurant who gladly shared his technique with me. It was ridiculously tasty.
Dredging chicken breasts in eggs creates a protective layer that keeps the meat moist and prevents them from overheating.
Marination, which tenderizes the meat and adds flavor. Sour cream and mustard are amazing for this task. You can substitute Greek yogurt for sour cream if desired.
What to serve this fried chicken breast with?
My absolute favorite side dish for this chicken breast is simple mashed potatoes. Just boil some potatoes, drain, leaving about two tablespoons of liquid behind. Then add some butter, salt and pepper to taste, and mash with a fork. You want some chunks in you mashed potatoes, that will make them much better. While this is not necessary, but you cam make them even better by adding bacon bits, sauteed onions and/or mushrooms, and fresh chopped herbs. Another side dish that I love with these chicken breasts is smothered cabbage. Oh my, these two go so well together. Hungarian sauteed potatoes will make a great accompaniment too. A leaner choice would be a mixed vegetable stir-fry that is very quick to prepare, roasted vegetables, or roasted beets with carrots and feta.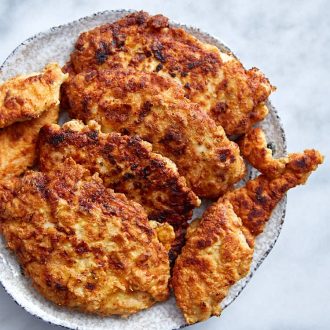 Ingredients
4

boneless, skinless chicken breasts

Black pepper

(to taste)

Kosher salt

(to taste)

1

tsp

Dijoin mustard

(optional)

3

Tbsp

sour cream

(optional)

1

egg

1/2

cup

all-purpose flour

vegetable oil

(for frying)
Instructions
Dry chicken breasts with paper towels. Lay them shiny side down on a cutting board. Cut off chicken tenders and set them aside. Using a sharp knife, score chicken breasts top to bottom and side to side about every half inch, and deep enough to not cut all the way through.

Cover the breasts with a piece of Saran wrap and slightly pound with a meat tenderizer to make them uniform thickness.

Season the breasts with salt and pepper on each side. In a small bowl, combine the sour cream with the mustard, then rub this mixture all over the chicken breasts, making sure it gets into every crevice. Place the breasts in a bowl, cover and refrigerate for about 15 minutes.

Whisk the egg in a medium bowl and set aside. Spread the flour on a large plate and set aside.

Heat a skillet filled with cooking oil so that it just covers the bottom. One by one, dip the chicken breasts in the egg mixture, then the flour on both sides, shake off excess, and place on the heated skillet. You will want to do the frying in batches. The first batch will be the first three chicken breasts, while the second batch will be the fourth chicken breast and the four chicken tenders.

Fry chicken breasts over medium-high heat about 2-3 minutes per side, uncovered, until deep golden brown on each side.

Serve hot with your favorite side dish, or use to make some of the most delicious chicken sandwiches.
Nutrition
Calories:
219
kcal
|
Carbohydrates:
12
g
|
Protein:
27
g
|
Fat:
5
g
|
Saturated Fat:
2
g
|
Cholesterol:
117
mg
|
Sodium:
168
mg
|
Potassium:
462
mg
|
Fiber:
0
g
|
Sugar:
0
g
|
Vitamin A:
150
IU
|
Vitamin C:
1.3
mg
|
Calcium:
22
mg
|
Iron:
1.3
mg