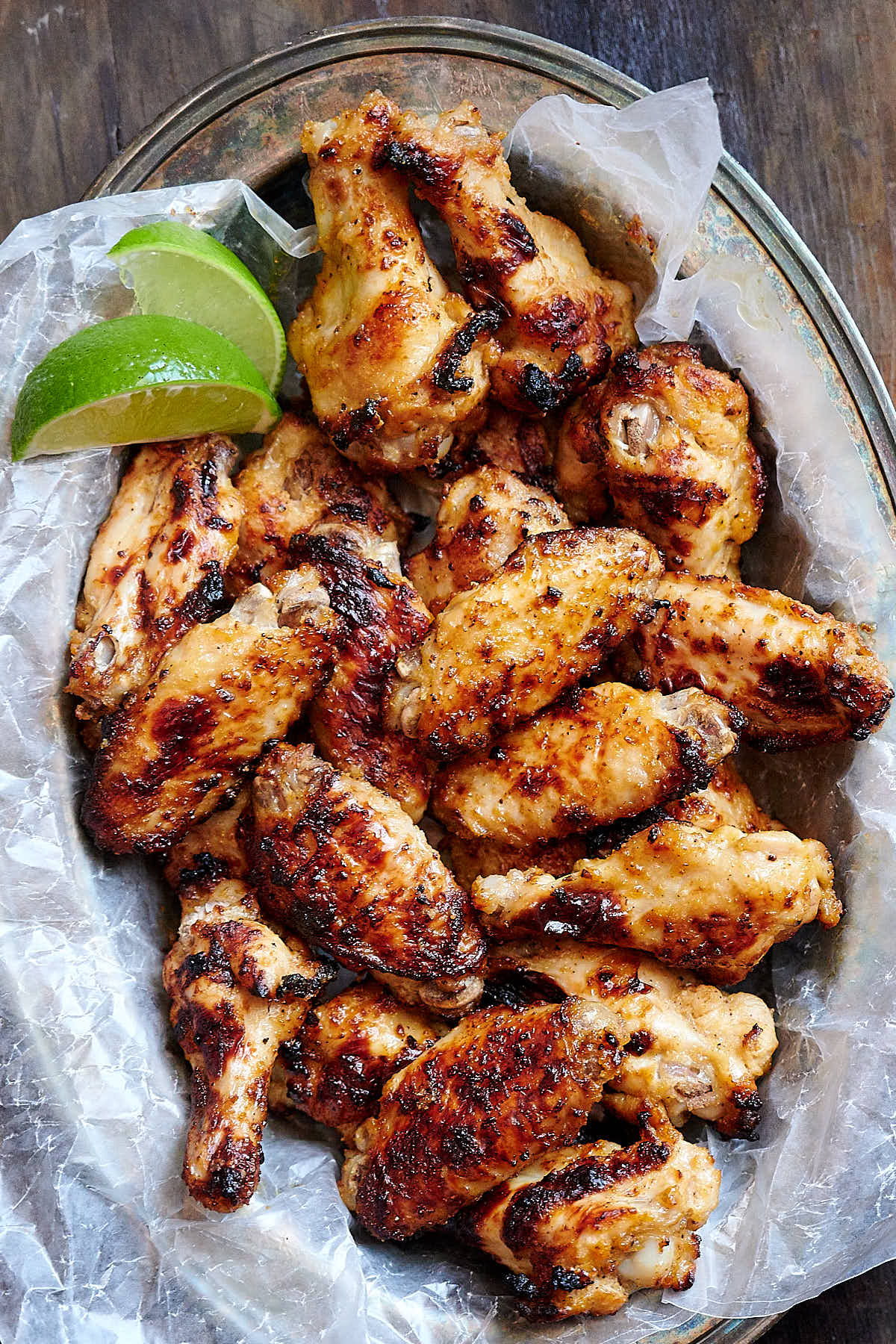 These broiled chicken wings are simply outstanding! You can't really compare them to baked wings – they are different and are in a league of their own. They strongly resemble grilled wings only without the smoky flavor.
On top, they require less than 30 minutes from start to finish! Need a great last minute party food idea? These broiled wings are it!
Benefits of broiling chicken wings
When cooking chicken wings in the oven, most of the time we think of baking instead of broiling. No doubt, it's because we think that baking is easier and less messy. At least, that's what I used to think. It's partially true – broiling can be a little messy depending that the food you broil. Greasy foods will make a lot of mess. But that's not the case with this chicken wing recipe. Broiling wings is super easy, quick and not messy at all.
The optimal way to broil wings
After experiencing a great success with broiled chicken breasts which tasted heavenly, I decided to experiment and see how broiled chicken wings would turn out. After a few tries I nailed the process and achieved quite impressive results. The main variables here are the time, heat and the distance to the heating element. Low heat broiling does not give sufficient browning.  The best results that I achieved required broiling on high, 10 inches away from the heating element and 10 minutes per side.
This worked like magic and the wings came out nicely crisped up on the outside and succulent and tender on the inside. I don't know if I'd ever want to go back to baked wings... well, unless they are my insanely popular Extra Crispy Baked Chicken Wings which at the moment I think are the best oven-baked wings, period.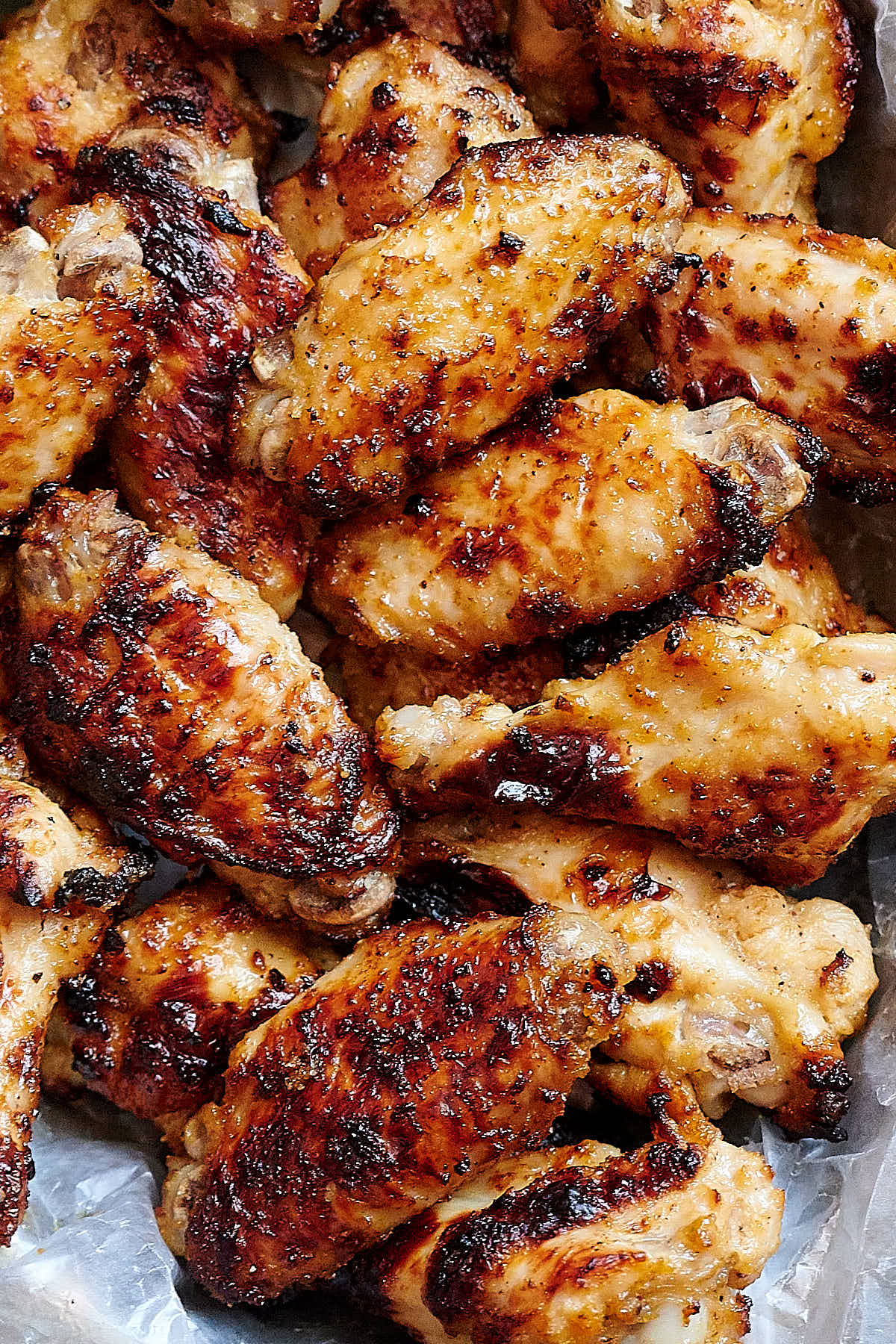 These wings don't require any sauce, they are perfectly seasoned and are good on their own. That said, there is nothing wrong with serving them with a dipping sauce, or tossed in your favorite BBQ or hot sauce.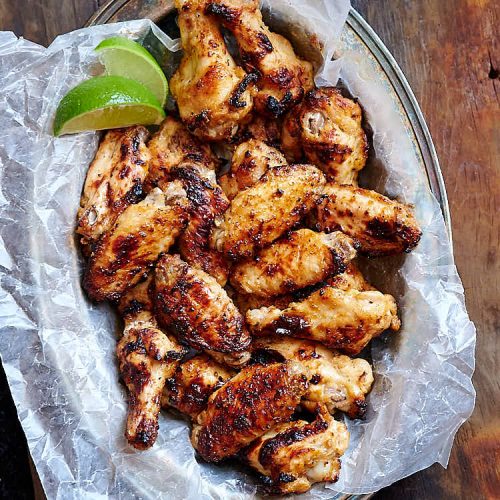 Ingredients
2

lbs

chicken wings

(about 2 dozen chicken wingettes and drumettes)
For the rub:
1/4

cup

olive oil

(or vegetable oil)

2

Tbsp

lime juice

(or lemon juice)

2

tsp

honey

1

tsp

kosher salt

1/2

tsp

black pepper

2

tsp

powdered onion

2

tsp

powdered garlic

1/2

tsp

cayenne pepper

(double if you want the wings to more kick)

2

tsp

dry mustard powder

(e.g. Colman's)
Instructions
First, prepare the oven for broiling. Position the rack about 10 inches from the broiler heating element. In my electric oven I place it in the fourth position from the top. Take note of the width and depth of the heating element, you will need that in a later step.

Set the broiler to high. If you put the wings in while it's preheating they may burn so it's always a good idea to let the oven pre-heat first for about 20 minutes or so.

Combine all of the ingredients for the rub in a medium bowl. Add the wings and mix well until they are evenly coated all over.

Line a large baking sheet with aluminum foil, then place a cooling rack on top. You don't have to use aluminum foil but if you do, it will save a lot of cleaning time afterwards.

Dump the wings on the cooling rack and spread around, leaving some space in between the wings, while making sure that the wings will be directly under the heating element.

Transfer the baking sheet with the wings to the oven and let them broil for 10 minutes on high. Do not open the oven during this time as every time you open the oven you will lose heat and the heating element will be heating and getting very hot which may cause the wings brown too fast.

After 10 minutes, the wings will have crisped up quite nicely. If not, let the broiled a few minutes more. Otherwise, flip them and continue broiling on high for another 10 minutes, or until the desired level of browning.

Remove the wings from the oven, transfer to a serving platter and serve immediately. You can serve these wings as is, they are perfectly seasoned, with a dash of freshly squeezed lime juice, or with a dipping sauce, or tossed in your favorite BBQ or hot sauce.
This post was updated on January 31, 2019