A recipe for juicy, tender and flavorful air fryer pork chops with a delicious honey and mustard chimichurri sauce.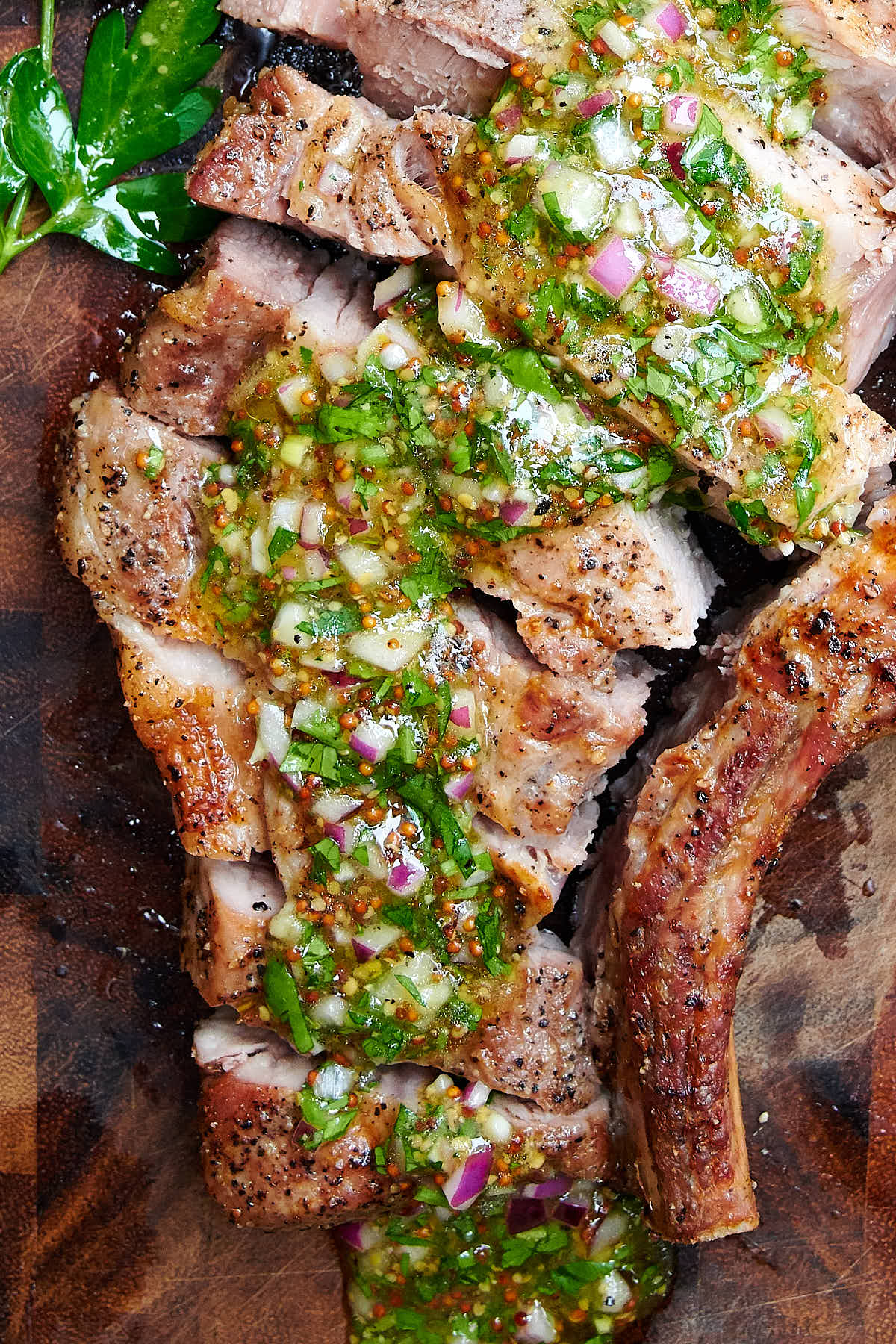 Air frying has become my favorite way of cooking lately and I constantly experiment with new foods that I can cook using this method. Pork chops are amazing when air fried and I can go as far as saying that they even rival my favorite pan-fried chops. If you haven't tried air fryer pork chops, you should. They will not disappoint. They are finger-licking-good! And the ease of cooking is hard to beat.
Best pork chops for air frying
I've experimented with various pork chop cuts and found that fattier and bone-in chops give the best results. You get better browning and the meat comes out juicier and more tender. My favorite ones are bone-in shoulder chops, rib chops and bone-in loin chops. You can use boneless loin chops as well but leave the fat cap on.
The best pork chop thickness for air frying
When picking chops for air frying, aim for the thickest chops. They should be at least 1 1/4″ thick, 1 1/2″ thick are best. This thickness will allow decent browning without overcooking the meat. I recommend buying a bone-in rib roast and asking the butcher to cut it between the bones. This will give you 4 nice thick bone-in chops.
Thin pork chops, on the other hand, are not well suited for air frying. They cook too fast, get no browning and tend to dry out quickly.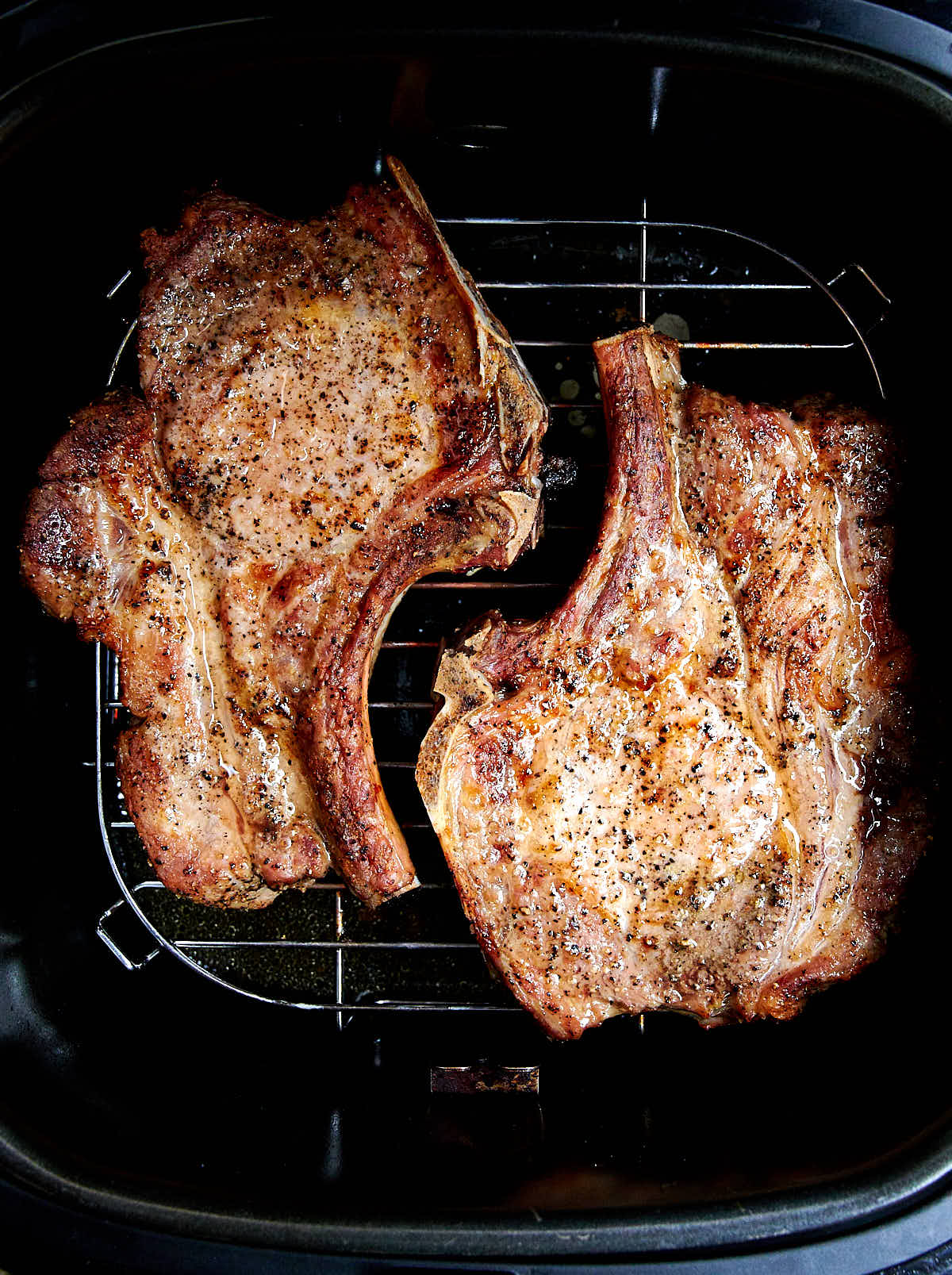 Preparing pork chops for cooking
Similar to when cooking steaks, I try to season pork chops well in advance. Salt tenderizes and amps up the flavor. You can season the chops with salt and pepper and refrigerate uncovered in a fridge for several hours and up to 24 hours. Blot any released liquids with paper towels before transferring the meat into your air fryer.
How many pork chops can you fit in an air fryer?
This depends on the air fryer. For example, in my Chefman 6.8 Quart Air Fryer I can easily fit two large bone-in rib chops or six boneless loin chops. In a smaller, 3 quart air fryer, you will be able to fit half of that.
Cooking pork chops
After a number of tests, I settled on the highest temperature setting on my Air Fryer – 410F. This temperature gives the best browning. I've seen many recommendations for lower temperatures, like the 350F recommended by America's Test Kitchen, but I was not happy with the results. I find that pork chops, being a leaner cut overall, like a quick cook over high heat. This results in nicely browned exterior and juicy interior. Cooked at 350F, my air fried chops had pale color and slightly drier meat.
To get an even better browning, I brushed the chops with some butter. Similar to air fried steaks, brushing pork chops with oil or butter gives them a much better color and appearance.
Finally, contrary to what many resources that I have referenced recommend, I strongly advise against flipping pork chops during cooking.  I'd rather have one well-browned side than two poorly browned ones.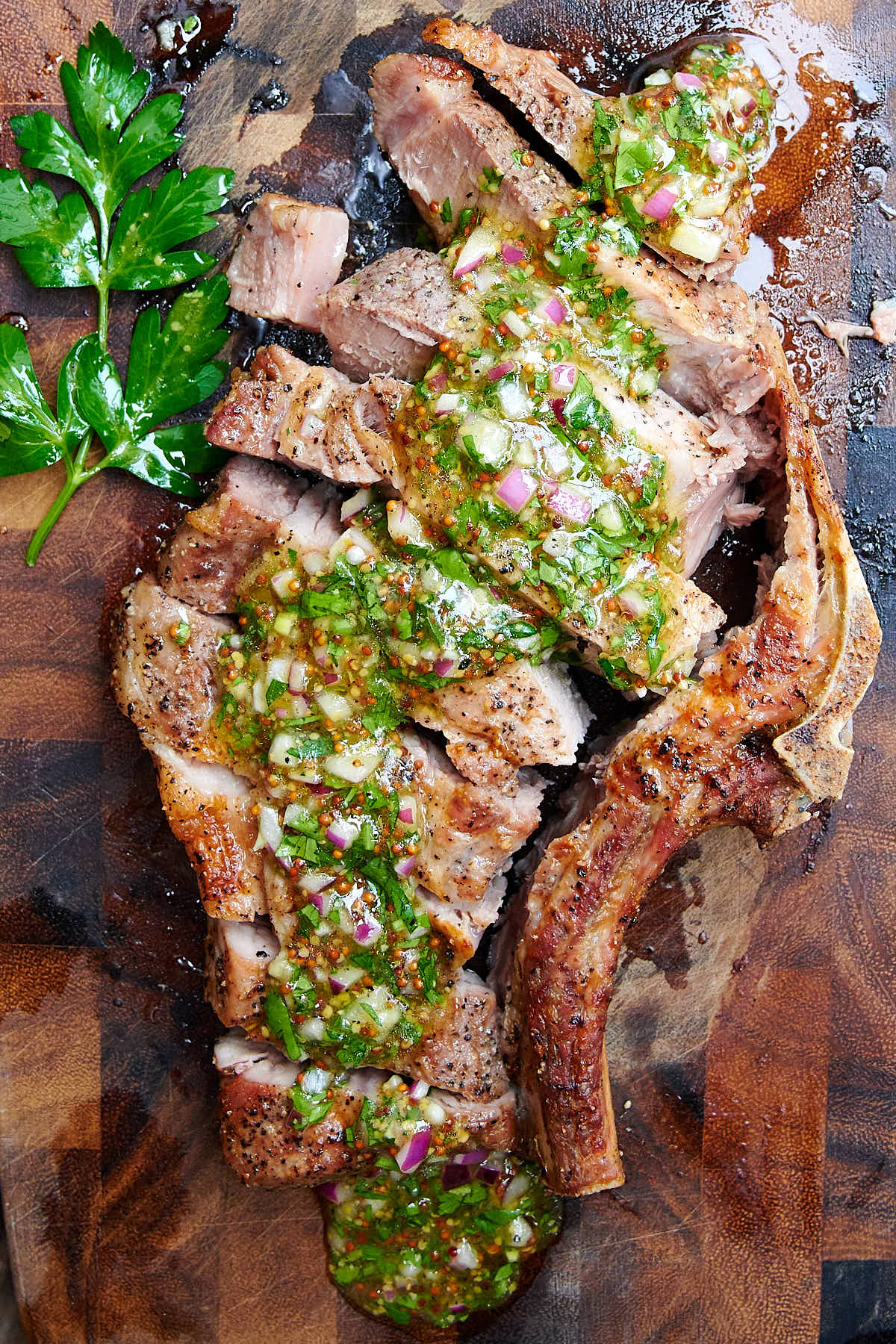 Serving
Before serving, let your air fried pork chops rest for 5 minutes. This will allow meat fibers to relax and reabsorb some of liquid lost during cooking.
Air fried pork chops, just like grilled chops, will greatly benefit from a bright, slightly acidic sauce, like chimichurri. I highly recommend a modified version of a traditional chimichurri sauce which includes honey and mustard. Their sweet and savory notes really complement a juicy pork chop. Well, any pork cut will benefit from some sweetness and some savory notes from mustard. My recipe for the honey and mustard chimichurri is provided below.
For a side dish for these pork chops, I recommend roasted vegetables or garlic mashed potatoes.
Looking for more tasty air fryer recipes? Make sure to check these out:
Equipment used and shown on the pictures above:  Chefman 6.8 Quart Air Fryer.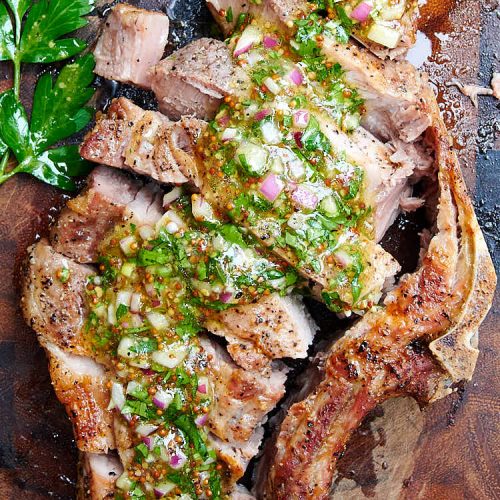 Air Fryer Pork Chops with Mustard Chimichurri Sauce
Recipe for juicy, tender and flavorful air fryer pork chops with a delicious mustard chimichurri sauce.
Print
Pin
Rate
Ingredients
2

bone-in pork chops

(1 1/4" to 1 1/2" thick, about 1 lb each)

1

tsp

kosher salt

1

tsp

black pepper

1

Tbsp

butter

(melted; or olive oil)
For the mustard chimichurri sauce
1/2

cup

olive oil

1

Tbsp

lime juice

1

Tbsp

whole grain Dijon mustard

1

tsp

honey

1

Tbsp

fresh parsley

(finely chopped)

1

Tbsp

fresh cilantro

(finely chopped)

1

Tbsp

red onion

(finely chopped)

1

clove

garlic

(pressed)

1/2

tsp

kosher salt

(plus more to taste)

1/4

tsp

black pepper

(plus more to taste)
Instructions
To prepare chimichurri sauce, place all of the ingredients in a small bowl and mix well. Refrigerate until ready to serve.

Pat the pork chops dry with paper towels. Make small cuts along the fatty edge about 1-2 inches apart. Season with salt and pepper on both sides. Transfer to a plate and refrigerate uncovered for a few hours or overnight.

Straight from the fridge, place the pork chops on the air fryer rack and brush with melted butter. Cook at 400F (or 410F if your air fryer goes that high) for about 20 minutes, or until the internal temperature reaches 140F. Do not flip or rotate.

Remove pork chops from the air fryer, let rest for 5 minutes and serve with chimichurri sauce and your favorite side dish.
Nutrition
Calories:
421
kcal
|
Carbohydrates:
2
g
|
Protein:
17
g
|
Fat:
37
g
|
Saturated Fat:
8
g
|
Cholesterol:
66
mg
|
Sodium:
988
mg
|
Potassium:
290
mg
|
Fiber:
0
g
|
Sugar:
1
g
|
Vitamin A:
170
IU
|
Vitamin C:
2.6
mg
|
Calcium:
16
mg
|
Iron:
0.8
mg