This braised pork loin is the kind of dish I like having for a Sunday family dinner. There is something so warm and comforting about it, yet it's fairly light and low on calories. It's one of my favorite braised pork recipes. The meat comes out very moist, juicy, and tender, and the flavors are robust yet delicate. Borrowing pleasant sweetness from apples, sweet onions, and apple cider, this pork practically melts in your mouth. It's not easy to make lean pork loin meat do that, but braising does magic to it.

This apple, onion and cider-braised pork roast has 'autumn' written all over it, but it's hard not to like it at any time of the year, even summer.
This dish would also be a great option if you want to supplement turkey for Thanksgiving or Christmas dinner. It's very simple, relatively quick to make and is quite fool-proof. There is no need to worry about the internal meat temperature and meat thermometers. Just follow the steps and the dish will be perfect every time. That's the beauty of braising pork loins in the oven.
Equipment for braising
When it comes to braising pork roasts, I find that clay bakers and Dutch ovens work best for this task. A typical braiser is too shallow for a thick piece of meat like pork loin. This results in the top of the meat touching the lid which can lead to the meat burning or overcooking during cooking. Braisers also have a larger surface area resulting in the liquid spreading out too much and covering less of the meat.
On the other hand, Dutch ovens and clay bakers are ideal for braising larger cuts of pork such as loins and shoulders. Between the two, I think clay bakers have a small advantage in that they don't heat up as much as metal Dutch ovens and are therefore more gentle on the meat. However, the difference is not huge so do not worry; use it if you have a Dutch oven. There is no need to run and get a clay baker even though they are worth every penny in my opinion.
Can you make this pork loin recipe in a slow cooker?
You absolutely can make this pork loin recipe in a slow cooker. If cooking on low, cook for 3 hours per pound of meat. If cooking on high – 1 hour and 20 minutes or so per pound of meat.
Remember, however, that meat in a braiser/Dutch oven/clay baker gets additional browning from the radiating heat from the lid that gets hot during cooking. This will not be the case when cooking pork roast in a slow cooker so the final results and appearance will be slightly different.
Braising pork loin
When cooking pork loin, it is usually advisable to cook it to 145F to not overcook it and have the meat retain its moisture. Though this recipe is an exception – you don't need to worry about the internal temperature of the meat here. The reason for that is the pork loin is cooked inside a closed Dutch oven or a clay baker, with all the moisture sealed in.
Additionally, the meat is half-immersed in liquids during cooking, which greatly helps the pork roast remain moist. Finally, the cooking is done at the relatively low temperature of 350F so the risk of drying out the meat is minimal.
Maximizing flavor
Pork loin is a fairly flavorless cut so it needs all the help it can get. Sure, the seasonings, the onions, and the apples in this recipe will help. However, a quick pan-sear on all sides will add a ton of flavor.

After seasoning with salt and black pepper, sear the pork over fairly high heat with some olive oil until you get a really nice sear. I like to sear until I get a dark golden-brown color on the top side. The other sides get a little less browning as I don't want to overcook the meat.

Searing the onion wedges is another way to add flavor to braised pork loin. Again, do it quickly over high heat, until you get some dark brown color going. The onions will add flavor, sweetness, and liquid, released during braising. This additional liquid will contribute to keeping the pork roast moist and juicy.

Braising pork loin
Next, place diced apples and onion wedges into a Dutch oven or a clay baker, nestle the pork loin in the apple-onion mix, crumble a bouillon cube over the top and pour apple cider. Cover and cook for an hour and twenty minutes. This cooking time is perfect for a 2 – 2.5 lb pork loin.

Serving braised pork loin
Once the pork loin finishes cooking, take the Dutch oven/clay baker out of the oven and let the meat rest for 10 minutes without opening it. This will allow the meat to relax and reabsorb some of the juices lost during cooking. Next, take the loin out of the clay baker/Dutch oven and cut it into thick pieces like pork chops, about 1″ to 1.25″ thick.

Serve this pork loin with side dishes such as mashed potatoes, rice, quinoa, smothered cabbage, buckwheat, couscous, or pasta. Top with a ladle or two of the onion, apple, and cider mix from the clay baker/Dutch oven and garnish with chopped parsley.
The leftover juices are not thick and I like it that way, but you can thicken it with flour or corn starch if you'd like. It will be easier if you transfer the juices with the apples and onions into a saucepan and do the thickening there rather than in the Dutch oven or clay baker.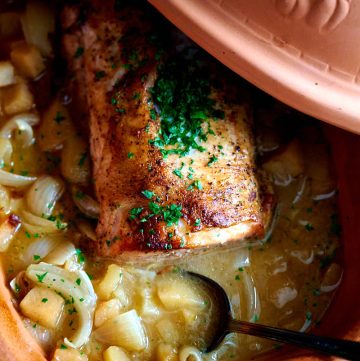 Ingredients
2

lbs

pork loin roast

2

apples

firm

2

sweet onions

large

1

cup

sweet apple cider

1

cube

bouillon

2

Tbsp

cooking oil

1

tsp

black pepper

1/2

tsp

salt

or to taste

4

sprigs

parsley

chopped
Instructions
If using a clay baker, soak it in water for at least 15 minutes.

Preheat the oven to 350F.

Peel and cut onions into small wedges.

Peel, core and cut the apples into 1/2" cubes.

Heat oil in a skillet. Sprinkle the loin with salt and pepper. Sear the meat on all sides over fairly high heat, about 5 minutes per side or until golden brown. Remove the meat from the pan and set it aside.

In the same skillet, over high heat, quickly brown the onions for about 2-3 minutes, stirring every 15-20 seconds.

Spread the apples and onions on the bottom of the clay baker or Dutch oven. Place the pork loin on top. Crumble bouillon cube all over the meat and apple/onion mix. Pour in the cider and cover with a lid.

Braise in the preheated oven for 1 hour and 20 minutes. Do not open the oven until the time is up.

Carefully take the clay baker/Dutch oven out of the oven, place it on a cooling rack or on top of the stove, and let the dish rest for 10 minutes without opening it.

Transfer the roast to a large cutting board, slice into 1" - 1/25" slices and serve right away sprinkled with chopped parsley and topped with pot juices with onions and apples.
Nutrition
Calories:
327
kcal
|
Carbohydrates:
21
g
|
Protein:
35
g
|
Fat:
11
g
|
Saturated Fat:
2
g
|
Polyunsaturated Fat:
2
g
|
Monounsaturated Fat:
5
g
|
Trans Fat:
1
g
|
Cholesterol:
95
mg
|
Sodium:
282
mg
|
Potassium:
810
mg
|
Fiber:
3
g
|
Sugar:
16
g
|
Vitamin A:
92
IU
|
Vitamin C:
9
mg
|
Calcium:
39
mg
|
Iron:
1
mg