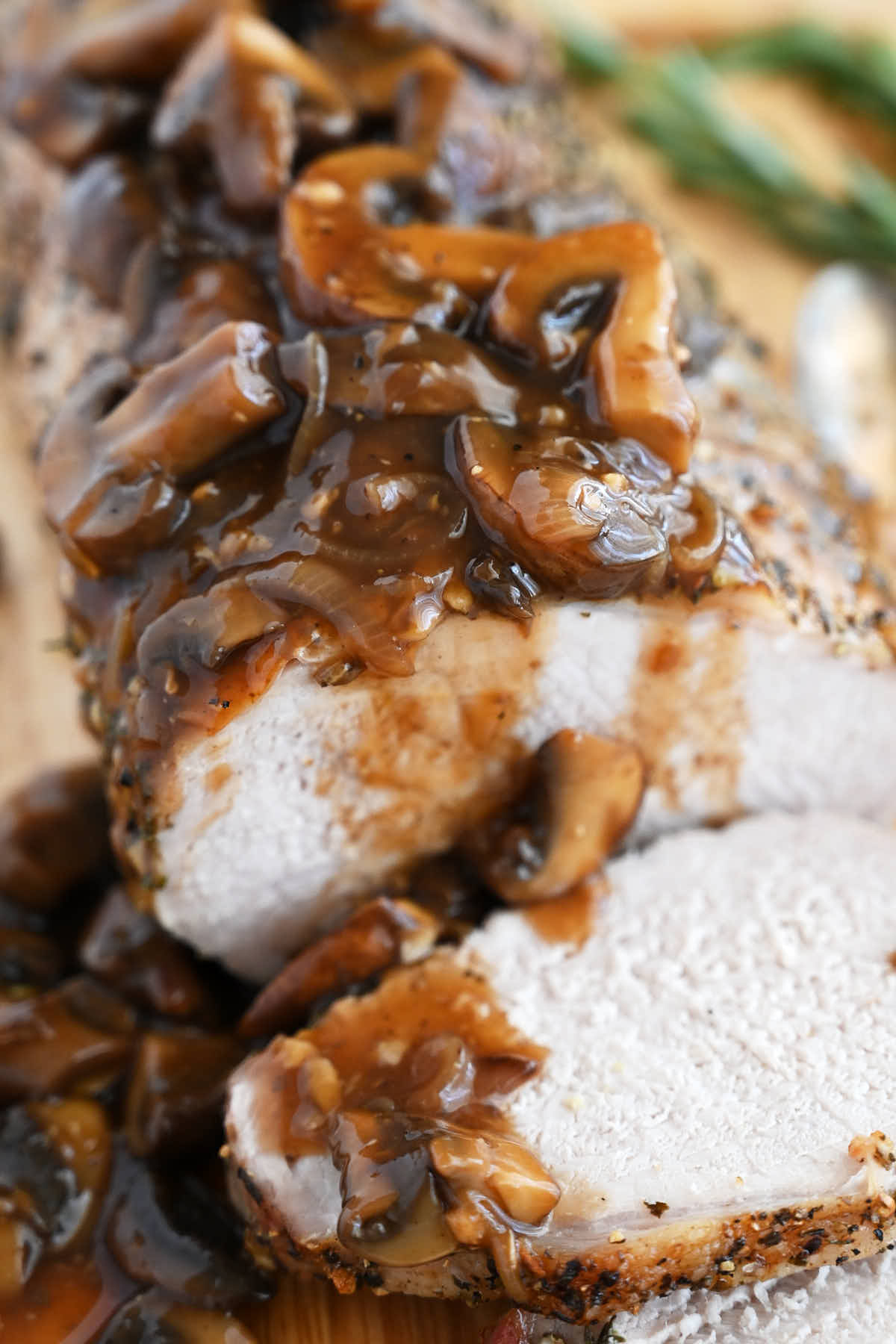 This pork loin roast is coated with a fresh herb seasoning mixture then roasted in the oven until crispy golden brown on top and perfectly tender and juicy inside.  To make it taste even better, serve this pork loin roast with a delicious mushroom sauce. It's a hit every time! This pork loin recipe is easy enough even for a novice cook, and it makes a dish that is good for both Sunday dinners and special occasions.
How to cook a pork loin in the oven?
The simple way is to rub a pork loin with seasonings and roast it at about 375F until it reaches 145F internal temperature. But we can get much better results with one simple trick. Instead of starting the roasting at 375F, I recommend starting at 425F for about 15 minutes, then dropping the temperature to 325F. What this does is it allows the fat cap on top of the pork loin roast to begin rendering quickly, resulting in a crispier, better browned crust. The rendering fat will also slowly flow down the sides of the loin, keeping the meat perfectly moist.
Pork loin roasting time
At 375F, a 3-4 lb pork loin will need about 25 minutes of roasting time per pound to reach the safe temperature of 145F. However, if you start the roasting at 425F for 15 minutes then drop the temperature to 325F, about 20-22 minutes per pound of meat will be needed in total time.
When roasting larger pork loins, 6-8 lbs, cooking is done at 350F and the roasting time is about 10-15 minutes per pound.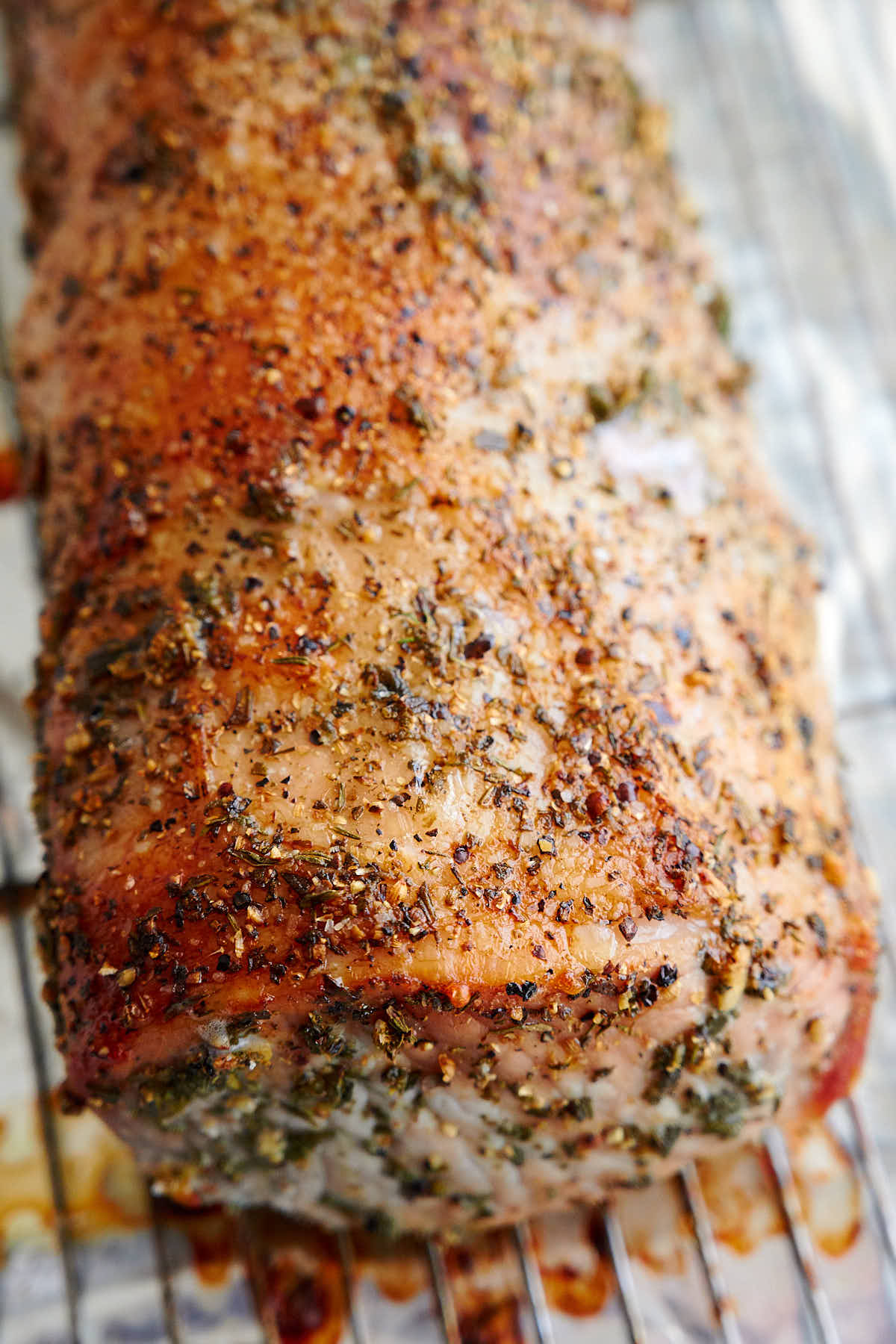 Ideal internal pork loin temperature
There really is no single ideal temperature for pork loin. Some people like it pink inside, while others like it more well done. The safe internal temperature for solid pork meat like loins used to be 160F. In 2011, it was revised to 145F. Cooked to 145F, the loin inside will be slightly pinkish. The meat will be very juicy at this level.
For the ultimate juiciness, cook your pork loin to 140F in the thickest part and let the meat rest for 10 minutes. Carryover cooking will continue cooking the meat inside and will raise the internal temperature to 145F -150F.
If you want to please everybody at the table, I recommend cooking pork loin to 145F-150F. After a 10 minute rest, the internal temperature will be at about 150F-160F, the meat will still be very juicy and no longer pink.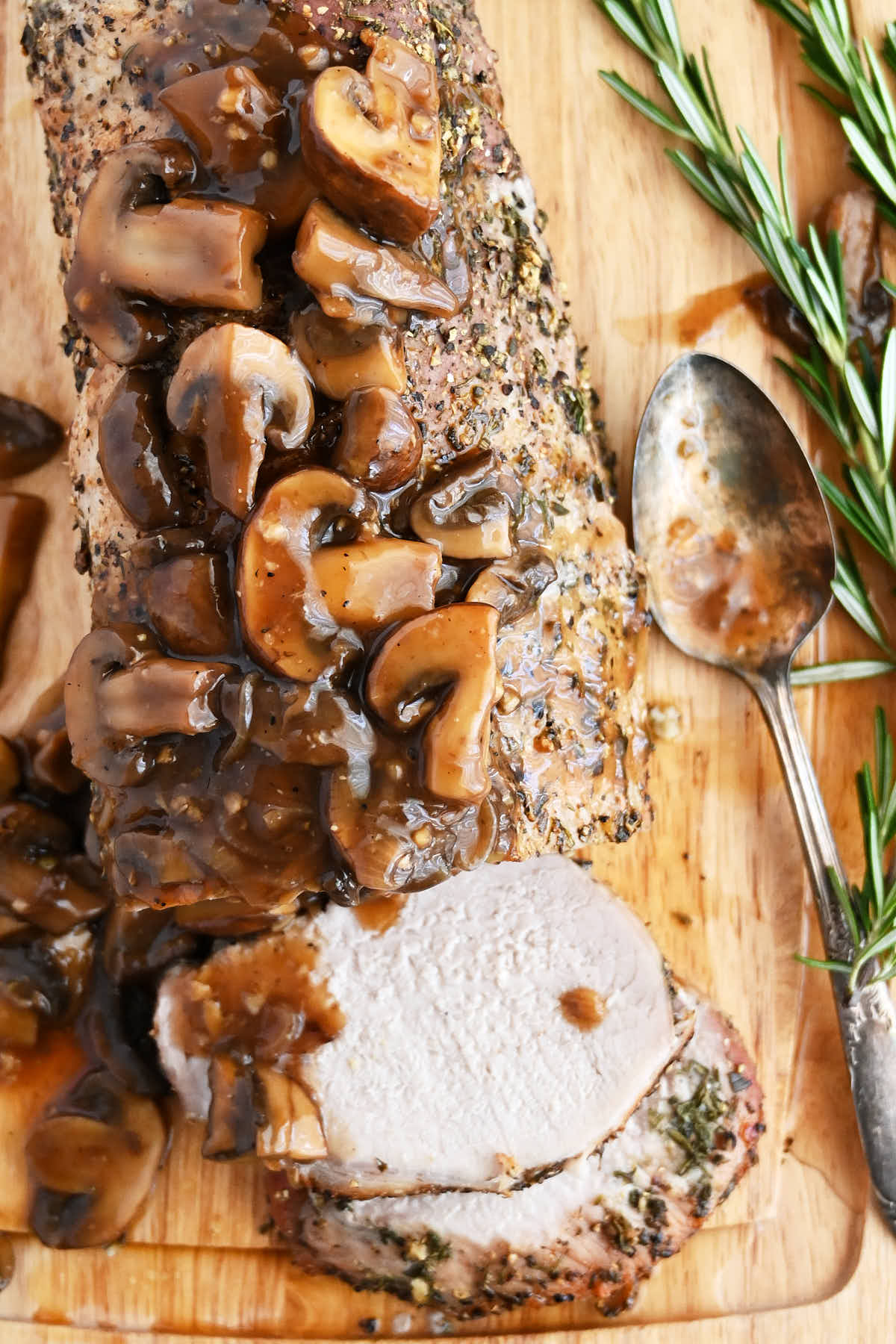 Pork loin roasting tips
Always leave the fat cap on the pork loin. It will keep the meat moist and that cap will render down and crisp up beautifully by the end of the roast. Just make sure to start roasting at 425F for 15 minutes.
If the cap is too thick, trim it down to about 1/4" thick or so.
To make the seasoning stick well to the meat, just pat it or press it down firmly. It will be totally enough. There is no need to rub the loin with oil or mustard before applying seasonings.
Be careful about adding vegetables! Vegetables will slowly release liquid during roasting which will decrease temperature in the oven, increase cooking time and negatively affect browning. I usually avoid adding vegetables when roasting pork loins.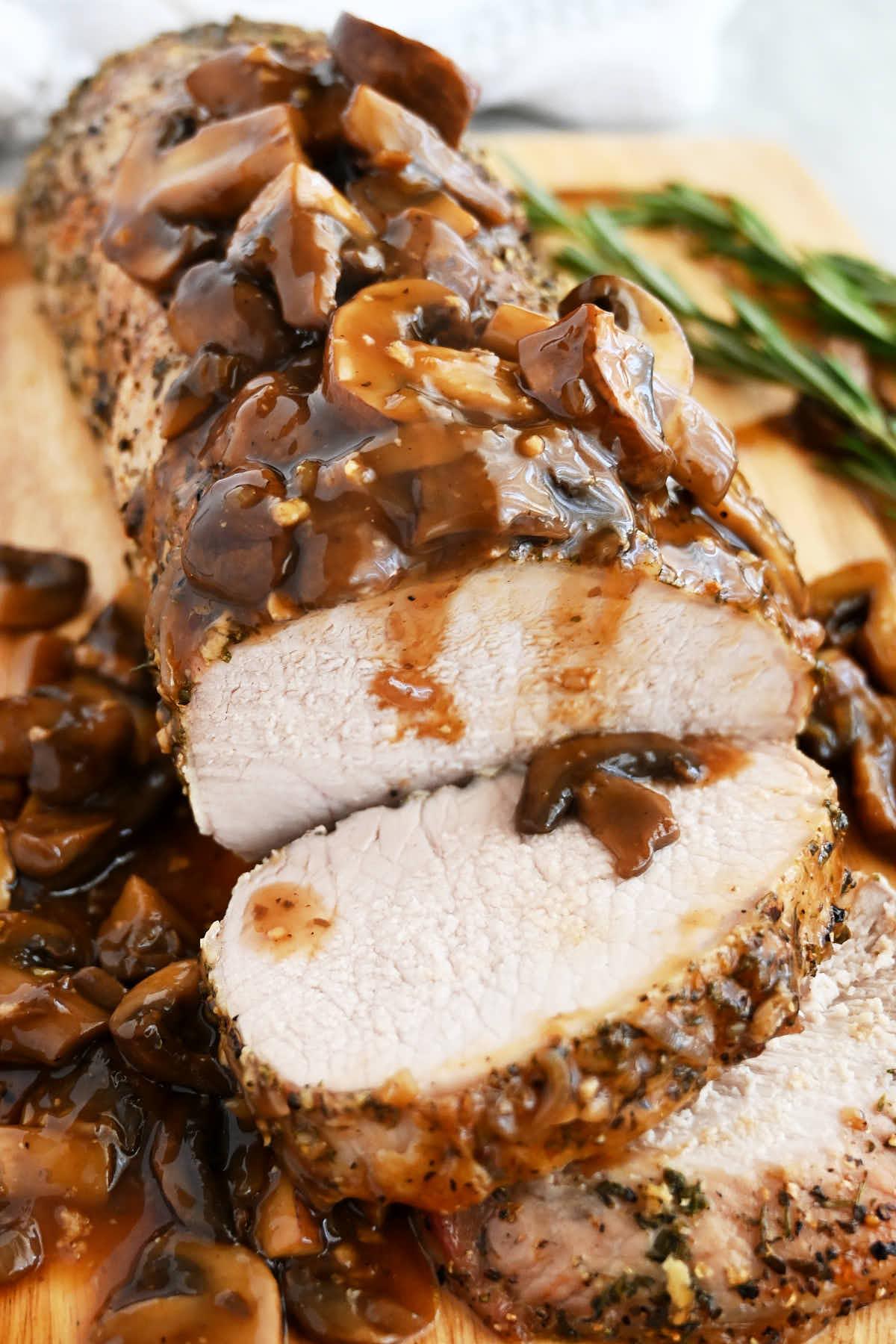 Recommended side dishes for this loin roast
Recommended tools for making roasted pork loin
A shallow baking pan fitted with a rack is all that is needed. If you want to eliminate any guesswork and stress about overcooking your pork loin, use a BBQ thermometer, like the ThermoPro TP07 or it's more advanced sibling ThermoPro TP08. We've been using one in the kitchen for years and I can't imagine my cooking without one.  It makes baking and roasting very easy and worry-free. No more overcooked meat.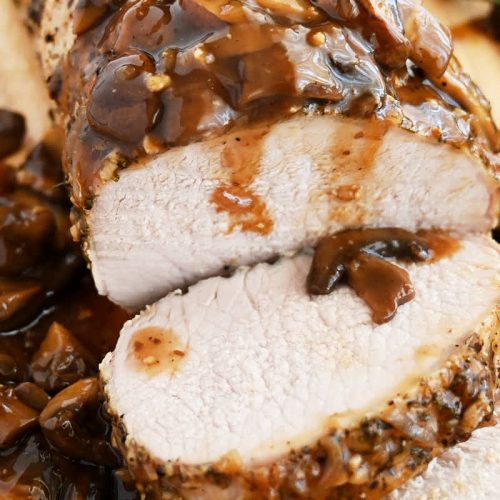 Ingredients
Pork loin
4

lb

pork loin

(boneless)

1

Tbsp

fresh rosemary

(crushed)

2

Tbsp

fresh sage

(crushed; or 1 1/2 tsp dried sage leaves)

1

tsp

fresh thyme

(crushed; or 1/2 tsp dried thyme leaves)

1

tsp

kosher salt

1/2

tsp

coriander seeds

(crushed)

2

cloves

garlic

(pressed)
Mushroom sauce
1

lb

cremini mushrooms

(or button mushrooms, sliced about 1/4" - 3/8" thick)

2

Tbsp

olive oil

1

shallot

(thinly sliced)

1

cup

dry sherry

(or Madeira, or dry vermouth)

1

cup

chicken stock

1

Tbsp

soy sauce

2

tsp

cornstarch

(dissolved in 1 Tbsp of water)

Salt

(to taste)

Black pepper

(to taste)
Instructions
Crush coriander seeds in a mortar. Add the fresh herbs and crush together with the coriander seeds.

Mix the crushed herbs and coriander seeds with salt and pepper in a small bowl.

Rub the pork loin with the seasoning, patting it to make sure the seasonings stick well. Position the pork loin on a rack fitted over a baking pan lined with foil. Make sure that the fat cap is on top of the loin.

Insert a BBQ or meat thermometer, put the loin in the oven and roast at 425F for 15 minutes. Reduce temperature to 325F and continue to roast until the temperature in the center of the thickest part of the loin reaches 140F, about 50 - 70 minutes.

Remove the meat from the oven, tent with a piece of foil and let rest for 10 minutes before carving.

Meanwhile, heat the oil in a skillet over medium-high heat. Saute the garlic and the shallot for 1 minute. Add the mushrooms and continue sauteing for another 5 minutes or so, until the mushrooms begin to brown.

Add the sherry wine and continue cooking until most of the liquid evaporates.

Pour in the chicken stock and the soy sauce. Bring to a boil. Add the cornstarch mixture and simmer for about 2 minutes, until it thickens. Season with salt and pepper to taste.


Serve the pork loin with your favorite side dish (these garlic mashed potatoes are the best match for this dish) with mushroom sauce spooned over it.
Nutrition
Calories:
387
kcal
|
Carbohydrates:
6
g
|
Protein:
53
g
|
Fat:
13
g
|
Saturated Fat:
3
g
|
Cholesterol:
143
mg
|
Sodium:
576
mg
|
Potassium:
1176
mg
|
Fiber:
0
g
|
Sugar:
2
g
|
Vitamin C:
0.7
mg
|
Calcium:
35
mg
|
Iron:
1.9
mg