Tender and juicy pieces of beautifully caramelized, richly flavored pieces of Hunan chicken tossed with vegetables roasted with garlic and ginger. This chicken is not only delicious but also healthy and light. This is a traditional Hunan style chicken recipe, which is different from westernized Hunan recipes that tend to be overly fatty, sweet and gloppy.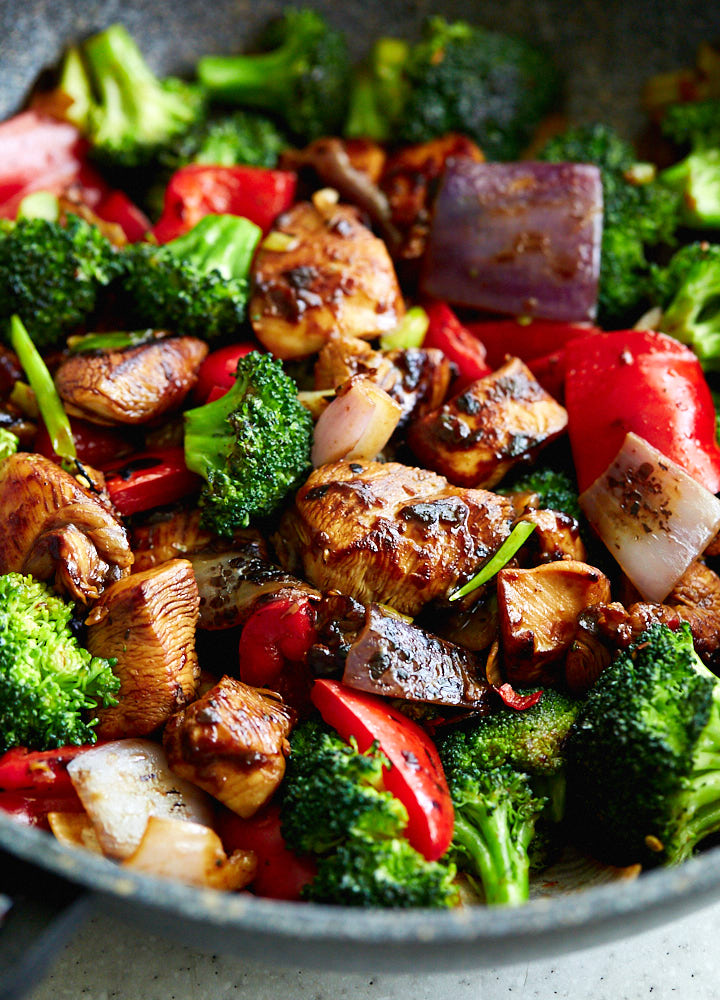 My 7-year-old daughter after she finished eating this chicken for lunch said "Daddy, the chicken was so!… so!… so!…"  She was overwhelmed with emotions and had a hard time finding the right word to describe how good she thought the chicken tasted. I get compliments on my cooking very regularly, but that one was very special to me. I agree, the chicken was superb. A perfection.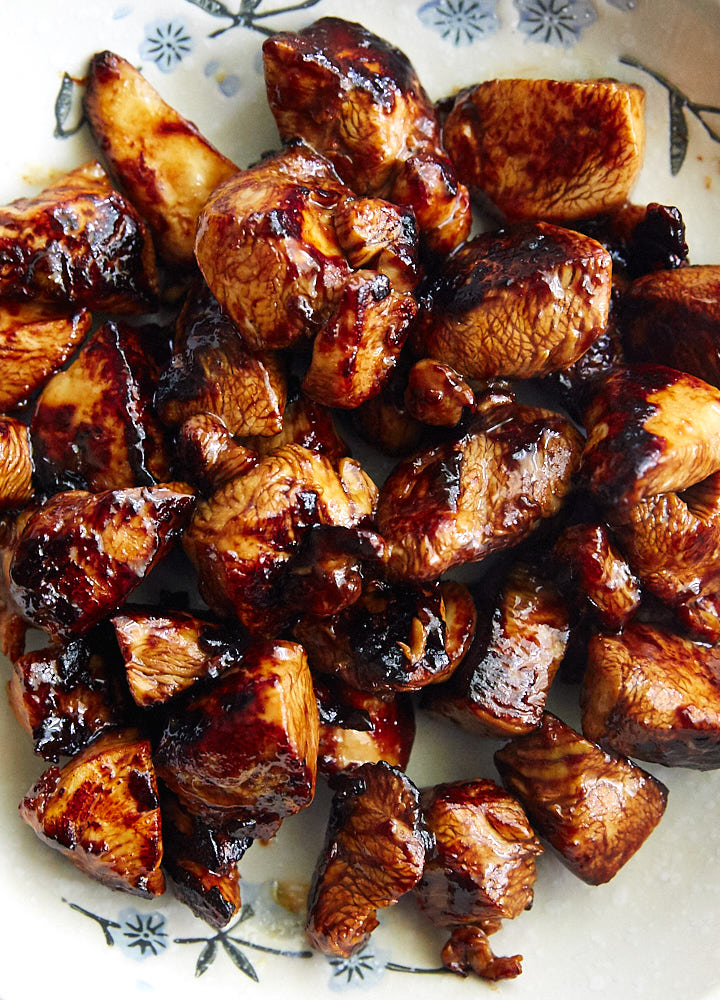 My favorite meat for making Hunan chicken is breast meat. When cooked right, it tastes much better than red chicken meat. It's less fatty and healthier too.
To cook the chicken I suggest using a wok. A while ago I bought a Korean made non-stick, flat bottom wok (it's very similar to this one) to cook Asian dishes. I came to love that wok so much that I use it for practically everything that needs pan frying. I even fry sunny-side up eggs in it. Everything just comes out better in it. It's a magical wok.
I cut chicken breasts into about 1-inch pieces, lay them in one layer inside the wok and cook them over a fairly high heat on one side for about 1 minute until nicely caramelized, then flip to the other side and cook for another minute or so, undisturbed. I then continue stir-frying until the temperature inside the largest pieces reaches 160F. An instant read thermometer comes really handy here. As soon as the chicken is ready I dump it onto a large ceramic platter to cool down. This way I get the meat that is perfectly cooked, tender and juicy.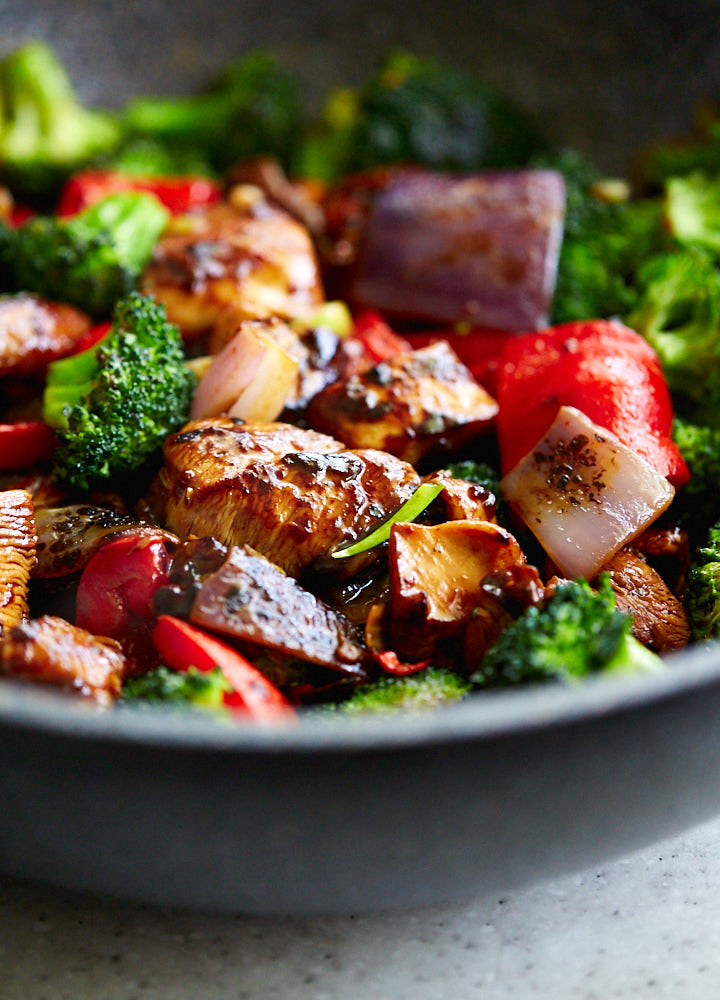 Unlike for example in Szechuan Chicken recipe, or the Hunan Beef recipe, I used neither the deep-frying nor the shallow-frying methods to cook the Hunan chicken. This time I only used 2 tablespoons of peanut oil. To my surprise, that turned out to be plenty enough. I really like this method because it's much more economical and adds a lot less fat into the food.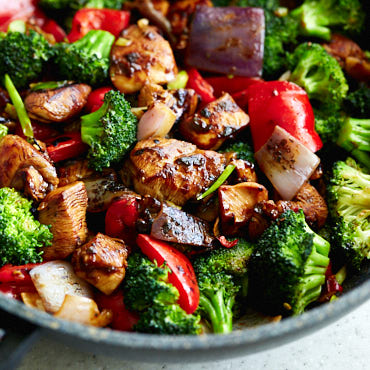 Ingredients
2

chicken breasts

cut into 1-inch pieces

3

Tbsp

peanut oil

(for stir frying)
For the marinade:
1

Tbsp

Shaoxing wine

or dry sherry

1

tsp

kosher salt

(or sea salt)

2

tsp

light soy sauce

2

tsp

dark soy sauce

1

Tbsp

potato starch

10 g / 1/3 oz

1½

Tbsp

water
For the stir fry:
1

inch

fresh ginger

(thinly sliced)

3

garlic cloves

(large, minced or thinly sliced)

2

Thai chiles

(de-seeded and chopped. This is for mild. Add more if desired)

1/4

tsp

kosher salt

(plus more to taste)

4

scallions

cut on the diagonal, about 1/2" long

1

red bell pepper

cut into 1 inch pieces

1

red onion

(medium, cut into 1 inch pieces)

4

cups

broccoli florets

200 g / 7.5 oz

1

tsp

sesame oil
Instructions
In a medium size bowl, combine the ingredients for the marinade and stir. Add the chicken pieces and stir well to ensure proper coverage. Let the meat marinate for about 10-15 minutes at room temperature.

Heat 2 tablespoons of peanut oil in a wok over medium-high heat, until the oil is about 300F. Place the chicken in a single layer and fry for about 1 minute, until nicely caramelized. Flip the chicken pieces over to the other side and cook for another minute. Continue frying, stirring frequently, until the chicken is just done, about 2-3 minutes. (I like using my instant read thermometer to check for doneness and pull the chicken when it hits 160F internal temperature). Transfer the chicken to a platter, spread out and set aside.

In the same wok, heat another 1 tablespoon of peanut oil. Add the garlic and the ginger and stir fry for about 30 seconds, until slightly browned and fragrant. Now add the bell pepper, broccoli, red onion and stir fry for about 3 minutes, until the veggies have softened up and look slightly charred. Add the Thai chiles and stir fry for 30 seconds. Return the chicken to the wok, add sesame oil, scallions and stir well. Taste and adjust salt to taste. Continue stir-frying until the chicken is sizzling and fragrant, about a minute. Remove from heat and serve immediately with steamed rice or any other side of choice.
Nutrition
Serving:
1
g
|
Calories:
256
kcal
|
Carbohydrates:
18
g
|
Protein:
16
g
|
Fat:
13
g
|
Saturated Fat:
2
g
|
Cholesterol:
36
mg
|
Sodium:
1051
mg
|
Potassium:
678
mg
|
Fiber:
3
g
|
Sugar:
6
g
|
Vitamin A:
1655
IU
|
Vitamin C:
128.5
mg
|
Calcium:
65
mg
|
Iron:
1.4
mg