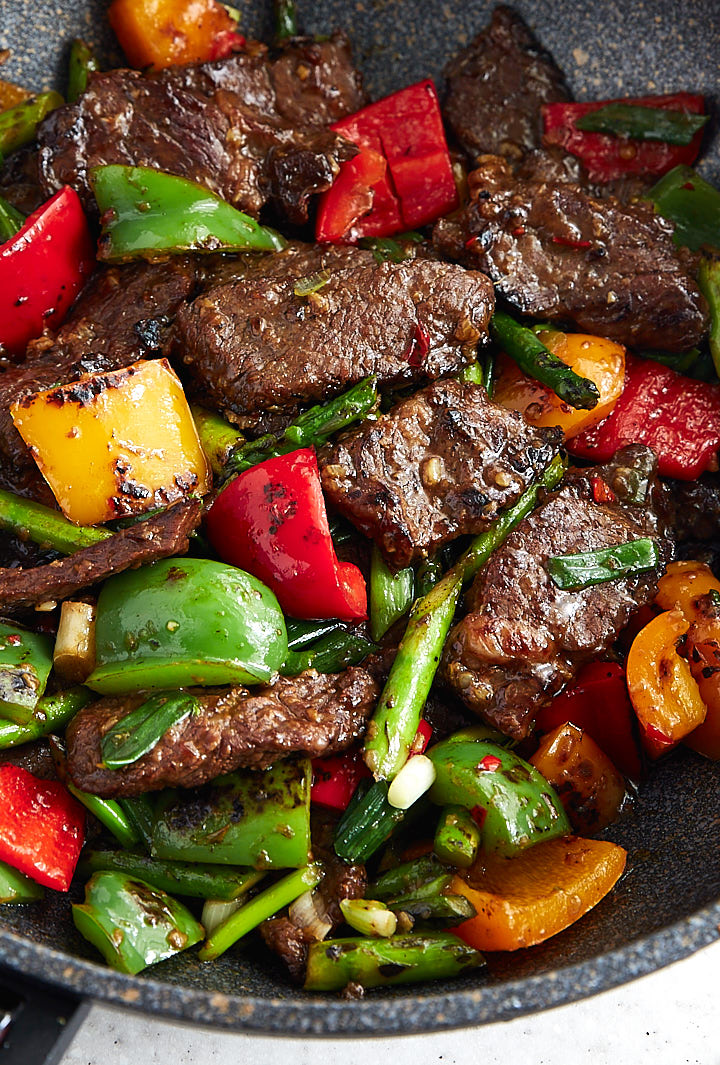 This Hunan beef stir-fry is pleasantly spicy and deeply flavorful. Deep-fried beef is beautifully browned, flavorful and very tender on the inside. Bell peppers and asparagus add a welcome contrast to the tender meat and make the dish more balanced and exciting.
I used to equate Chinese food to Chinese take-out or the 'mall Asian food', you know, the kind they serve at your local mall's food court. What a huge mistake that was! You'll be hard-pressed to find similarly overly salty, sugary, over-sauced and greasy Asian food among authentic Asian dishes. They say ethnic foods are adapted to local tastes. I think adaptation of Chinese food went a little too far and a lot of its character and rich flavors, sadly, got lost in translation.
Try this Hunan beef and you'll know what I am talking about. You won't be able to find anything like it at a Chinese take-out place or at a mall. And it's super simple to make. Fast, easy and super delicious is how I would describe it.
How to make Hunan Beef
Preparation of Hunan beef involves a classic Chinese technique known as 'shallow frying', where you deep-fry meat in a small quantity of oil to partially cook it and set the cornstarch coating before stir-frying.  Deep-frying really helps make the meat come out tender on the inside. Additionally, with shallow frying you also need to use a lot less oil, which is very welcome considering that peanut oil is expensive. Like, really expensive.
Can you use even less oil than is indicated in the recipe? Probably. As long as the meat is fully submerged in oil you will be fine. You'll just need to fry the meat in smaller batches.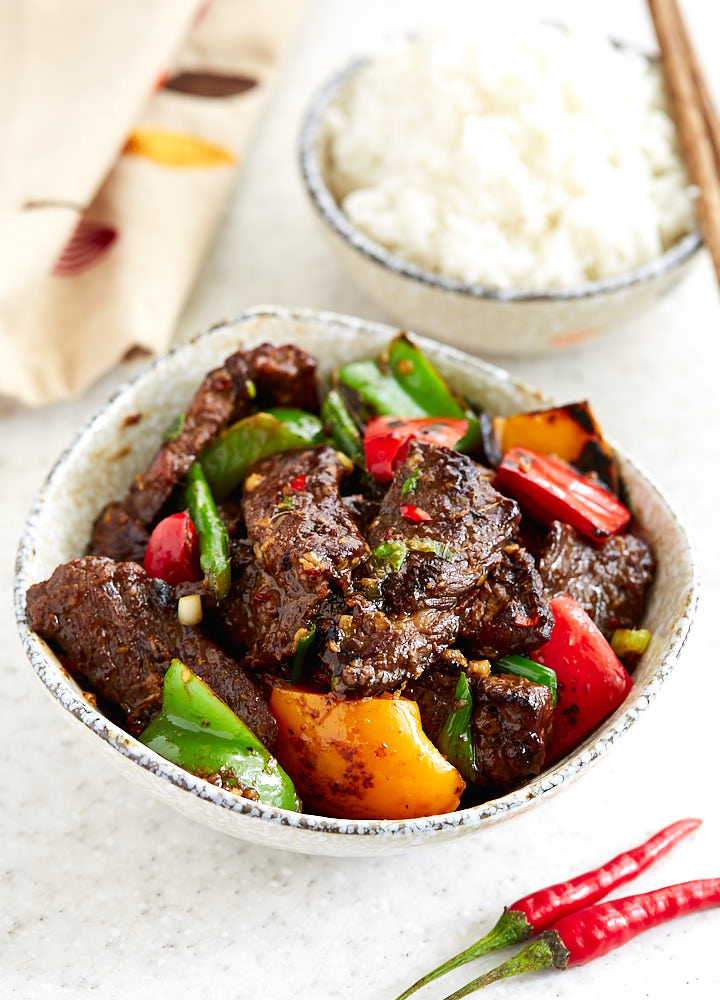 How spicy should Hunan beef be?
Traditionally, Hunan and Szechuan dishes, like the Szechuan Chicken I recently posted about, are very hot and spicy. While westerners believe that hot food numbs the palate and prevents it from experiencing the full range of flavors, Chinese maintain that spicy food helps the palate open up and appreciate a wider range flavors. In the recipe, I specified how to achieve various levels of heat. So, start with mild, then work your way up. You may be surprised.
Enhancing the dish
Finally, bell peppers and asparagus are not traditional ingredients in this dish, but I love how they enhance the dish. You can substitute them for any other vegetables you like.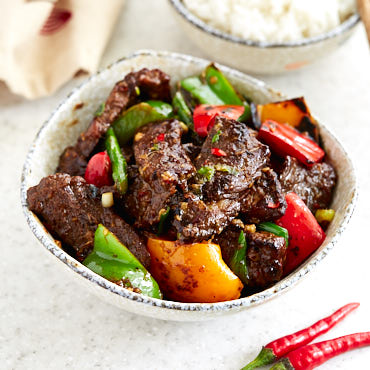 Ingredients
1

lb

boneless beef short rib

(recommended or other steak, sliced into 1/4" thick slices)

1

cup

peanut oil for frying
For the marinade:
1

Tbsp

Shaoxing wine

(or dry sherry wine)

1

tsp

sea or kosher salt

2

tsp

light soy sauce

2

tsp

dark soy sauce

1

Tbsp

potato starch

(substitute for all-purpose flour at 1:1 ratio if necessary)

1 1/2

Tbsp

water
For the stir fry:
1

Tbsp

minced ginger

5

garlic cloves

(finely chopped or minced)

2

Thai red chiles

(Bird's Eye chiles, seeded and finely chopped (for mild heat))

1

tsp

dried chili flakes

(optional; 1-2 tsp for medium heat, 3+ tsp for more heat)

Kosher salt

(to taste)

4

scallions

(sliced about 1-inch long on the diagonal

8-10

asparagus spears

(cut into 1-inch pieces on the diagonal)

1/2

each red

(green and yellow bell peppers, cut into 1-inch pieces)

1

tsp

sesame oil
Instructions
In a medium bowl, combine all of the ingredients for the marinade. Add the beef and mix well to ensure good coverage. Let marinate for 15 minutes in a fridge.

Heat peanut oil to about 300F in a wok. Add half of the beef and fry for about 2 minutes, stirring gently, until the meat looks nicely browned. Remove from oil with a slotted spoon and place on a plate lined with a paper towel to drain the oil. Repeat with the other half of the beef.

Pour off the oil from the wok, leaving about 3 tablespoons behind. Over a high flame, add the ginger, garlic and stir-fry for about 30 seconds. Add the bell peppers and the asparagus and stir-fry for about 3 minutes, until the veggies softened up and look slightly charred. Add the Thai chiles and chili flakes and stir for 30 seconds. Return the beef to the wok, add sesame oil, scallions and stir well. Taste and adjust salt to taste. Continue stir-frying until the beef is sizzling and fragrant, about a minute. Remove from heat and serve immediately with steamed rice.
Nutrition
Calories:
255
kcal
|
Carbohydrates:
9
g
|
Protein:
23
g
|
Fat:
12
g
|
Saturated Fat:
5
g
|
Cholesterol:
66
mg
|
Sodium:
890
mg
|
Potassium:
578
mg
|
Fiber:
1
g
|
Sugar:
3
g
|
Vitamin A:
975
IU
|
Vitamin C:
24.2
mg
|
Calcium:
32
mg
|
Iron:
3.6
mg