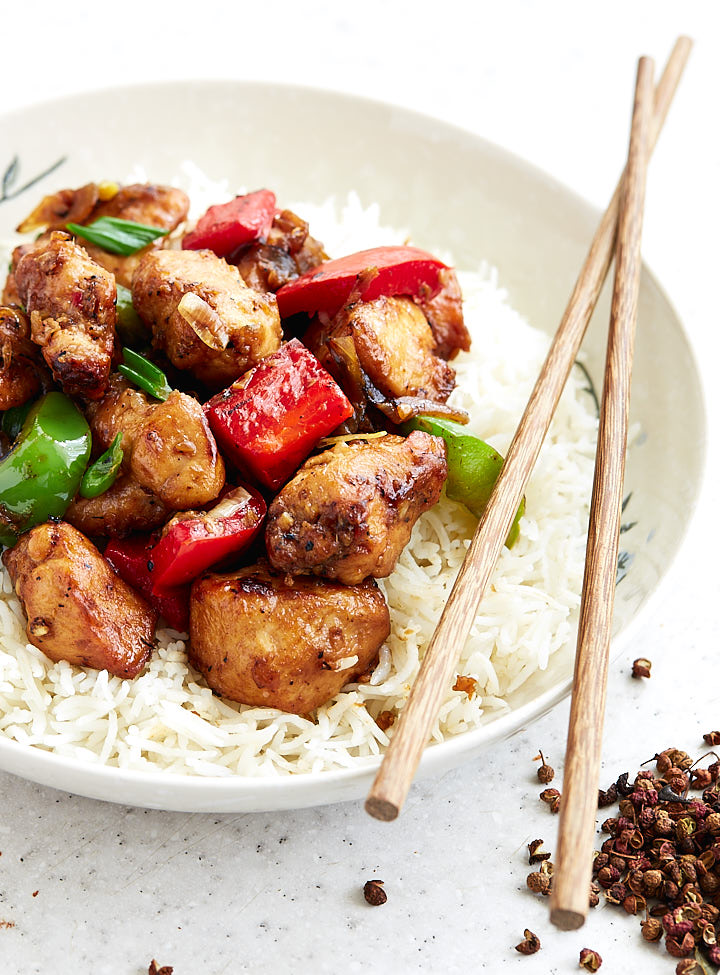 Szechuan chicken is world-famous and there is a good reason for that: once you try it you instantly get hooked on the aromatic, fiery, numbing, and deeply flavorful chicken. If you don't like your food too spicy, you can adjust the amount of heat in this recipe to your liking, from mildly spicy to fiery hot.
This dish is super easy to prepare at home, with all of the necessary ingredients readily available at a local Asian grocery store, Asian section of your supermarket or on Amazon.
Szechuan chicken is chicken prepared using techniques and ingredients from southwestern China's Sichuan province. The most prominent features of this cuisine are garlic, chili peppers and, of course, Sichuan pepper.
In contrast to black or white pepper, Sichuan pepper does not create heat in the mouth. Instead, it numbs the mouth. It's this mouth-numbing sensation that distinguishes Szechuan dishes from the rest.  Szechuan chicken is no exception, with its distinct, bold flavors and characteristic aromatics.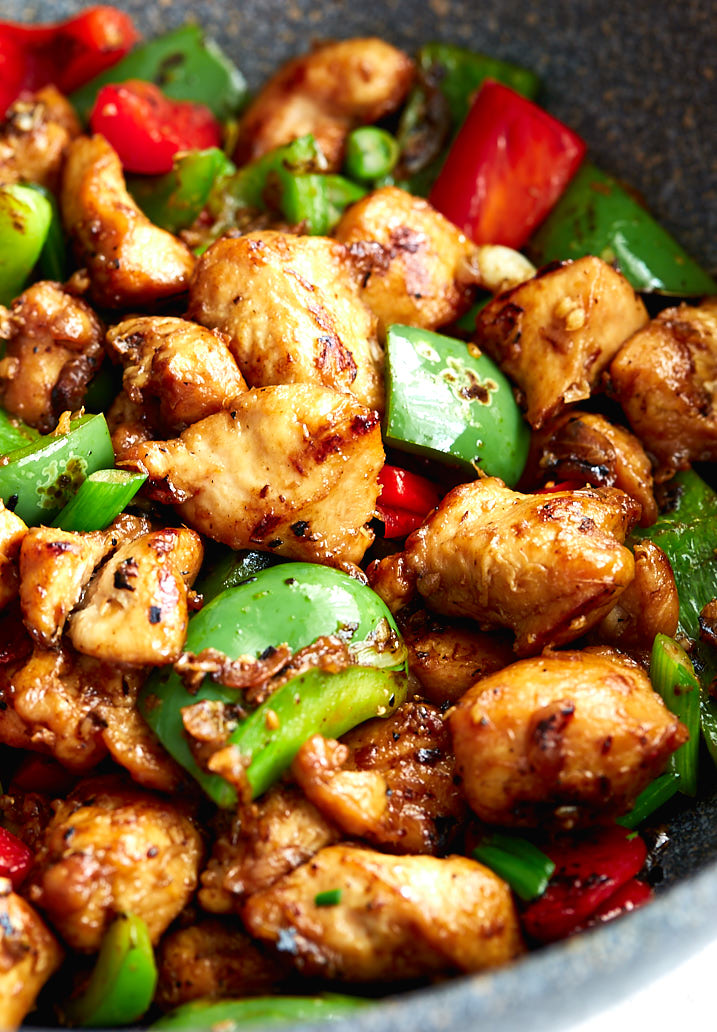 There are many different ways to prepare Szechuan chicken, including deep-frying and stir-frying, the most well-known of them being Kung Pao chicken. This particular recipe is a fairly common version that is based on several excellent recipes that I tried and combined together to come up with a recipe that is easy to make, tastes exceptionally well and that stays true to authentic flavors.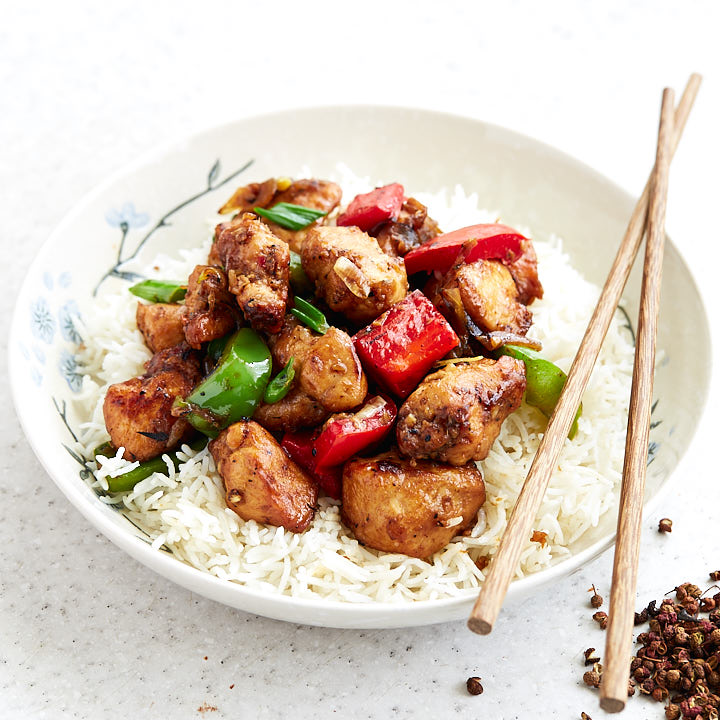 The single most important ingredient in this recipe is Sichuan pepper, and it cannot be substituted. It gives the dish it's numbing sensation and the peculiar flavor that no other pepper is able to imitate. Sure, you can use ordinary black peppercorn as a substitute but it will not be even close in the flavor department. If you are looking for that authentic flavor, do your yourself a favor and get the real deal.
Sichuan peppercorns are sold at most, if not all, Asian supermarkets. They are about the same size as their black brethren but have a dark reddish-brownish tint to them. At my local Asian grocery store they are labeled simply as 'dried pepper', but you will recognize them immediately just by looking at them.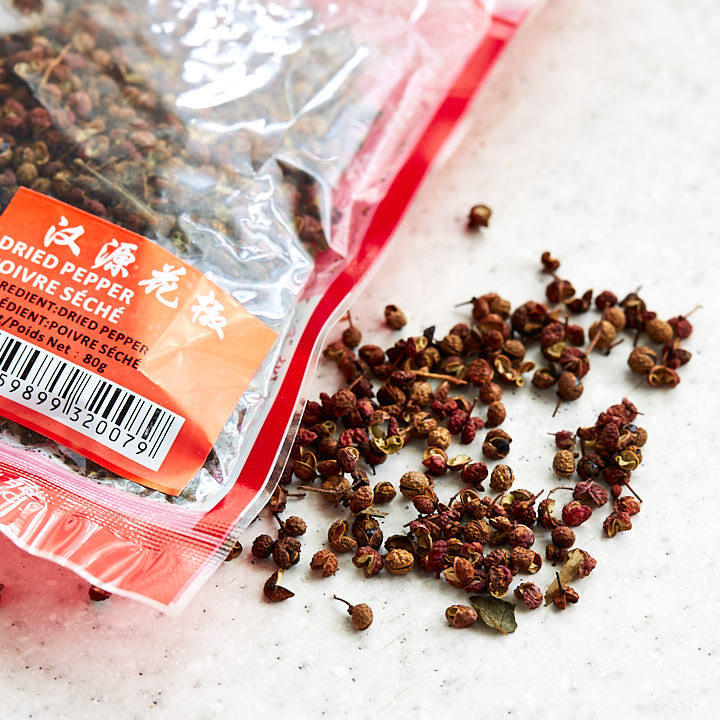 Chilies or chili oil is what gives the Szechuan chicken it's spiciness. I like using chili oil as it allows for a very even heat distribution. No chance of biting into a chili pepper by accident. One teaspoon of chili oil results in a very mild, pleasant spiciness that is appropriate even for those who don't like spicy food.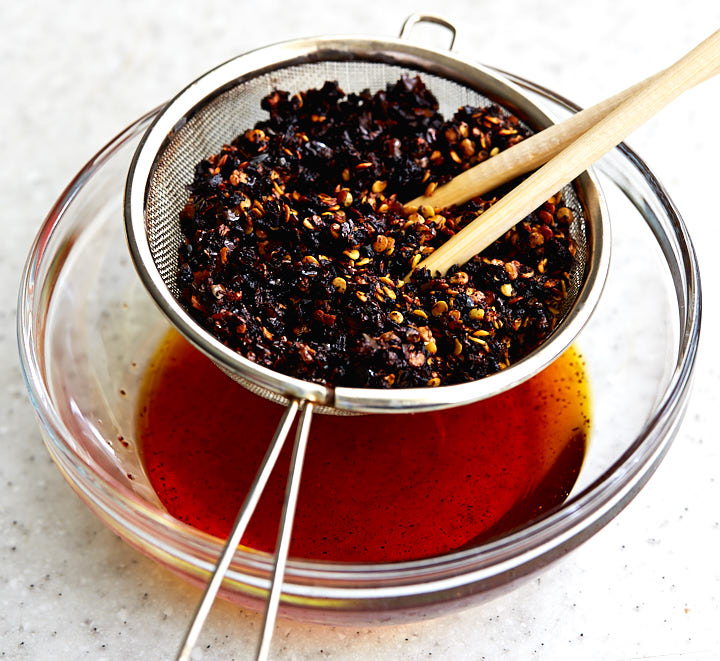 Two-three teaspoons will kick the heat up to medium and so forth. Adjust to your taste. While stir-frying is definitely an option, my preferred way to cook chicken for this dish is by deep-frying. Only deep-frying gives me the most 'crispy on the outside, super tender and juicy on the inside' chicken meat.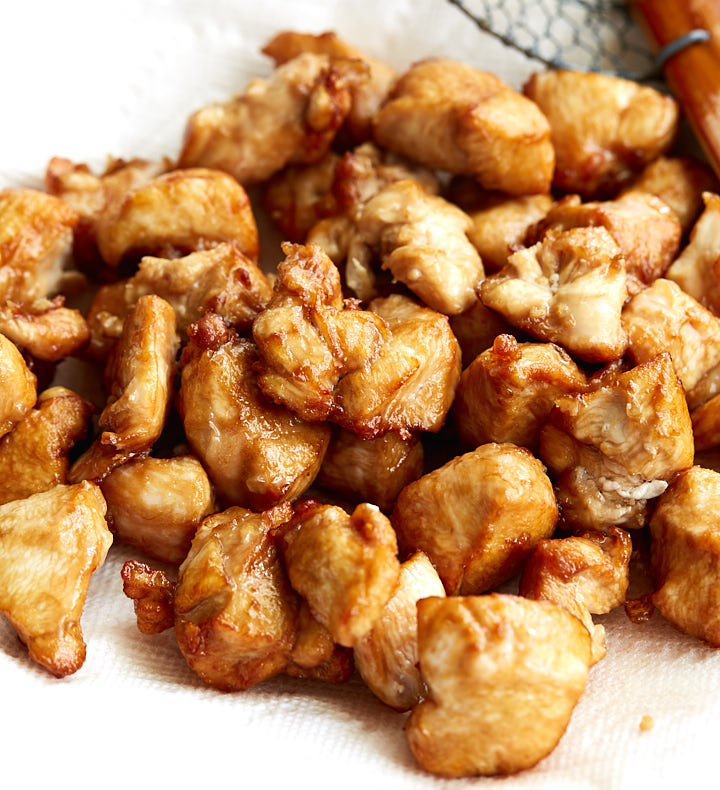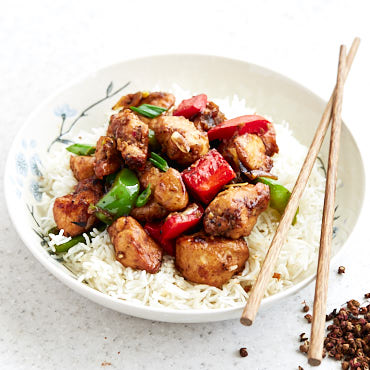 Ingredients
4

boneless skinless chicken breasts

(or 1 lb of chicken thigh / leg meat, cut into bite size pieces)

1

red bell pepper

(cut into 1-inch pieces)

1

green bell pepper

(cut into 1-inch pieces)

4

green onions

(scallions, cut into 1/2" pieces on the diagonal)

Cooking oil for deep-frying and stir-frying
For the marinade:
1

Tbsp

low sodium soy sauce

1/2

Tbsp

Chinese cooking wine

(see notes)

1/4

tsp

salt

1/2

tsp

finely crushed or ground Sichuan peppercorns

2

Tbsp

corn starch
For the chili oil:
1/4

cup

peanut oil

(you may also use canola oil)

2

Tbsp

dried red pepper flakes
For the sauce:
1 1/2

tsp

Sichuan peppercorns

(finely crushed or ground)

1

Tbsp

ginger

(minced)

5

cloves

of garlic

(minced)

3

small shallots

(thinly sliced)

1

Tbsp

low sodium soy sauce

1/2

Tbsp

Chinese cooking wine

(see notes)

1

tsp

sea or kosher salt

1/4

tsp

sugar

1

Tbsp

sesame oil
Instructions
To prepare the chili oil, place the dried red pepper flakes into a small bowl. Heat the oil in a wok or a small saucepan until you see a swirl of white smoke coming out from it. Pour the oil over the dried red pepper flakes. Stir to help the pepper release its aroma. Set aside to cool down, then strain into a sanitized container. The chili oil can be prepared up to several days in advance and refrigerated.

In a medium size bowl, combine the chicken pieces with the marinade ingredients. Cover and marinate refrigerated for about 15 minutes.

Heat 2 inches of the oil in a wok or stockpot to 350°F for deep-frying. Gently drop the chicken into the oil and loosen them up immediately with the spatula to prevent the chicken pieces from sticking together. Do not overcrowd the chicken. If necessary, perform this step in batches.

Deep-fry the chicken to a light golden brown color. If using an instant read thermometer, the internal temperature of the chicken should be 160-165F. Remove the chicken with a strainer or a slotted spoon and place on a dish lined with paper towels to remove excess oil. Discard or reserve the oil for use in other recipes.

To stir-fry, heat one tablespoon cooking oil and one teaspoon chili oil (or more if you like your chicken more spicy) in a wok or skillet. Add the garlic, stir quickly. Add the ginger and stir quickly. Turn the heat down to medium, add the sliced shallots and the crushed Sichuan peppercorns. Stir-fry for about 3 minutes until the shallots turn golden brown. Add the rest of the sauce ingredients and continue cooking for another minute or so, until the sauce thickens.

Add the bell pepper and continue sauteing for about 3 minutes, until the peppers soften up.

Return the chicken to the wok or skillet and add the green onions. Stir quickly with a spatula to combine all the ingredients in the wok or skillet. Taste for spiciness. Add more chili oil if needed and stir.

Serve immediately with steamed jasmine rice.
Notes
You can use either plain rice wine or Shaoxing rice wine, whichever you prefer. You can substitute Chinese cooking wine for dry sherry if you don't have access to rice wine. Alternatively, you can use vinegar. I've used Chinese Shanxi aged vinegar with great results.
This recipe is inspired by Easy Chinese Recipes.