For a quick weekday dinner it's hard to beat chicken francese. It's a gourmet dish that costs only a few bucks and takes minutes to prepare. Served with smothered cabbage it's a winning combination that's hard to resist. Chicken francese has a number of similarities with Chicken Piccata Pasta, but what sets it apart is the golden brown crust. This recipe in particular uses a little trick to achieve the best tasting, crispiest crust ever as far as pan-fried chicken francese goes.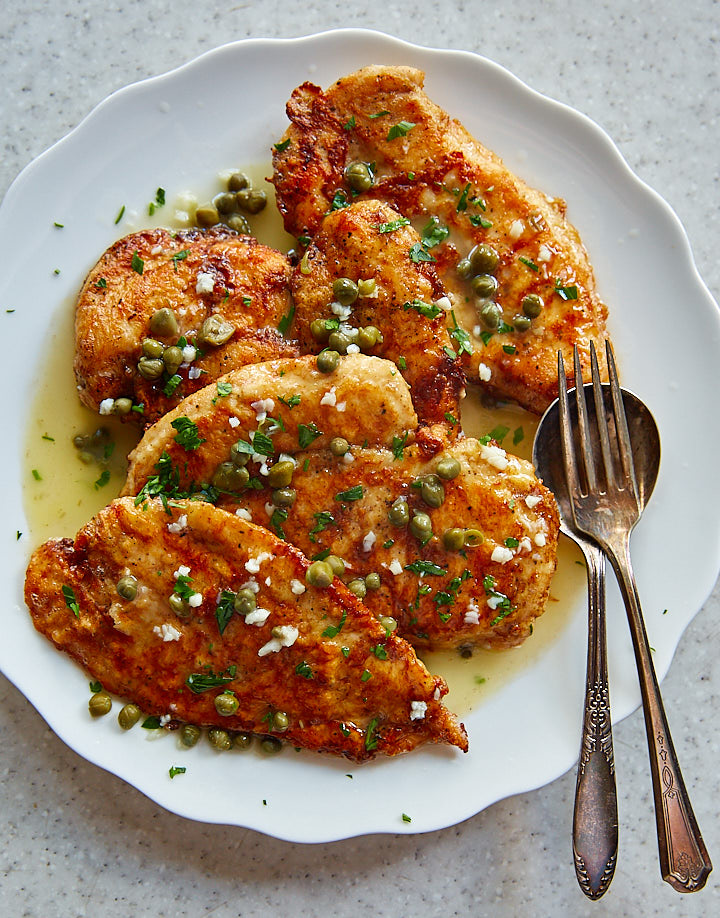 Chicken francese, despite the name, is a 100% American dish. Supposedly, it was invented in 1970s in a small restaurant of Rochester, NY and has since been made all over the US and beyond. As I mentioned above, if you are a fan of chicken piccata, chicken francese will offer you similar lemony tang with buttery mouth feel. Only it does more, it comes with a beautifully browned crust, soaked in a delightful lemony-garlicy-buttery sauce.
Unlike the majority of traditional chicken francese recipes, this recipe uses cornstarch for dredging. If you've been using flour, stop and try cornstarch. Flour absorbs oil, cornstarch blocks oil absorption. My experiments proved that cornstarch beats flour for dredging if you are looking for a gorgeous, crispy crust.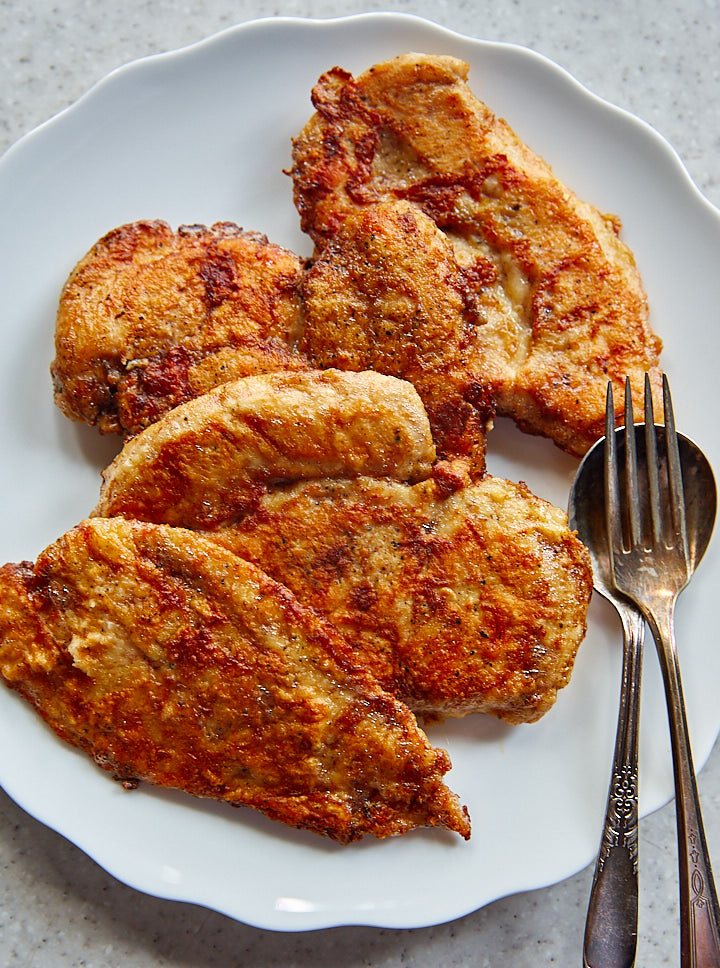 To take it a step further, I double dredge. First in cornstarch, then in egg wash, then in cornstarch again. My mom and grandma used this method to make the most delicious breaded pan-fried pork chops. It works for chicken just as well.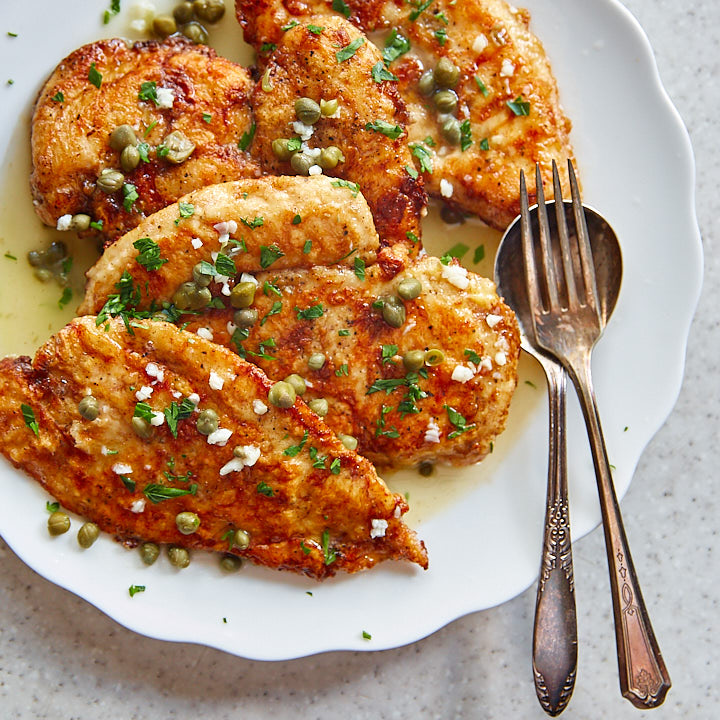 I highly recommend trying this dish with smothered cabbage.  This combination proved to be the bomb.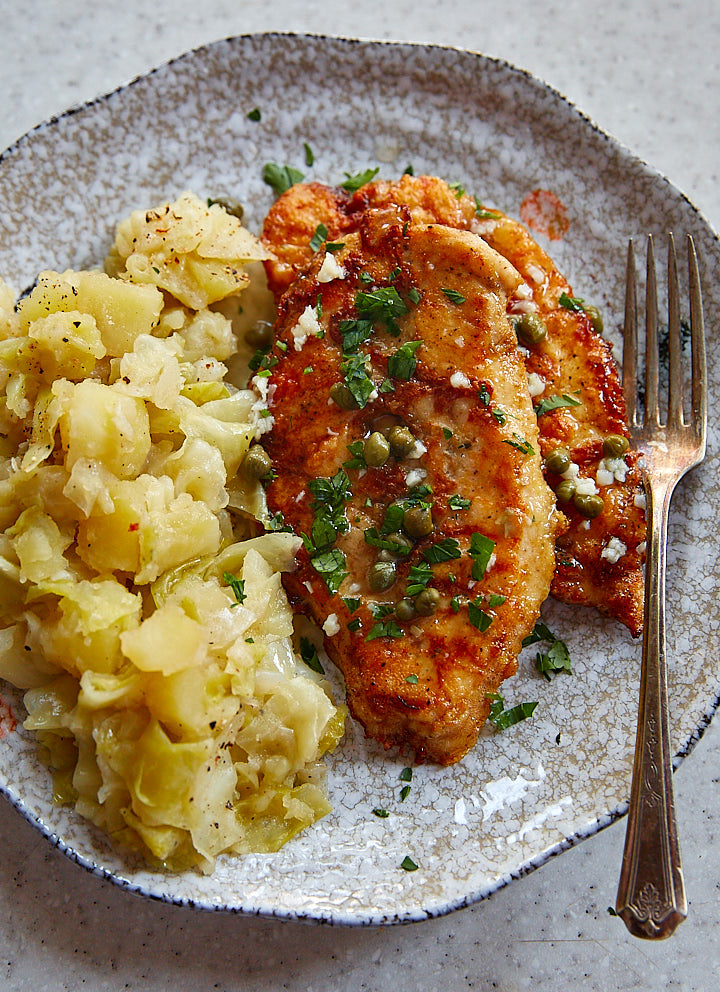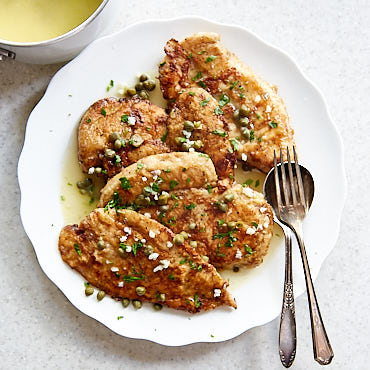 Ingredients
4

boneless

skinless chicken breasts

3/4

cup

cornstarch

2

large eggs

2

Tbsp

water or milk

1

cup

chicken broth

½

cup

dry white wine

e.g. Pinot Grigio

6

Tbsp

unsalted butter

cut into 6 pieces

2

Tbsp

capers

3

garlic cloves

minced

Lemon juice from 1/2 a lemon

2

Tbsp

chopped fresh parsley

1

tsp

all-purpose flour

optional

Salt and ground black pepper
Instructions
Using a sharp knife, cut the chicken breasts in half lengthwise. Thinner breasts will be much easier to pound down to 1/4" thickness. Small chicken breasts are thinner and don't need to be cut in half. Place the breasts between two sheets of plastic wrap and gently pound them until they are about 1/4" thick. Set aside.

To prepare the egg wash, in a small bowl, whisk together milk (or water) and eggs. Set aside.

In a separate bowl, combine the broth, wine, lemon juice, one teaspoon each cornstarch and salt, and whisk until all ingredients are blended together. Set aside.

Place the rest of the cornstarch in a shallow dish for dredging, add two teaspoons salt and one teaspoon black pepper, whisk and set aside.

Pat the cutlets dry with paper towels and season with salt and pepper. Dredge each cutlet in cornstarch, shaking off excess, then dip in egg mixture to coat, letting excess to drip off, then dredge in cornstarch again and set aside on a large platter or a baking sheet in a single layer.

Heat two tablespoons of butter in a large skillet over medium-high heat. Carefully add 4 cutlets and cook until golden brown and cooked through, about 2 to 3 minutes per side. Transfer to a platter. Repeat this step with the remaining four cutlets.

Add the garlic and the capers to the skillet and cook for 30 seconds. Add the broth mixture and bring to a boil and cook for about 5 minutes, until reduced by half.

Meanwhile, if you want the sauce to be thicker, knead 2 tablespoons of butter with 1 teaspoon of flour. Otherwise just use plain butter. Add the butter to the pan and stir well until the butter is incorporated into the sauce. Remove from heat and set aside.

Place the chicken cutlets on a serving platter and spoon the sauce over the chicken. Garnish with chopped parsley and serve.
Notes
If necessary, you may use one of the following methods below to keep the chicken warm, although if you work quickly it's not necessary. Keep in mind that keeping cooked chicken in a warm oven may overcook it and reheating it in sauce will impact the crust.
1. Return the chicken to the sauce after the butter was incorporated and simmer for 2 minutes over low heat. Transfer the chicken to a platter then pour the sauce over the chicken.
2. Preheat the oven with a baking sheet inside to the lowest temperature setting, usually 175F or so. Place the cooked chicken on the baking sheet while you are working on the sauce. Once the sauce is done, place the chicken on a serving platter and top with the sauce and chopped parsley.