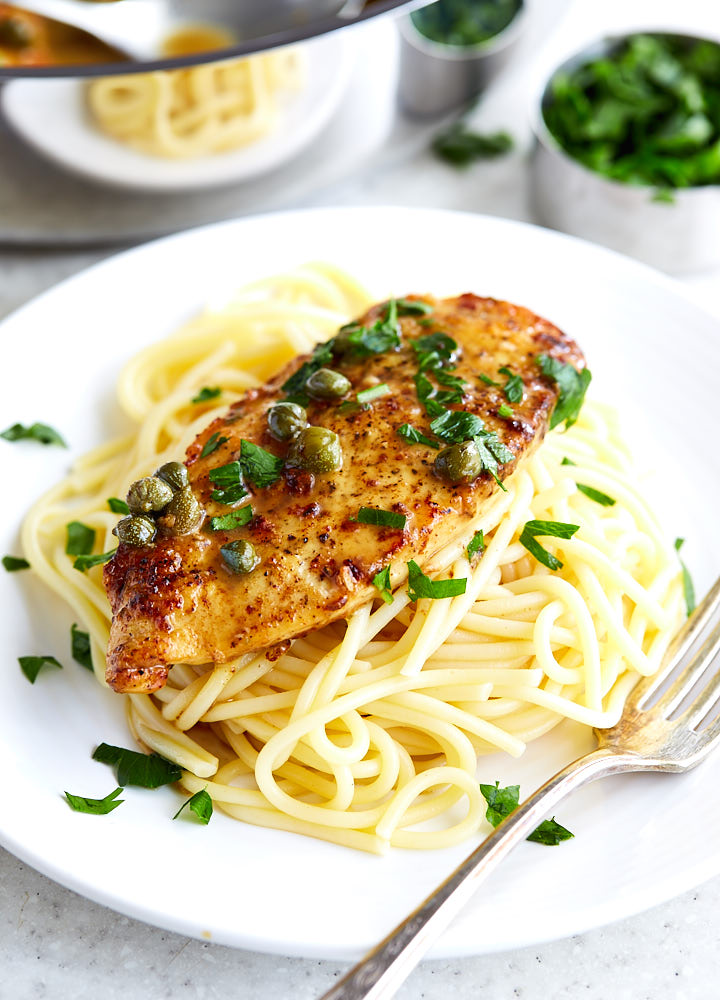 This easy chicken piccata pasta is one of those genius recipes I am so fond of. The entire dish can be made in under 20 minutes with the ingredients that you most likely have on hand! Serve with freshly made pasta and you have a complete, great-tasting gourmet dinner.
Piccata is one of those dishes that I've heard a lot about but never came around to trying or making. I know, this sounds strange coming from someone who blogs about food. But, hey, there is no shame in that. There is always a first time for everything and there are lots of new recipes to look forward to.  Though, I suspect I might know what the reason is.
You see, piccata is made with a fair bit of lemon juice and capers, making the dish taste tart. Until recently I have been of the opinion that chicken piccata is somewhat of a polarizing dish: you either love it or hate it. I once tried lemon chicken at a friend's party and... quite disliked it. The acidity and the bitterness were overbearing. Perhaps, that's what caused me to stay away from anything that has chicken and lemon in the name.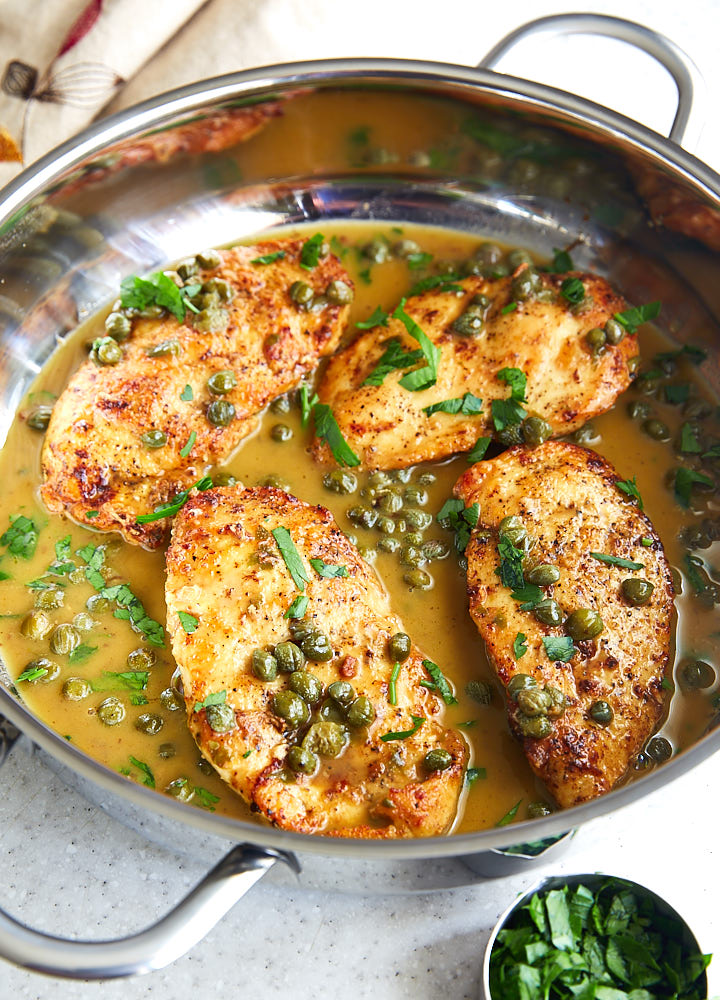 According to Wikipedia, piccata, when used in reference to a way of preparing meat, means "sliced, sautéed, and served in a sauce containing lemon, butter and spices". When you saute the lemon juice with chicken stock, butter and spices, it transforms. You can taste a fair amount of tartness but it's not overpowering. Instead, the sauce tastes very balanced and so tasty that you can just drink it by itself. This is my measure of a good sauce, marinade, pickling juice, etc. If I love it on its own and want to drink it, it's good.
So far we've been crazy about this piccata recipe. The whole family. In the last two weeks we've made it 5 times. It's awesome! And it's so quick and easy to prepare. The recipe is virtually fail-proof. Just make sure you stock up well on pickled capers and spaghetti, because you will be making this dish over and over. I guarantee it!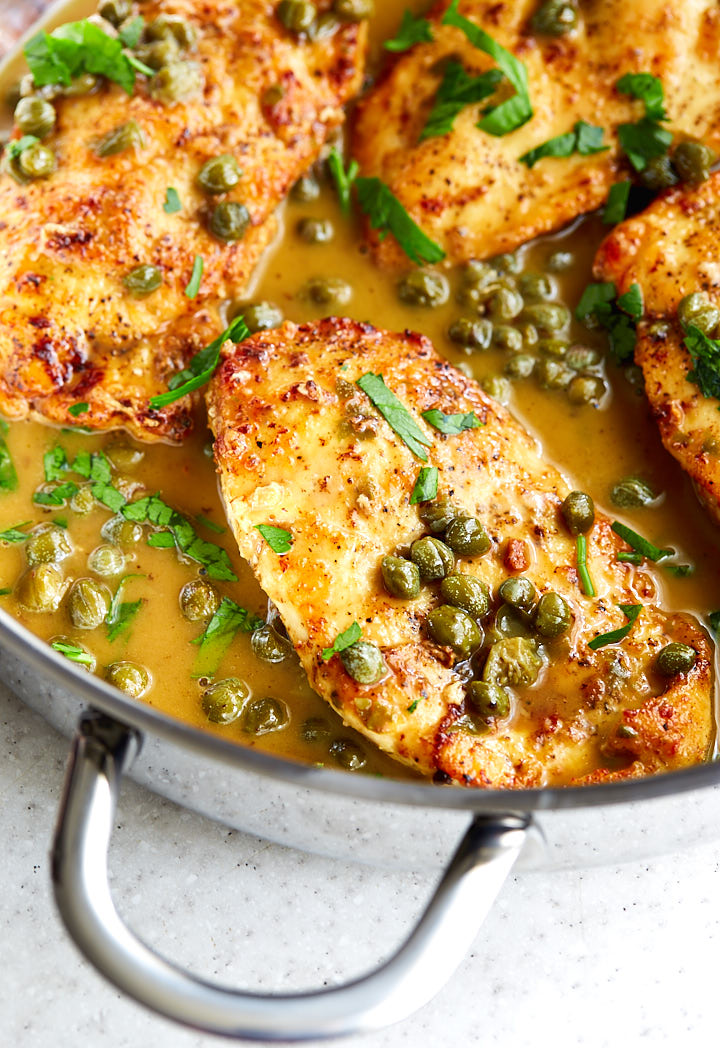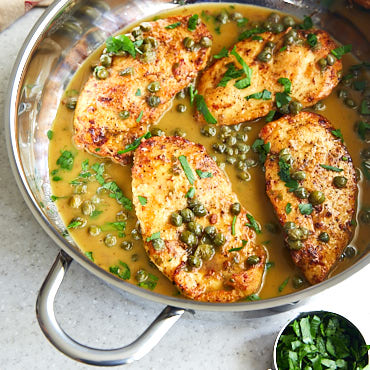 Ingredients
2

skinless

boneless chicken breasts, cut in half lengthwise

Sea or kosher salt and freshly ground black pepper to taste

About 1/2 cup all-purpose flour

for dredging

6

Tbsp

unsalted butter

5

Tbsp

extra-virgin olive oil

1/3

cup

freshly squeezed lemon juice

1/2

cup

chicken stock

1/4

cup

brined capers

rinsed

1/3

cup

fresh parsley

chopped
Instructions
Start heating water in a large pot to make spaghetti for your chicken piccata. Once water starts to boil, drop the spaghetti in and prepare the chicken piccata in parallel.

Season the chicken breasts with salt and pepper. Dredge in flour, shake off excess and set aside.

Preheat a large skillet over medium high heat. Melt 4 tablespoons of butter with 5 tablespoons of olive oil. When butter and oil start to sizzle, add the chicken breast and saute for 3 minutes per side, until the chicken is nicely browned (see the note). Take the pan off the heat , remove the chicken and set aside.

Carefully pour the lemon juice and the chicken stock into the pan. Add the capers. Return the pan to the heat and bring to boil, scraping up brown bits from the pan for extra flavor. Taste and adjust the seasoning, if needed.

Put the chicken breasts back into the pan and simmer over low heat for 5 minutes. Remove the chicken and set aside. Add the remaining 2 tablespoons of butter to the sauce and whisk really well.

To serve, make a bed of spaghetti on a plate, add one chicken breast, pour 2-3 tablespoons of the sauce over the chicken and top with chopped parsley.
Notes
The original recipe suggests browning the chicken in two batches. If that's what you want to do, use half the butter and and the oil per batch. I personally like browning all four chicken pieces at once and have had no problems with doing that.