When I want to make something quick, healthy and delicious I often turn to chicken breasts, as many others I am sure. Oven roasted chicken, first pan seared on the stove, is one of my favorite quick dinners. It packs a ton of flavor and has a beautiful crispy skin. It's almost as crispy and flavorful as the grilled breast.
Chicken breasts can't be beat. They save the day. I always have a few vacuum sealed breasts in the freezer, ready to be quickly defrosted in a bowl of cold water and cooked.

And if you want a complete meal, just throw in some veggies before putting the chicken in the oven. This time of the year I love using new potatoes. They are so buttery tender and delicious that I just can't pass on them.

Pan searing chicken breasts is a must. That's where most of the flavor comes from. That's where crispness comes from too. The good news, it only takes 5 minutes to do that. To get the best sear you need to use skin-on chicken breasts. Skinless breasts don't sear as well and tend to dry out during the process.

Potatoes, unfortunately, won't be in the oven long enough to get fully cooked, so you need to pre-cook them in advance.  Or you can use leftover cooked potatoes from the fridge.

As the roasting time in this recipe is fairly short due to high temperature, consider using a BBQ thermometer such as ThermoPro TP07 or ThermoPro TP08. This will ensure that you don't overcook your chicken. You can read more about how I use my BBQ thermometer to cook chicken breasts at the end of the 12 Best Bone-In Chicken Breast Recipes post.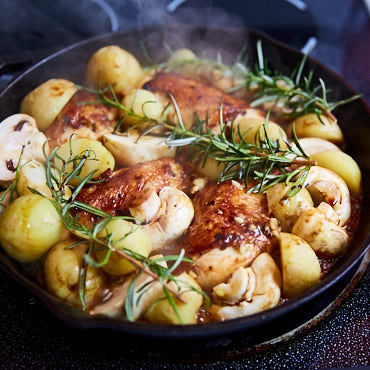 Ingredients
4

skin-on

boneless chicken breasts

8

small new potatoes

scrubbed (or 4 medium potatoes, peeled)

8

medium size mushrooms

cleaned or washed, then cut in half

2-3

rosemary twigs

1

Tbsp

fresh rosemary

finely chopped

1

tsp

crushed red pepper flakes

1

tsp

kosher salt

plus more to taste

2

garlic gloves

pressed

4

Tbsp

good quality olive oil

2

Tbsp

balsamic vinegar

1

Tbsp

lemon juice
Instructions
Preheat the oven to 450F.

Fill a medium size pot half way with slightly salted water. Bring to boil. Boil the potatoes for about 8 minutes. Remove from heat and drain the water. Set aside to cool down a little. Then cut the new potatoes in half. If you are using medium size potatoes, quarter them.

In a medium size bowl, combine chopped rosemary, crushed red pepper flakes, kosher salt, garlic, 2 Tbsp olive oil and 1 Tbsp lemon juice. Add the chicken breasts and coat them with the mixture all over.

Preheat a large cast iron pan over medium high heat. If you are using an

IR thermometer

, the temperature should read about 350F.

Place the chicken breasts, skin side down, on the pan and sear for 5 minutes. Flip the breasts, add the potatoes, mushrooms and rosemary twigs. Add any remaining spice mixture from the bowl. Drizzle the remaining 2 Tbsp olive oil and the 2 Tbsp balsamic vinegar all over the chicken breasts and the vegetables.

Bake at 450F for about 18-20 minutes, uncovered, until internal chicken temperature reaches 165F.

Remove from the oven and let rest for 5 minutes before serving.