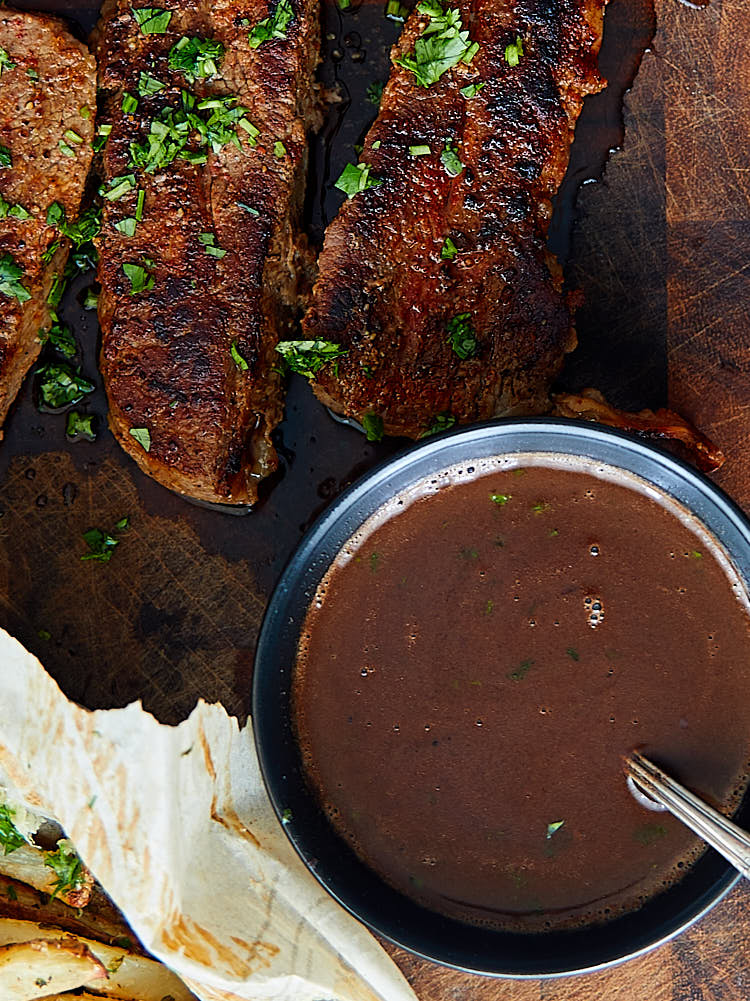 One thing that restaurants do really well and that we home chefs don't, is make use of various sauces. I am not talking about BBQ and hot sauces that come out of the bottle. We use a lot of those here. No, I am talking about really simple, tasty sauces that can be made in minutes and served with that hunk of grilled or pan-seared meat. When was the last time you pan-seared your steak and then used the fat and the bits of meat left on the skillet to make a reduction sauce? I haven't been doing much of that myself and only do it when a recipe calls for it. That's a big mistake on my part and I have been working on correcting it lately.
You may say that a good meat cut that is juicy and flavorful doesn't need any sauce to taste good. That may be true. Even if you take a really flavorful cut, wouldn't a good sauce make it taste even better? I say: definitely! I'll serve the sauce on the side. That way I will enjoy the pieces of steak that are nicely caramelized as is, to savor that smoky flavor. I will dip the less caramelized pieces in the sauce and enjoy the meat with boosted flavor. It's the best of both worlds.
For less flavorful steaks, like tri-tip, I will pour the sauce all over them and serve them like that. They need it and they taste amazing with it.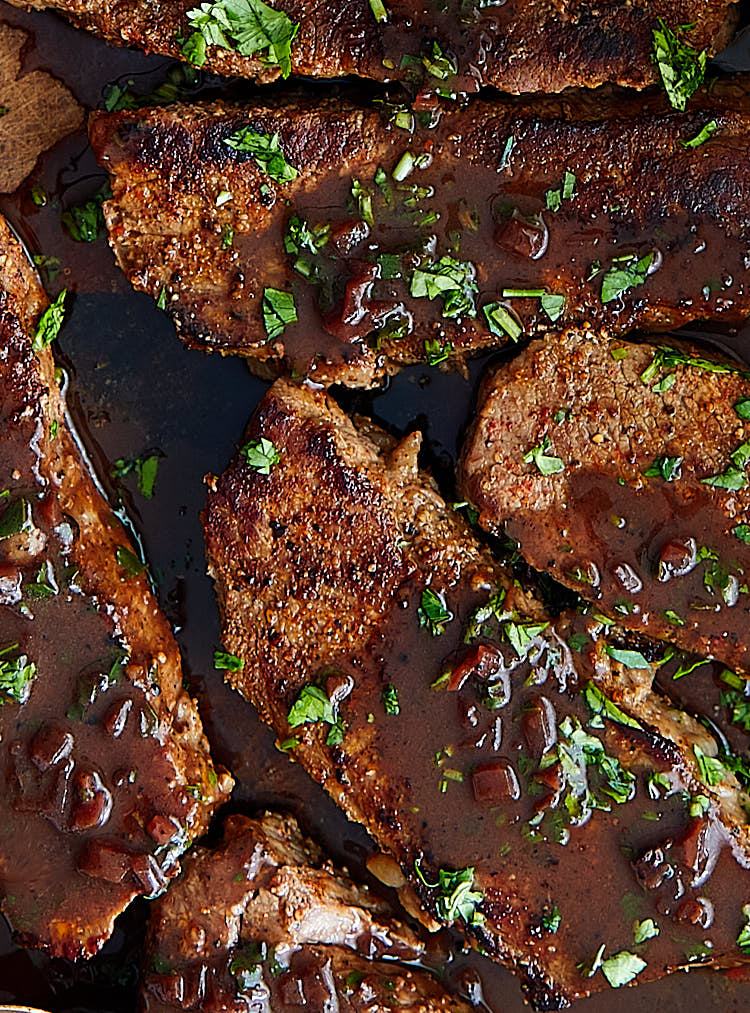 My most favorite sauce to serve with beef and lamb is red wine sauce that is so simple to make that a lot of people are quite surprised when I tell them the steps. To make this sauce you will need a cup of good red wine and a handful of basic ingredients that can be found in 90% of home kitchens. Then 5 minutes of cooking and the sauce is done. You can make it while the steaks are resting during the mandatory 5-10 minute rest. Simple as that.
So, the next time you are making your stove-top steaks, make this red wine pan sauce. I can guarantee that you will love it.
Enjoy!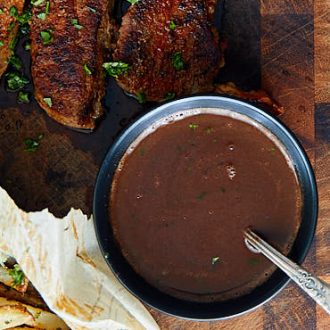 Ingredients
1

large shallot

(minced)

4

Tbsp

unsalted butter

1 1/2

tsp

all-purpose flour

1

cup

beef broth

(can be substituted with chicken or vegetable broth)

1

cup

dry red wine

(use good quality wine)

1

Tbsp

Dijon mustard

1

Tbsp

minced fresh cilantro

(or substitute with fresh parsley if you like)

1

tsp

freshly squeezed lemon juice

Kosher salt

(to taste)

Freshly ground black pepper

(to taste)
Instructions
After pan-cooking steaks or other meat, turn the heat down to medium and remove all but one tablespoon of fat. If there is none, add a tablespoon of butter.

Add the minced shallots and cook, constantly stirring until softened. About 1 minute.

Add 1 tablespoon of butter and add the flour. Continue cooking, stirring constantly for about 30 seconds.

Slowly add the stock, the wine, and the mustard. Stir the sauce, scraping off the browned bits off the bottom of the pan with the spoon.

Bump up the heat to high and let the sauce simmer until reduced to 1 cup, about 5 minutes.

Remove the pan from heat and add the parsley, lemon juice, and the remaining 3 tablespoons butter and whisk until all ingredients are well combined.

Season with salt and pepper to taste and serve with red meat.