Did you know that you could make a Dutch baby in an air fryer? It's very easy and the cooking time is much less than in a conventional oven. Besides, almost everything cooked in an air fryer just tastes better. An air fryer Dutch baby is no exception.

What do you need to make an air fryer Dutch baby?
To make a Dutch baby in an air fryer, you will need an air fryer and a cast iron pan.
There are dozens, if not hundreds, of air fryer models out there. Some are smaller, some are larger. A larger air fryer is what you will ideally want to use.
You will also need a mini cast iron pan such as the 5″ Lodge cast iron pan, the 6″ Lodge mini cast iron pan, or the 5.5″ Pampered Chef dual-handle mini pan. Another option is the 6.25″ TableCraft cast iron mini server that is only 8.125″ long including the handles and fits in my air fryer just fine.
For example, mine is a 6.8 Qt Chefman air fryer that is about 11″ by 11″ inside. It fits a 5″ Lodge cast iron pan, which is perfect for making a single-portion Dutch baby. I could even fit the 6″ Lodge mini cast iron pan. It might be tight but it should fit.
Alternatives
All is not lost if all you have is a small (e.g. 3.5 Qt) air fryer. In a pinch, use oven-safe ramekins. I've used them myself and they work. Albeit, Dutch babies made in ramekins seem to rise less and tend to be thicker at the bottom. They even look like a cross between a Yorkshire pudding and a Dutch baby, but they still taste great.
Making Dutch babies in an air fryer
Step one is to preheat the cast iron pan inside the air fryer. Place the cast iron pan on the air fryer basket/rack and preheat the air fryer to 400 degrees Fahrenheit for 10 minutes. According to my tests, this time is sufficient to preheat a pan to about 380F – 400F. If your air fryer can heat up higher, mine goes up to 410F, then preheat it to that temperature. Don't go higher than 425F.
While the air fryer is preheating, prepare the batter. You can prepare the batter by hand, using a whisk, in a blender, or a stand mixer. The results will be the same.
Next, melt a tablespoon of butter in the pan, moving it around to get full coverage. Wait until the butter is melted.

The next step is to pour some batter into the pan inside the air fryer. The recipe below will make about 4 servings or four single-portion Dutch babies. Pour just enough to cover the bottom of the cast iron pan. Close the lid of the air fryer and set the timer to 7 minutes. Your timing may vary as different air fryers may cook differently so start checking for doneness after 6 minutes.

The amount of batter that you pour does not need to be precise. Shoot for 1/4 of the recipe if using a 5″ pan. More if using a larger pan, e.g. 1/3 of the recipe if using a 6″ inch pan. If you are using a larger than 5″ pan, you will need to air fry your Dutch babies for a little longer.
I've experimented with pouring less vs pouring a little more and found that my Dutch babies all turned out very well except that those with more batter had thicker bottoms. It's not necessarily a bad thing, they tasted very good. They rose higher too.

Once the Dutch baby is tall and golden brown with crispy tops, carefully pull it out of the air fryer.
You have two options here – take the Dutch baby together with the cast iron pan and set it on a cooling rack or remove just the Dutch baby and leave the pan to cool down inside the air fryer.
Or you can start preheating it for the next batch. Since the pan will be quite hot already, it will take only about 5-6 minutes to fully preheat it again. If you have a laser thermometer, this would be a good time to pull it out. You are looking for temps around 380F – 400F.
Serving
The possibilities are numerous here. I like my Dutch babies topped with fruit, berries, and powdered sugar. Honey, maple syrup, strawberry jam, corn syrup, whipped cream are very good additions too.
Serve your Dutch babies while they are hot. They will drop down as they cool so the sooner you eat them, the more you will get;)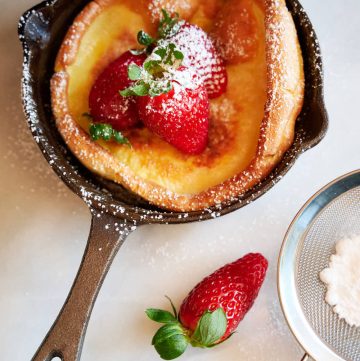 Air Fryer Dutch Baby
How to make Dutch baby in an air fryer.
Print
Pin
Ingredients
4

eggs

1/2

cup

milk

1/2

cup

all purpose flour

1/4

tsp

kosher salt

or sea salt

2

tsp

corn starch

1

tsp

vanilla extract

optional

Butter for cooking.

Fruit, berries, syrups, and/or powdered sugar for serving.
Instructions
Place a 5" Lodge cast iron pan inside your air fryer. Preheat the air fryer at 400F for 10 minutes.

Using a blender or a hand mixer, mix eggs and milk together. Add flour, corn starch, vanilla extract and salt, and continue mixing until all ingredients are mixed well.

Open the air fryer and, being very careful – the pan will be very hot, place a tablespoon of butter in the preheated pan. Move the butter with a fork or a knife to get even coverage.

Carefully pour about a quarter of the batter into the hot pan, making sure not to splatter batter on the sides of the pan. Close the air fryer and cook at 400F for 7 minutes. Start checking for doneness after 6 minutes as different air fryers cook differently. The Dutch baby pancake will puff up around the edges and sometimes around the center. Do not open the air fryer too early as it may cause the dough to collapse and your Dutch baby will look more like a traditional flat pancake.

Once your Dutch baby is done baking, remove the pan from the air fryer being very careful as the pan will be very hot, and set it on a cooling rack. Alternatively, take the Dutch baby out with a fork or tongs, and leave the pan inside if you want to make more Dutch babies.

Place the Dutch baby onto a serving plate. You can also serve it on the mini cast iron pan placed on a trivet. Top with condiments (berries, fruit, powdered sugar, maple syrup, etc.) and serve hot.
Nutrition
Calories:
129
kcal
|
Carbohydrates:
15
g
|
Protein:
7
g
|
Fat:
4
g
|
Saturated Fat:
2
g
|
Polyunsaturated Fat:
1
g
|
Monounsaturated Fat:
1
g
|
Trans Fat:
1
g
|
Cholesterol:
126
mg
|
Sodium:
206
mg
|
Potassium:
104
mg
|
Fiber:
1
g
|
Sugar:
2
g
|
Vitamin A:
228
IU
|
Calcium:
56
mg
|
Iron:
1
mg