I love bacon but I hate the mess it makes when pan-frying it. Many people suggest baking it, that it works like magic. It does! But I learned that there are a few tricks to make oven-baked bacon perfect every time. So, here is my quick 'how to make bacon in the oven' guide that will help you get the best-tasting bacon out of your oven.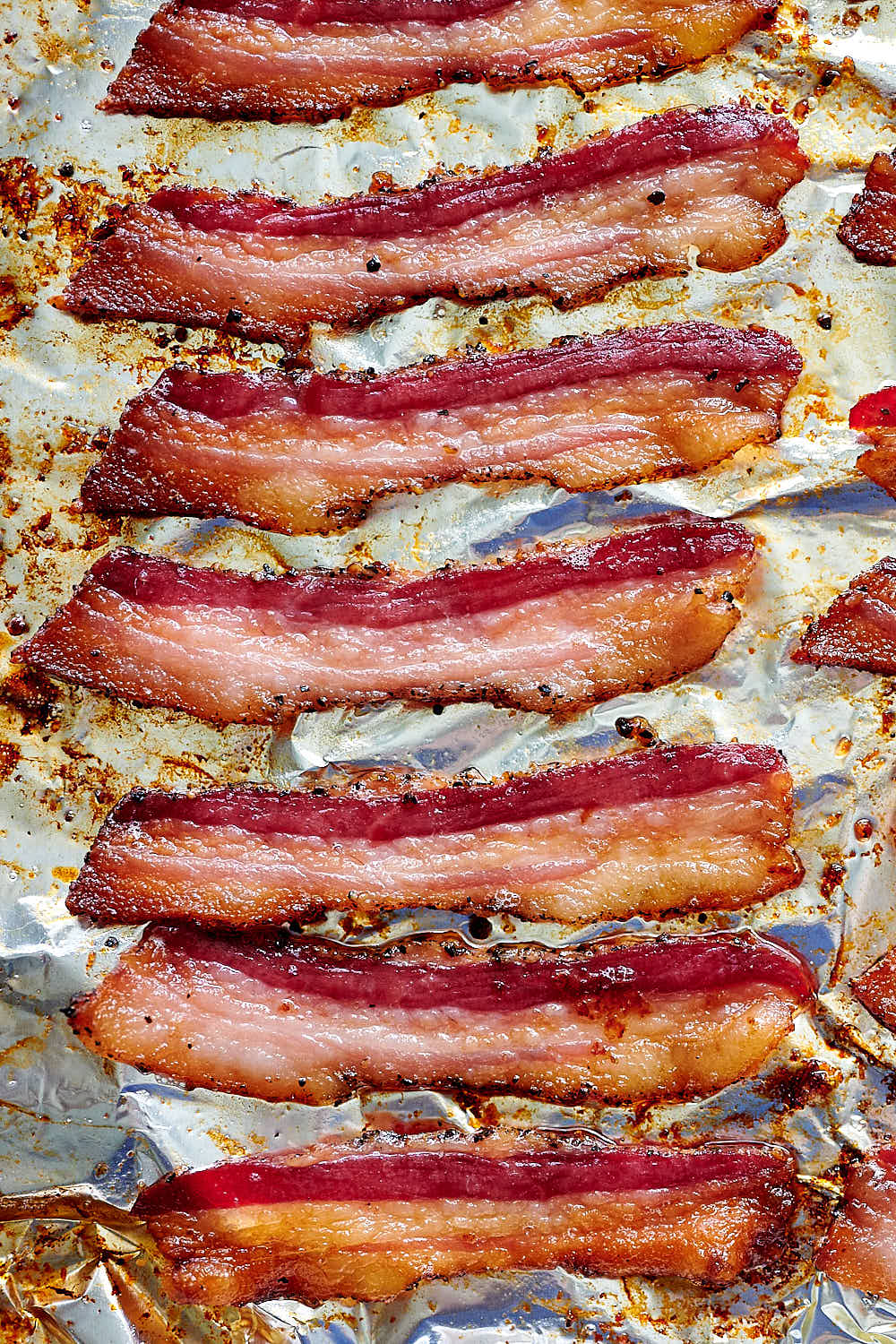 The bacon
Ok, this goes without saying but I am gonna say it again: get the best bacon you can if you want awesome tasting bacon. Artisan, dry-cured, smoked, old-fashioned - are the keywords to be looking for. Or make your own bacon, it's very easy.
Go for thick-cut bacon if possible. Thick-cut bacon makes a better bite, mouthfeel and chew. Thin bacon becomes paper-thin in the oven, it's not fun to eat.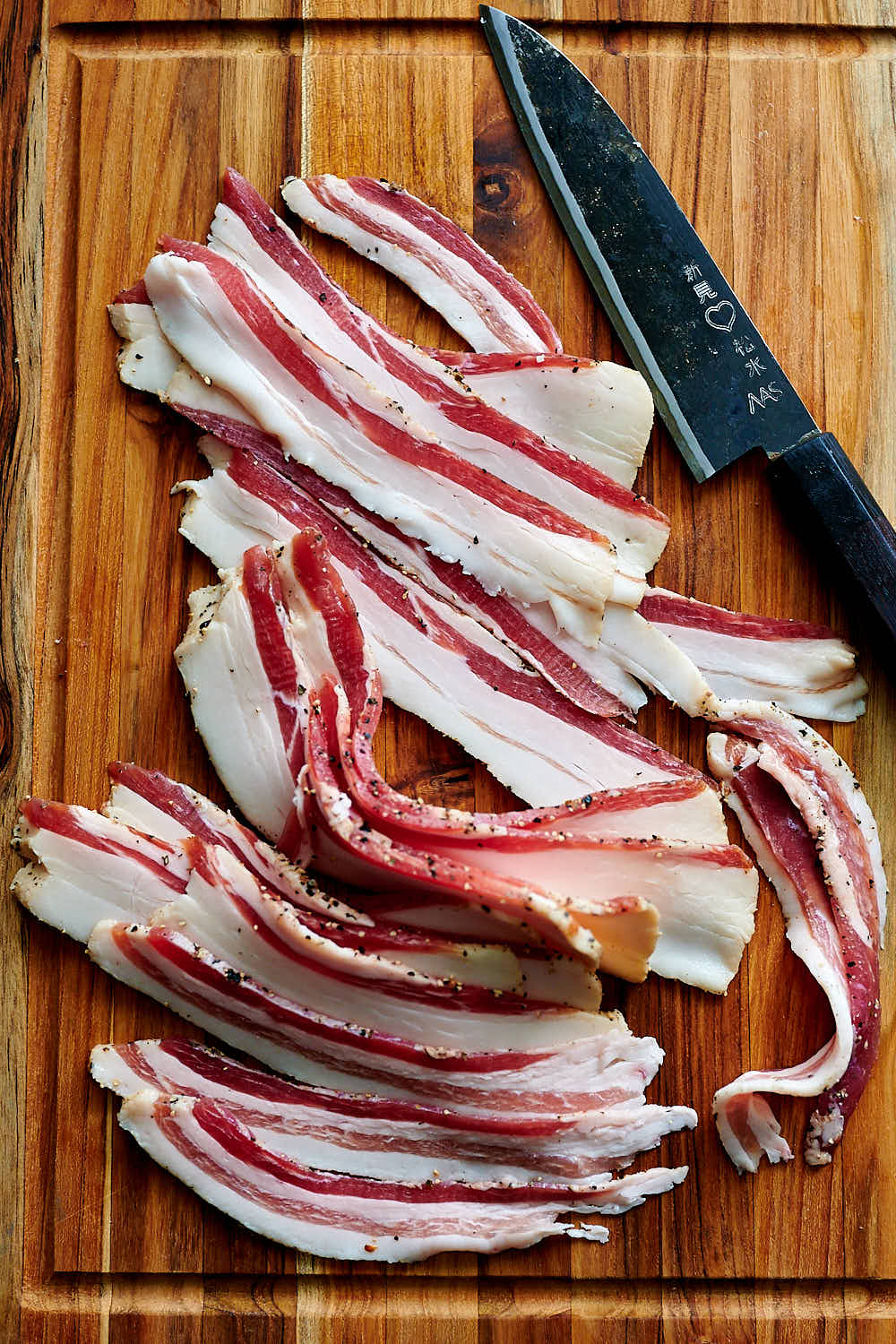 The equipment for baking bacon
An oven and a large, heavy-duty baking sheet lined with heavy-duty aluminum foil is all you need.
A heavy-duty baking sheet is a must. Thin, cheaply made baking sheets may wrap in the oven, causing rendered bacon fat to spill. You don't want that!
Similarly, heavy-duty aluminum foil won't rip when lining the baking sheet or when removing it. When foil rips, there will be a mess. When using heavy-duty foil, all you have to do is remove it and throw it in the garbage. No need to wash the baking sheet.
Baking bacon on a cooling rack
This one is a BAD idea! For several reasons. Firstly, you will have a greasy rack to wash. Secondly, bacon cooked in own fat browns and tastes way better. Finally, bacon cooked in bacon fat won't dry out.
How much bacon to cook?
Yes, you can over-crowd a baking sheet with bacon and it won't brown and crisp up properly. I like leaving about 1/2" of space between raw bacon slices. This gives bacon enough 'breathing room' for proper browning.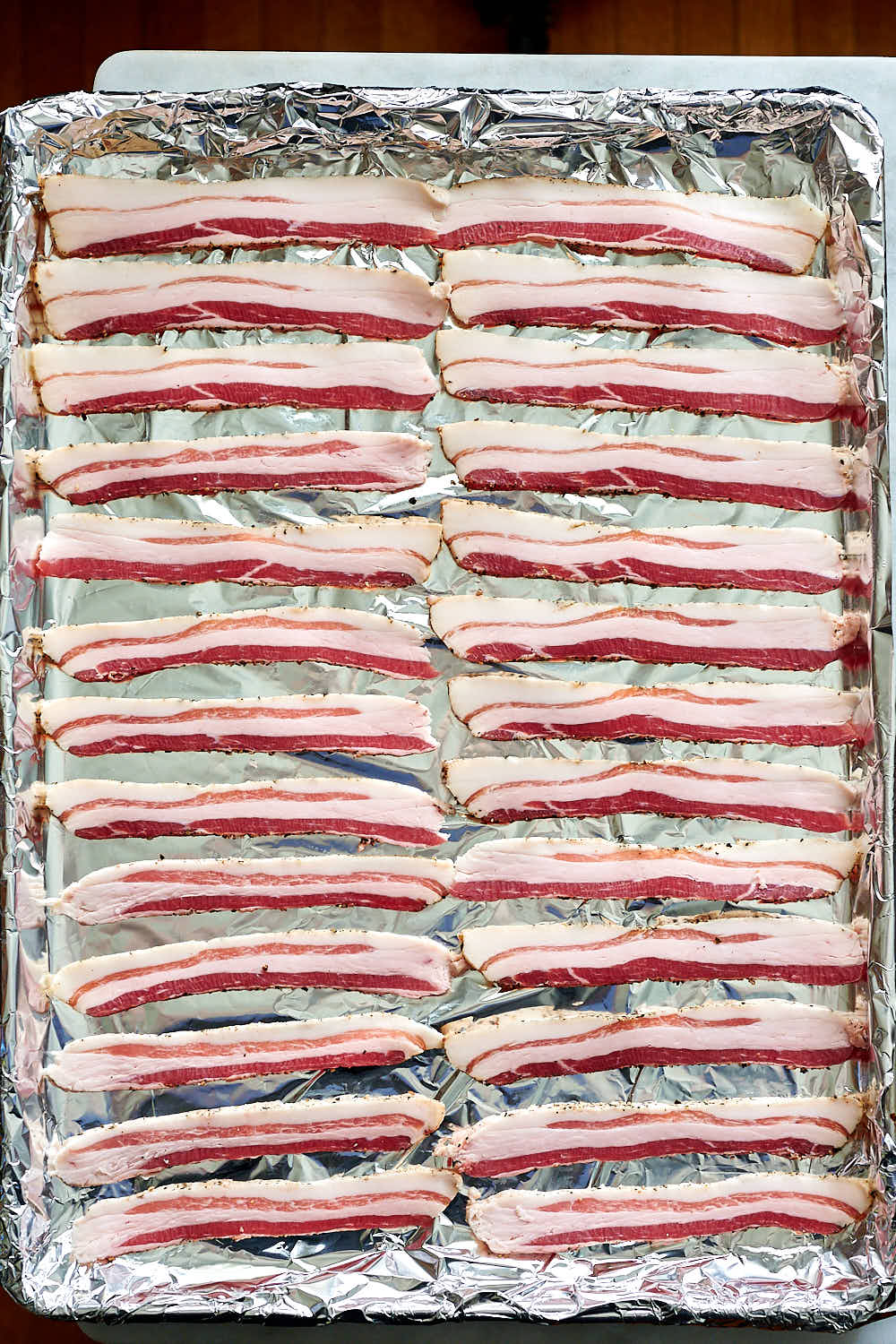 Cooking temperature
There is no right or wrong cooking temperature unless you pick something way out there. Often, what someone considers the best cooking temperature may not work for others. Everyone's oven bakes differently as they say. The ideal temperature is when the bacon cooks relatively quickly, within 15-20 minutes, without burning or drying out, and without the fat splashing all over the oven. The process should quick and stress-free. In my cheapo oven, this sweet-spot temperature is 400F. I get perfect results with it. Start with 400F and adjust if necessary.
Rack position
When I was just starting cooking bacon in the oven, I was quite unsure whether I was supposed to cook bacon on the bottom shelf or the middle or the top one. Through some experimenting, I figured that the second shelf from the top gave me the most optimal cooking and perfect crisping. It may vary from oven to oven, but you want to cook higher rather than lower to get better crisping and browning.
Baking time
It would be highly misleading to give the correct baking time for making oven-baked bacon. It varies depending on how your oven bakes, how much bacon you have on your sheet, how crowded the bacon is, and how thin or thick it is, or how well you want it done. At 400F, based on my observations of many batches that I've made, it takes anywhere between 15 and 25 minutes.  Every batch is different! Start checking for doneness after 15 minutes. Not ready? Give it another minute or two and check again. Do so until you get it to perfect doneness. There is no other way! This is not a set it and forget type of cooking. Baking perfect bacon is a bit of art, but it's very easy.
Save the bacon fat!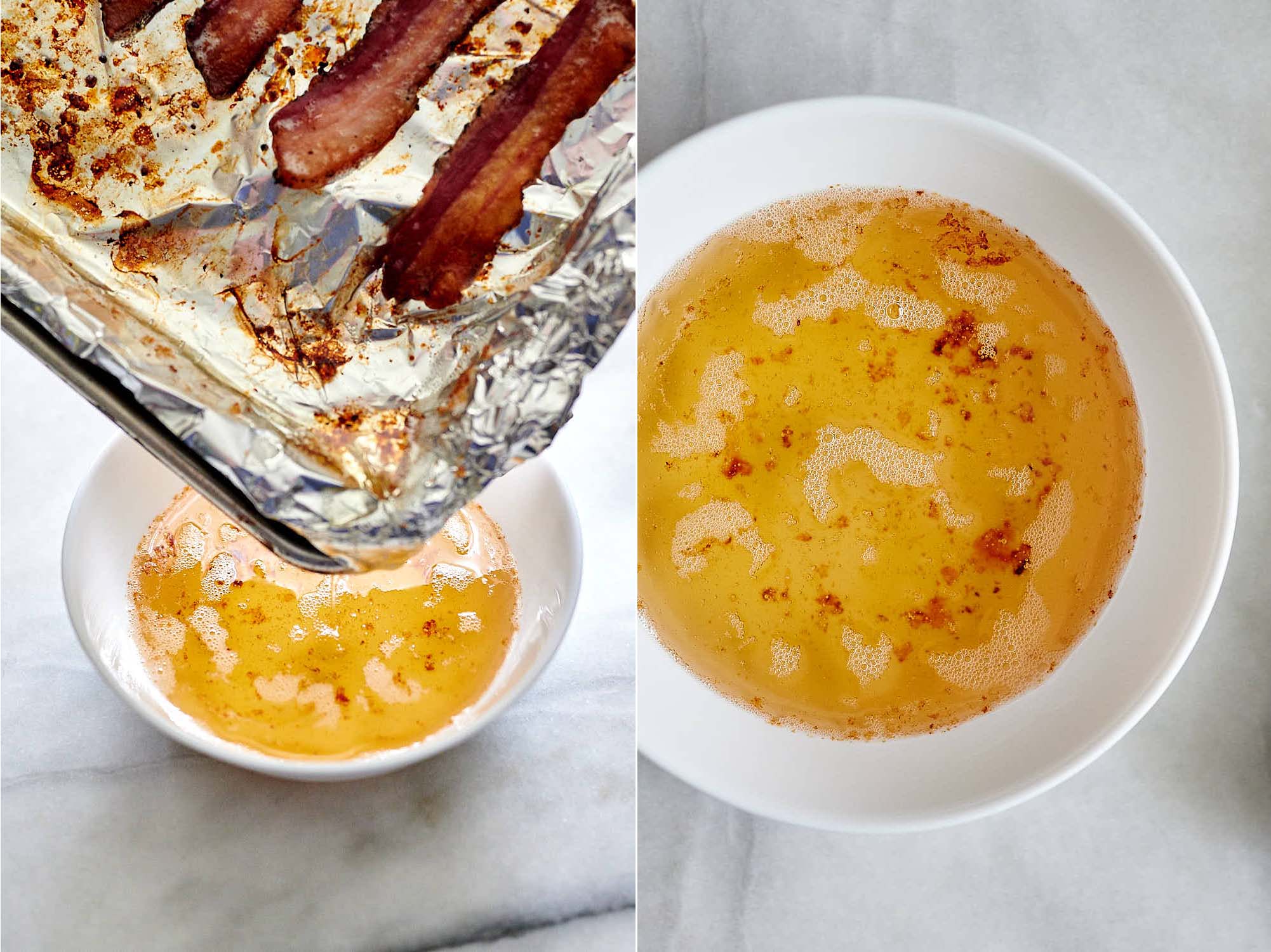 Once you take the bacon out of the oven, pour off the bacon fat into a small bowl and save it. It's delicious and you can use it for frying eggs, potatoes, sausage or sauteing vegetables. There are many more uses for bacon fat, like when making chicken bog - it adds a ton of flavor.
Serving
Oven-baked bacon is best fresh out of the oven. Just blot it with paper towels and serve. We love our oven-baked bacon with homemade sourdough biscuits or English muffins. It's also great on its own. So good!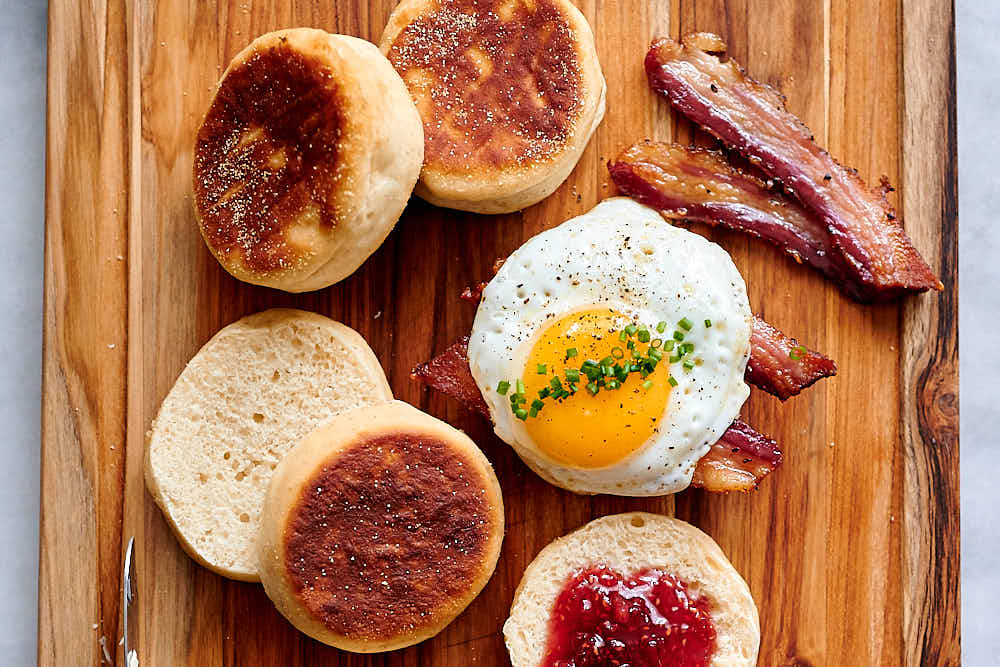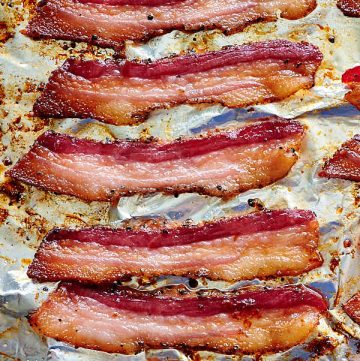 How to Make Bacon in the Oven
The absolute best and simplest method to make the best tasting oven-baked oven with no mess.
Print
Pin
Ingredients
12-24

slices

bacon

thick cut, good quality
Instructions
Line a large heavy-duty baking sheet with heavy-duty aluminum foil.

Lay bacon slices on the baking sheet spacing at least 1/2" apart.

Bake on the second rack from the top for 15 minutes. Check for doneness. If not ready, bacon for another 1-2 minutes and check again.

Once the bacon is ready, remove from the oven and pour off the bacon fat in a small bowl.

Blot the bacon with paper towels and serve with your favorite dish.