Pan-seared to perfection on a cast iron pan, these drumsticks pack a ton of flavor. Inside, they are juicy and fall-off-the-bone tender. All set and done in under 30 minutes.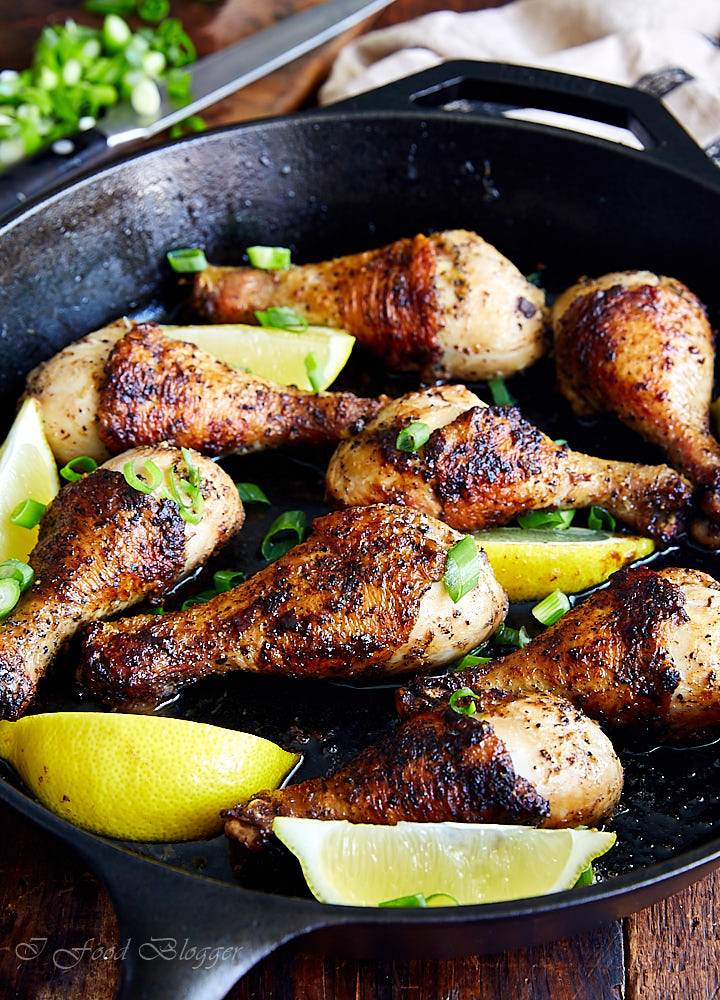 This chicken drumsticks recipe is quite amazing. There is no baking required here. This is very helpful as you don't need to waste time preheating oven. I find that in most cases for best results you need to pan-sear meat on the stove and finish baking in the oven. This way the meat won't dry out on the inside from unidirectional heat of a pan. But that's not necessarily the case with chicken wings and chicken drumsticks.
As I mentioned in my  pan-fried chicken wings post, the trick is to pan-sear over a fairly high heat then cover the pan and finish on low. With the lid on, the steam inside the pan cooks the meat uniformly. This method works really well with chicken drumsticks and wings, which are much more forgiving than, say, chicken breasts.
I like my drumsticks fall-off-the-bone tender. This means I have to cook my chicken drumsticks to 185F - 190F. This is the temperature you want for the fall-off-the-bone tenderness. When cooked to lower temperatures, I find chicken drumsticks and wings taste under-cooked. It really is up to you though. 165F internal temperature will yield perfectly cooked and juicy meat, it just won't be fall-off-the-bone tender.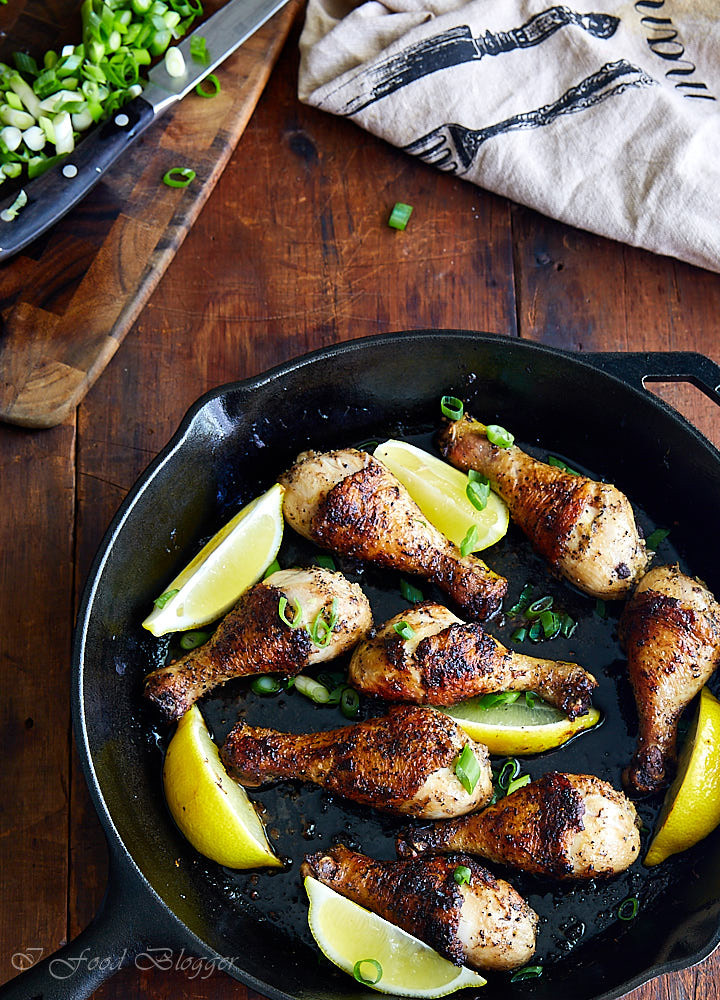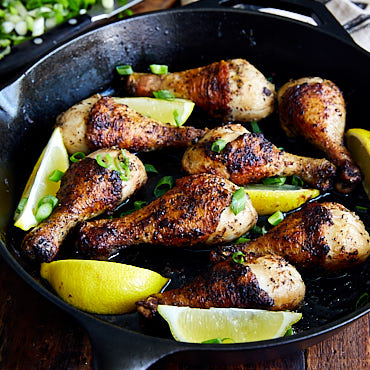 Ingredients
8

chicken drumsticks

about 2.5 lbs

2

Tbsp

olive oil

2

Tbsp

unsalted butter

3

scallions

for garnish

1

lemon

cut into 4-6 wedges, for garnish
For the lemon pepper seasoning
2 ½

tsp

kosher salt

or sea salt

2 ½

Tbsp

lemon zest

about one large lemon

4

tsp

black pepper

ground,; or black/red/white pepper medley
Instructions
Combine the salt, lemon zest and pepper in a large bowl. Add the chicken drumsticks and toss well to ensure even coating.

Heat olive oil and butter in a cast iron pan over medium-high heat. As soon as the butter starts to smoke and turns dark brown in color, add the drumsticks and sear, uncovered, for about 1-2 minutes, until the skin is nicely browned. Flip and brown on the other side. You can also brown the sides by turning the drumsticks on their sides. To make sure they stay in that position the drumsticks need to be supported. To do that, place one drumstick next to the side wall of the pan, then add the rest of the drumsticks right next to each other.

Once done searing, flip one more time, turn the heat down to the lowest position, cover the pan with a lid and cook for about 17-20 minutes, flipping and turning every 5-7 minutes, until the meat at the bone reaches 185F-190F.

Garnish with chopped scallions and lemon wedges and serve immediately with your favorite side dish.
Notes
To adjust the lemon pepper seasoning depending on the weight of drumsticks, use the following guidelines which I find work very well:
1. Start with 1 heaping teaspoon of salt (sea, Himalayan or kosher) per pound of wings. This will ensure against over or under-salting
2. For every teaspoon of salt use 1 tablespoons of fresh lemon zest
3. For every teaspoon of salt use 2 teaspoons of freshly ground black pepper (or black/red/white pepper medley)
Nutrition
Calories:
186
kcal
|
Carbohydrates:
3
g
|
Protein:
14
g
|
Fat:
14
g
|
Saturated Fat:
4
g
|
Cholesterol:
77
mg
|
Sodium:
807
mg
|
Potassium:
213
mg
|
Fiber:
1
g
|
Sugar:
1
g
|
Vitamin A:
170
IU
|
Vitamin C:
10.4
mg
|
Calcium:
21
mg
|
Iron:
0.7
mg