If you like cherry tomatoes you absolutely must try this cherry tomato salad. When I first made this salad we fought over it. Seriously. Every little bit was consumed and all the juices licked off the bowl.  Exceptionally good!!! This was definitely our most favorite salad this summer. We've made it over a dozen times in the past few weeks.

Why this cherry tomato salad?
What makes it so good you may ask? I will tell you. It's the combination of my special vinaigrette, summer cherry tomatoes and feta cheese. This sounds quite simple but I've never had or made cherry tomato salad like this before. Somehow all these ingredients magically come together so well that the salad becomes irresistible. The special vinaigrette that I've been making for years is bright, tangy and slightly sweet, and so are the cherry tomatoes. The salty feta cheese complements the vinaigrette and the tomatoes perfectly well by balancing out the sweetness.
It's customary to add fresh mozzarella to tomato salads but mozzarella is also sweet. Hey, I like Caprese salad but I like feta with my tomatoes more. You have to have it there. Without it, the salad is incomplete. When you mix all of the ingredients together and take the first bite… you immediately realize how well all the pieces work together. Anyway, I highly recommend this cherry tomato salad. I have a feeling that anyone will love it, even those who don't like tomatoes.
The vinaigrette goodness
The vinaigrette that I am using in this salad is my favorite by far. To me, there isn't a better one. I typically eyeball the ingredients which made it very hard for me to write the recipe down. My daughter tried to replicate it by watching me but never could. It took me several attempts to make it and measure all of the ingredients to get it right. But I did something different for this salad. I liquefied mint and cilantro in the blender together with oil, vinegar and seasonings.

Oh man, this vinaigrette became a thousand times better. It exploded with flavor! I love mint and cilantro. If you like other herbs, feel free to use them in this recipe. I've tried basil, oregano, sage, parsley – they all work well but mint and cilantro are my favorite.
The liquefied herbs made the dressing green…. not something we all are used to but bear with me. Try it. I have no doubt that this green goodness will pleasantly surprise you.
Other essential ingredients
A green and red bell pepper. Tomatoes are soft. To make a balanced salad you need to add some crunch. Green bell pepper does just that. I like adding a red bell pepper as well for the crunch, color and some added sweetness. Finally, a red onion. Any tomato salad benefits from adding red onion.
Best cherry tomatoes for this salad
Hands down, this salad tastes best when made with seasonal, locally grown cherry tomatoes. Heirloom cherry tomatoes are fantastic for this salad. A mix of different varieties is ideal as it provides varying textures and flavors. Some cherry tomatoes are softer, some are more firm, some are more acidic while others are sweeter. You can use greenhouse cherry tomatoes during off-season too but this salad will be truly special when made with vine-ripened, locally grown cherry tomatoes in July and August.
By the way, I strongly recommend cutting each cherry tomato in half before putting them in the salad. It's time-consuming but it makes the salad much easier to eat and will prevent accidents. Yep, we've all done that. You put a cherry tomato in your mouth and bite down while your mouth is still partially open…. then a big squirt of juices mixed with tomato seeds flies out. Slicing tomatoes will prevent that.

Serving this salad
Forget about forks!!! It's best to eat this salad with a soup spoon. I know, this sounds quite strange, but give it a chance, you will love it.  After you mix the tomatoes with the vinaigrette, they will release some of the juice. That juice, mixed with the vinaigrette, is delicious. Scoop the tomatoes with a good amount of the liquid and you will know what I mean. You wouldn't want to waste a single drop.

Taste notes
Sweet, salty, tangy, minty, savory, herbal, juicy, aromatic, crunchy, red, yellow, green, purple – this salad is a medley of colors, flavors and textures. The juices are abundant and delicious so you can literally drink them on their own. Get a good amount of the liquid in each spoonful of the salad to fully enjoy it.
This salad can be quite sweet depending on the sweetness of the cherry tomatoes so feta cheese is essential for a balanced taste. When I eat this salad I noticed that I try to get a piece of feta into each spoonful. It makes the salad taste best. I think adding more feta is not a bad thing. I suggest that you start with a half cup as specified in the recipe and add more if you feel like it. I think you can easily double the amount. I always do. It does add more fat and sodium if you are health-conscious but that's the tradeoff you may have to make for the sake of better taste. It just makes this salad so much better, you'll want to taste feta with every bite.
Making ahead and storing leftovers
I highly recommend that you make just enough of this salad to eat the same day. Tomatoes, when cut, don't store well and refrigerating tomatoes is a bad idea. Cold temperatures kill their texture and flavor. It's perfectly fine to make this salad a few hours ahead, cover and store at room temperature until ready for consumption.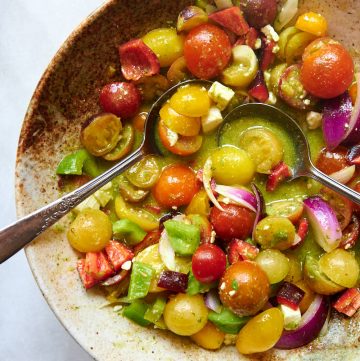 Cherry Tomato Salad with Mint & Cilantro Vinaigrette
Cherry tomato salad with a delicious mint and cilantro vinaigrette.
Print
Pin
Ingredients
4

cups

cherry tomatoes

1/2

green bell pepper

diced

1/4

red bell pepper

diced

1

small red onion

cut into thin wedges

1/4

tsp

sea salt

1/4

tsp

ground black pepper

1

pinch

sugar

1/2

cup

feta cheese

diced; plus more to taste
Mint & Cilantro Vinaigrette
1/2

cup

extra virgin olive oil

3

Tbsp

white wine vinegar

2

Tbsp

chopped mint

2

Tbsp

chopped cilantro

1

clove

garlic

2

Tbsp

orange juice

freshly squeezed
Instructions
Cut cherry tomatoes in half and place them into a large bowl, sprinkle with the pinch of sugar, add the salt and pepper, add the diced peppers and sliced red onion, and toss really well.

Place the vinaigrette ingredients in the blender and pulse for about 10 seconds.

Pour the vinaigrette over the tomato mix.

Add the diced feta cheese and toss to ensure that all the vegetables are evenly covered with the vinaigrette.

Serve immediately. Use spoons instead of forks. Yes, serve with spoons so you can enjoy all the delicious juices.

If serving later, wait to dress the salad, cover the bowl and let sit at room temperature for up to 6 hours and toss with the vinaigrette soon before serving.
Notes
Tomatoes do not store well in the refrigerator as their texture and taste quickly deteriorate. Make just enough to eat and make more if needed, it's really quick.
Nutrition
Calories:
340
kcal
|
Carbohydrates:
12
g
|
Protein:
5
g
|
Fat:
31
g
|
Saturated Fat:
7
g
|
Polyunsaturated Fat:
3
g
|
Monounsaturated Fat:
21
g
|
Cholesterol:
17
mg
|
Sodium:
375
mg
|
Potassium:
460
mg
|
Fiber:
2
g
|
Sugar:
7
g
|
Vitamin A:
1234
IU
|
Vitamin C:
63
mg
|
Calcium:
127
mg
|
Iron:
2
mg