Does it really make sense to write a post about cooking chicken sausage in an air fryer? Isn't it, like, super simple? Just drop some sausages in the air fryer, press the button, and 'voila!'? Not so fast. It turns out, you can make a good air fryer chicken sausage, a bad one, and a really excellent one. The devil is in the details.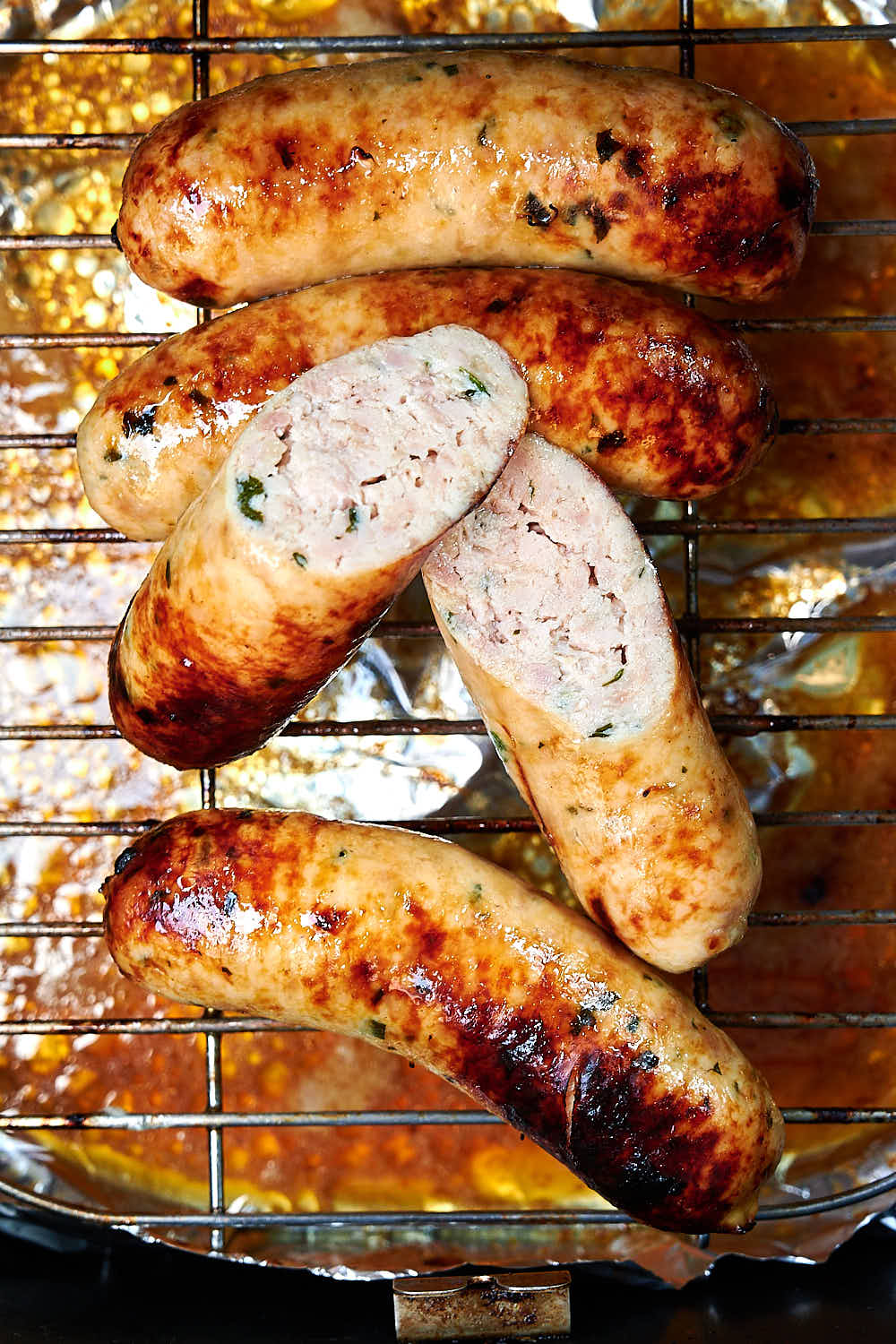 Sausages are meant to be cooked over high heat. When cooking them in an air fryer, set the temperature as high as possible. No, it won't burn. You'll be lucky if you get any browning going before the sausage cooks through – the internal temperature of 165F. My air fryer goes to 410F, that's what I cook my chicken sausage at. It works great. 400F will do too.
Speaking about browning, if you think you can just drop that pale thing in your air fryer and, magically, it will come out all golden-brown and crispy – think again. It won't. It will need help. I did about a dozen experiments with various glazes and dredges and there was only one that worked consistently well for me – butter. Butter gives air fryer chicken sausages the most appetizing color and seems to prevent shriveling. I am not surprised as my buttered air fryer steaks always come out way better looking and tasting. Not convinced? Take a look at this example:

An even better way to beautifully brown chicken sausage in an air fryer is to brush it with a mix of butter and honey. It makes a huge difference. Your air-fried chicken sausage will never be pale, sad-looking and unappetizing. It will be transformed, like Cinderella when she put on that new dress. I use honey and maple syrup to transform my air fryer chicken, like these air fryer chicken thighs.

And whatever you do, I beg of you, DO NOT PRICKLE THE SAUSAGE before cooking it. Prickling sausages will cause them to lose juices like crazy, leaving you with a shriveled, pathetic exterior and a dry, crumbly interior. Seriously, never ever do that. I cringe when I see people do that. Don't prickle the sausage and you will end up with mouth-watering, juicy goodness like this:

To make a really excellent air fryer chicken sausage, start with an excellent, high-quality chicken sausage. If you feel adventurous, make your own chicken sausage. This chicken sausage recipe is really, really good. It is the one that you see in the pictures here. With the right tools (meat grinder and sausage stuffer) and some basic ingredients, it's a breeze to make.
Equipment used:  Chefman 6.8 Quart Air Fryer.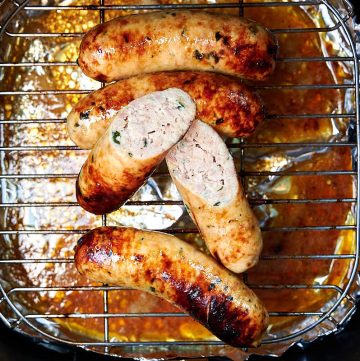 Air Fryer Chicken Sausage
Process and tips to make the best air fryer chicken sausage.
Print
Pin
Ingredients
4

chicken sausage links

1

Tbsp

melted butter

1

Tbsp

honey

or maple syrup, or corn syrup
Instructions
Line the bottom of the air fryer with aluminum foil. It will make the cleaning much simpler later on.

Place the sausages on a large plate. Melt the butter and mix with the honey. Brush the melted butter and honey mix all over the sausages, or rub it on with your hands.

Place the sausages on the rack, leaving some space in between.

Cook at the highest temperature (usually 400F - 410F) for about 10-13 minutes or until the internal temperature in the center of the sausages reaches 165F.

Serve immediately with your favorite side dish or a salad.
Nutrition
Calories:
170
kcal
|
Carbohydrates:
4
g
|
Protein:
13
g
|
Fat:
12
g
|
Saturated Fat:
3
g
|
Cholesterol:
60
mg
|
Sodium:
870
mg
|
Sugar:
1
g
|
Vitamin A:
300
IU
|
Vitamin C:
1
mg
|
Iron:
1
mg