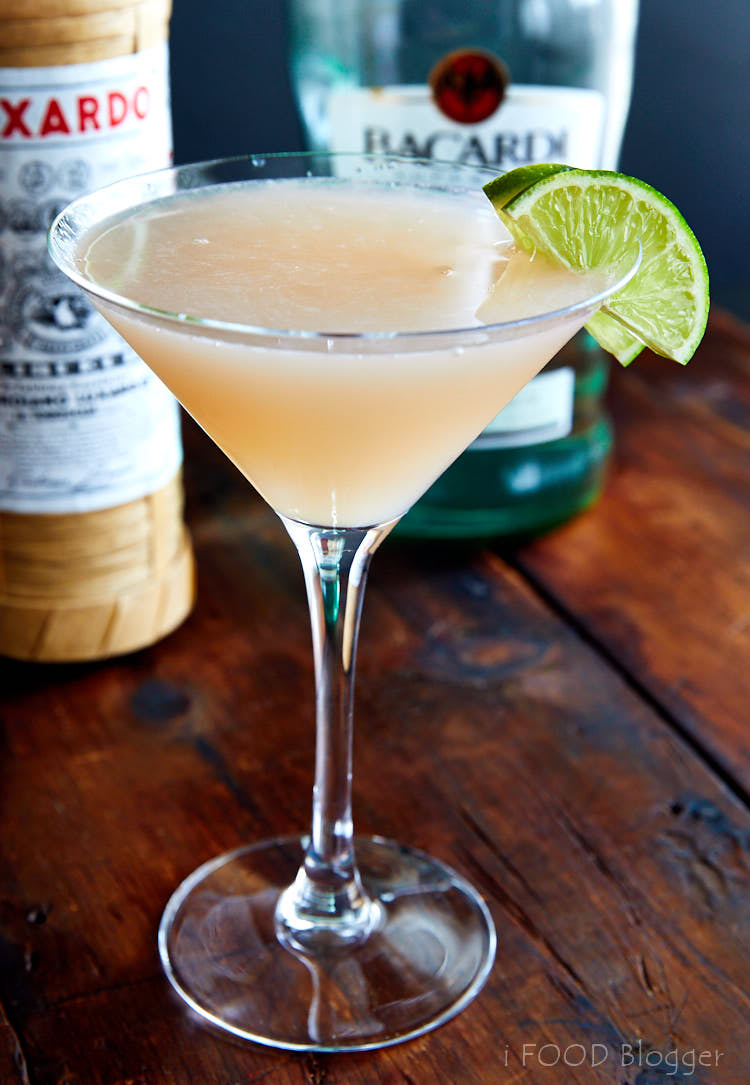 Hemingway Daiquiri, also known as Papa Hemingway's Daiquiri, Papa Doble or Ernest Hemingway Special, is a distinctly different Daiquiri that was created specifically for Ernest Hemingway by Constantino Ribalaigua, the famed Cuban bartender at El Floridita bar in Havana. Hemingway loved Havana Club Silver Dry rum, and preferred his Daiquiris without sugar, cold and sour, and with a bit more rum than the traditional Daiquiri.
There is so much history behind this drink. Every time I am sipping on this cocktail my thoughts take me to the Prohibition era Cuba where Hemingway lived and wrote his novels and short stories, and drank these very same frozen daiquiris at El Floridita in Old Havana. It makes this drink fascinating and very special. The emotion and the excitement that it creates leave a lasting memory and make you remember it and want to experience it again.
Hemingway Daiquiri ingredients
For this cocktail you will need:
white rum
maraschino liqueur
grapefruit juice
lime juice
a lime wedge or a couple of lime slices
Without a question, only freshly squeezed juice should be used for a truly great daiquiri.
Hemingway Daiquiri Tasting Notes
Hemingway Daiquiri has several variations, the most common being the dry and sour version that Hemingway preferred, and the sweeter and lighter one. While evaluating this drink, I came up with a third variation that falls somewhere in the middle between the dry and the sweet one, and which I happen to like the most and prefer over the other two variations. But, it's just a matter of personal preference, and all three variations are very good.
Color
The color of this daiquiri is beautiful ivory / beige, which contrasts very nicely with the green color of lime. It looks very inviting and delicious.
Nose
Citrus, with notes of rum.
Strength
Variation #1 - rum is very forward, you get hit with alcohol as soon as you taste it.
Variation #2 - medium strength, the alcohol doesn't taste too strong and you don't feel it much as you take a sip. You get nice warmth from the alcohol in the back of you mouth and throat once you swallow it.
Variation #3 - sweetness masks alcohol. Very easy to drink. Perhaps even too easy for my taste but I see many people enjoying it for this very reason.
Sweetness
Variation #1 - dry, like dry white wine. Prominent sour notes. Just a tiny hint of sweetness.
Variation #2 - light sweetness that feels perfect for my taste. The sweetness level is similar to what you will find in Jagermeister or Green Chartreuse.
Variation #3 - sweetness is on the higher end for this drink, similar to what you will taste in Grand-Marnier. If you like sweeter drinks this variation will be a great choice.
The original recipe adapted from The Ultimate Bar Book: The Comprehensive Guide to Over 1,000 Cocktails.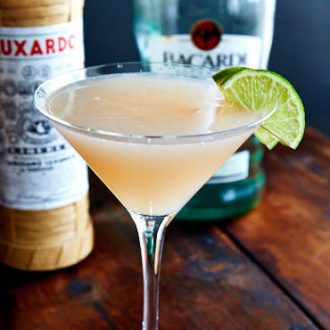 Ingredients
Variation #1 (original and Hemingway's preferred, stronger, dry and sour)
3

oz

blanco rum

1/2

oz

maraschino liqueur

1 1/2

oz

fresh grapefruit juice

3/4

oz

fresh lime juice

1/2

cup

ice
Variation #2 (my preferred, less strong and slightly sweeter)
Same as above, but reduce rum from 3 to 2 oz
Variation #3 (sweeter version)
Same as variation #2 plus 1 teaspoon white sugar
For the garnish
One lemon wedge or a couple of lemon slices
Instructions
Pull out you lemon squeezer, or a citrus juicer, and squeeze some fresh lime and grapefruit juice. You will need about 1/2 a lime and 1/4 of a grapefruit for one drink.

Combine all of the ingredients but the garnish in a blender with ½ cup ice. Blend

until smooth. Pour into a chilled cocktail glass. Squeeze the lime wedge

over the drink, and drop it in. Alternatively, fit a couple of lemon slices on the edge of the glass. This makes it for a better presentation in my opinion.