Quick pan-fried Pesto Chicken, smothered in a velvety-smooth basil sauce! Joined by colorful and delicious heirloom cherry tomatoes for extra depth of flavor. Topped with grated Parmesan cheese and fresh basil, this pesto chicken is lip-smacking good!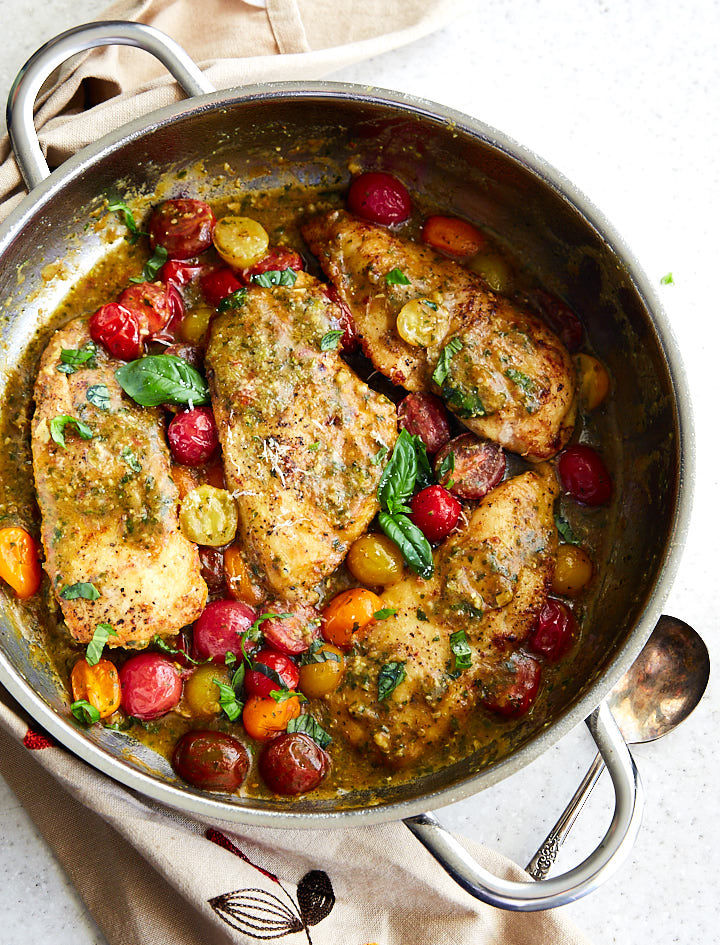 This pesto chicken was inspired by the Chicken Piccata Pasta that I shared here on my blog a short while ago and incorporated the full-bodied, velvety sauce that I used in making my Salmon Piccata.
I wanted to come up with a chicken dish that was just as simple to make as a piccata, but with a slightly different flavor profile. As much as I now like chicken piccata, it gets old after a while and you want something new. Perhaps, something less tart and more summery, and with more herbal flavor. I immediately thought of using pesto and fresh basil as had both of them left over from making Pasta Alla Genovese the night before.
A container of heirloom cherry tomatoes that I had picked up at a local fruit and vegetable market seemed like it would be a great addition too. It was! That's the summery flavors I was looking for. And the variety of colors were a feast for the eyes.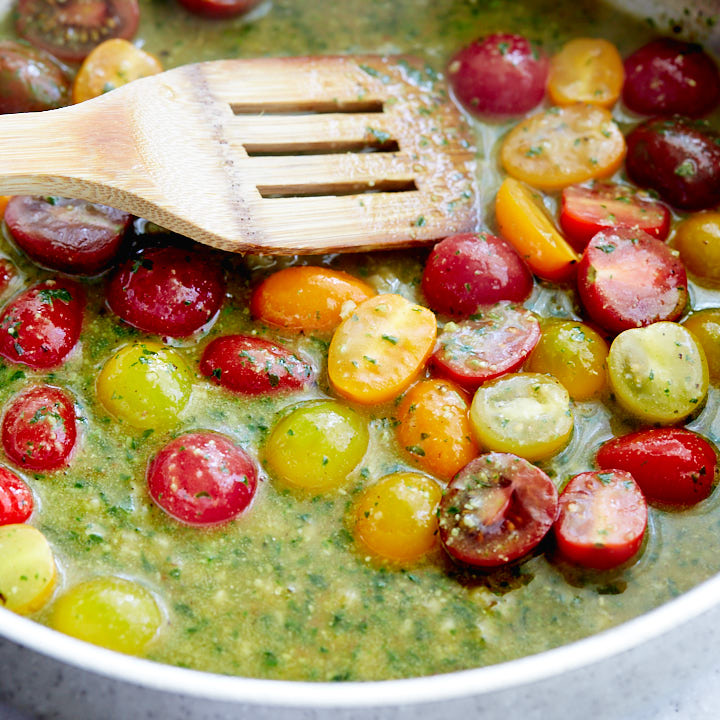 When you make this dish, I highly recommend making your own pesto. It beats store-bought pesto hands down. No exceptions!
If you have a food processor, it will take you the whole 2-3 minutes to whip it up. If you don't, use a stand blender or an immersion blender. Or just chop the basil by hand, with a knife, slowly incorporating pine nuts and oil while keeping chopping. Even if made by hand, it won't take longer than about 10 minutes, and you will be rewarded handsomely.
To make homemade pesto, combine
5 Tbsp extra virgin olive oil
and pulse in a food processor for a few seconds. Scrape from the walls and pulse again. Repeat several times until well processed. Transfer the pesto into a container and refrigerate before using. This recipe will make about 3/4 cup of pesto. Homemade pesto will keep in a fridge for up to 3 days, or it can be frozen in an air-tight container for up to 3 months.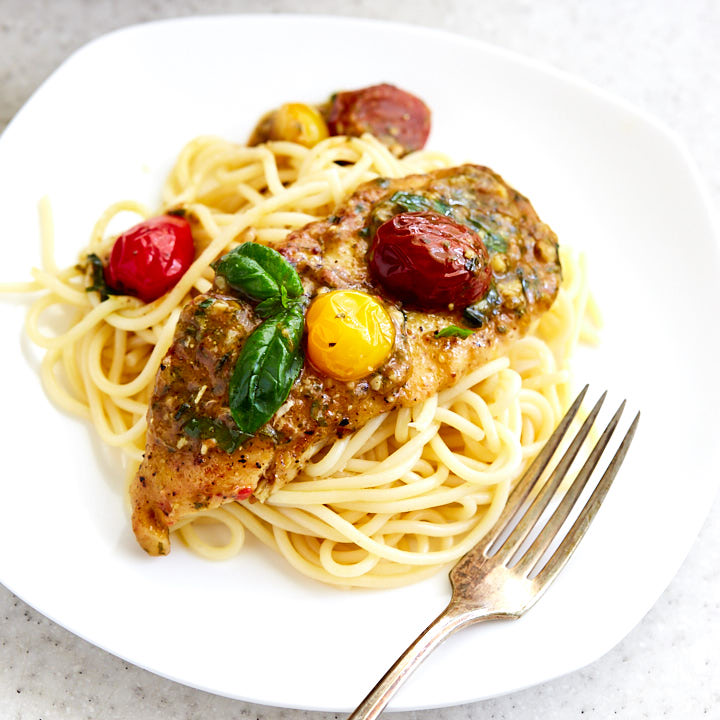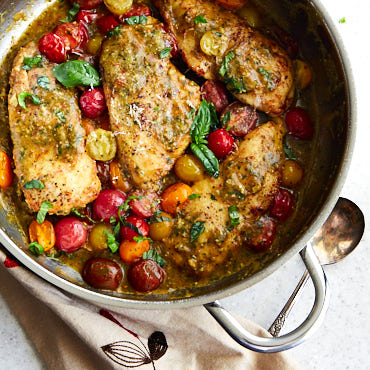 Ingredients
2

skinless

boneless chicken breasts, cut in half lengthwise. Make sure the breasts are uniformly thin. Pound thicker parts down with a mallet.

Sea or kosher salt and freshly ground black pepper to taste

About 1/4 cup all-purpose flour

for dredging and thickening the sauce

2

Tbsp

pesto

1

Tbsp

lemon juice

6

Tbsp

unsalted butter

5

Tbsp

extra-virgin olive oil

1

cup

chicken stock

1/2

cup

fresh basil

chopped (reserve a few leaves for garnishing)

Parmesan cheese for garnish

2

cups

heirloom cherry tomatoes

halved
Instructions
Season the chicken breasts with salt and pepper. Dredge in flour, shake off excess and set aside.

Melt 4 tablespoons of butter and 5 tablespoons of olive oil in a large skillet or a saute pan over medium-high heat. When butter and oil start to sizzle, add the chicken breast and saute for 2-3 minutes per side, until the chicken is nicely browned and juices run clear. Take the pan off the heat, remove the chicken and set aside.

Turn the heat down to medium. Return the pan to heat. Add the remaining 2 tablespoons of butter. Once the butter starts to sizzle, add two tablespoons of flour left over from dredging chicken and keep stirring until the flour is well incorporated and looks golden brown.

Pour the chicken stock and lemon juice into the pan. Return the pan to the heat and bring to boil, scraping up brown bits from the pan for extra flavor. Add the pesto and stir. Taste and adjust the seasoning, if needed.

Add the sliced cherry tomatoes and chopped basil, and continue sauteing over medium heat for 1-2 minutes, until the tomatoes soften up a little.

Put the chicken breasts back into the pan, spoon the sauce over the chicken breasts, and simmer over low heat for about 2 minutes to bring the chicken back to temperature.

Remove from heat and serve immediately with pasta, rice or steamed vegetables. Garnish with grated Parmesan cheese and basil leaves.