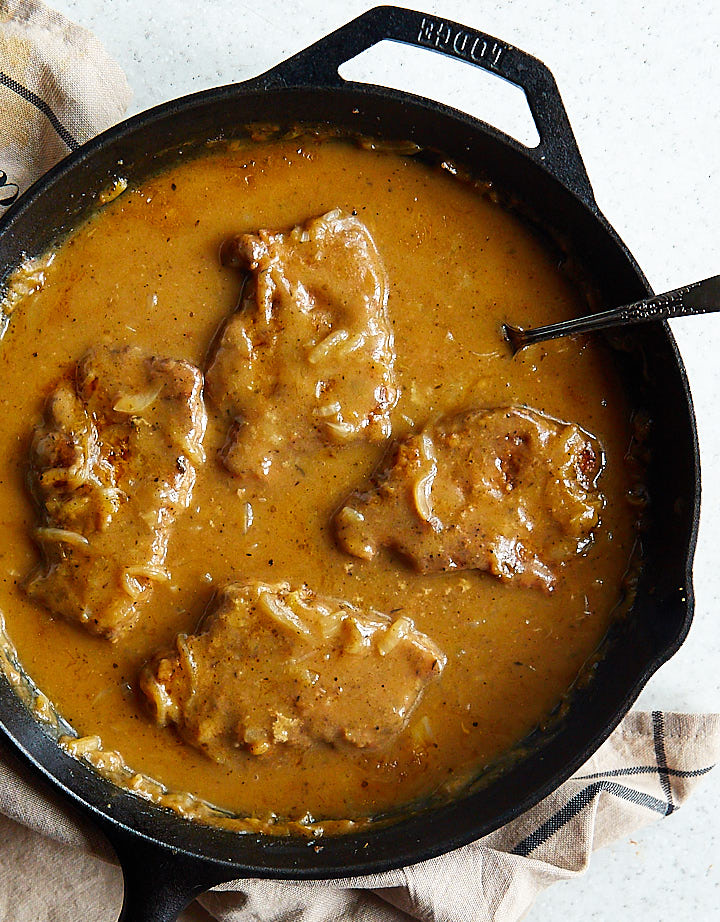 To smother meat means to cook it low-and-slow in rich gravy until the meat becomes ridiculously tender. And let me tell you, these smothered pork chops ARE ridiculously tender. And the gravy is ridiculously good - rich, flavorful, with a nice tang and a touch of heat. It's so good, in fact, that I won't be surprised if many of you will be shamelessly licking the leftover gravy off the plate. I do. But fret not, this recipe makes plenty of gravy to go around. You won't leave the table unsatisfied, I would be very surprised if you did.
Pork chops, being lean, are normally best cooked quick over high heat to preserve moisture. Pan-frying is how I usually would cook them. Smoked chops are quite good too, you just have to be very careful not to overcook them. With smothered pork chops that becomes less of an issue. Yes, they will lose a lot of moisture during baking but the gravy will more than make up for it. What you will end up with is super-tender meat nestled in rich, tasty gravy.
Fattier meat will result in a juicier smothered chop but that's hardly necessary. Even super lean pork loin chops will rival some of the best award-winning chops.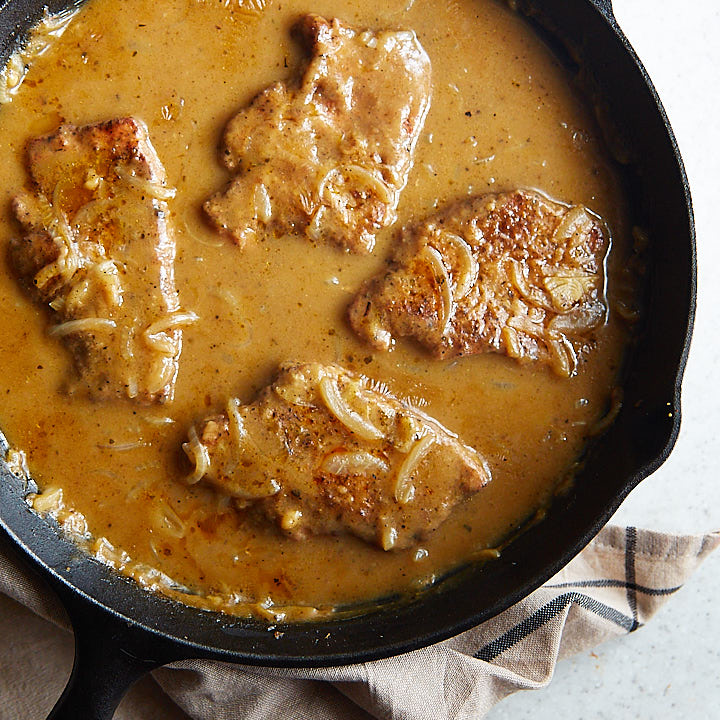 This recipe was adapted with a few modifications from the Cook's Country magazine. I expanded the spice mix in the original recipe to include marjoram, thyme and allspice - they complement pork like no other herb or spice and give the gravy more depth. A little bit of heat from cayenne pepper made the chops more exciting to eat and gave the dish another dimension. I also streamlined the preparation process where all cooking is done in one cast iron pan. If you don't have a cast iron pan, you can finish cooking in a baking dish.
Serve with your favorite side dish. I like mashed potatoes with these chops, or my new favorite, Hungarian potatoes.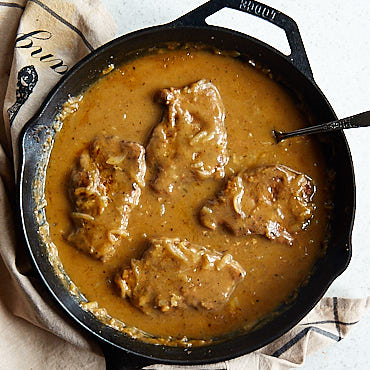 Ingredients
4 1-

inch

thick pork chops

3 1/2

tsp

kosher salt

1

Tbsp

onion powder

1

Tbsp

granulated garlic

1

tsp

paprika

1

tsp

marjoram

1

tsp

thyme

1/2

tsp

allspice

1/2

tsp

cayenne pepper

1/2

cup

all-purpose flour

3/4

cup

olive or vegetable oil

1

large Vidalia onion

quartered and sliced thinly

3

cups

water

1

Tbsp

cider vinegar
Instructions
Adjust oven rack to middle position and preheat oven to 350F.

Combine 2 teaspoons of salt with the dry seasonings (onion powder, granulated garlic, paprika, marjoram, thyme, allspice, and cayenne pepper). Pat dry pork chops with a paper towel. Sprinkle each chop with about one teaspoon of the seasoning mix per side. Pat the seasonings down to make sure they stick. Set aside.

Combine the remaining seasonings with ½ a cup of all-purpose flour on a large plate or a platter. Set aside.

Heat oil in a 12-inch cast-iron pan over medium-high heat until just smoking (about 300F). One a time, dredge each pork chop in flour on both sides, shake off excess and place in the pan. Fry until deep golden brown on each side, about 3-5 minutes per side. Reduce heat to medium. Remove the chops from the pan and set aside.

You should have about ¼ cup of oil left in the pan. If less, add more oil. Add the seasoned flour left from dredging of pork chops to the pan and cook over medium heat, stirring constantly, until the roux acquires a nutty flavor and the color becomes deep golden brown, about 3-5 minutes. Add the sliced onions and continue cooking, stirring constantly, until the onions begin to soften slightly, about 2 minutes.

Slowly add the water into the roux mixture, constantly stirring until the gravy is smooth and free of lumps. Bring to simmer and cook the gravy until it begins to thicken, about 2 minutes. Add the vinegar and stir well. Add the remaining 1 ½ teaspoons of salt (plus more if needed), starting with 1 teaspoon and adjusting to taste.

Turn off the heat and add the pork chops back to the cast iron pan, nestling them such that they are fully covered with the gravy and onions.

Carefully cover the pan with aluminum foil -use oven mitts as the pan will be hot – and transfer to the pre-heated oven. Bake, covered, until the chops are fully tender, about 1 ½ hours.

Carefully transfer the chops to a serving dish (the chops will be delicate and may fall apart). Pour the gravy over the chops and serve.