For all of us air fryer lovers, there is an awesome piece of news: you CAN make fantastic, delicious focaccia bread in an air fryer. That's right, air fryer focaccia bread CAN be so good that it's hard to believe that it was not baked in an oven. I love my artisanal oven-baked focaccia, but being a huge fan of anything air-fried, I had to try making it in my air fryer, and it worked exceptionally well. This air fryer focaccia bread will blow your socks off. It will also make a fantastic gift for friends, neighbors, and relatives. Try it! You will love it!

My secret for the best-tasting air fryer focaccia bread
Let me be clear: great focaccia is not just about baking, but the baking part is also important. The most important part, as with any bread, is the dough. Sure, you can slap some dough together real quick – many recipes call for exactly that – and have something that looks like focaccia, but you will be doing yourself a disservice.  Amazing focaccia needs a little bit of work and some time.
In my humble opinion, the best focaccia is made from no-knead dough. Kneading ruins the texture. Knead if you want store-bought-tasting focaccia. If you want a delicate, soft, moist, and airy texture with huge bubbles, do only stretch and folds to develop gluten. This will strengthen the dough and make the crumb open and airy. And insanely delicious.
The dough must be well-hydrated. High hydration is what makes focaccia crumb moist, soft, airy, and a pleasure to eat. But too much hydration is not a good thing.  Low-hydration dough will result in bread that is tough and dense. There has to be a balance. I've experienced a lot with various hydration levels and found 80% to be optimal.
Next, let the dough finish its fermentation in the fridge overnight. This is called cold retarding. During this time, the dough will relax and finish its fermentation slowly while developing robust flavors. This is the kind of bread for which high-end artisanal bakeries charge high premium prices. But you can easily do it at home. All you need is simple ingredients, a little bit of effort, and some time.
After the fridge, the dough must spend two hours at room temperature to warm up, relax and undergo proofing. During this time, the dough will further increase in volume and become airy-soft. This step is very important when making focaccia.

Toppings
This focaccia bread will taste great even without any toppings. Drizzle some olive oil, and sprinkle some black peppers. That's it. You can top it with chopped tomatoes. That's a very good, traditional topping. I love herbs with some chopped garlic on my focaccia, which is what I included in the recipe below.
But feel free to use any topping you want, from nothing to herbs, prosciutto slices, meatballs, or whatever you like. Your imagination is the limit.

Baking focaccia in an air fryer
I'd never baked bread in my air fryer, so this started as a curious experiment. I was quite skeptical initially, but I still hoped the results would be acceptable. I did not expect the crust to be as good as in my oven-baked focaccia, baked at 500F on a stone and with convection. Nothing could possibly come close to it; I refined that recipe and the baking process to perfection.
But when I finished baking my first focaccia in an air fryer, I was pleasantly surprised. It worked, and it worked quite well.
I got even better results when I switched to a 7.5″ by 5″ Weber foil pan, allowing for better/faster heat transfer to the dough. I got a practically identical crispy top, a similar soft and airy crumb, and the same flavor. My conclusion is that you must bake air fryer focaccia in a foil pan. A thick metal or ceramic pan won't work as well as a foil pan.
What I could not replicate in my air fryer is the well-browned bottom. It remained pale and soft, even when properly baked to 195F or even higher. Is it a problem? Absolutely not! This bread is fantastic, and I could not believe that I could make my favorite focaccia bread in an air fryer that tasted practically the same as my beloved oven-baked focaccia.

Baking pan size
My Chefman 6.8 Quart Air Fryer can easily fit a 7.5″ x 5″ Weber tin pan, so that's what I use. Your air fryer is most likely different from mine, and you will have to use a different size foil pan. These foil baking pans come in various sizes, so pick the one that fits your air fryer model.
Try not to use a pan that goes from side to side; you want some open space between the pan and the walls of the air fryer for air circulation.
The recipe below will make three portions baked in 7.5″ x 5″ pans. If you use a larger pan, divide the dough into two portions. If using smaller pans, divide into 4-5 portions.
Baking temperature and time
I find air frying focaccia is like grilling meat or chicken. The higher the cooking temperature and the shorter the cooking time, the softer the interior and the crispier the crust. An air fryer is almost perfect for making focaccia if not for the under-crisped-up bottom.
In my air fryer that can cook at as high as 410F, I bake my focaccia at 410F, and it works perfectly well. The baking time is 12 minutes, the same as when baking in my gas oven. Most air fryers can only bake as high as 400F, so use that temperature. You may have to adjust the baking time as different air fryers cook differently.

A variation on my air fryer focaccia
While experimenting, I noticed that making dimples in the dough and adding more olive oil just before baking made the bread less thick than when I did not. It kind of makes sense: by making dimples right before baking, you will remove some of the built-up CO2 gas, slightly collapsing the dough. It's normal. That's how you make focaccia.
If you want your focaccia bread thicker and a little more airy, don't dimple the dough after proofing. Just brush some olive oil on top, or not, sprinkle some seasonings, and bake. Below is an illustration of how the crosscut looks when you dimple the dough (left) and don't (right).

Equipment used:  Chefman 6.8 Quart Air Fryer.
If you want to see how focaccia dough is mixed and how stretches and folds are performed, take a look at my oven-baked focaccia video below.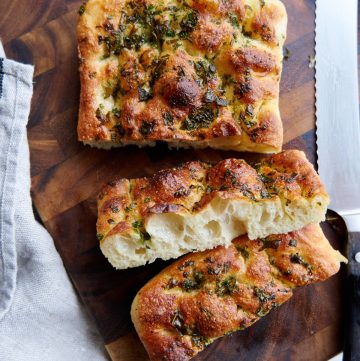 Air Fryer Focaccia
Air focaccia bread that is practically like oven-baked focaccia.
Print
Pin
Ingredients
Focaccia Dough
500

g

all-purpose flour

King Arthur flour is my favorite for this recipe

400

g

water

at room temperature

3

g

instant yeast

9

g

sea salt
Toppings and Other Ingredients
2

Tbsp

unsalted butter

softened

6

Tbsp

extra virgin olive oil

plus more if needed

2

cloves

garlic

thinly sliced or minced

1/4

tsp

black pepper

1

cup

chopped herbs

basil, dill, sage, and parsley
Instructions
To a large bowl, add water, flour, yeast and salt on the opposite sides, making sure the two don't touch each other before you start mixing. Mix by hand, squeezing the dough between your fingers until a sticky homogeneous mass is formed. Cover the bowl with plastic wrap and let rest for 20 minutes.

After 20 minutes, perform a set of stretches and folds, then another one after 20 minutes, and another one 20 minutes later. Shape the dough into a ball and rub it with two tablespoons of olive oil. Cover the bowl with plastic wrap and let the dough rest for another 20 minutes.

Divide the dough into three equal pieces and transfer to three 7.5" x 5" foil pans greased with two tablespoons of butter (See Notes). Stretch each piece of dough to fill the entire bottom of the pan. Cover with plastic and refrigerate overnight and for up to 24 hours.

Remove the dough from the fridge two hours before baking and let proof at room temperature, covered.

Liberally drizzle olive oil over the top of the dough. Using your fingers, make deep dimples all over the surface of the dough. Spread the toppings and finish with a light drizzle of olive oil.

Bake at the highest temperature, usually 400F, for about 12 minutes. Every air fryer bakes differently, so start checking early, your bread may be done sooner, or you may need to add a few minutes to the baking time. There is no need to preheat your air fryer.

Carefully transfer the focaccia to a large cutting board, slice, and serve while hot. This is when it tastes best. Enjoy!
Notes
The pan size (7.,5" x 5") in this recipe is for my air fryer that measures 10" by 10" internally. Depending on the size of your air fryer, you may need to choose different size pans and you may have to divide the dough into a different number of pieces, e.g. 2, 4, etc.
Nutrition
Calories:
232
kcal
|
Carbohydrates:
32
g
|
Protein:
5
g
|
Fat:
9
g
|
Saturated Fat:
2
g
|
Polyunsaturated Fat:
1
g
|
Monounsaturated Fat:
6
g
|
Trans Fat:
0.1
g
|
Cholesterol:
5
mg
|
Sodium:
294
mg
|
Potassium:
56
mg
|
Fiber:
1
g
|
Sugar:
0.1
g
|
Vitamin A:
164
IU
|
Vitamin C:
1
mg
|
Calcium:
13
mg
|
Iron:
2
mg