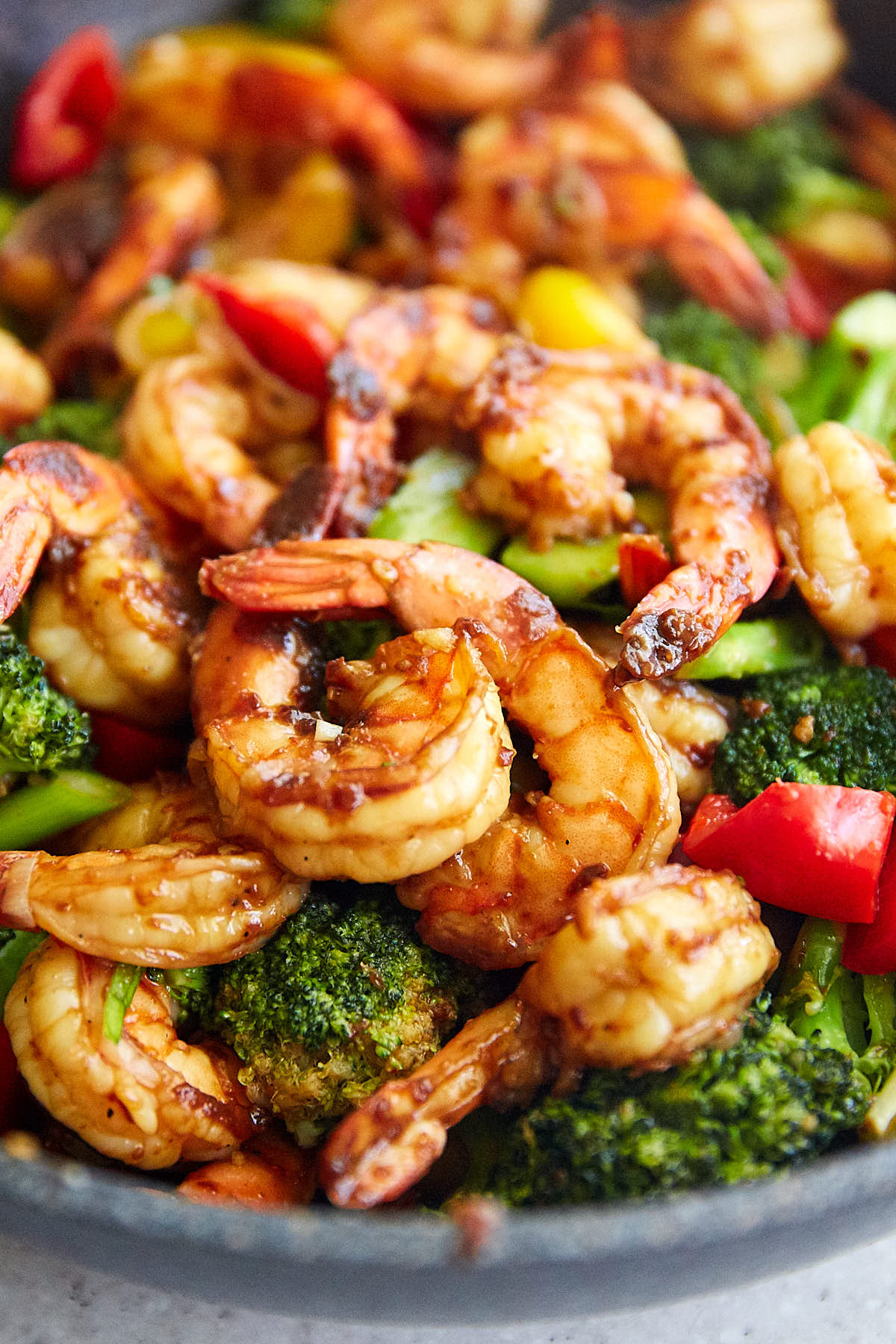 Boldly flavored, pungent and spicy Szechuan shrimp is one of my top 5 Asian dishes that I like eating out or making at home. It may come as a surprise, but this delicious dish can be easily prepared at home in 25 minutes or less from start to finish, and the level of spiciness can be adjusted to suit your taste.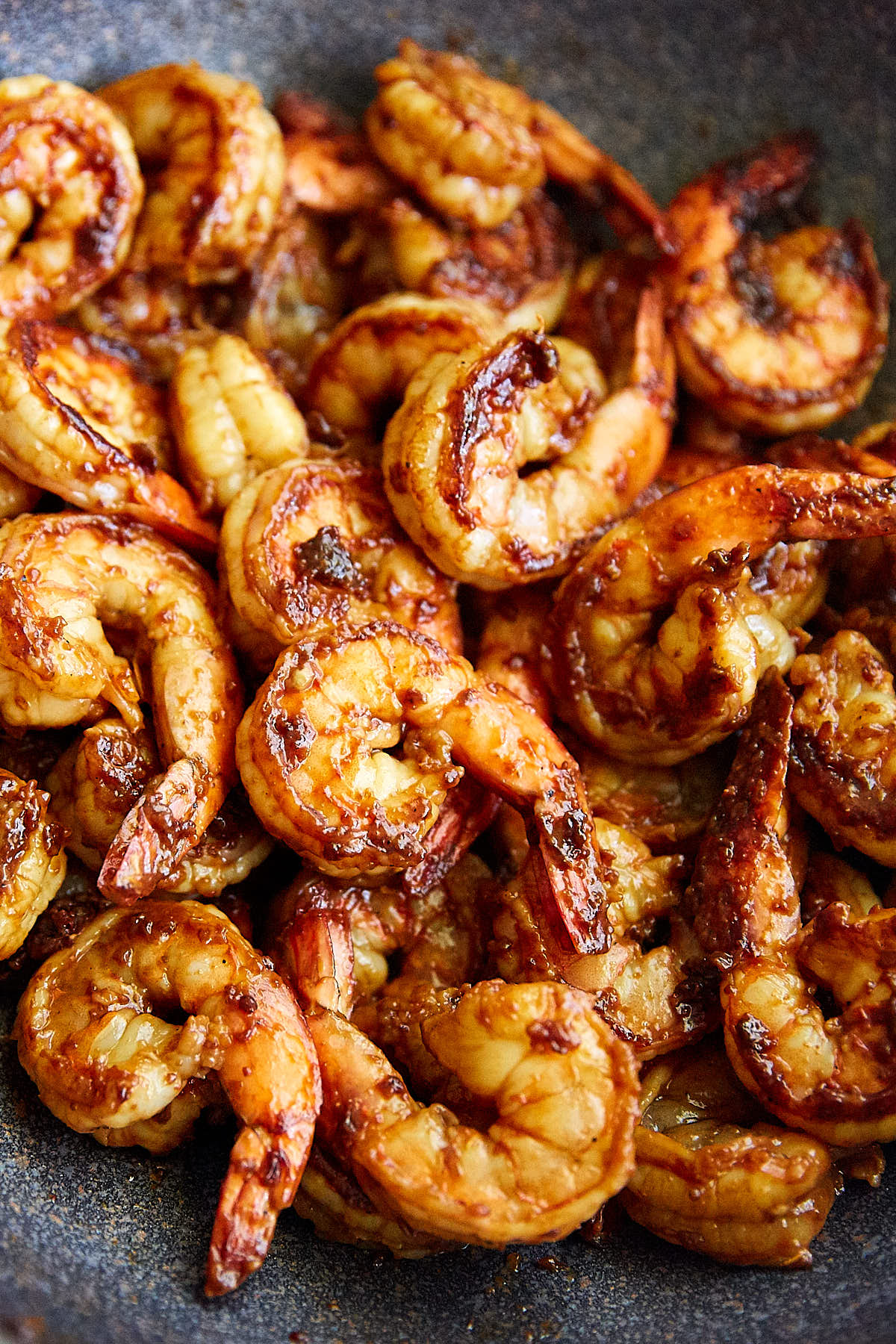 Recently I've been noticing more and more Asian restaurants adopting Szechuan (Sichuan) style of cooking. What used to be a single Szechuan dish on a menu now is a trend. A very welcome trend I must add.
Szechuan cuisine is one of my favorite Asian cuisines. I like its characteristic bold flavors, pungency and spiciness resulting from liberal use of garlic and hot chili peppers, as well as the unique flavor of the Sichuan pepper. Sichuan pepper is what defines Szechuan food.  I recently attempted Szechuan chicken – it was an instant hit! So much that I made it half a dozen times shortly afterwards. This time around I am recreating Szechuan shrimp which I tried at a local Asian restaurant and immediately fell in love with.

The Szechuan shrimp dish that I tried at the restaurant was served with bowl of jasmine rice – a great combination if you ask me. And you can do that too. In this recipe, however, I am going for a lighter, heather version of the dish which substitutes rice for fresh vegetables. I like how the  sweetness and tang of the bell peppers enhance the shrimp sauce flavor, while the crunchy, delicate texture of the broccoli complements the texture of the shrimp.
In this recipe I stay as authentic as possible, without over-complicating things. Sichuan peppercorns are a must for this dish. There is no way to substitute them and get a true Szechuan dish. Thankfully, they are sold at just about any Asian supermarket, or on Amazon. The rest of the ingredients can be found in most kitchens.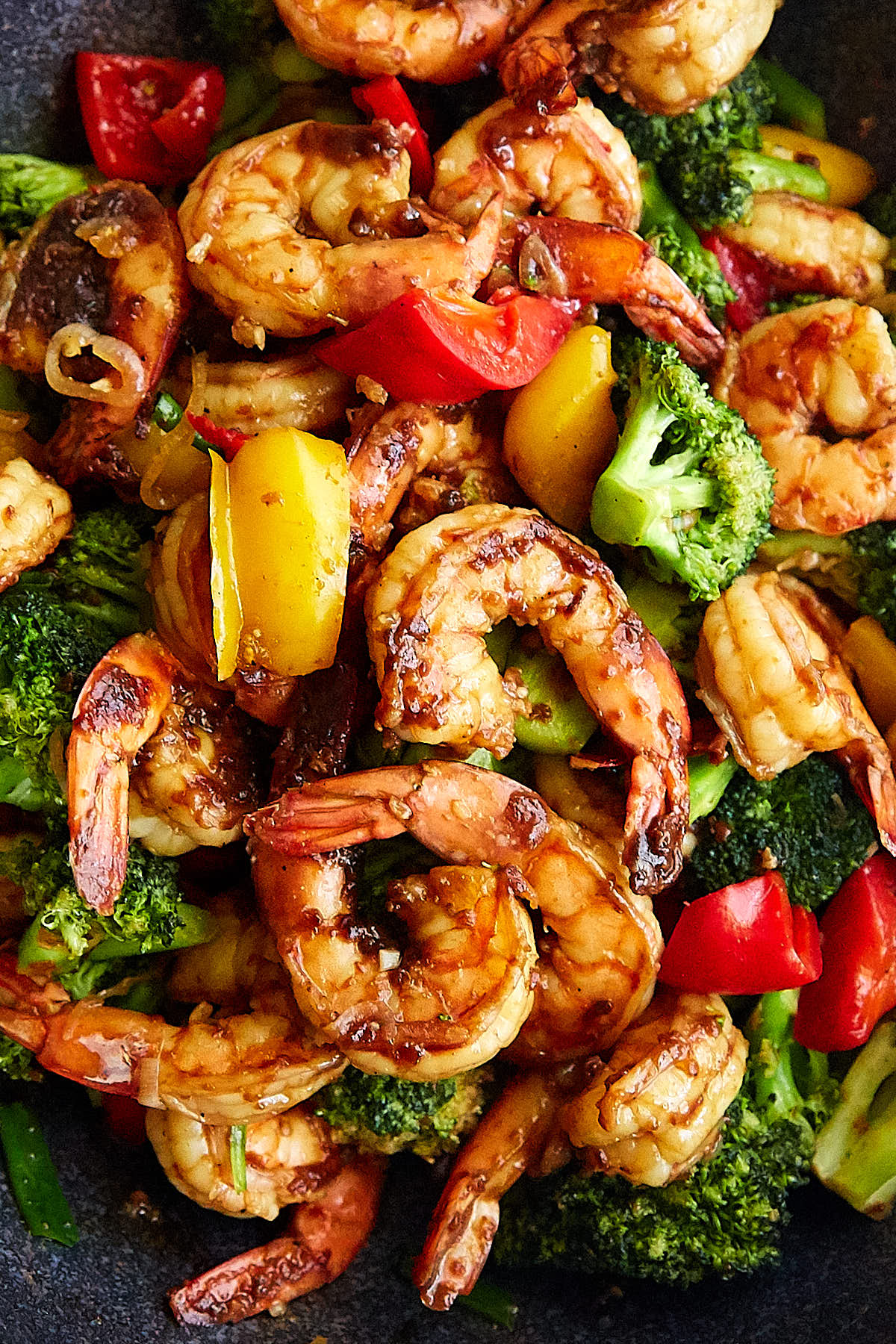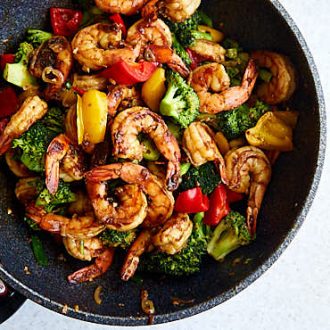 Ingredients
1

lb

large shrimp

de-veined and peeled, leaving tails attached

1

Tbsp

peanut

or plan cooking oil for stir-frying
For the shrimp marinade:
1/2

Tbsp

light soy sauce

1/2

Tbsp

dark soy sauce

1/4

tsp

finely ground Szechuan

Sichuan peppercorns

1/2

tsp

Shaoxing wine

or sherry

1

Tbsp

corn starch
For the chili oil:
¼

cup

peanut oil

you may also use canola oil

2

Tbsp

dried red pepper flakes
For the stir-fry:
1

Tbsp

peanut

or plan cooking oil for stir-frying

1

Tbsp

ginger

minced

2

cloves

of garlic

minced

2

small shallots

thinly sliced

1/2

each red

yellow and green bell peppers, cut into 1-inch pieces

2

cups

broccoli florets

3

green onions

scallions, cut into ½" pieces on the diagonal
For the stir-fry sauce:
1

tsp

finely ground Szechuan

Sichuan peppercorns

1/2

Tbsp

Shaoxing wine

or sherry

1

Tbsp

low sodium soy sauce

1/2

tsp

sea or kosher salt

1/2

Tbsp

honey

1

Tbsp

sesame oil

1/2

Tbsp

corn starch
Instructions
Combine shrimp marinade ingredients in a large bowl, add the shrimp, mix well and set aside.

Prepare hot chili oil by heating the oil in a sauce pan until it just starts to smoke, then pour the hot oil over dry chili flakes in a small glass or metal container. Let cool down then strain into a separate container. The hot chili oil can be prepared hours, even days in advance. If making ahead, let the chili flakes soak in oil for hours before straining – this will give you more flavor and heat.

Heat one tablespoon of peanut oil in a wok. Add the shrimp with the marinade and stir-fry, stirring frequently, until she shrimp just starts to turn pink, about 2-3 minutes. Do not overcook. Transfer the shrimp into a bowl and set aside.

In the same wok, heat another tablespoon of peanut oil. Add the ginger, garlic, shallots and one teaspoon (or more, see note) of hot chili oil. Saute for about 30 seconds, then add the broccoli, bell peppers and the stir fry sauce. Stir fry for about 3-5 minutes, until broccoli is cooked. Add the scallions, sesame oil and the shrimp and saute for another minute, mixing all the ingredients well.

Serve hot, as is or with a bowl of jasmine rice.
Notes
Use the following amounts of hot oil to your taste:
1 tsp - mild heat
2-3 tsp - medium heat
4+ tsp - high heat
Nutrition
Serving:
1
g
|
Calories:
297.3
kcal
|
Carbohydrates:
21.5
g
|
Protein:
26.8
g
|
Fat:
13.3
g