If you want a quick and wholesome meal that is lean, healthy, and delicious, air fryer zucchini stuffed with tuna and olives are it. This dish is delicious and loaded with healthy fats, lean protein, and healthy carbs.
I love its crispy browned top paired with a soft interior and slightly crunchy bottoms. So many different flavors and textures in every bite! This is one of my favorite air fryer zucchini recipes.

Air frying makes just about everything taste better because it doesn't require using oil, and it crisps up food wonderfully while keeping the interior of food soft and moist. It's almost like grilling only without all the associated hassle, and it can be done quickly and conveniently.
One of my favorite ways to cook zucchini used to be stuffing them and baking them in the oven. Not anymore! Nowadays, I mostly do that in my Chefman 6.8 quart air fryer. This way, I  get more flavor, better texture, and less mess.
I've made this stuffed zucchini recipe in the oven and in my air fryer, and air-fried zucchini won by a huge margin.
Zucchini size for this recipe
Zucchini vary by size a lot. They can be tiny, small, medium, or large. I grow zucchini in my backyard; if I don't pick them at the right time, they can get from big to monstrously big.
The good news is that this recipe doesn't care much about that. You can use zucchini of any size as long as they fit in your air fryer. The stuffing in this recipe is enough for 2 small zucchini, which will make 4 zucchini boats. You can also use one large zucchini, which will make 2 large zucchini boats.
Stuffing
Everyone has a can or two of water-packed tuna in their pantry. If you do, you are in luck. This recipe uses canned tuna, zucchini flesh, and green olives as the main ingredients for the stuffing. Mix those three with some bread crumbs and an egg, add some seasonings, and you have a delicious stuffing for your air fryer zucchini.
If you are not a big fan of canned tuna, trust me, you will love this dish. I can't say I am a big fan of canned tuna – I enjoy it occasionally, but I like this dish a lot. Tuna works very well in this recipe, adding healthy lean protein to the dish. It's super convenient too.
Cooking zucchini in an air fryer
I cook most air fryer recipes at the highest temperature, but this one is an exception. Instead, you want to cook your stuffed zucchini in an air fryer almost at the lowest setting to get the stuffing and the zucchini shells to cook through.
A longer cook at a lower temperature will also put a beautiful golden-brown crispy top on your stuffed zucchini without burning them. Just place zucchini in a single layer in the air fryer basket.
Keep in mind, though, that different air fryers may cook differently as some may have bigger and stronger heating elements, or the food may be positioned in them closer to the heating element.
Hence, I recommend you keep an eye on your zucchini boats the first time you cook them and start checking for doneness early. Your air fryer zucchini will be ready when the tops are golden brown. My air fryer takes exactly 30 minutes of cooking time at 350F to get there.
Serving stuffed air fryer zucchini
This dish is very versatile. You can serve it hot or cold. These delicious zucchini boats are great as a snack, appetizer, or full-fledged meal.

Drizzle some olive oil on top of the zucchini boats before serving, and sprinkle some chopped chives, scallions, or freshly grated parmesan cheese. Add some whole or chopped basil leaves. This will improve the flavor and the appearance of the dish.

If you are a fan of dipping sauces, drizzle some dipping sauce on top instead of olive oil. Homemade buttermilk ranch dressing is my favorite. You will love it with this dish.
If you like marinara sauce, serve this dish topped with marinara sauce.
Tartar sauce is another option. If you like it, it goes very well with this dish. Try my favorite tartar sauce recipe located here. The possibilities are only limited by your imagination.
If you want to serve this dish as a full meal, serve a salad with it or a side dish. I like mine with mashed potatoes, rice, or quinoa.
Enjoy, and don't forget to check out my other popular air fryer recipes.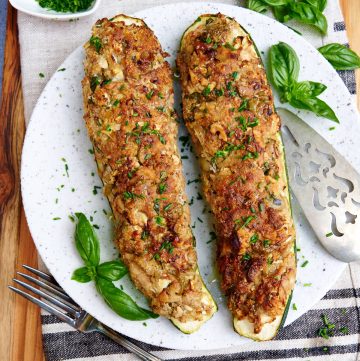 Air Fryer Zucchini Stuffed with Tuna and Olives Recipe
Print
Pin
Ingredients
2

small zucchini

about 6" long; or 1 medium zucchini about 8" long

1

can

tuna (packed in water)

drained

12

green olives

pitted and chopped

1/2

cup

bread crumbs

unseasoned; if using seasoned, skip the salt below

1

egg

1

clove

garlic

pressed

12

leaves

basil

rolled into a cigar and thinly sliced

4

Tbsp

chopped walnuts

4

Tbsp

olive oil

2

pinches

red chilli flakes

1

pinch

salt

plus more to taste, if needed

1/4

tsp

black pepper

olive oil, chopped chives, and basil leaves for garnish
Instructions
Cut the zucchini in half lengthwise and hollow out their flesh with a spoon well.

Chop the zucchini flesh and set it aside.

Sprinkle zucchini shells inside with salt, turn upside down, and let drain while you are preparing the stuffing. When ready to use the shells, wipe off excess liquid and salt with paper towels.

Mix chopped green olives with pressed garlic, olive oil, chopped walnuts, basil, egg, reserved zucchini flesh, and bread crumbs. Add drained tuna, salt, pepper, and hot chili flakes and mix well with a spoon or a fork.

Fill the zucchini shells with the stuffing mix reasonably tightly.

Transfer stuffed zucchini to the air fryer.

Cook at 350F for 30 minutes. No flipping or turning is needed. Cooking time may be affected by zucchini size and how your air fryer cooks, so start checking at about 20 minutes the first time you cook them. Zucchini boats are done when the tops are well-browned.

Serve hot or cold, as a snack, appetizer, or with a salad as a main dish. Drizzle with some olive oil and garnish with chopped chives and basil leaves before serving. You can also serve them with marinara or dipping sauce, ranch dressing, or tartar sauce.
Nutrition
Calories:
344
kcal
|
Carbohydrates:
15
g
|
Protein:
14
g
|
Fat:
26
g
|
Saturated Fat:
4
g
|
Polyunsaturated Fat:
7
g
|
Monounsaturated Fat:
13
g
|
Trans Fat:
0.01
g
|
Cholesterol:
56
mg
|
Sodium:
442
mg
|
Potassium:
427
mg
|
Fiber:
3
g
|
Sugar:
4
g
|
Vitamin A:
405
IU
|
Vitamin C:
18
mg
|
Calcium:
77
mg
|
Iron:
2
mg