There is nothing like a pasta salad made with the freshest summer herbs and vegetables at their peak taste and flavor. They make a huge difference. This salad incorporates fusilli pasta, tomatoes, basil, garlic, red onion, eggplant and fresh mozzarella cheese. All brought together by a delicious white balsamic vinaigrette. I've made this fusilli pasta salad half a dozen times this summer and I still keep getting requests to make more. It's exceptionally delicious. This summer, it beats my all-time favorite rustic tomato and cucumber salad.

What tomatoes are best for the summer pasta salad?
For best results, use vine-ripened, locally grown tomatoes. If you grow tomatoes in your garden, things will be super easy for you. This is the second year I am growing tomatoes in my backyard for salads and sauces and I could not be happier with the results.

If not, head to your local fruit and vegetable market and pick some nice tomatoes. I like using a variety of tomatoes in this salad – green, yellow, red, orange, striped, etc. Heirloom tomatoes look amazing in any salad and this one is no exception.

Other ingredients that make this salad great
Eggplant is another ingredient that makes this pasta salad really shine. Your typical pasta salad will have olives, zucchini, peppers, etc. And that's great. But try adding some lightly browned strips of eggplant to your salad instead and you will immediately fall in love with its tender texture and delicate flavor. It complements pasta exceptionally well.
Try using the freshest herbs in this salad. There are a lot of benefits to using fresh herbs and one of them is the clean, bright, summery flavor that they bring.
Finally, to bring everything together, I went with the white balsamic vinaigrette as the dressing for this salad. This pasta salad is flavorful enough to be dressed with just good extra virgin olive oil, salt and pepper. But you can make it even better by adding some white balsamic vinegar which adds a touch more of the sweet and tart taste that goes so well with pasta.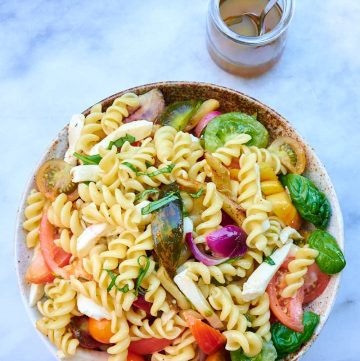 Ingredients
For the fusilli pasta
1

lb

fusilli pasta

uncooked

8

oz

fresh mozzarella

1

lb

eggplant

1/2

lb

red onion

2

lbs

tomatoes

16

basil leaves

1

clove

garlic

minced or pressed

2

Tbsp

olive oil

1

pinch

salt
For the white balsamic vinaigrette
1/2

cup

extra virgin olive oil

1/4

cup

white balsamic vinegar

1/2

tsp

salt

1/3

tsp

ground black pepper
Instructions
To prepare the white balsamic dressing
Add the vinaigrette ingredients to a medium bowl, whisk and set aside.
To prepare the fusilli pasta salad
Cut the mozzarella into strips and set aside.

Wash and peel the eggplant, cut it into sticks, sprinkle a pinch of salt, toss and set aside for 20 minutes.

Roll 8 basil leaves into a cigar and slice about 1/8" thick. Set aside.

Meanwhile, peel the red onion, cut it into wedges and separate the layers.

Heat a tablespoon of oil in a large skillet. Add the eggplant sticks with the garlic and fry over medium to medium-high heat for 8-10 minutes, until lightly browned. Remove the eggplant and set them aside.

In the same skillet, fry the onion wedges with a drizzle of oil for about 5 minutes or until lightly browned.

Cut the tomatoes. Slice large tomatoes half-inch thick then quarter them. Cut medium tomatoes into wedges. Cut smaller tomatoes in halves. Leave small cherry tomatoes whole. Set aside.

Cook the fusilli pasta al dente in boiling water with a pinch of salt, drain, transfer to a large platter, spread around and let cool to room temperature.

In a large bowl, combine the pasta, tomatoes, eggplant, red onion, mozzarella, sliced basil and about 3/4 of the dressing.

Transfer to individual serving bowls, garnish with 1-2 whole basil leaves and drizzle with the remaining white balsamic vinaigrette. Serve right away.
Notes
If making this pasta salad ahead, keep the prepared ingredients, separated or mixed together at room temperature for up to 4-6 hours. Do not refrigerate as that will ruin the texture and the flavor of the tomatoes.
If making a day ahead, you can refrigerate the prepared ingredients with the exception of the tomatoes. Remove the ingredients about an hour before serving to bring to room temperature and cut and add the tomatoes just before serving.
Nutrition
Calories:
500
kcal
|
Carbohydrates:
55
g
|
Protein:
16
g
|
Fat:
25
g
|
Saturated Fat:
6
g
|
Polyunsaturated Fat:
2
g
|
Monounsaturated Fat:
14
g
|
Cholesterol:
22
mg
|
Sodium:
342
mg
|
Potassium:
602
mg
|
Fiber:
5
g
|
Sugar:
9
g
|
Vitamin A:
1193
IU
|
Vitamin C:
19
mg
|
Calcium:
183
mg
|
Iron:
2
mg