Delicious summery heirloom tomato salad made with a variety of heirloom tomatoes, fresh figs, burrata cheese, red onion, basil, and arugula. To bring it all together, a white balsamic vinaigrette that is so good you could practically drink it.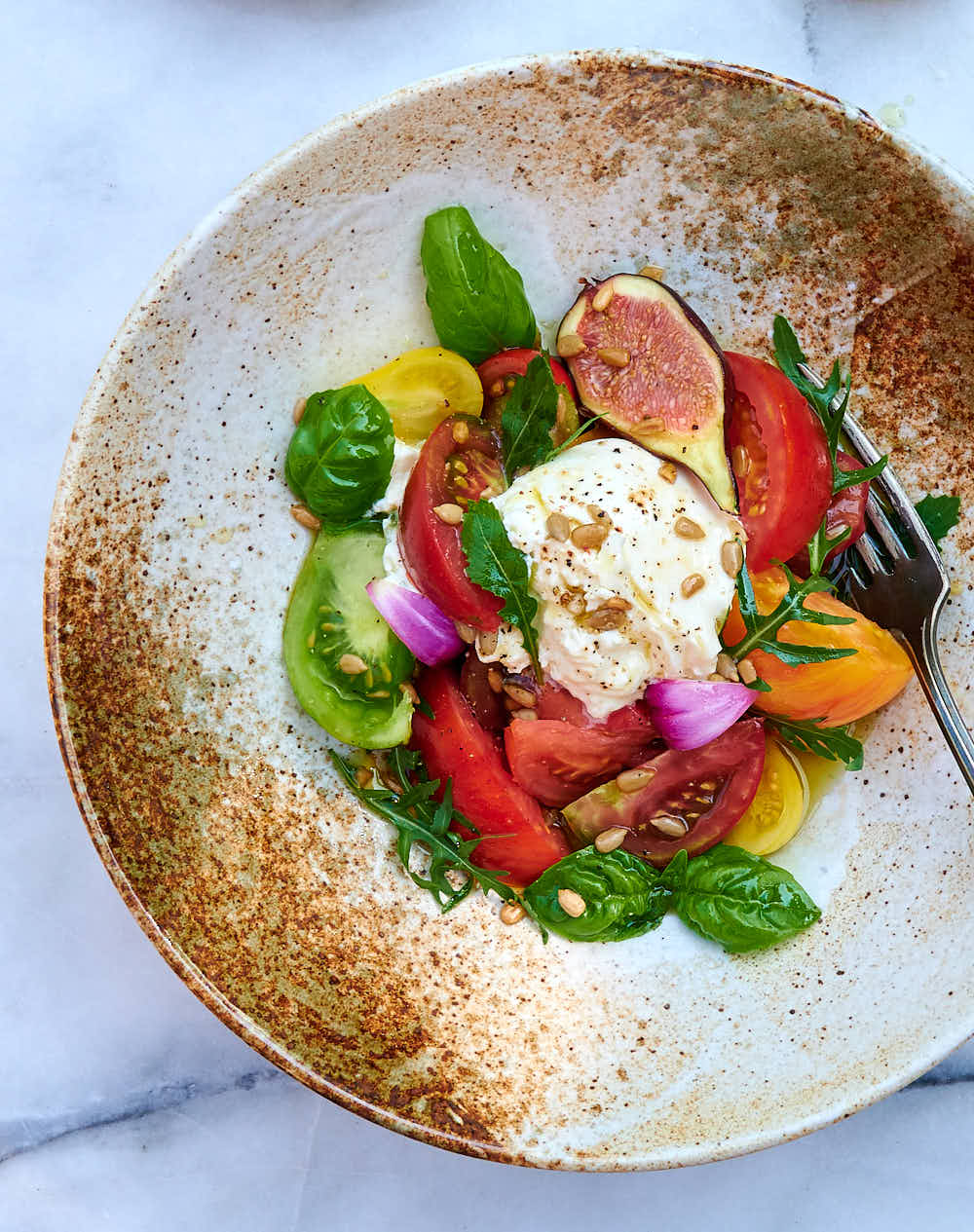 I've been growing heirloom tomatoes in my backyard for the past couple of years and have had an opportunity to experiment with a variety of heirloom tomato salads. So, let me tell you what I think makes the absolute best heirloom tomato salad.
Picking tomatoes for the heirloom tomato salad
I think the key part of any successful heirloom tomato salad is to use a variety of tomatoes. You could get away with two varieties, maybe even one, but the more you add, the better. Different tomatoes add different textures and flavors. Some are sweet, some are tangy, some are somewhere in the middle. And don't forget the different colors. We eat with our eyes. The more colorful the salad will be, the better it will taste to us.
Oh, and I highly recommend cutting the tomatoes into large chunks instead of slicing. You want to feel the meaty texture and have the juices burst in your mouth. Thinly sliced tomatoes just don't have that effect.
Mix-ins
I find the nutty arugula flavor with a sweet and spicy finish absolutely essential in an heirloom tomato salad. Basil is great, very aromatic, but arugula takes it to the next level. I highly recommend it in this salad.
The soft, creamy burrata is what makes this salad really shine. Surely, you can use bocconcini or fresh mozzarella and get a tasty salad a la Caprese, but burrata is something else. Its exterior is made of stretched mozzarella but the interior is creamy, soft, slightly sweet, and delicate. I love how it pairs with the meaty, sweet, and tangy heirloom tomatoes.
Finally, don't forget some fresh figs. Their honey-like sweetness with a subtle hint of berries is like the cherry on the cake. Without them, this salad wouldn't be complete.
Making heirloom tomato salad ahead
This salad can be made a few hours ahead and will only get better over time. If you plan on serving it in the evening you can easily make it as early as in the morning. The cheese should be added just before serving. Keep the cheese refrigerated while the salad should be stored at room temperature. Refrigeration will ruin the taste and the texture of the tomatoes.
Storing leftover tomato salad
Tomato salads generally don't store well in the fridge so it's always best to make just enough for eating the same day. If you happen to have some leftovers, it's best to refrigerate it as it has cheese in it. The next day, take the salad out an hour before serving to bring it to room temperature for best results.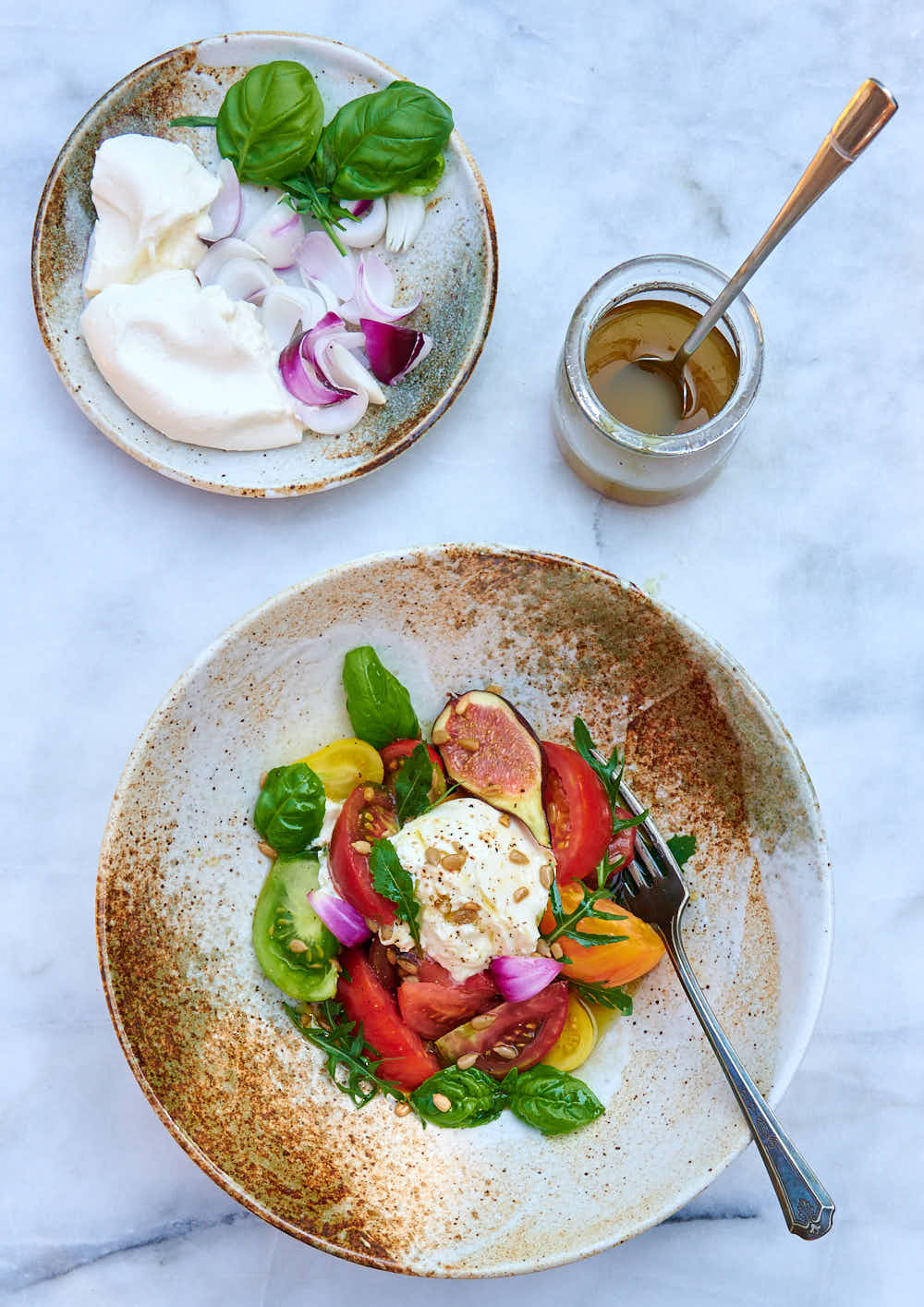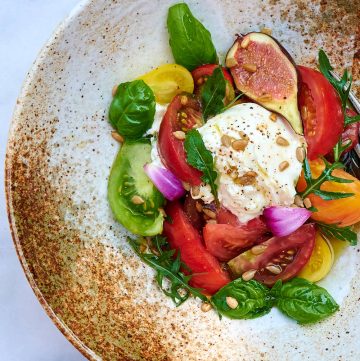 Heirloom Tomato Salad
Heirloom tomato salad made with a variety of tomatoes, burrata cheese, fresh figs, basil, arugula and a white balsamic vinaigrette.
Print
Pin
Ingredients
2

lbs

heirloom tomatoes

mixed

1/2

lb

burrata cheese

2

shallots

4

fresh figs

16

basil leaves

24

arugula leaves

4

Tbsp

toasted sunflower seeds

1

pinch

sugar

1

tsp

ground black pepper
White Balsamic Vinegarette
1/2

cup

extra virgin olive oil

1/4

cup

white balsamic vinegar

1/2

tsp

sea salt

1/4

tsp

ground black pepper
Instructions
Wash the tomatoes and remove their stems. Cut the tomatoes into large, meaty pieces. Smaller tomatoes can be cut in halves or quarters. Place in a large bowl, sprinkle a pinch of sugar on top, gently toss and set aside.

Thinly slice the shallots and sprinkle over the tomatoes. Add the arugula and the basil leaves.

Remove stems from the figs and cut them in halves. Sprinkle over the tomatoes.

Prepare the white balsamic vinaigrette by combining all of the vinaigrette ingredients in a bowl and whisking. You may also place the ingredients in a plastic container, cover it with a tight lid and shake vigorously.

Pour three quarters of the vinaigrette over the tomatoes. Gently toss the tomatoes with the sliced shallots, figs, arugula, basil and vinaigrette.

Arrange the tomatoes and the rest of the ingredients on four serving plates similar to the pictures above.

Cut the burrata cheese ball into four pieces. Nestle one piece of cheese on top of each of the tomato salads.

Drizzle the remaining vinaigrette over the plated salads.

Sprinkle a tablespoon of toasted sunflower seeds over each salad.

Top with a turn or two of black pepper and serve.
Nutrition
Calories:
526
kcal
|
Carbohydrates:
21
g
|
Protein:
15
g
|
Fat:
47
g
|
Saturated Fat:
12
g
|
Polyunsaturated Fat:
5
g
|
Monounsaturated Fat:
22
g
|
Cholesterol:
40
mg
|
Sodium:
312
mg
|
Potassium:
777
mg
|
Fiber:
5
g
|
Sugar:
14
g
|
Vitamin A:
2700
IU
|
Vitamin C:
35
mg
|
Calcium:
374
mg
|
Iron:
2
mg