I've tried several smothered chicken recipes and every time something was a bit off. So, I set a goal for myself to come up with a recipe that resulted in clean flavors that did not overpower the natural flavor of the chicken, the sauce that wasn't too thick and had a perfect balance of sweet (from onions) and salty, and the perfectly cooked meat that falls off the bone and melts in your mouth. After some tweaking I can say I am finally happy with my smothered chicken recipe.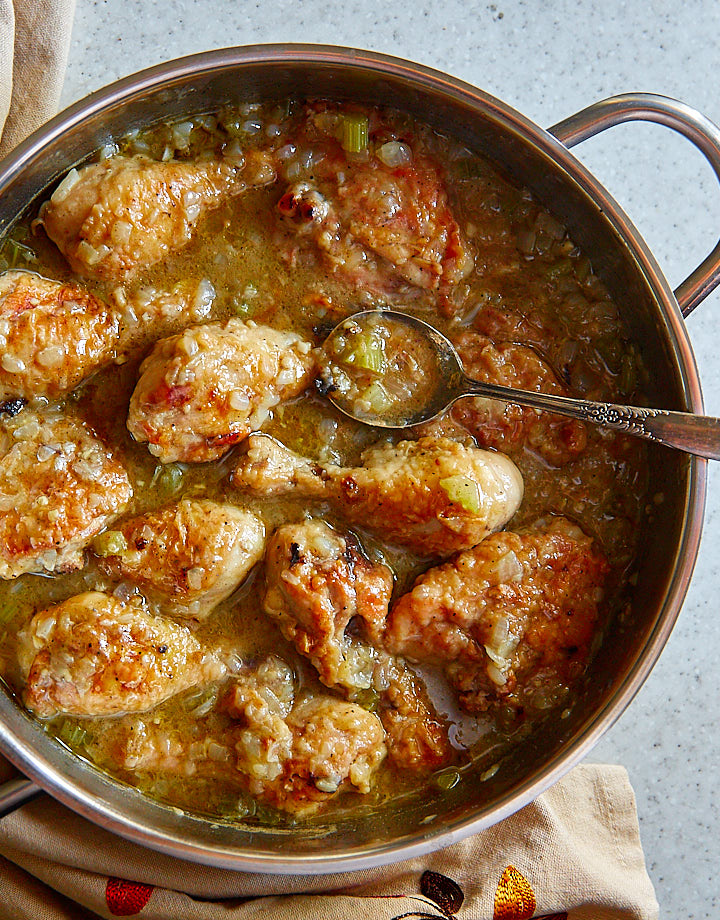 Traditionally, smothered chicken is made of whole chicken broken into pieces. That's the biggest challenge. You can't have perfectly cooked white and dark chicken meat in one pot. To get that perfection you need to hover over the pan like a hawk and pull the breasts out first, letting the drumsticks and thighs cook longer.  That's too much fuss for a weekday dinner.
I solved this challenge by using just chicken drumsticks and thighs that I cook to 185F internal temperature. At 165F dark chicken meat tastes tough and under-cooked. At 185F the meat is tender and falls off the bone. Just how I like it.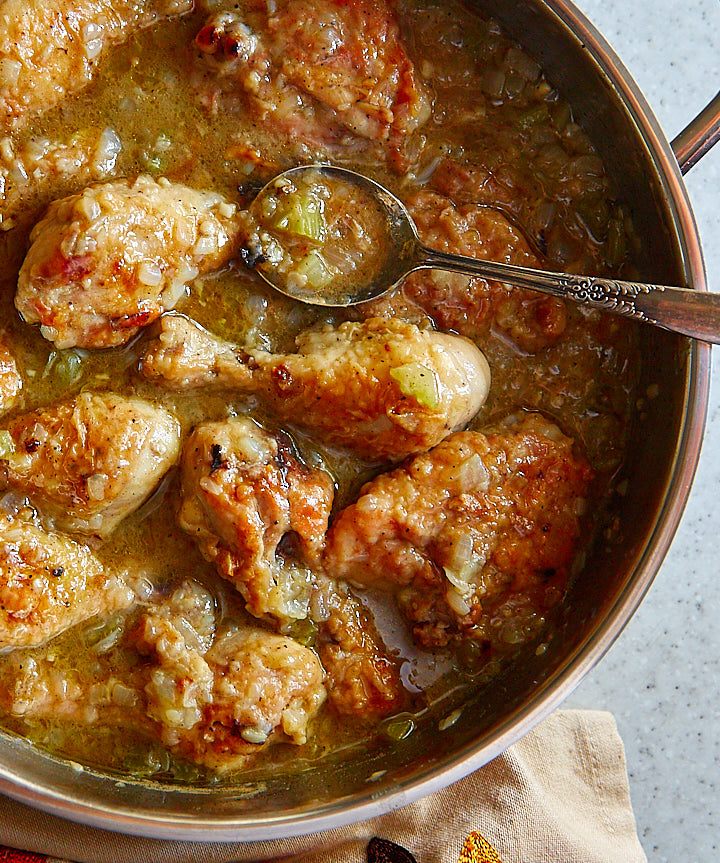 I like the sauce over my smothered chicken to not feel like gravy. I played with the ratios and came up with the perfect consistency. Of course, that's a personal matter and you may adjust the amount of flour up or down to make your sauce thicker or thinner.
Some recipes use vinegar, some don't. I think some vinegar is a must for adding the balance to the dish. One tablespoon of cider vinegar will suffice. Some heat is always welcome. I find that some cayenne pepper gives me exactly what I need without introducing any off-flavors.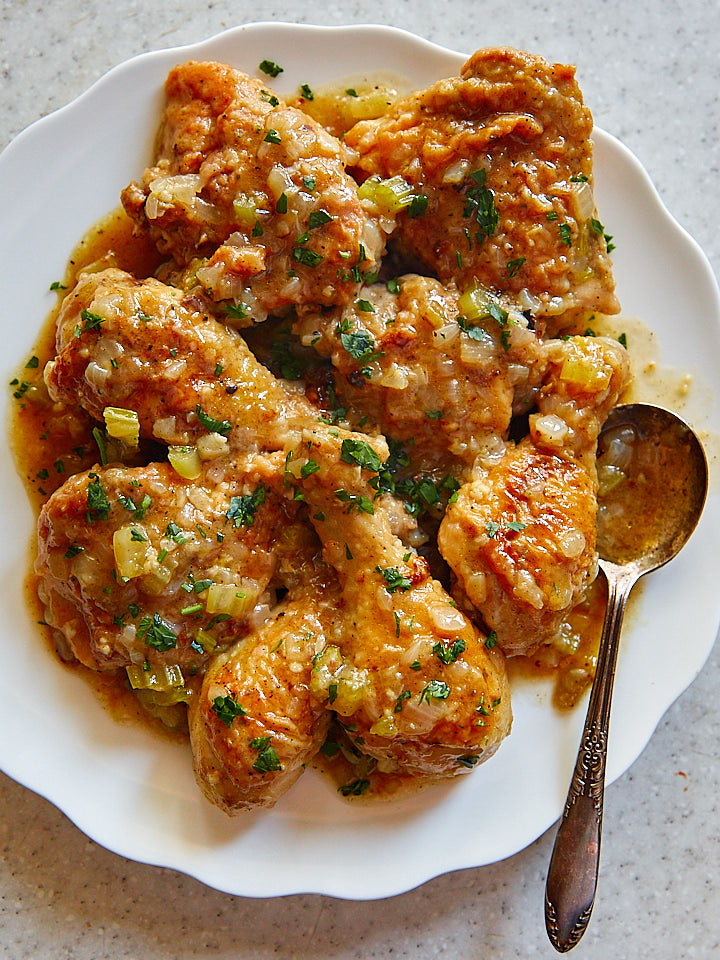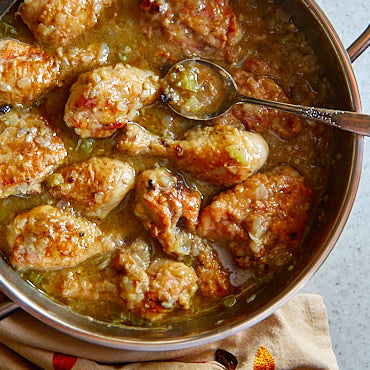 Ingredients
A mix of 10-12 chicken drumsticks and skin-on thighs

2/3

cup

all-purpose flour

2

Tbsp

butter

2

Tbsp

vegetable oil

3

cups

finely chopped yellow onion

1

cup

finely chopped celery

3

garlic cloves

pressed

2 1/2

cups

chicken broth

1

Tbsp

cider vinegar

2

Tbsp

fresh parsley

finely chopped

1

tsp

dried sage leaves

2

tsp

kosher salt plus more to taste

1/2

tsp

ground black pepper plus more to taste

1/4

tsp

cayenne pepper
Instructions
Pat chicken pieces dry with paper towels and season with 2 teaspoons of salt and 1/2 teaspoon ground pepper. Place the flour in a large shallow dish. Dredge the chicken pieces in flour, shaking off excess, and set aside. Save the flour to use later in the recipe.

Heat the butter and oil in a large cast iron pan or a saute pan over medium-high heat. Working in two batches, place the chicken pieces skin side down on the pan and cook for about 4-5 minutes, until deep golden brown. Flip and cook on the other side for another 4-5 minutes. Adjust the heat if the chicken is browning too fast. Set the chicken pieces aside.

In the same pan, saute the onions and celery, seasoned with a pinch of salt and pepper, over medium-high heat until softened, about 5 minutes. Add the garlic, sage and 2 tablespoons of flour left over from dredging. Stir well to ensure that the flour is nicely incorporated. Add the broth and the vinegar, then scrape and stir the browned bits from the bottom of the pan to incorporate all cooking residues into the liquid.

Transfer the chicken into the pan and nestle into the sauce. Simmer over low heat for about 35 to 40 minutes, or until the chicken drumsticks and thighs reach 185F internal temperature.

Transfer the chicken to a serving platter. Taste the sauce and adjust for salt and pepper. Spoon the sauce over chicken and sprinkle with fresh parsley before serving.